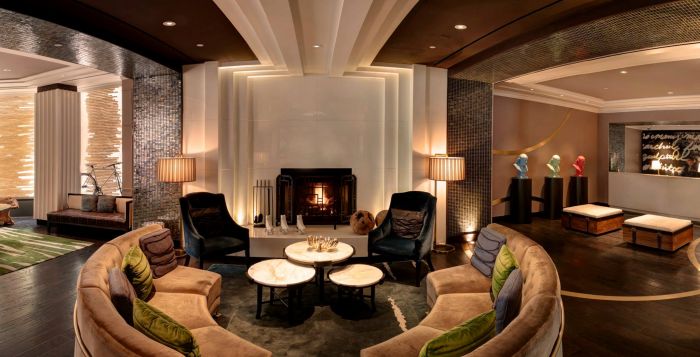 Photos Credit: Hotel Kimpton Palomar Philadelphia
While there are many words you could use to describe Philadelphia, a few of the ones you hear most often are classic, cultured and vibrant. These are probably some of the same words you'd use to describe the Hotel Palomar Philadelphia. Serving the needs of business travelers and millennial bon vivants alike, the Palomar offers 230 well-appointed guest rooms (with some of the best bathroom amenities I've ever experienced, personally), free Wi-fi, and more. Located nearby bustling Rittenhouse Square, the boutique property is located in a LEED-certified, historic Art Deco building that once housed the Philadelphia Architect's Guild. While many facets of the hotel pay tribute to its past (including a few neon-colored busts of Benjamin Franklin), its sleek decor and bright displays of pop art point towards a more modern orientation. In October, the hotel celebrated its eighth birthday, signaling that it's made its mark in Philadelphia—and it isn't going anywhere.
As soon as you enter the lobby, the Palomar's vibe is decidedly contemporary. A fire crackled in the "living room" area, where several guests congregated with glasses of wine and complimentary popcorn while chatting about their travels. Carol Watson, the hotel's general manager, notes that this room is her favorite space on the property. She indicates that "it's a nice communal space where guests can sit down to simply enjoy themselves, it really begins to feel like your home away from home." Communal is the right word for it. A mix of young, old, tourists and locals alike found themselves in the space, all seemingly enjoying the company before departing for dinner plans. Guests are also encouraged to explore the hotel to discover its more unique facets—the second floor is home to original crown molding and tile that would make even the least design-inclined among us swoon.
What struck me most about the hotel were its incredibly personal touches. Upon arriving at my room, I was surprised to find a picture of my dog Luther framed on the bedside table. If you aren't a pet owner and find yourself a little lonely in the big city, never fear—one quick call to the front desk will send a goldfish in a bowl to keep you company. By the way, if you are a pet owner, the hotel is pet-friendly and will allow your furry friend to crash in your room with you just like you do at home.
While not everyone will find a picture of their pet in the room, what they will find is a set of yoga mats. The Palomar prioritizes health and wellbeing for all its guests, which means you always have the option to get your zen on. In addition to their 24-hour fitness center, the hotel offers guests the opportunity to explore Philadelphia on two wheels with its set of public bikes, which are available any time of day on a first-come, first-serve basis.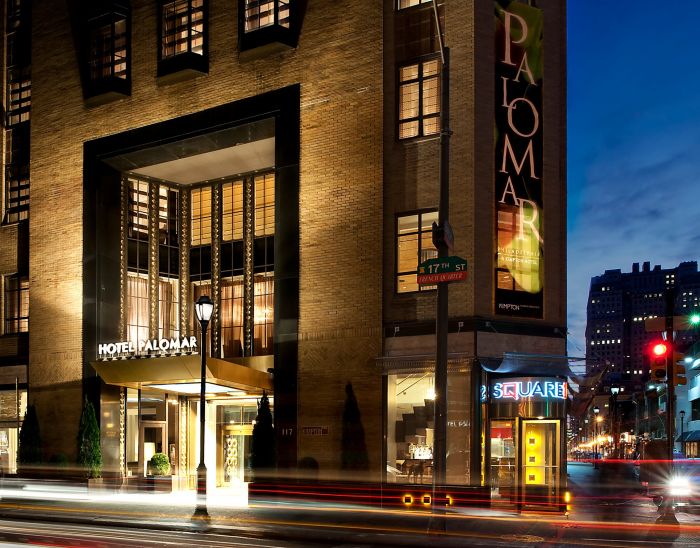 Sansom Street in Philadelphia's Center City has become somewhat of a shopper's paradise. To give guests a taste of the area's scene, the Palomar has partnered with several of their favorite local boutiques to create the "Shop Like a Local" program. Looking for a brand that you can brag about knowing about first? Look no further than Bus Stop Boutique. The unique luxury shoe store offers all Palomar guests 15 percent off their purchase when they show their room key at check out. If you're more interested in a pampering session, then the Jason Matthew Salon is the place to go. Located only two minutes from the hotel's front entrance, new guests receive a complimentary styling product with any service. Before you drop from all that shopping, be sure to get back to the hotel for one last nightcap in front of the fireplace. Soaking up the atmosphere with a libation of your choice and a snack from Square 1682 (the hotel's on-site eatery), it's hard to imagine a more stylish place to stay in the city.
If shopping isn't quite up your alley, there are still plenty of things to do in the area. Sports fans will rejoice in the close proximity to the city's stadiums, while those looking for a dose of culture can find the Philadelphia Museum of Art, the Mutter Museum and more.