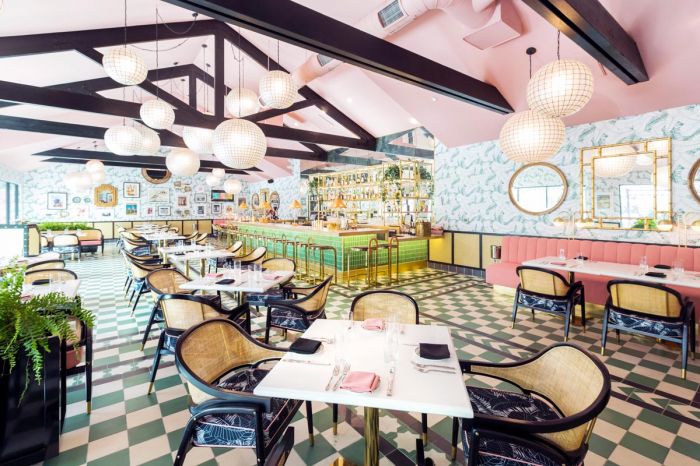 Sands Hotel & Spa
If Wes Anderson is on the hunt for a stylish boutique hotel perfect for one of his upcoming projects, we found it: the Sands Hotel & Spa. Located in Coachella Valley's Indian Wells, a mere half hour from Palm Springs, the Sands Hotel & Spa is literally an Instagrammer's dream. Designed by renowned interior designer Martyn Lawrence Bullard, who has been named as one of the world's top interior designers by Architectural Digest, the Moroccan-inspired luxury hotel is full of colorful patterns, custom textiles and bespoke furniture, all working together to create a playful aesthetic. Trust us, after staying here your camera roll will be overwhelmed with countless photos of bright pink stucco walls, a to-die-for spa, black-and-white striped pool cabanas and oh yeah, the hotel's remarkable front door.
The property features 46 guest rooms, the perfectly designed Pink Cabana restaurant and bar, a full-service spa with three treatment rooms and an olive tree garden perfect for private weddings. A pool and jacuzzi sit at the center of it all, surrounded by countless cabanas and sunbeds reminiscent of something Tim Burton would have. The Sands Hotel is also an adults-only space, which means that all registered guests must be over the age of 18.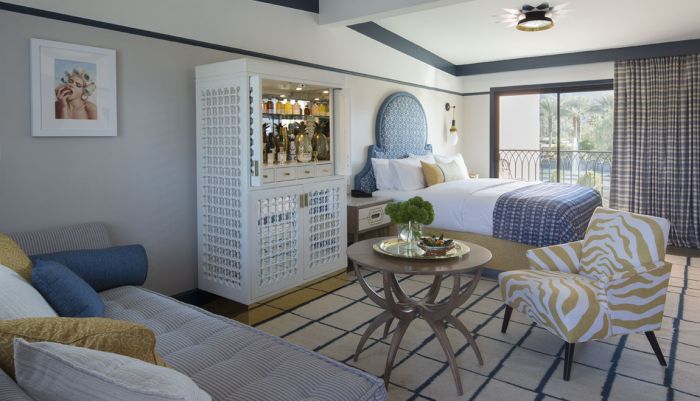 Each one of the 46 guestrooms boasts unique styling, with its own flair and personality. The rooms feature Acqua di Parma bath amenities, full-size in-room mini bars with vintage crystal stemware, Waterworks brass fixtures, Revival New York bed linens, Carrara Marble countertops, an in-room entertainment system designed to work with your personal entertainment devices and services (such as Spotify, iTunes and Netflix). Several of the rooms also include a private patio or balcony, many with custom Moroccan fountains and imbeccable floor tiling. "Using a series of different color combinations, bespoke furniture, and custom textiles, Martyn Lawrence Bullard provides each guest with an individual and unique experience," states the hotel and we certainly agree.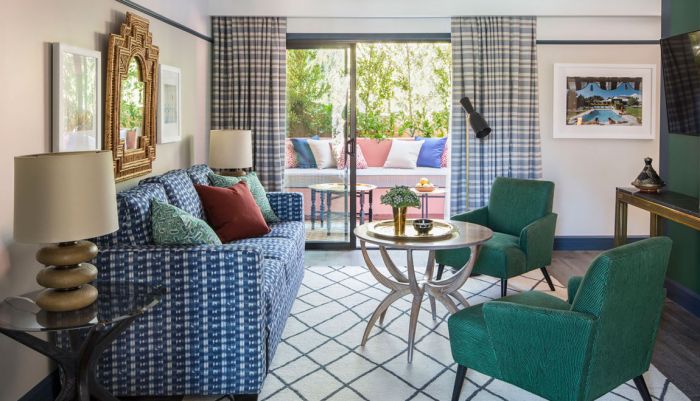 Though all of the rooms are beautiful, the Sands Hotel's Junior Suites and its presidential suite (named Le Riad) stand out the most. The two Junior Suites are each approximately 400 square feet and boats a large living space and oversized outdoor patio, outdoor seating and an outdoor bathtub, and a full-size wet-bar with vintage crystal stemware.
As the largest guest room on the property at 1,000 square feet, Le Riad is touted as a "traditional high-level palace in Morocco, typically reserved for royalty and the elite class." Spacious enough to hold massive parties, the two-level room has two outdoor patios, one balcony, a full-size kitchen with Viking appliances, a billiards table, a vanity, and an in-room soaking tub at the foot of the bed in the master bedroom upstairs.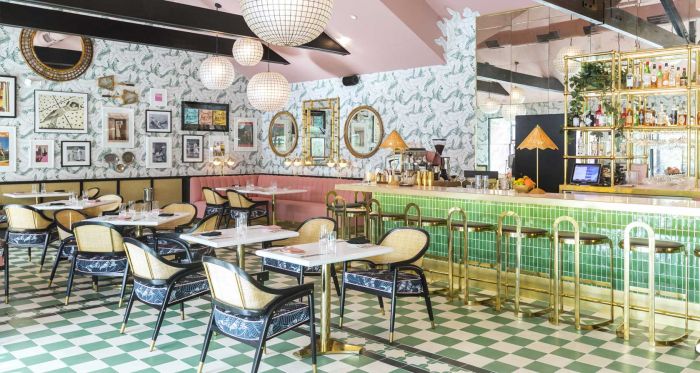 Now, let's talk about the Pink Cabana. This Mediterranean restaurant and bar transports you to Palm Springs of the 50s and 60s, with a little Art Deco mixed in. With its tropical wallpaper, old Hollywood black and white photos peppering the walls, elaborate gold mirrors of various shapes and sizes, pink booths and the most gorgeous bar you have ever seen, it is not very difficult to imagine the likes of Bill Murray hanging out in a corner booth. If someone told me that I would fall in love with an aesthetic that mixes a flamingo pink with shades of green I would think they were insane. And now I have enough design goals to last me a lifetime.
The Pink Cabana's world renowned Executive Chef is Chef Jason Niederkorn, who has received accolades from the likes of Condé Nast Traveler, LA Times and Forbes, is behind the restaurant's Mediterranean/Moroccan-influenced menu. For brunch, we recommend trying the Chicken Tangine Batbout (which is a Moroccan sandwich) or for something lighter, go with the Turmeric and Honey Granola. The lunch menu features items like Wild Mushroom Tagliatelle and Mahi Mahi, while the dinner menu brings in Prawn Linguini and Tagine of Colorado Lamb.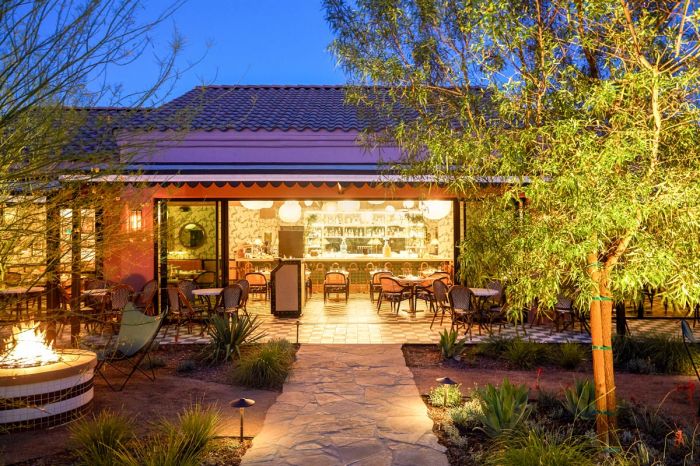 With its gorgeous glass bar, the Pink Cabana also prides itself in offering elevated libations. It boasts unique wines from Mediterranean climates that have been chosen to pair with each dish. There is a wide array of seasonal cocktails, such as the Pool Thyme Mimosa with local citrus, thyme and sparkling wine, and the Monkey Suit with reposado, banana and ginger.
We recommend making a reservation for Valentine's Day, since they will be offering a decadent prix fixe dinner created exclusively for the evening by Chef Jason Niederkorn. Priced at $135 a person, the menu includes an amuse bouche of White Truffled Egg, Tsar Nicoulai Caviar and Chives, served with a glass of Pink Cabana Sparkling Rose. You will have several choices for your appetizer, entree and dessert, but we would go with the Housemade Red Kuri Squash Agnolotti with Black Truffle Beurre Fondue and Nasturtium, the Filet Mignon with Aligot Potatoes, Asparagus and Bone Marrow Red Wine Sauce, and finally, the Valrhona Chocolate Souffle with Luxardo Cherry Conserva and Vanilla Bean Ice Cream. You will also get Dark Chocolate and Espresso Truffles to take back to the room with you. If you choose to book a room for after dinner (and why wouldn't you at this point?), rates range from $249/night to $999/night over Valentine's Day, depending on whether you choose the Classic King Guestroom or Le Riad Presidential Suite.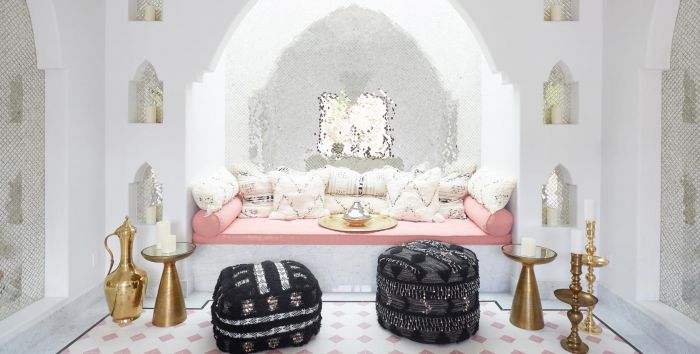 You definitely can't visit the Sands Hotel and not get a spa treatment. Found in the Olive Grove to the left of the Pink Cabana, this spa boasts one of the most Instagram-worthy front doors we have ever seen. Featuring just three treatment rooms (two single rooms and one couples room), the waiting area is absolutely gorgeous, with a Moroccan-influenced design that includes plush seating and a mirrored backdrop. The services themselves combine traditional Western techniques with detoxifying minerals and botanicals from all over the world, and feature naturally-sourced ingredients from Morocco that detoxify, hydrate and replenish the skin and body. Each offering was designed to promote vibrancy, health and inner beauty. The treatments are priced $155-$250 depending on what type of treatment and duration you select.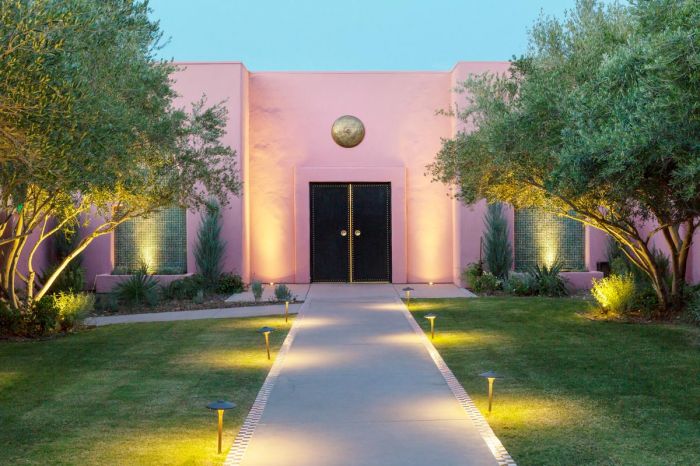 All in all, the Sands is a to-die-for palate of pinks and greens, stunning mosaics and textiles, and pristine design details and furniture you'll be hard-pressed to find duplicates of. Private and quiet, this luxury boutique hotel is the perfect hideaway in the desert and we will most definitely be returning. And Wes Anderson, if you end up filming here, we expect some credit.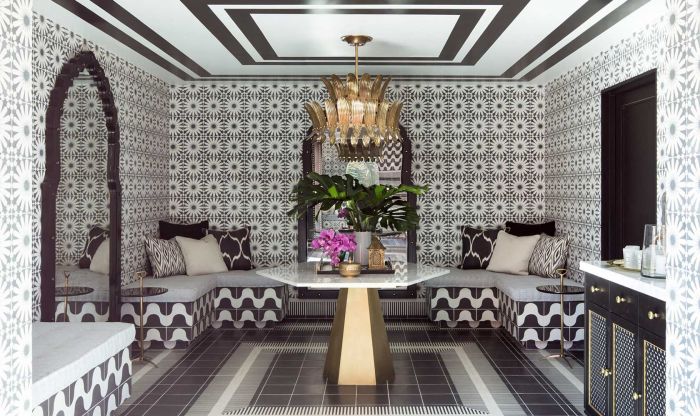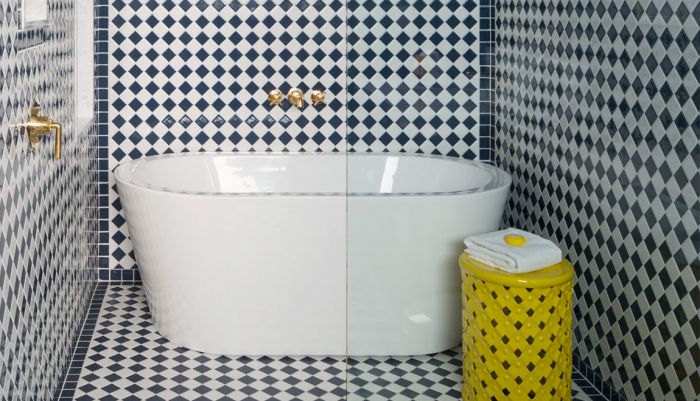 Visit our Best Luxury Hotels listing for more options