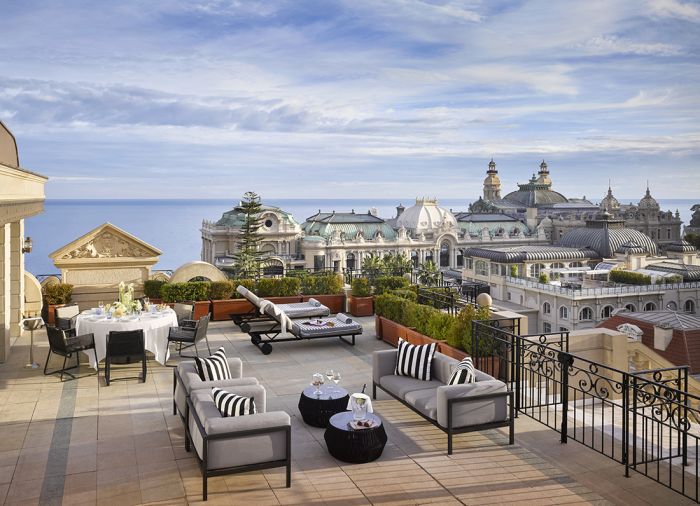 Courtesy of Hotel Metropole Monte Carlo
Sometimes one of the best aspects of a hotel and resort is the location; so why not enjoy a Penthouse with outdoor space? A private pool, a retreat from any other hotel guests, or a vantage point unlike any other are luxuries afforded by these amazing spaces. We've searched the globe over for these pristine open-air opportunities, from waterfront resorts to mountaintop getaways and everything in between, enjoy the fresh air and views to boot in these luxury elevated accommodations.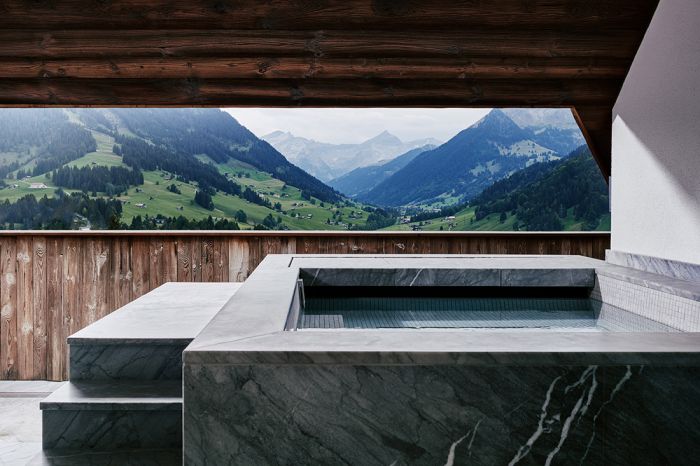 Courtesy of Alpina Gstaad
Alpina Gstaad Switzerland
The Swiss Alps are a majestic backdrop to this vantage point, whether cool mountain air in the spring or glistening white snow in the winter. From this warm, private hot tub, guests can enjoy the solitude and mountain air of Switzerland at the Alpina Gstaad.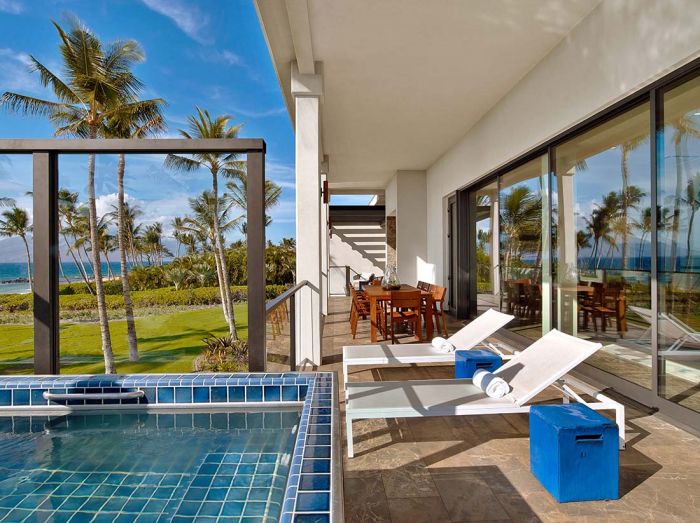 Courtesy of Andaz Maui
Andaz Maui Villas
Overlooking the shores of Maui, these private villas are part of the Andaz Resort. The private balcony is towards the shore from the tiered pools of the resort, offering your own privacy while enjoying the warm island breezes of Maui.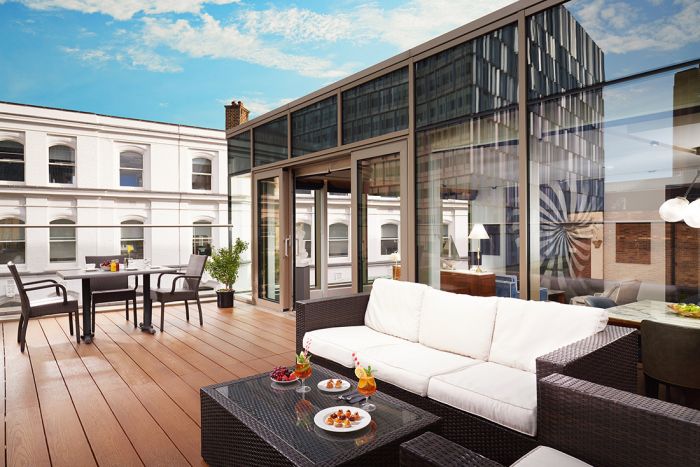 Courtesy of Hilton London Bankside
Hilton London Bankside
This London hotel is home to a beautiful rooftop Penthouse Patio in Bankside. The luxury penthouse also has access to the Executive Lounge on property. Located near Tate Modern, this luxury retreat is a treat in the UK at Hilton London Bankside.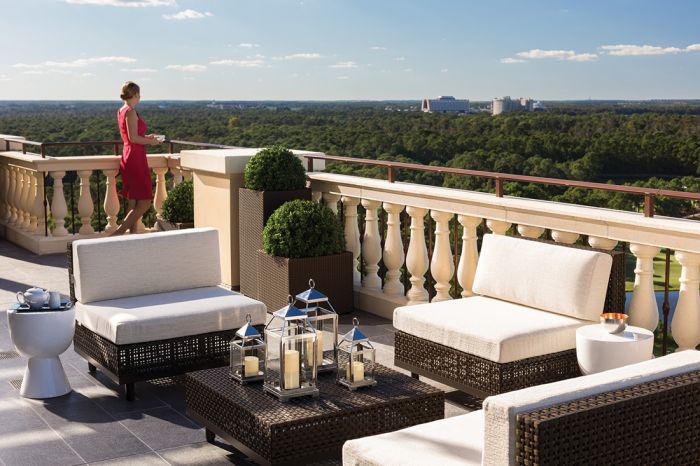 Courtesy of Four Seasons Resort Orlando
Four Seasons Resort Orlando
Ready for fireworks? This private patio at Four Seasons Resort Orlando is a prime location to watch the nightly shows in Orlando. With its own water park, the entire resort feels like a secluded getaway in and of itself, this Penthouse affording a special Four Seasons touch to guests.
Courtesy of Iconic Santorini
Iconic Santorini Greece
These beautiful blues can be seen at the Iconic Santorini Hotel. Overlooking the stunning Mediterranean waters below, this perfect vantage point has its own pool at the luxury cave boutique hotel.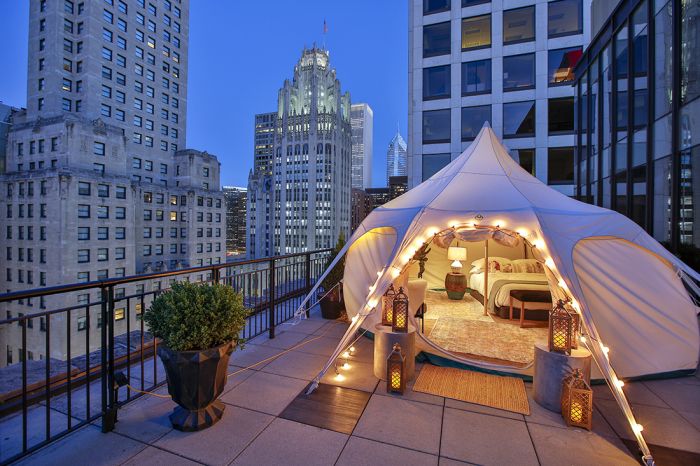 Courtesy of The Gwen
The Gwen Hotel Chicago
Glamping in the city on this penthouse patio is oh so glamorous. From the city of Chicago, this tented perch at The Gwen hotel is a unique offering. Steps from world-class shopping and dining, no need for bear spray in this luxury tent experience.
Courtesy of Hilton Playa Del Carmen
Hilton Playa Del Carmen
This all-inclusive resort wows guests with its AAA Four-Diamond moniker steps from Fifth Avenue. Home to a 1,959 square foot Presidential Penthouse, the suite's rooftop terrace has a pool, telescope, bar and stunning views at Hilton Playa Del Carmen.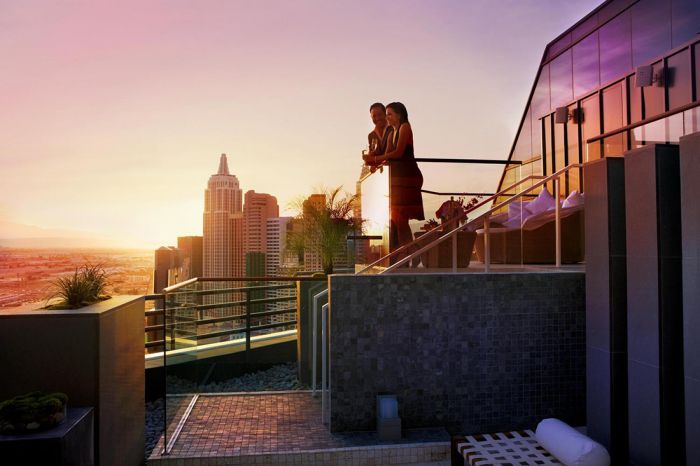 Courtesy of MGM Grand
MGM Grand SKYLOFT Suite
Viva Las Vegas at this SKYLOFT Suite at MGM Grand. With sweeping views of the strip, these private terraces are a getaway from the hustle and bustle of Vegas to enjoy a desert sunset and quiet moment.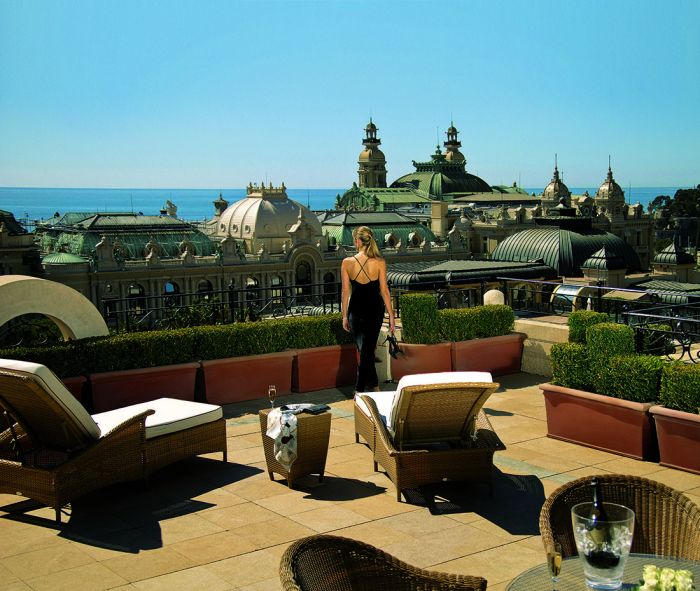 Courtesy of Hotel Metropole Monte Carlo
Hotel Metropole Monte Carlo
The Carre D'Or Suite is home to a terrace almost as large as the suite itself at Hotel Metropole Monto Carlo. Looking out to the Casino de Monte Carlo, guests will feel like a million dollars while enjoying this suite terrace.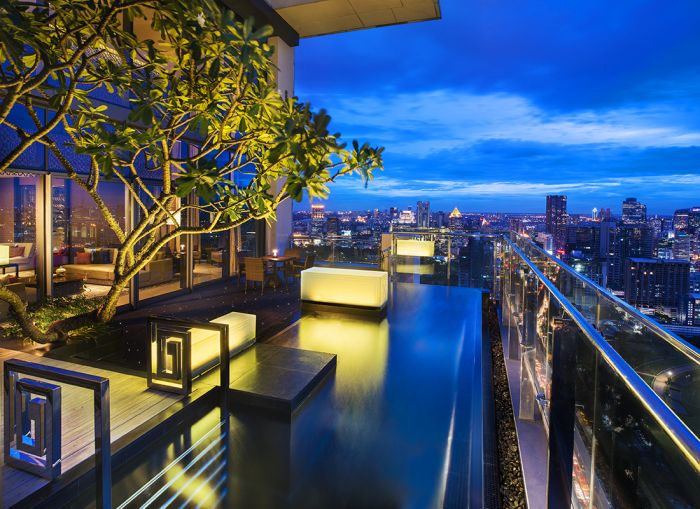 Courtesy of St Regis Bangkok
St Regis Bangkok
This luxury hotel in Bangkok redefines the art of urban living with a two-story, three-bedroom Owner's Penthouse. Unrivaled views of the city, an infinity pool and glowing lounge spaces, the 44thfloor is a beautiful perch over the city with one butler on duty to service the penthouse at St Regis Bangkok.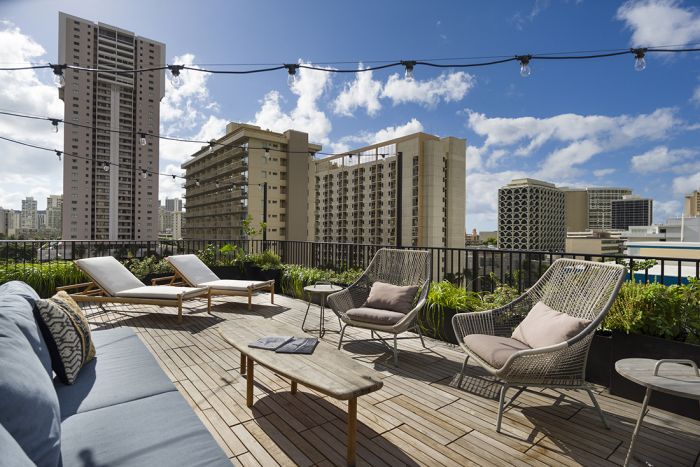 Courtesy of The Surfjack
The Surfjack Penthouse Oahu
This Waikiki location is a delightful boutique hotel in the midst of Waikiki energy. With 480 square feet of space, the oversized lanai and living area only add to the Spirit of Aloha while guests enjoy a mai tai or a sunset from the teak-topped decking at The Surfjack.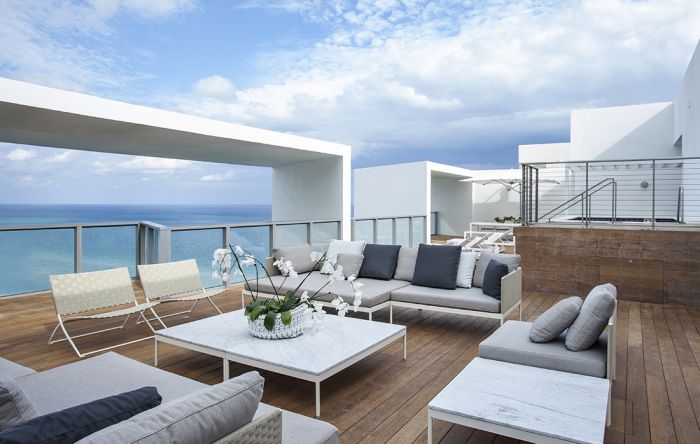 Courtesy of W South Beach
W South Beach E-WOW Suite
This luxury experience is located at the W South Beach hotel, Miami. With its oceanfront location and popular pool below, this rooftop retreat is jaw-droppingly stylish. Panoramic ocean views and lounge areas make for an excellent luxury stay in Miami.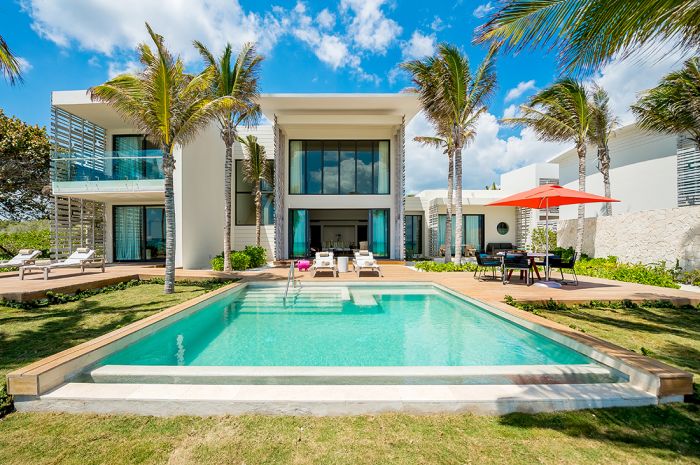 Courtesy of Andaz Mayakoba
Andaz Mayakoba
Located on the Riviera Maya, Andaz Mayakoba's Presidential Suite is a whopping 4,575 square feet across two floors. The private pool looks to the beach with oceanfront access and lounge areas, and a whirlpool can be found on the second floor off a private balcony.
Courtesy of Hilton Bentley Miami
Hilton Bentley Miami
Another Miami South Beach penthouse (there are just too many great ones in this city!) is at the Hilton Bentley Miami. The 1,500 square foot, split-level rooftop terrace with private pool accentuates a two bedroom, 3,500 square-foot indoor space. The private rooftop pool and magnificent views of South Beach make for an excellent stay.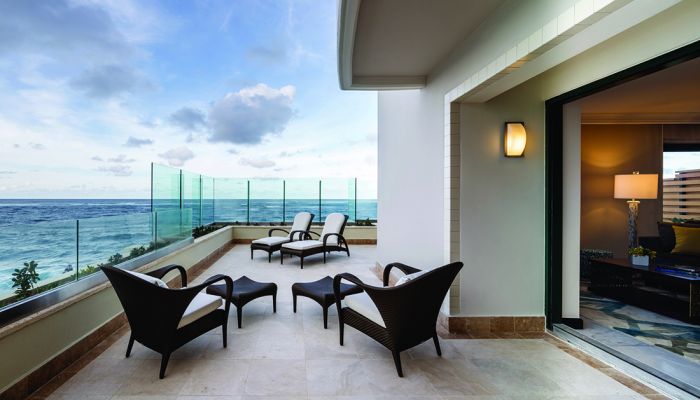 Courtesy of Condado Vanderbilt
Condado Vanderbilt Puerto Rico
Located in San Juan, Puerto Rico, this historic hotel is anything but tired. The oceanfront location, multiple lounge and relaxation areas, and this penthouse patio are a Puerto Rican prize at Condado Vanderbilt.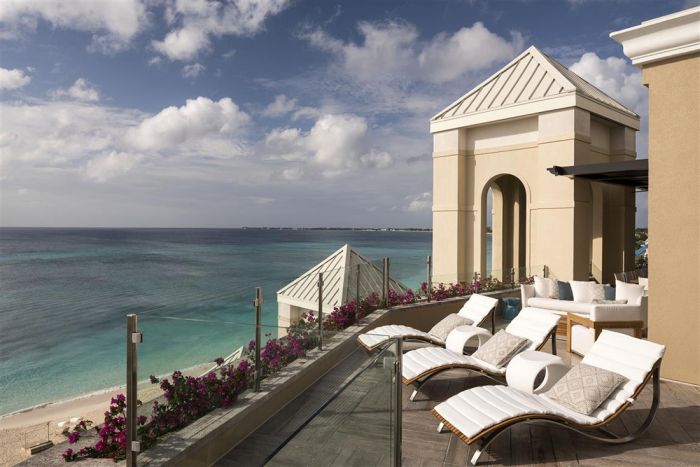 Courtesy of Ritz-Carlton Grand Cayman
The Ritz-Carlton Grand Cayman
This penthouse terrace overlooks the iconic Seven Mile Beach on Grand Cayman. Ritz-Carlton Grand Cayman straddles two towers with both beach and canal access, this Penthouse perched atop the oceanfront for stunning views of the warm, azure waters below.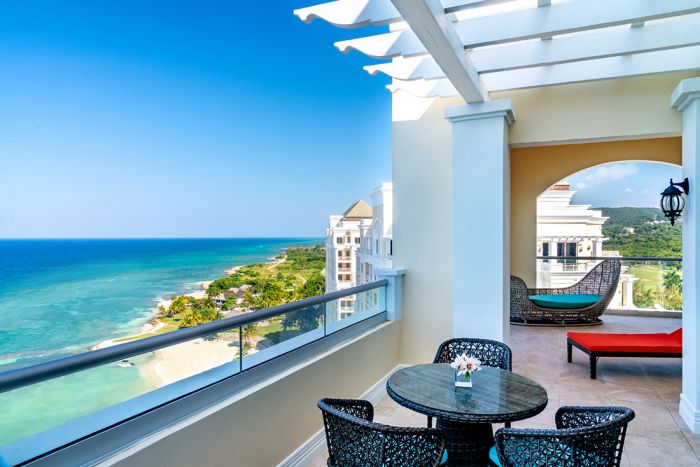 Courtey of Jewel Grande
Jewel Grande Montego Bay
Home to a three-bedroom oceanfront Jamaican penthouse, the Jewel Grande Montego Bay is not to be missed. The wrap-around outdoor space affords beautiful views and a private whirlpool. Butler service caters to wishes big and small.
Courtesy of Calabash Cove
Calabash Cove St Lucia
St Lucia is host to many stunning spots, and the Water's Edge cottages are no exception to that statement. The private plunge pools, Jacuzzis, outdoor rain showers and hammocks are an ideal spot to enjoy a moment of tropical bliss.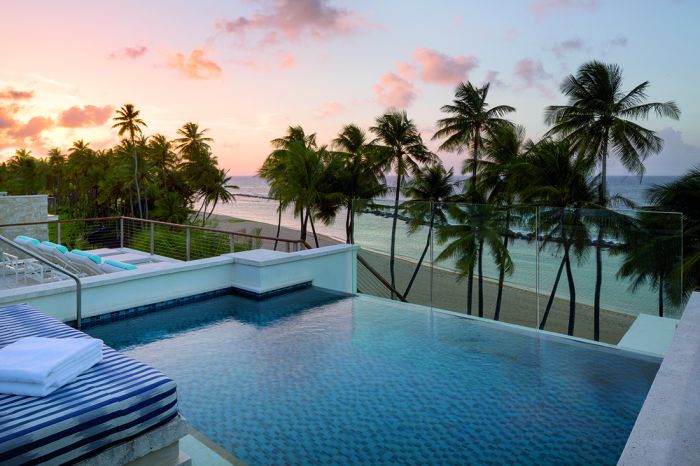 Courtesy of Ritz-Carlton
Dorado Beach, a Ritz-Carlton Reserve
Nestled in the lush tropical forest of Dorado Beach, Puerto Rico, this Ritz-Carlton Reserve was originally erected by Laurance S. Rockefeller with the stipulation that no building was to be taller than a palm tree. The swaying palms, protected beaches and this private infinity pool are a perfect way to enjoy Puerto Rico.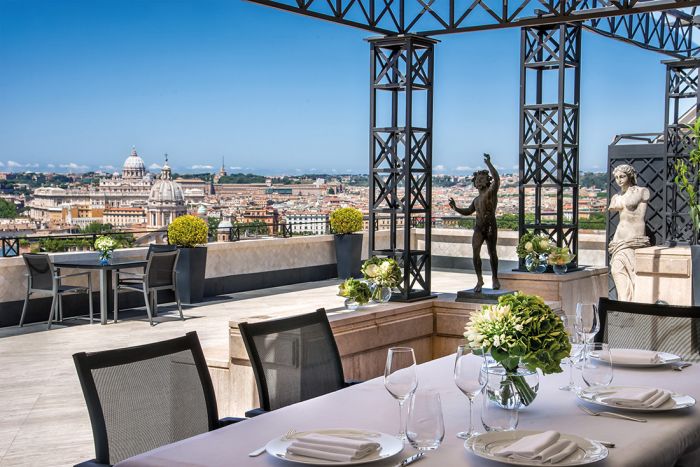 Courtesy of Hotel Hassler Roma
Penthouse Villa Medici Suite at Hotel Hassler Roma
With a retractable roof awning, this Penthouse Suite is ready for any weather. Stunning views of the city of Rome and chic dining spaces are accented by artwork and sculptures that leave guests ready to move in. The Hassler Roma is a 5-star hotel situated on top of the Spanish Steps, with the penthouse affording beautiful views of the city for the 7th floor of the hotel.
For more Luxury Hotel Reviews click here