(credit: Sheraton Saigon Hotel & Towers)
In bustling District 1, Sheraton Saigon Hotel & Towers is in the heart of Ho Chi Minh City on the famous Dong Khoi Street. Just a couple blocks from the Saigon River, the hotel is surrounded by the city's vibrant business and entertainment district and perfectly situated within walking distance of popular attractions. Just a short walk to Ben Thanh Market, War Remnants Museum, Opera House and Reunification Palace, the hotel is also close to top restaurants and charming shops
Totaling 485 guestrooms with 366 rooms and suites in the Main Tower and 119 studios and suites in the Grand Tower with views of either Saigon River or Ho Chi Minh City, each accommodation features a Sheraton Signature Sleep ExperienceTM bed. All 366 rooms and suites in the Main Tower were renovated and upgraded with Vietnamese lotus flower themed bedrooms, hybrid lodging technologies and revamped 4/4 bathroom experience in 2019 and offer a contemporary feel with bright bold colors.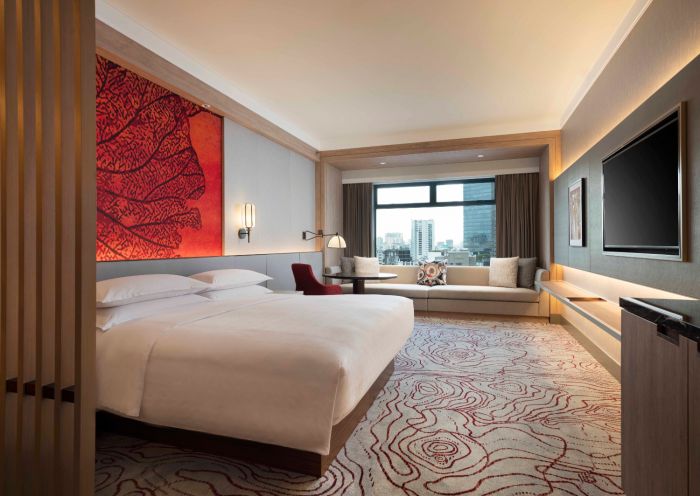 (credit: Sheraton Saigon Hotel & Towers)
From modern furnishings to its heavy influence on the national Lotus flower, guests feel a sense of purity and beauty providing a tranquil upscale environment. Upon entering your room or suite, guests are welcomed with unique amenities (like homemade chocolates presented beautifully on a charcuterie board and decadently designed into ruby red slippers) prepared by the attentive and dedicated hotel staff.
"The international five-star Sheraton Saigon Hotel & Towers delivers unmatched quality of service and amenities to that of rivaling luxury hotels in the city," says Marion Klein, Director of Sales & Marketing, Sheraton Saigon Hotel & Towers. "We offer a mix of the city's cosmopolitan charm and vibrant tradition in the way we look after our guests on every stay alongside keen attention to detail ensuring a truly bespoke yet homelike stay experience for all guests.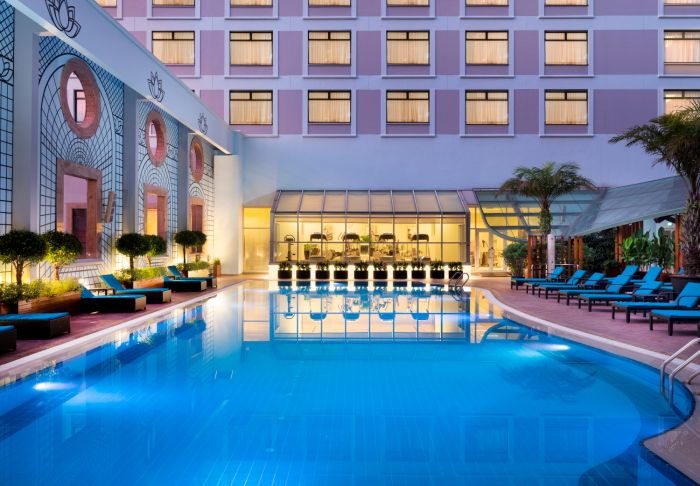 (credit: Sheraton Saigon Hotel & Towers)
Featured amenities at the hotel include a full-service spa, fitness center, outdoor pool, Sheraton Club Lounge and open air recreation area. As the first luxury Hotel Spa in Ho Chi Minh City, Aqua Day Spa is truly a distinctively destination Vietnamese spa. Encompassing nine treatment rooms, the spas' menu includes body scrubs, massages and unique treatments like the Incredible Journey and Everlasting Paradise.
Step into Aqua Day Spa and will immerse into a location so serene allowing guests to unwind and disconnect from the outside. Adorned with local timbers and natural charcoal stone, the spa team understands the importance of 'Feng Shui', creating a flow of tranquil energy that is passed along to guests letting them to emerge, revive and refresh.
(credit: Sheraton Saigon Hotel & Towers)
Dining at the hotel starts with three options for breakfast from a buffet including drinks, continental breakfast or a full American breakfast. Gather at the all-day Saigon Café which features local delicacies and international cuisines presented in an expansive buffet and a simply a la cart menu. Swing by The Lounge in the hotel lobby for some comfort food and drinks throughout the day and relax in a cozy and stylish lobby lounge setting with comfortable sofas and large armchairs while listening to their live jazz band every Monday to Saturday evenings. For a more distinctive and intimate dining destination with contemporary decorations, head to Li Bai Restaurant to sample a wide selection of authentic Cantonese dishes and daily dim sum buffet.
Another iconic dining establishment is the acclaimed Level 23 Signature restaurant offering refined a la carte menus and different set menu options for all diners. The restaurant was getting a complete menu and interior makeover within the first few months in 2019 and later introduced a fresh take on classic grills with modern Western influences all while enjoying Saigon street photography and panoramic 360-degree views of Ho Chi Minh City at night. Take a seat at their dining room or by the exhibition kitchen to get a truly up-close view of culinary magic in the making. Combining elegance and comfort with urban beach deco-inspired corner and sleek bar furniture, the adjacent Level 23 Wine Bar is an alfresco venue with a wide selection of carefully selected beverages and light bites, undoubtedly a favorite spot for all locals and tourists alike.
For more Luxury Hotel reviews visit here