Photo Courtesy of The Burgoyne Hotel
Explore the Yorkshire Dales National Park with The Burgoyne Hotel
With the world caught in the grip of a pandemic, travel has taken a serious hit. But that doesn't have to mean that you can't go on adventures—they just have to be a little closer to home. Thankfully, the United Kingdom is full of rich history and gorgeous scenery for lucky locals to take in over a long weekend. So, if you like road trips through stunning countryside, the Yorkshire Dales National Park is just the place for you.
Found in the Pennines in North Yorkshire and Cumbria (it also includes a bit of Lancashire), the majority of the national park was created in 1954. Full of quaint villages, waterfalls, rivers, rolling meadows, woodlands, limstone cave systems, and walking trails, the rural area offers the picturesque countryside one imagines when thinking of Jane Austen adaptations.
Photo Courtesy of Mila Pantovich
Back in September 2020, we spent three wonderful days driving through the Yorkshire Dales National Park, squeezing in as many walks and waterfalls as we possibly could, so we could fill you in on the must-see spots to make your own adventure a lot easier. First off, you must avoid the temptation of booking a new spot to stay each night—it's just not necessary. The Yorkshire Dales National Park is by no means a small area, but it's not so large that you can't stay in one spot for your entire stay. We suggest booking a room at The Burgoyne Hotel as the home base for your adventure and planning day trips since you can pretty much get anywhere within a couple of short hours.
(Though we visited months ago, we wanted to make sure The Burgoyne was able to take on reservations before posting this article. Well, the gorgeous hotel is finally able to make bookings for their re-opening on May 17 and we recommend nabbing a room now, as we have no doubt that they're going to disappear fast.)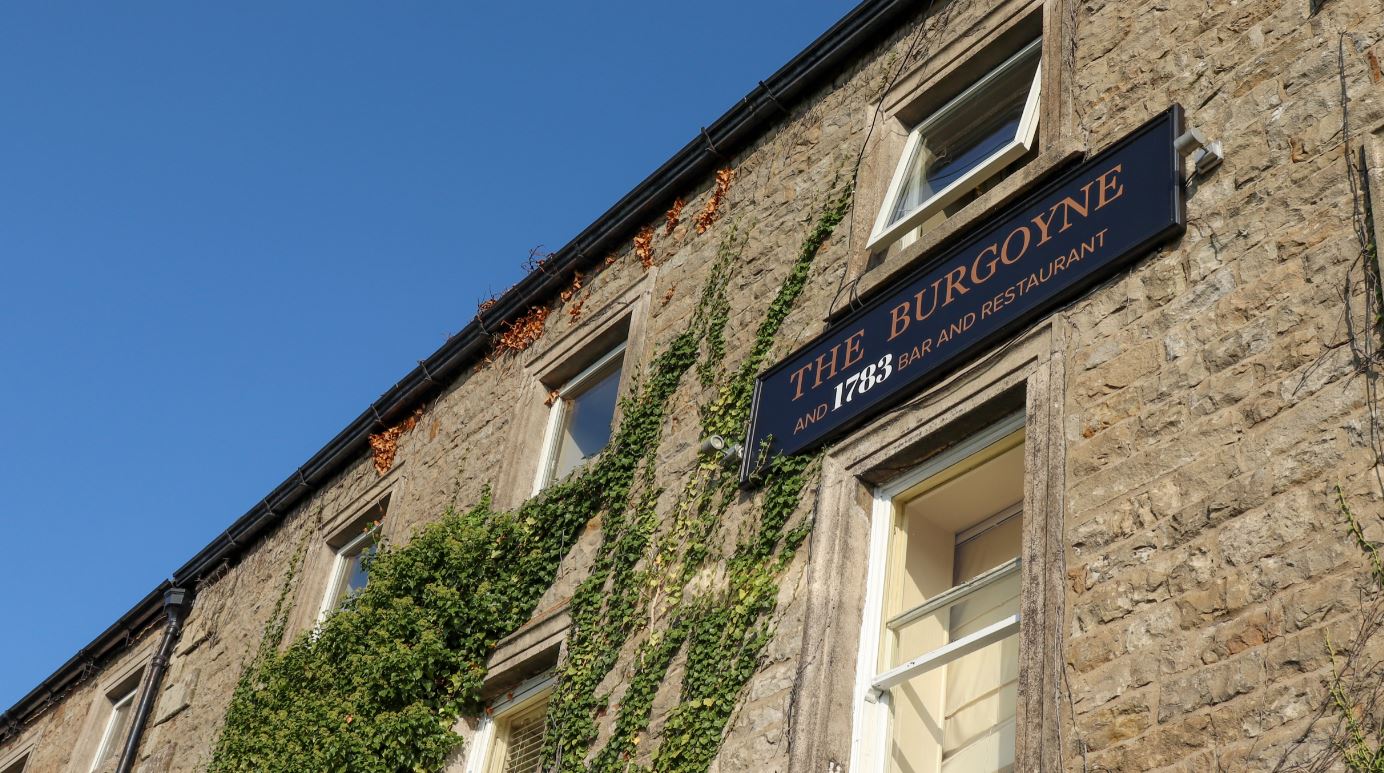 Photo Courtesy of Mila Pantovich
Originally built in 1783, The Burgoyne Hotel sits on a grassy hill in the village of Reeth and offers guests unparalleled views of the moors of Grinton and Harkerside. Decorated in a traditional style that brings in a modern aesthetic, the hotel is basically the perfect home away from home while you explore everything the national park has to offer. Plus, the excellent staff is following the latest COVID guidelines to the letter at all times, so hotel guests can rest easy knowing that all necessary risk assesments and stringent hygiene measures are in place to keep everyone safe.
Aside from the gorgeous stone facade, our first impression of The Burgoyne Hotel was, believe it or not, the car park in the back. Over the years, we've come to notice that you can often judge a hotel based on the make of cars parked outside and this one didn't disappoint (Aston Martin, Jaguar, and Lotus were all represented during our stay). You'll also find a lovely garden in the back, which is by far, the property's best-kept secret (even though it's not technically a secret). Because the hotel's front garden is usually populated by guests enjoying a cocktail or two, the back garden is where you can go if you want true privacy. Plus, its views aren't too bad either.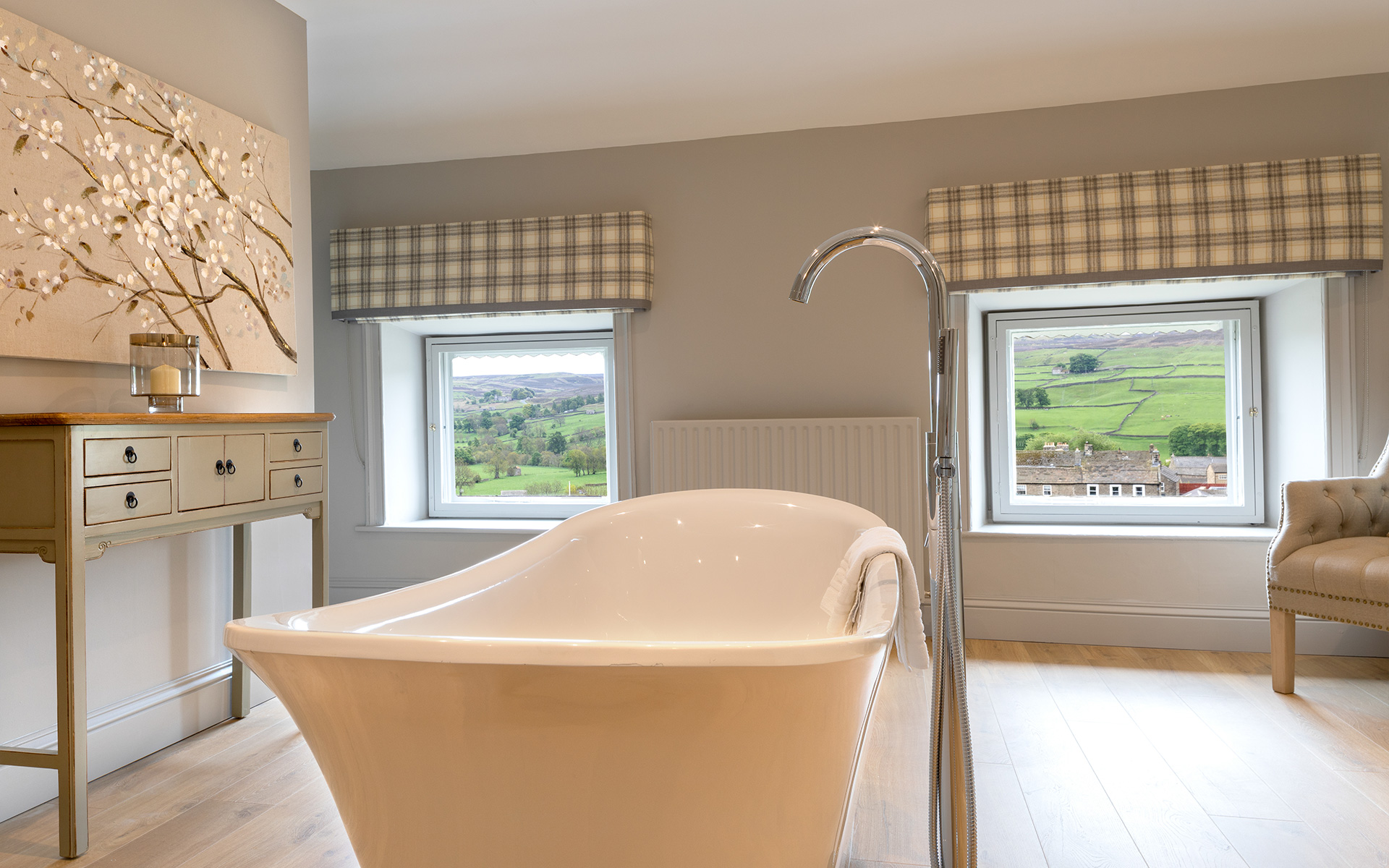 Photo Courtesy of The Burgoyne Hotel
When it comes to selecting a room for your stay, take our word for it and make sure to book the Ivelet room. As the hotel's most stunning (and largest) offering, the 52-square-meter room has had a full refurbishment and overlooks the charming Reeth village green through its many windows. Oh yeah, and it's new, en-suite bathroom isn't too shabby. Considering it's the size of most hotel rooms, with a massive standing shower and a free-standing tub at its center, the bathroom just might end up being where you spend most of your time.
The Burgoyne also features a regal drawing room where you're welcome to relax by the fire with a drink. For dining, the 1783 Restaurant & Bar can be found across from the drawing room, which offers a wide array of dishes and of course, a rather extensive wine list.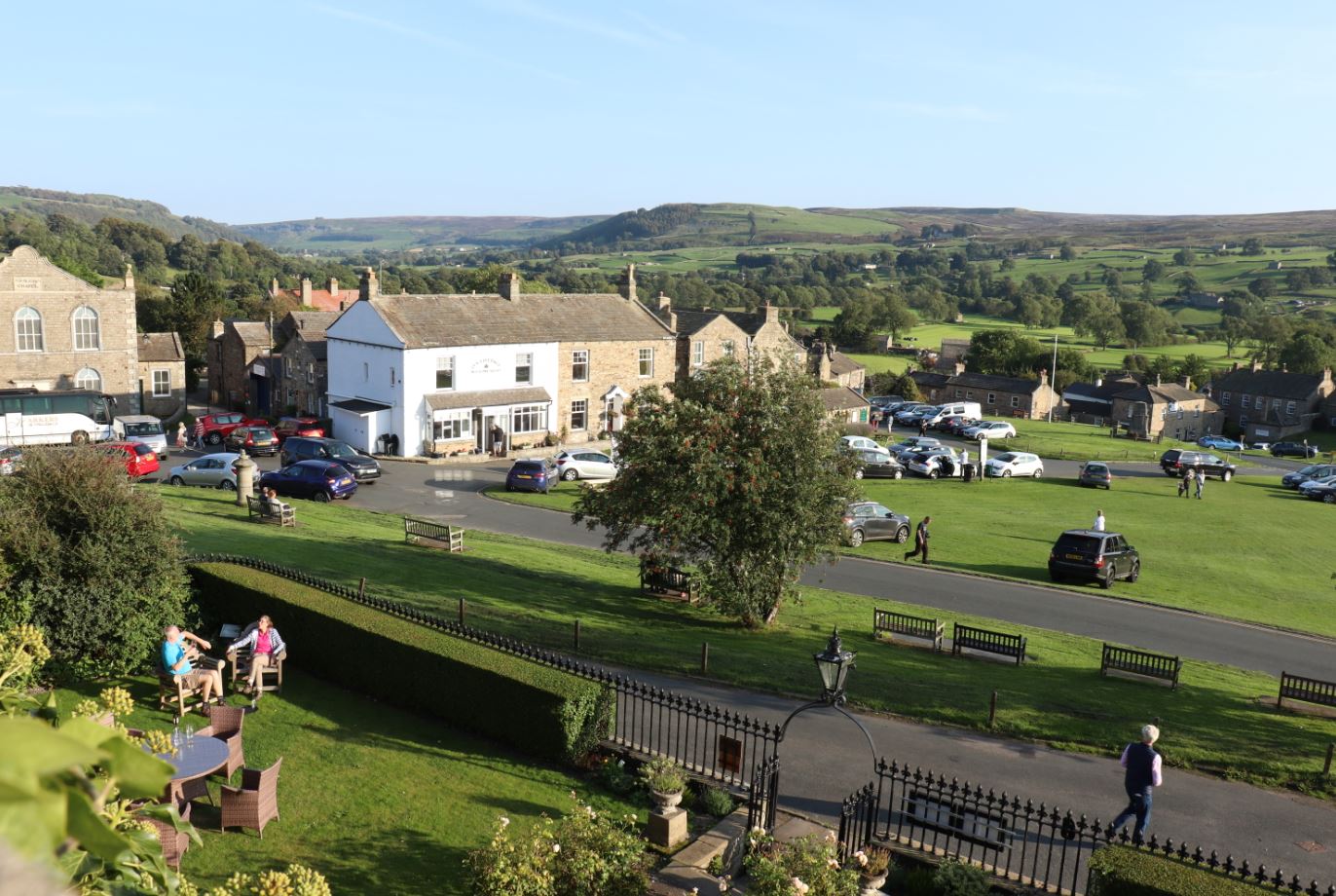 Photo Courtesy of Mila Pantovich
The village of Reeth offers plenty of cute little shops and places of interest, which are all right outside of the hotel's doorstep. Though we have plenty of destinations to recommend, make sure to set aside a couple of hours to explore the walking paths, especially the ones that take you through the fields along the River Swale.
Ready to explore the Yorkshiredales National Park? We've collected our recommendations on the must-see spots based on what we managed to fit in. However, there is so much more to see, so we're already planning our next road trip and visit to The Burgoyne Hotel.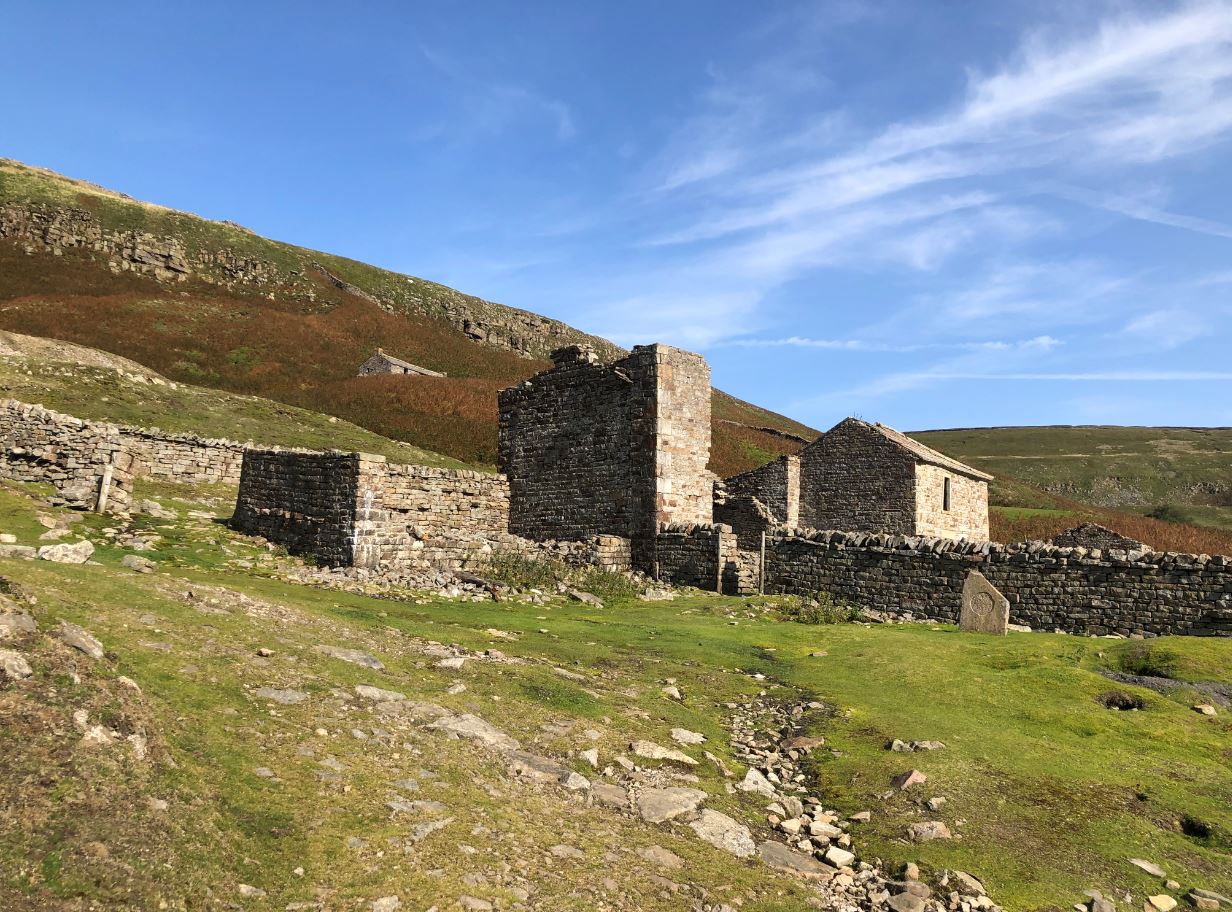 Crackpot Hall - Photo Courtesy of Mila Pantovich
Aysgarth Falls
Distance to Hotel: 9.8 miles
Composed of three sets of waterfalls in Wensleydale, Aysgarth Falls are spread out over a mile or so, giving you plenty of areas for gorgeous photos. Pack some snacks and enjoy the scenic path that takes you along the river.
Crackpot Hall
Distance to Hotel: 9.9 miles
If you love abandoned 18-century farmhouses, Crackpot Hall is a must-see. The ruins can be found just a short walk from Kisdon Force waterfall (which is next on this list) near the village of Keld in Swaledale. Though there isn't much known about the building, it's worth a visit for the Instagram shots alone.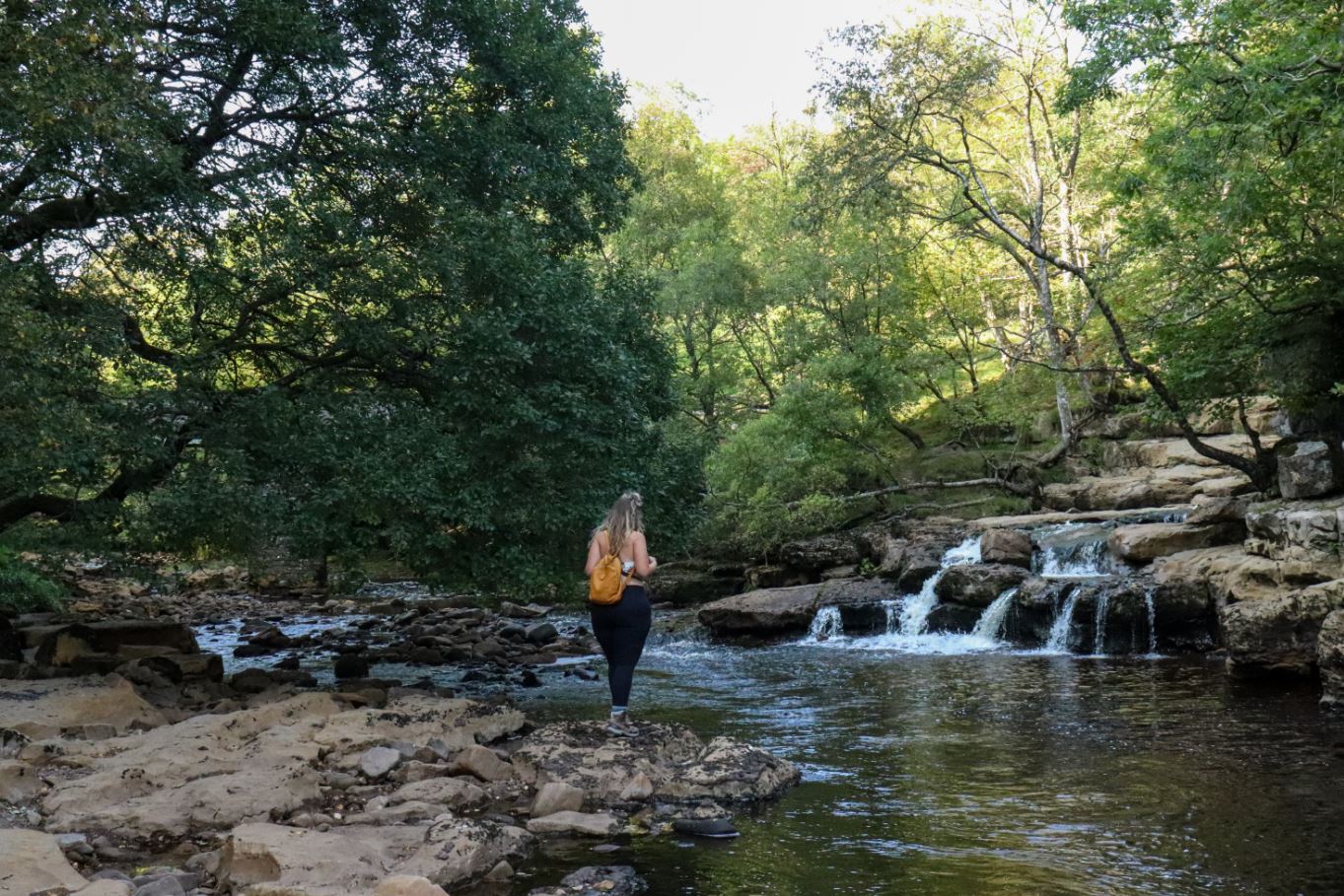 Kisdon Force - Photo Courtesy of Mila Pantovich
Kisdon Force
Distance to Hotel: 12.4 miles
The Kisdon Force falls are found on the River Swale in Swaledale, just downstream from Keld. Follow the signs that take you along a cute path (which is actually part of the massive Pennine Way, a National Trail that spreads across England and even a bit of Scotland) to the lower falls and then the upper.
Hardraw Force
Distance to Hotel: 14 miles
This waterfall is made up of just one drop of 100 feet and is claimed as England's highest above ground, unbroken waterfalls. The picturesque footpath to the waterfall is found right behind the Green Dragon Inn near Hawes and follows the Hardraw Beck stream.
The waterfall is the setting for a brass band competition held annually in September and movie buffs might also recognize the waterfall from Robin Hood: Prince of Thieves.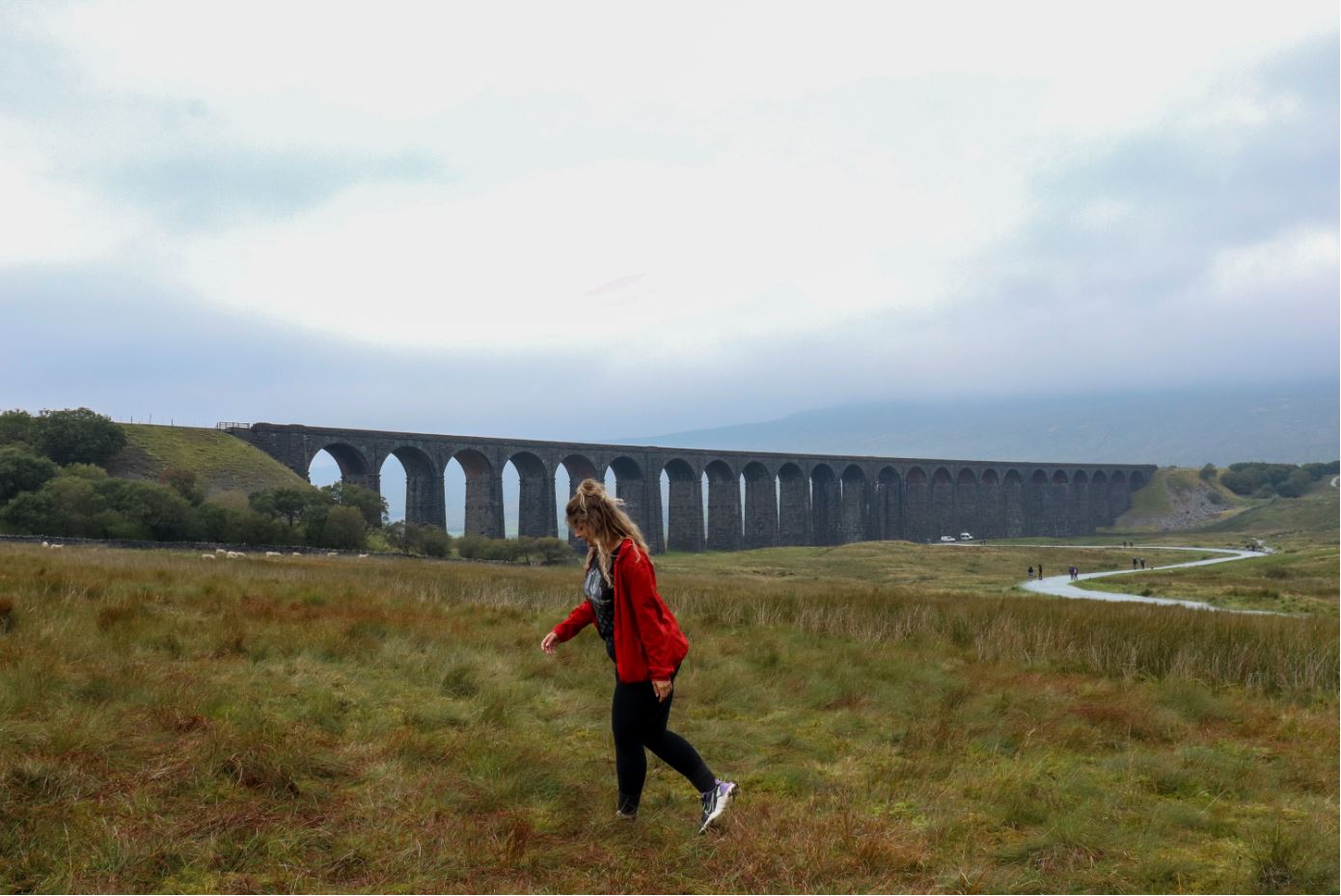 Ribblehead Viaduct - Photo Courtesy of Mila Pantovich
Hawes
Distance to Hotel: 14.2 miles
Hawes is a cute little town in Richmondshire that is a great resting spot while en route to other destinations. Keep an eye out though, because you won't want to miss the little waterfall flowing right through the middle of town.
Ribblehead Viaduct
Distance to Hotel: 25.1 miles
Many people mistake Ribblehead Viaduct for Glenfinnan Viaduct in Scotland (which was used in four Harry Potter films), but we can't really blame them. This stunning architectural feat was part of the Victorian railway boom that helped the Midland Railway get through tricky terrain. Even though the weather was less than ideal when we visited, the misty air only added to the moody terrain.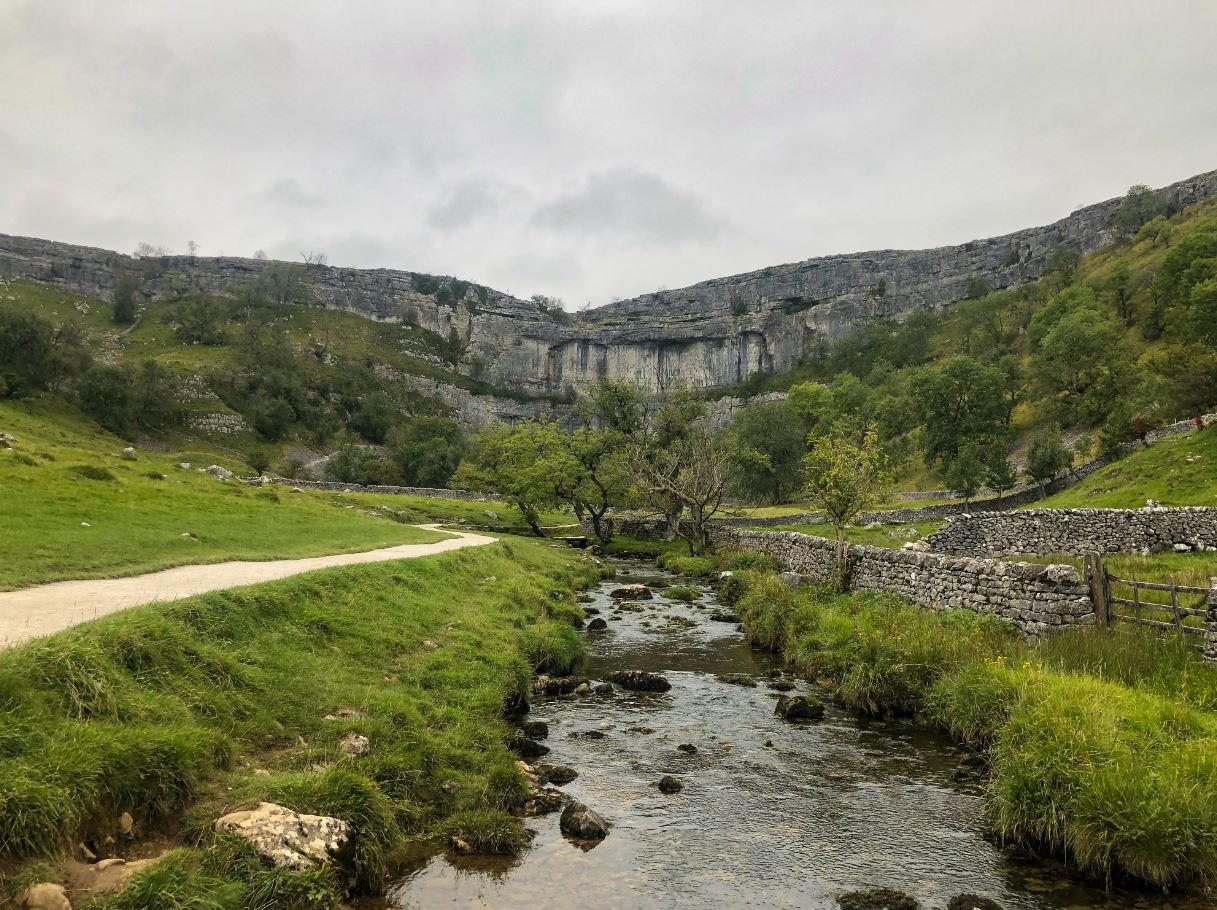 Malham Cove - Photo Courtesy of Mila Pantovich
Ingleton Waterfalls
Distance to Hotel: 31.5 miles
To be honest, we almost skipped this one, because we had already seen plenty of waterfalls, but we are so happy that we did it. Ingleton Waterfalls Trail stretches out over 4.3 miles and offers views of Rivers Twiss and Doe, with plenty of viewpoints to stop and snap pictures from. The path is a one-way system, so once you pay the entrance fee, you have to keep moving forward until you get to the end (though there is an opportunity to cut through some fields to get back into town quicker once you reach the top of the falls).
Malham Cove
Distance to Hotel: 36.8 miles
This spot honestly cannot be missed. Seriously. The massive curved limestone wall can be found just north of Malham village and was formed by a waterfall carrying meltwater down from glaciers. Well known for its stunning beauty and straight-up cliff face, you might spot some daring rock climbers.
If you're feeling up to it, make the trek up to the top for unbelievable views (you might recognize the limestone pavement up there from Harry Potter and the Deathly Hallows (Part 1) and the 1992 film Emily Brontë's Wuthering Heights.)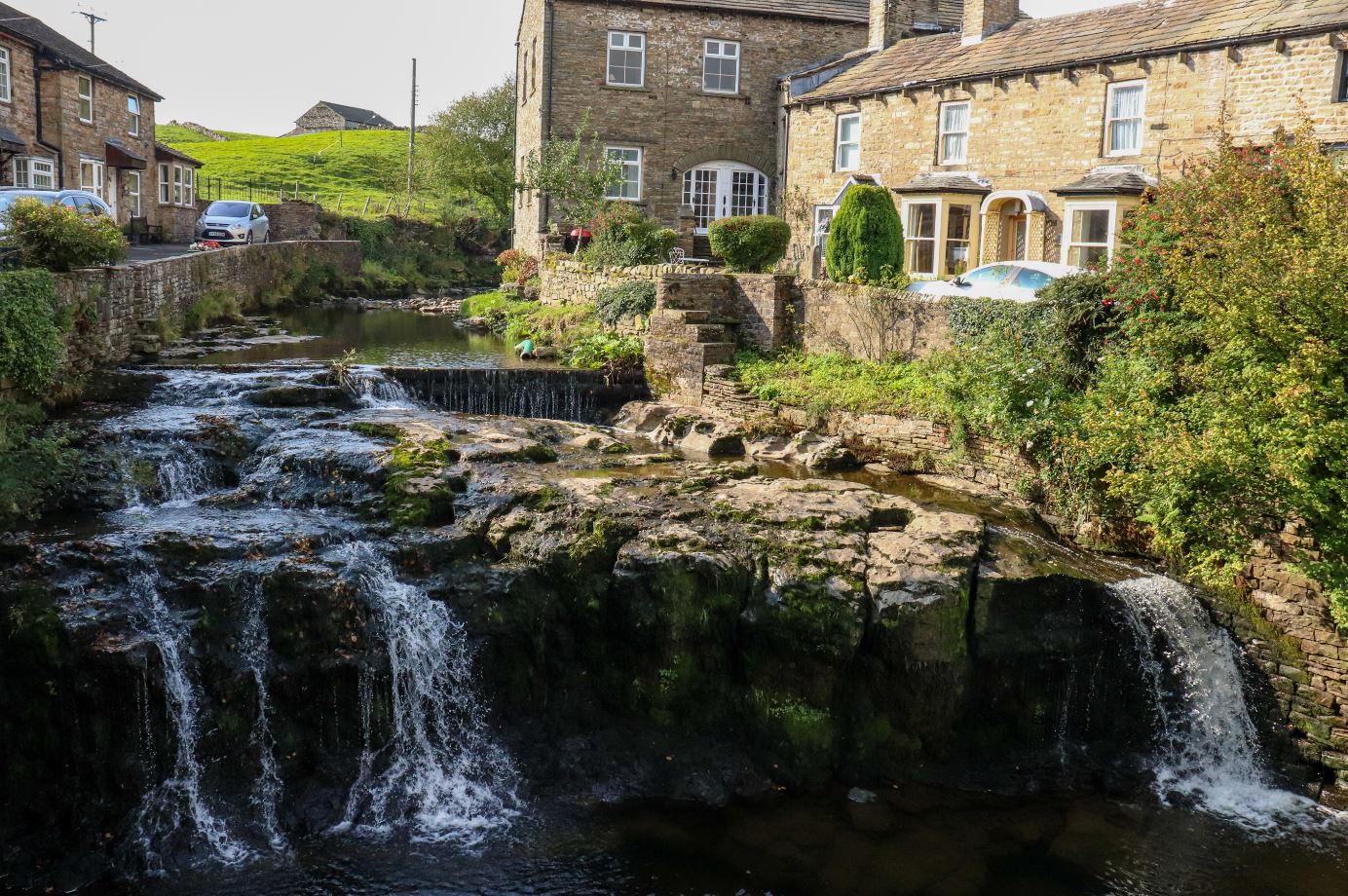 Hawes - Photo Courtesy of Mila Pantovich