Photos Credit: Kimpton Angler's Hotel
Explore South Beach With Kimpton Angler's Hotel
Miami is always a good idea. But after a year of lockdowns, quarantine and a worldwide pandemic, the question is no longer about whether a trip to Florida is necessary but when. As more and more travelers are getting fully vaccinated, we're finally able to slightly see the light at the end of the tunnel. And that means: more travel, much. more. travel.
This month, we hopped on our second flight since the pandemic hit to make our way over to the sunshine state for a much-needed vacation. With masks on and hand sanitizer in our pockets, we headed to Kimpton Angler's Hotel, a boutique property in the heart of South Beach for a weekend stay.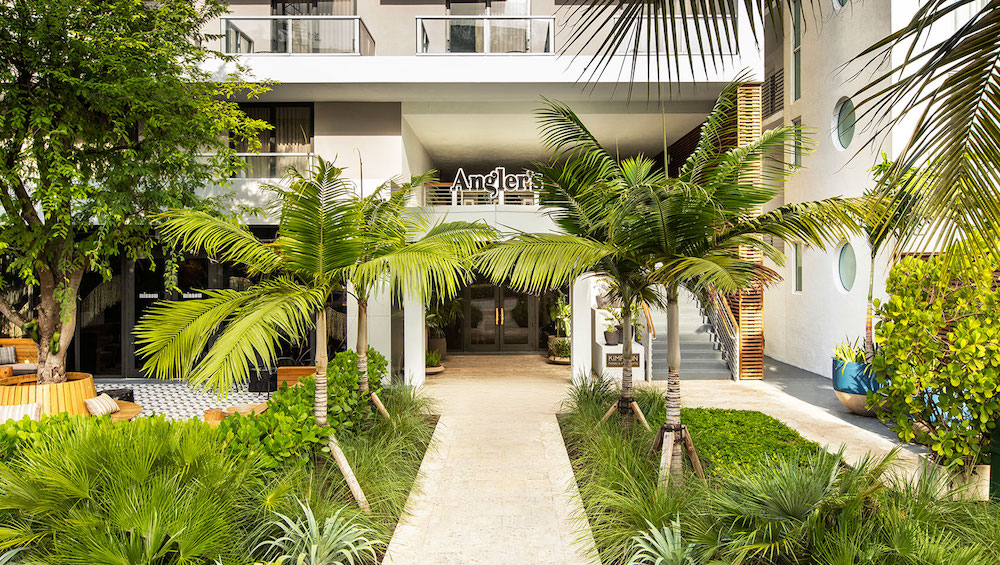 Made up of five different buildings that encompass the hotel as a whole, Kimpton Angler's offers 132 guestrooms which include studios, two-story lofts, suites, villas, spa villas and three-story poolside bungalows. Upon arrival, guests will notice all staff wearing masks and plexiglass shields to offer an added layer of protection from Covid-19. Credit card machines are also wiped down between swipes and clean pens are offered to sign any necessary documents. From the moment we arrived, everything felt very sanitary and we were thankful to see extra measures being put in place for our safety.
For this trip, we stayed in the tower building which holds the main lobby, Minnow Bar, and the rooftop pool and sundeck. Most rooms in the tower offer balconies and spacious accommodations, regardless of room category. We stayed in one of the property's Signature Suites which boasts 500 square feet of space, a king bed, extra-large wraparound balcony, deep soak tub and walk-in shower, wet bar with mini fridge and clean, modern designs that offer an airy and relaxing stay.
One of the things we loved most about this suite was its floor-to-ceiling windows which wrapped around two walls and overlooked the city below. As far as décor, dark hardwoods pair elegantly against crisp white linens and hints of blue scattered throughout the room. Wicker hanging lights and mid-century modern furniture give that chic Miami feel while providing a warm, at-home space.
Inside the room, guests are treated to complimentary yoga mats and a bright yellow and white beach bag which you can carry with you to and from the beach only a short walk away. But the real pièce de resistance is the suite's large bathroom with deep-soaking tub overlooking the city and resting against royal blue subway wall tile. Full-sized toiletries are also available.
While there is no gym on-site, guests can enjoy complimentary access to Orangetheory Fitness which offers small group classes 4-8 times per day. Similarly, although the property doesn't have its own spa, it offers in-room services ranging from massages to facials, body therapies and manicures/pedicures. To book a service, guests can easily access the "spa" button on their hotel phone and a spa coordinator will help you schedule your preferred treatment.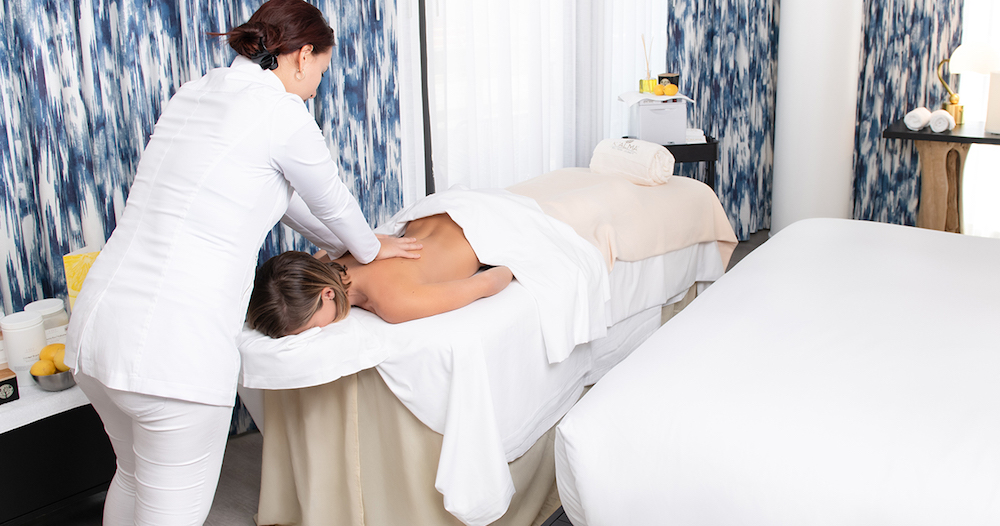 Having missed out on spa treatments in 2020, we were excited to try the hotel's in-room experience in partnership with K'Alma Journeys to relax our way into the weekend. Prior to the appointment, the spa technician spoke with us about any issues we may be experiencing or what needs we had while setting up her table and oils. Wearing a mask, she asked our comfort level and whether we'd like the massage on the balcony to allow for air circulation or in the room for added privacy.
We experienced the Citrus Bliss massage which uses citrus cilantro oil to stimulate circulation within the body, release antioxidants and revive the muscles and tissues. It also helps to enhance the production of collagen and elastin. Our only issue was that it seemed to go by too quickly; so be sure to book the 90-minute session, you won't regret it.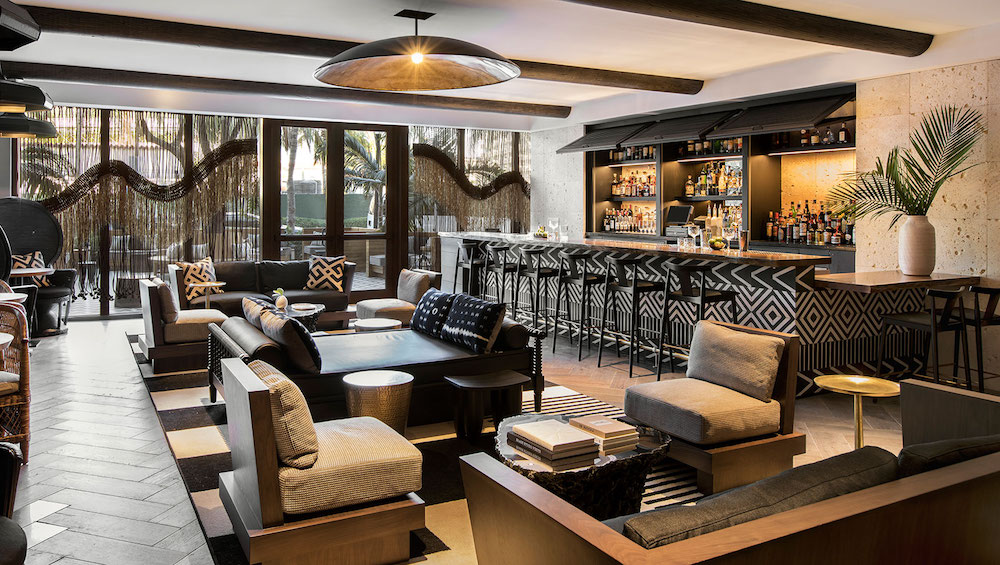 Around the property, we also experienced the rooftop pool and various dining options including Minnow Bar and Seawell Fish & Oyster restaurant. Currently, the poolside menu is available by text; guests can send a text to a designated number to order food and drinks from Minnow Bar, limiting the amount of contact with servers if preferred. However, a poolside attendant is available in person as well to occasionally to check on guests for refills or extra food orders.
Open from 12 noon to 10 p.m. daily, Minnow Bar features an eclectic style which black and white patterns, leather seating and dim lighting for a moody and sexy South Beach vibe. Gin takes center stage here and herb-infused craft cocktails are paired with a full-service bar and lite bites menu. For eats, guests can enjoy items such as oysters, barbacoa short rib tacos, tuna poke and seafood flights. And of course, you can't visit the eatery without trying one of their hand-crafted cocktails. Consider the Hotel Hot Box made with turmeric infused Ford's, mezcal, pineapple-cilantro syrup, black pepper and egg white (we may still be dreaming about this one).
During the day, should you wish to check out the sights and sounds of the city, request use of one of the hotel's complimentary PUBLIC bikes. Especially on the boardwalk, these bikes are the perfect way to enjoy an afternoon exploring. For an even more unique experience, book a Ride Like a Local package which includes a reserved bike for three hours, customizable picnic lunch and a to-go cocktail.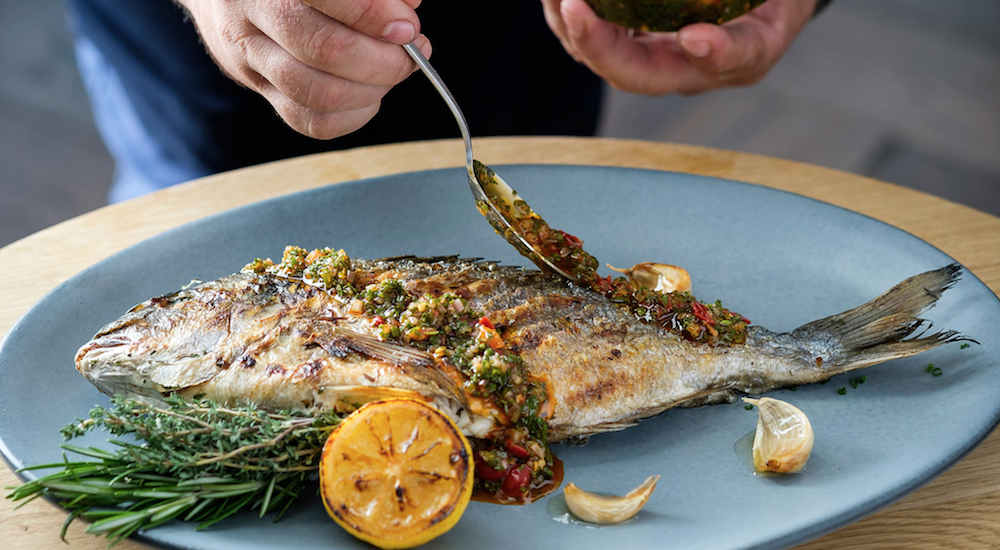 Finally, when the sun sets, head to Seawell Fish & Oyster for dinner, an American seafood restaurant boasting locally-sourced ingredients and regional classics. While both indoor and outdoor options are available, consider sitting outside to enjoy an enchanted atmosphere under twinkle lights and set against lush greenery. It's magical.
For dinner, we recommend starting with oysters and the crackling pork belly and clams. Next, split a lobster roll before moving onto your main course (because why not?). Moving onto mains, finish up your seafood extravaganza with lobster spaghetti, a light-yet-creamy dish seeped in flavor and portioned well so that you still have room for dessert.
With bellies full, souls rejuvenated and our skin warmly sun-kissed, Kimpton Angler's Hotel proved to be the perfect escape this spring. While traveling may not yet be on your to-do list or within your comfort level, when you are ready to hit the beaches again, you can rest assured that the Kimpton is taking every precaution to ensure your safety and that of their staff. Its location also makes it a prime destination for anyone looking to stay in South Beach off the main path of the hectic SoBe streets.