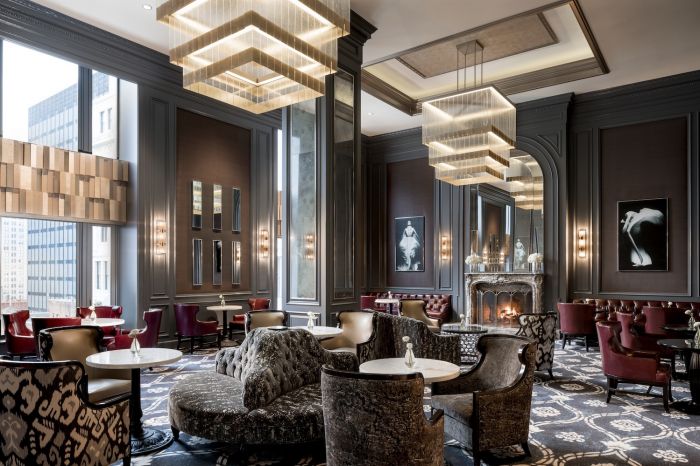 The Lounge at The Ritz-Carlton, San Francisco
This City by the Bay grand dame celebrates her 30th anniversary this year and she has never shown better. A luxurious oasis in the heart of the city and the perfect home base for travelers returning to urban experiences, The Ritz-Carlton, San Francisco is the city's only AAA Five Diamond hotel property. Located atop prestigious Nob Hill and housed within a distinctive city landmark building that dates to 1909, the hotel is steps from some of the city's most popular attractions. Its 336 luxurious rooms and suites boast city views, and its amenities include wine tastings in the lobby-located JCB Tasting Lounge, bespoke perfumes at the new Krigler boutique (the only location in Northern California), delicious cuisine and craft cocktails at The Lounge, and a newly designed interior park and garden with city views, where guests can relax, read a book, and enjoy complimentary weekend yoga. A new Respite Concierge program, in partnership with coveted local businesses, helps guests find respite in the city through a curated list of experiences in three categories: retail, recreation, and relaxation. Here's a closer look at the hotel's greatest qualities:
1) Location, location, location: Conveniently situated in the heart of the city, the iconic hotel is close to some of San Francisco's most popular attractions including the historic California Street Cable Car that is accessible right outside the hotel doors. Walk the famed hills to European-esque Huntington Square, Grace Cathedral, Chinatown, and North Beach and take-in the awe-inspiring views.
2) Club Level: Further elevate your stay by booking a Club Level room. Amenities within this 8th floor 'hotel within a hotel' include four delicious and varied culinary offerings throughout the day: breakfast, light lunch, hors d'oeuvres and cocktails, and desserts and cordials – which can be enjoyed in the spacious Club Lounge or in your room. A selection of beverages is available at any time. Overlooking the city skyline, the Club Lounge is the perfect place to meet with family and friends, conduct business, or simply unwind to the dulcet sounds of a perfectly curated playlist. A dedicated Club Concierge is at your service to help plan your stay.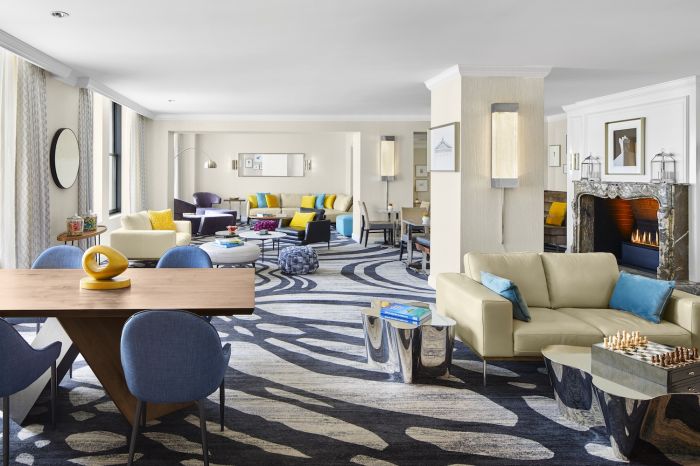 The Ritz-Carlton, San Francisco Club Lounge
3) The Lounge: Exuding an elegance that is at once both chic and casual, the hotel's glamorous lobby lounge, with its city skyline views and illuminated bar, is the perfect spot in which to sip a San Francisco-inspired cocktail. Enjoy lunch or dinner featuring seasonal menus that highlight the bounty of the region such as whole branzino with root vegetable relish and cilantro, or a creamy lobster roll that pairs perfectly with a glass of lush Napa Valley chardonnay. This dramatic yet cozy room is where you're most likely to leave your heart - a la Tony Bennett.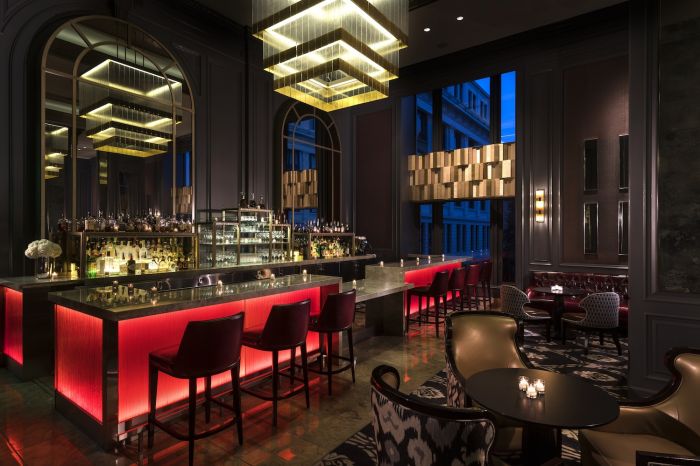 The Ritz-Carlton, San Francisco Lobby Bar
4) JCB Tasting Lounge: The hotel has partnered with French-born Jean-Charles Boisset, proprietor of a multitude of California and French wineries, to feature The JCB by Jean-Charles Boisset Tasting Lounge. Boisset succeeds in pushing the boundaries of the wine tasting experience with his leopard-print banquettes, velvet-lined walls, revolving crystal chandeliers, and the best in glassware, china, and crystal. The atmosphere is shamelessly outrageous, a bit vampy, and great fun, just like Boisset himself. And then there are the wines - featuring both style and substance, each is as charismatic as its creator.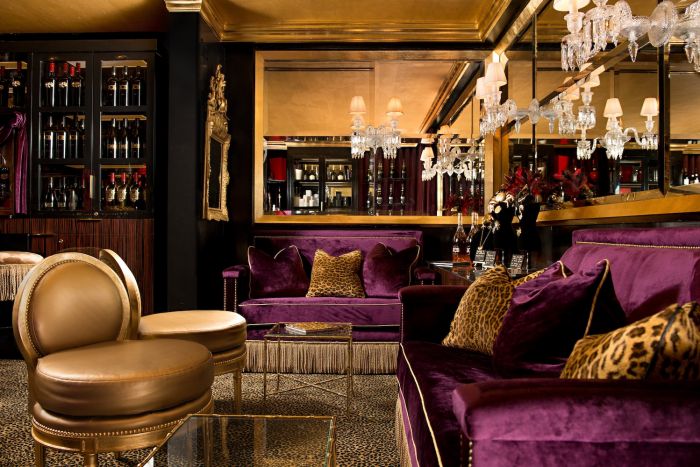 JCB Tasting Lounge at The Ritz-Carlton, San Francisco
5) Krigler Boutique: Hotel guests are fortunate that historic fragrance house Krigler (established in 1904) chose The Ritz-Carlton, San Francisco as its only Northern California location. Step inside to experience the various signature scents worn by some of the world's most famous faces. Jackie O, Grace Kelly, Audrey Hepburn, F. Scott Fitzgerald, Hemingway, Picasso, and many other luminaries considered themselves Krigler fanatics. Explore the classic favorites of these iconic personalities as well as newer creations developed by current fifth-generation proprietor Ben Krigler, and perhaps discover what will become your own signature fragrance. (Rumor has it that 'Blue Escapade 24' is the current choice of Formula 1 drivers.)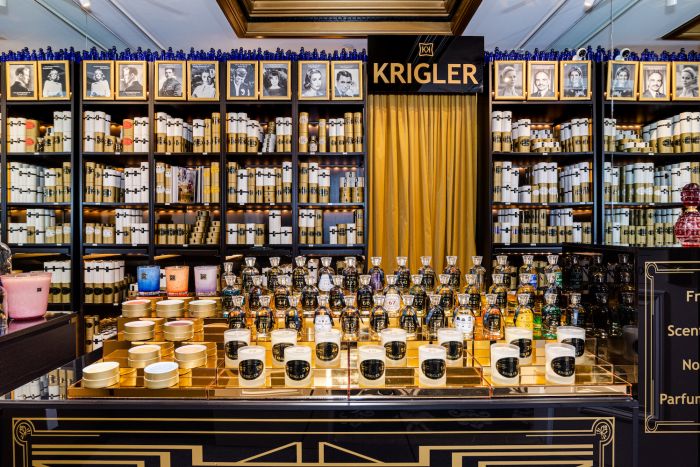 Krigler Boutique at The Ritz-Carlton, San Francisco
6) Respite Concierge: Via a curated list of options in three distinct categories: retail, recreation, and relaxation, this bespoke program partners with coveted local businesses to offer a variety of experiences exclusively available to hotel guests. Choose from beauty treatments, one-on-one fitness sessions, personalized shopping excursions, and a private sail around the Bay – each available to book in advance or through the hotel's dedicated Respite Concierge team.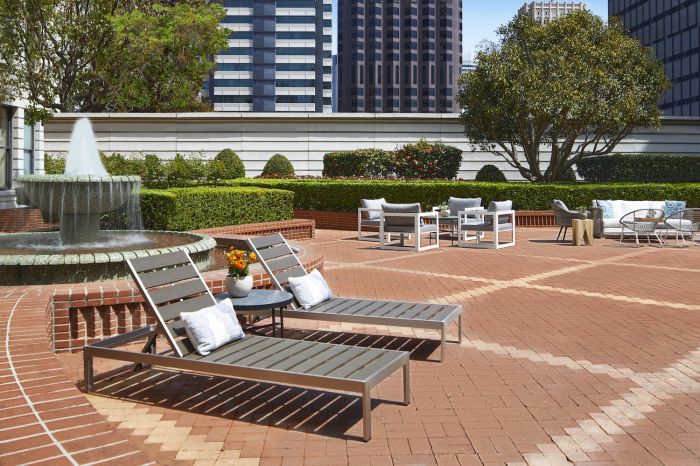 The Ritz-Carlton, San Francisco interior park and garden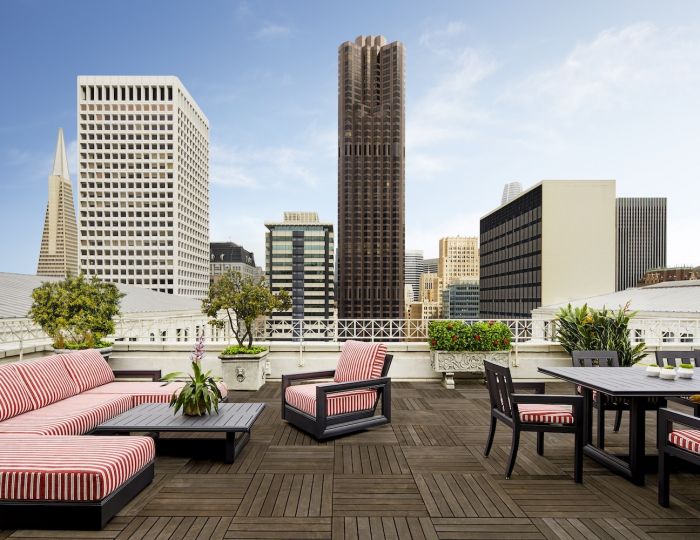 The Ritz-Carlton, San Francisco Presidential Suite balcony
All photos courtesy of The Ritz-Carlton, San Francisco