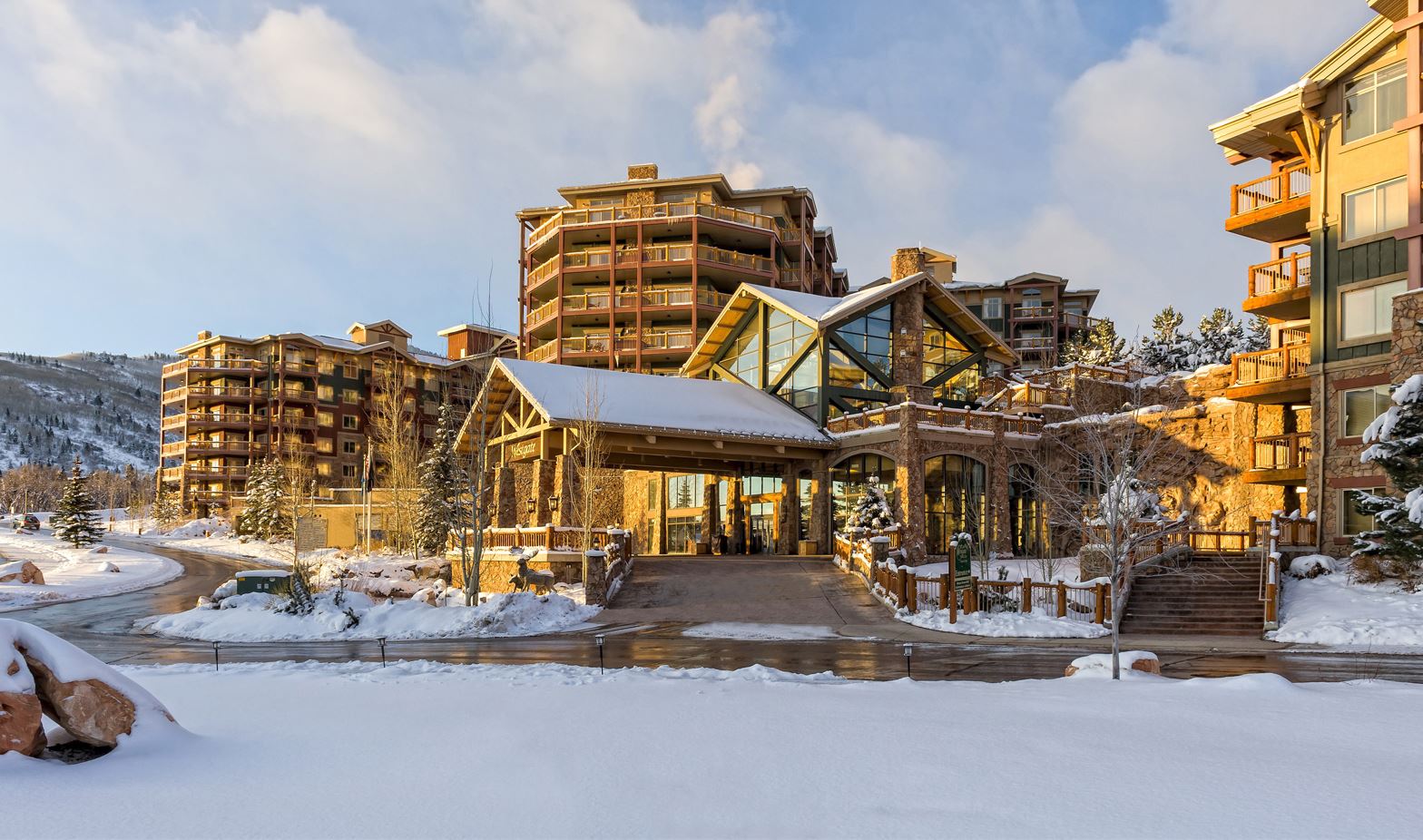 Susan Kime
Over the years, it has been said and agreed, that two elements constituting a memorable hotel are human: a great General Manager (GM) and a great Executive Chef. Of course location, service, and wellness amenities are also on these ubiquitous lists, but the human element is the one that is sometimes overlooked. On our recent travels to the Westgate Park City Resort and Spa, which lies at the base of Canyons Village in Park City, Utah, this dual human element revealed itself, and strongly.
The Westgate has been the recipient of many awards, but recently has received eight Utah Best of State Awards for 2021, for achievement in travel and tourism, hospitality and dining. It was named best in Utah in the following categories:
•Best Steaks – Edge Steakhouse
•Best Wine List – Edge Steakhouse
•Best Wine Service – Edge Steakhouse
•Best Gourmet Burgers – Drafts Burger Bar
•Best American Pub – Drafts Burger Bar
•Best Destination Spas – Serenity Spa by Westgate
•Best Ski Resorts – Westgate Park City & Spa
•Best Chefs – Chef Wayne Christian at Edge Steakhouse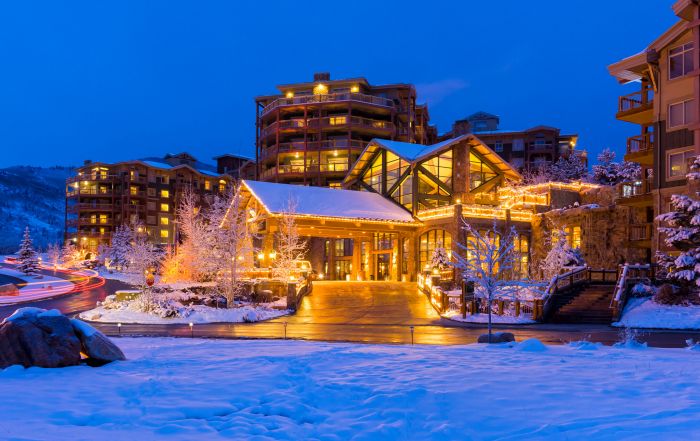 Westgate Park City Resort and Spa
There are many reasons for these accolades, first, of course, is the location – about 5-7 minutes from Park City, the free shuttle buses at the hotel can take and pick up guests from the Park City areas. It also features ski-in/ski-out access to Park City's 7,300+ skiable acres, a free ski valet service, onsite Aloha Ski & Snowboard Rental, and indoor and outdoor heated pools.
But then, there is the GM and the Executive Chef: two whose attitudes and aptitudes shape the hotel's Zeitgeist. The GM, Brent Tary, oversees hotel services and amenities. He is an engaged, energetic young man, one who, when we interviewed him, was as informal as one can be, and told us of his experience, working his way up, from being a valet parking attendant in Las Vegas to being a desk clerk to learning the hotel/hospitality industry from the ground up. The front desk services, and the concierge, were exceptionally pleasant and were there to serve the guests. Brent said simply, "Guest happiness and comfort --This is what we do and why we're here."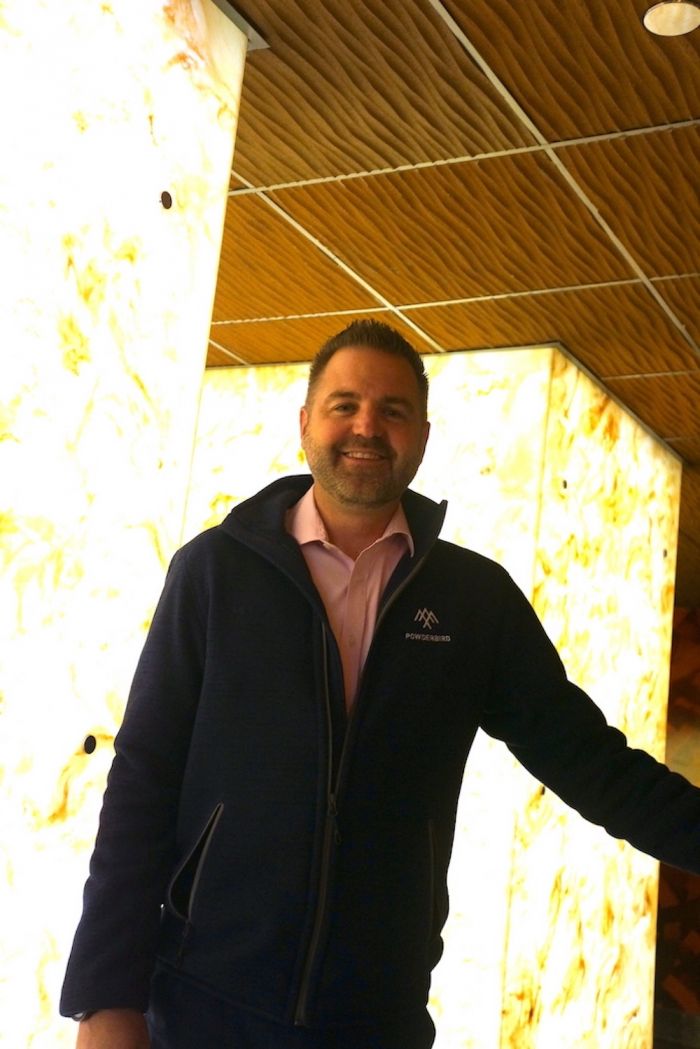 Susan Kime - Brent Tary, GM of Westgate Park City
And then, there was Edge Steak House, where an example of guest happiness was profoundly apparent. When we were there on a Monday, Edge was closed. But Chef Wayne Christian opened the restaurant just for us, as he wanted us to try some of his award-winning food. It was a gesture of professional kindness, not usually seen on press trips, or anywhere else, and we were grateful. We basically ate lunch, all freshly prepared food, all the while talking with Chef Wayne – 34 years old, and masterful in the kitchen.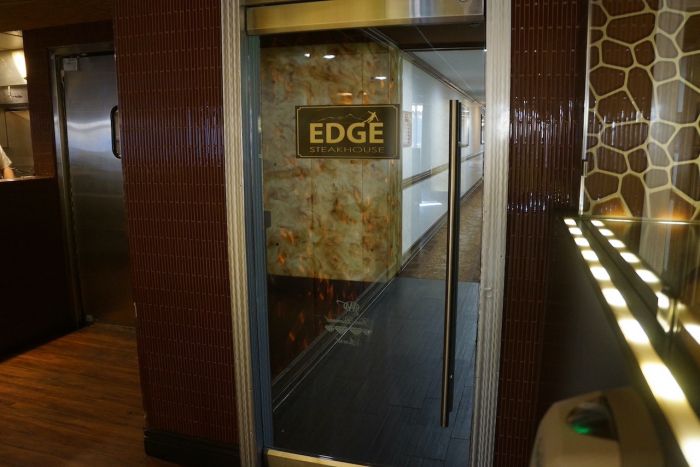 Susan Kime - Entrance to Edge Steakhouse
He went to culinary school in Florida, but started out as a teenager, working in kitchens for free to get the experience. He attributes his culinary abilities to his mother who he said, taught him to try new things, create new tastes. He now runs this multiple award-winning steak house, Edge, in Park City.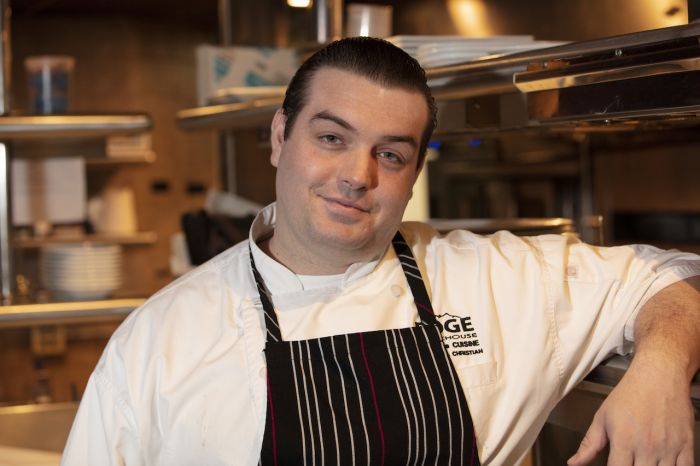 Executive Chef Wayne Christian of Edge Steakhouse
"I always like to try new things – as an example, there is a huge Farmer's Market in Salt Lake, and we like to go and try fruits and vegetables we haven't tried before, and combine them with more traditional fare." These unique flavor ideas combined and were evident in our tastings from our Edge dining experience on that cold November, Monday morning.
We sampled the Wagyu Tartare, garnished with Peruvian Potato Chips, Meyer lemon foam, braised mustard seeds, watermelon radish, and cornichon. The shrimp was garnished with a bell pepper salad tossed with lemon-basil vinaigrette on a English cucumber, The steak was from the Snake River Farms in Idaho.
Susan Kime -Shrimp with lemon-basil vinaigrette, and English cucumber
Combining these tastes and dishes for us was a memorable experience, and as we expanded our cognitive aperture, we understand why that the Westgate is as popular as it is. There was a warmth and generosity of spirit that was in direct contrast to the Park City weather -- a cold, but as yet snowless. We felt a unique gemütlichkeit – a German word meaning warmth, friendliness, tinged with kindness. We felt this here and wanted to return soon.
www.westgateparkcityresortandspa.com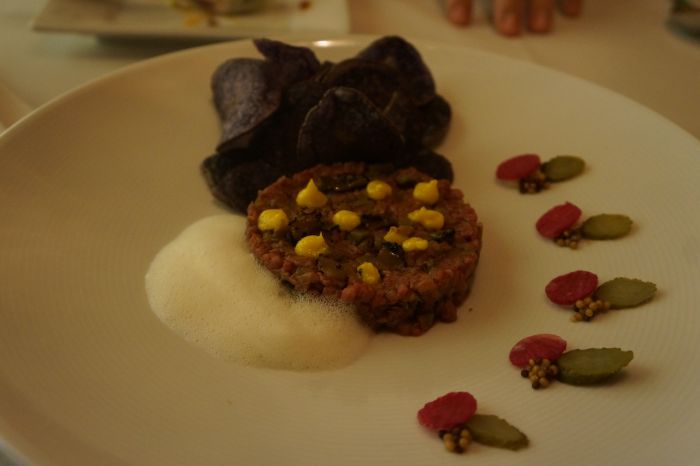 Susan Kime
Wagyu Tartare