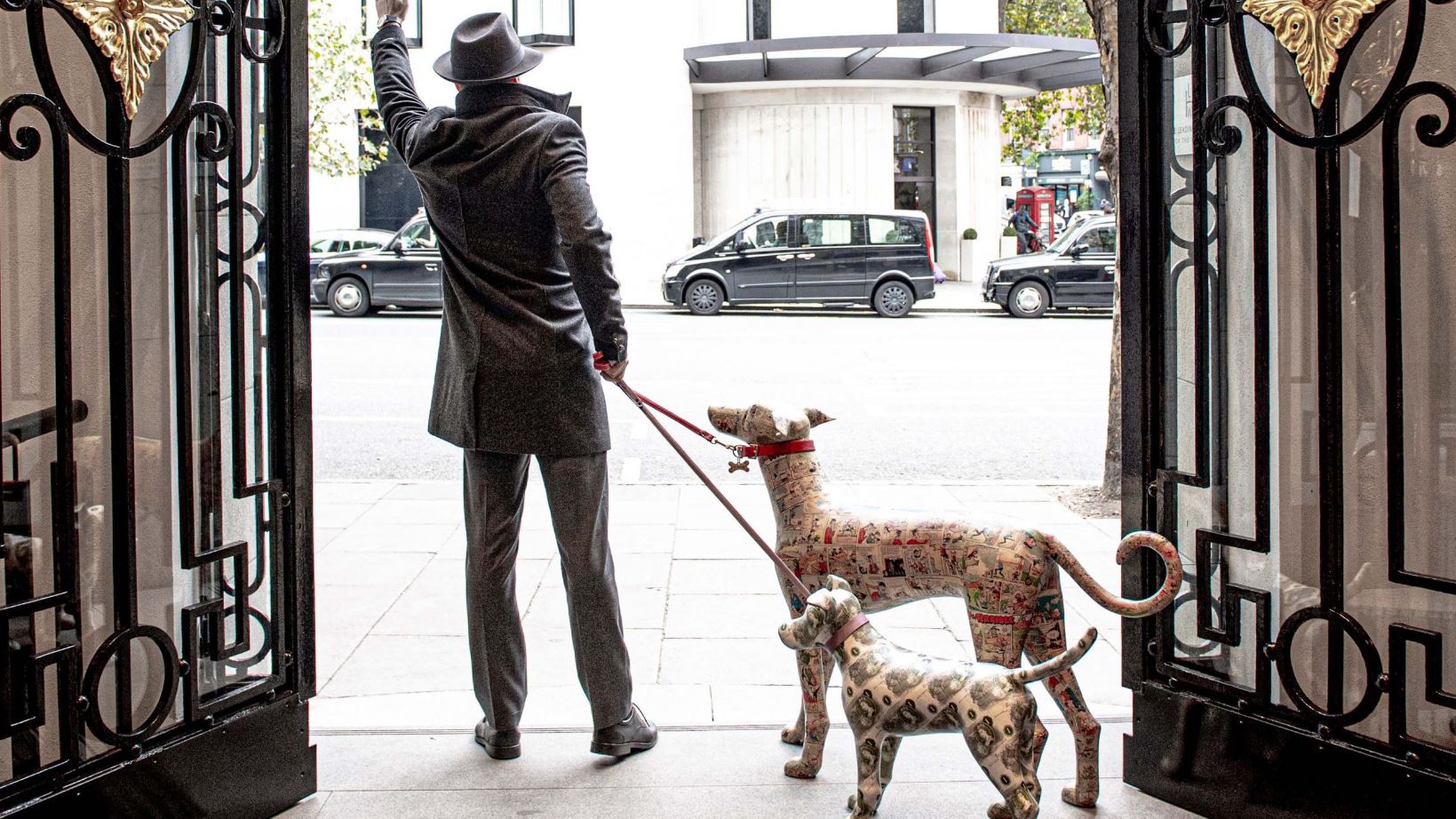 All images credit One Aldwych
There is a gravitas that London exudes unlike anywhere in the world. The Big Smoke is a city that is bold, iconic, and knows its place among our most fascinating destinations. The seat of the world's most revered royal family, London is regal itself with its own authentic British flair, style and grace. There are plenty of posh places to stay in Londontown, but there is one that is iconic, regal, and that also knows its place in the world. That icon of London hospitality is One Aldwych.
London is where status and position are everything. The same holds true for hotels. Where the guest house is located determines if it is to be considered blue blood or commoner status. At the end of Waterloo Bridge and the doorstep of Covent Garden sits One Aldwych. Its position is there to say "welcome to the neighborhood" as your first encounter into London's West End and this sumptuous little corner of the world.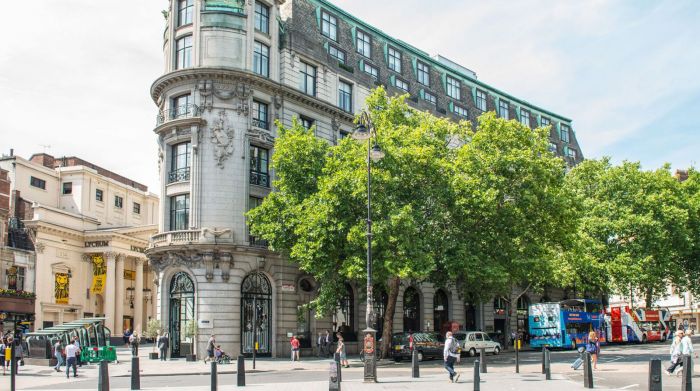 Surely there are other five-star hotels in the area, but there is a certain uniqueness of One Aldwych that makes it a standout among London's grande dame hotels. For one it is an independent hotel, not part of a big chain so it's free to literally be itself. Yes of course it is part of Leading Hotels of the World, so you have assured a certain level of standards and service, beyond its own well-earned reputation. This boutique hotel offers 105 sophisticated rooms as well as a set of facilities created for the cosmopolitan traveler. There are two restaurants, a health club and pool, and even a movie theatre hosting monthly dinner parties and film nights.
One Aldwych is one of those timeless hotels that never goes out of style. The ambiance exudes a restrained luxury versus an over-the-top opulence or gimmicks that appeal to the demands of the niche of the day. This was the vision from the onset; One Aldwych was not created to be en vogue. Instead, the goal was to create a hotel for all times, and they've done just that as evidenced by its perennial top list status by the purveyors of fine hotels.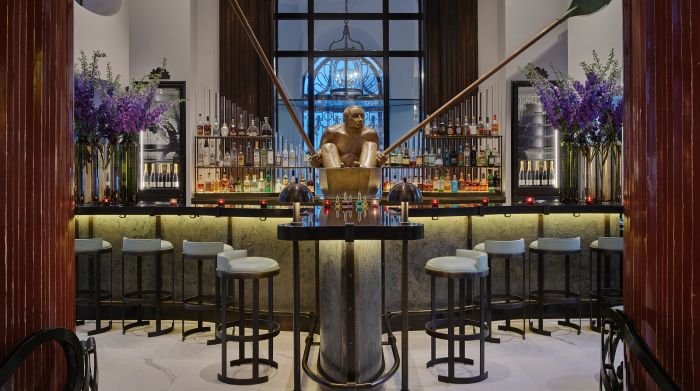 One Aldwych is no Johnny come lately by any means. It has stood at this very spot since for over 100 years and was once the home of the Morning Post, Daily Telegraph, and The Tatler. After becoming a Ministry of Defense building and then a bank, the building found its current purpose as one of London's most revered hotels. The visionary for the project was Gordon Campbell Gray who took over One Aldwych in 1998. Campbell Gray was known throughout the hospitality industry as a vanguard in developing the hotel stay for the affluent traveler. He set out to create a hotel experience that oozed a sophisticated kind of luxury vs. something brash and trendy. And that's just what you'll experience at the One Aldwych.
Guests staying in London could not ask for a more ideal location to see the city and at the doorstep of Covent Garden. One might describe New York's Time Square as the Covenant Garden of the U.S and offers a perfect mix of culture, cuisine, and boutiques. This is the famed West End theater district where major performances from around the world take up residence from Lion King to the Book of Norman. This is the cultural center of the city and beyond Theatreland you'll find several museums as well as the Royal Opera House, the London Coliseum, and Royal Theater all of which are less than a ten-minute walk from the One Aldwych.
To call One Aldwych a landmark would be an understatement. The Edwardian grandeur and Parisian elegance of the design have stood the test of time since the building was constructed in 1907 by the same architects who built the Ritz in Paris and London. The first thing that most will notice from afar is its odd shape. It is formed in the shape of a triangle with a wedge-shaped that fits into the intersection of Wellington Street and the Strand. Next, most will notice the level of craftsmanship from that bygone era with a façade of grey Norwegian granite exteriors, a roof made of copper and slate stone as well as its baroque flourishes from its Louis XVI and Louis XV-tinged decor.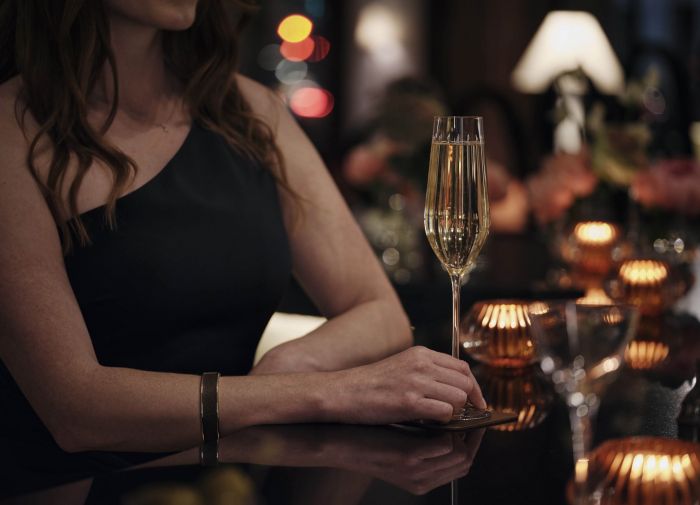 The entryway at One Aldwych leads into a lofty space, two stories high, with their impressive original Austrian oak windows flooding the room with natural light. The room buzzes with well-to-do travelers, business tycoons, and barristers there to bend the elbow. One Aldwych Lobby Bar is a London institution and perennially voted one of the top bars in London and the world. According to the Evening Standard, the Lobby Bar at One Aldwych is 'Probably the most beautiful hotel lobby bar in London'. Behind the long bar, mixologists create theatrical smoking cocktails while other guests opt for cocktail classics or a more austere glass of wine.
Beyond the astounding presence of the bar, within moments you'll start to notice the details. Some are more obvious than others, like the exquisite art collection found throughout the building. 350 museum-quality pieces interrupt your goings about, demanding that you pause and take notice such as Justine Smith's papier-mâché 'Beano' dog, covered in cartoons, that greets you at the entrance. Elsewhere, the stone-carved Head of Dionysus by Emily Young causes you to pause and take notice on the way to the elevator. Their most audacious piece is the commanding ten-foot bronze statue, the Lobby Bar's Boatman with Oars, by André Wallace, that dominates the room and is the cornerstone of its panache.
There's a certain mood that you'll find yourself in at One Aldwych and you may not be sure why as it is a collection of things that create the ambiance and environment. One element is the beautiful flowers throughout the common areas and in the guest rooms. The hotel's award-winning florist creates dramatic floral works of art in the Lobby Bar that change regularly as a focal point of the décor.
The final part of the puzzle is the service. From a team of discrete concierge peppered with Les Clef D'or members, to a staff responsive front desk team, and switched on dining staff, each interaction is warm, professional, and pleasant. There's never an air of snobbery from any of them, yes professional but always warm, approachable, and ready to assist in making your stay enjoyable.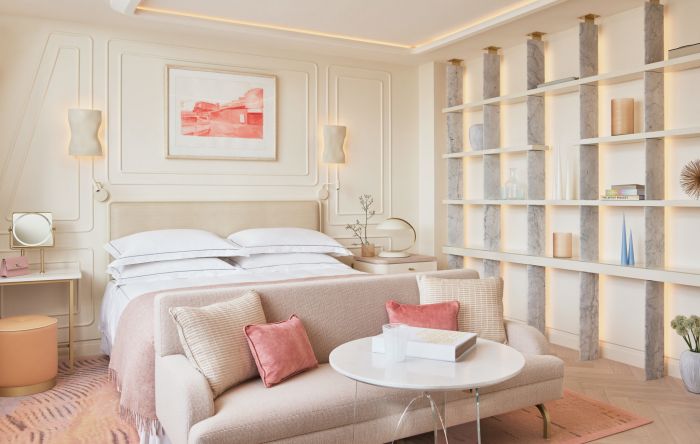 The overall gratifying experience of One Aldwych continues in the guestrooms. Again, don't expect anything flashy or in your face, in fact, it is the opposite and the further manifestation of restrained luxury. The calming ambiance is created by a color palette of sage, coral, grey and lavender, and natural wood surfaces. Beyond the soothing color, the details are exquisite from Parisian touches, art deco elements, and artistic details and molding.
There are 93 rooms and 12 suites, and due to the odd shape, all are unique in size and configuration. The angles of the roof add a dramatic flair to the accommodations and allow for, unusual shapes, with theatrical curves in the ceilings made even more striking with the elaborate mood lighting and fixtures.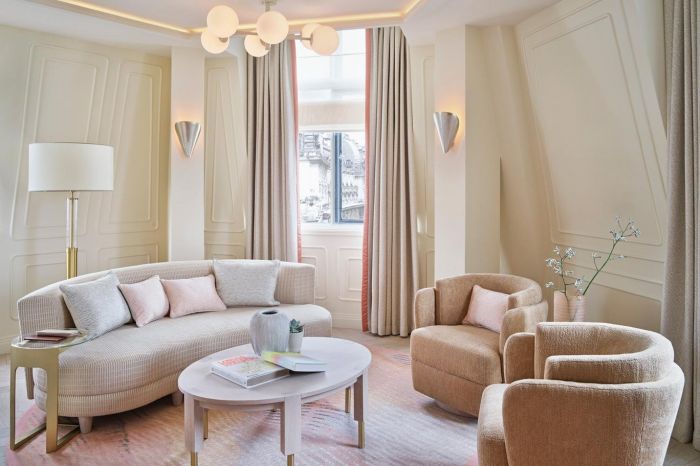 The accommodations offer uber comfortable beds with Frette linens, custom-made woolen blankets from the UK's Skye Weavers. The hotel offers all the amenities and surprises that one would desire in a five-star property such as exquisite original objets d' art in each room to the carefully curated coffee table books, fresh-cut flowers, and fresh fruit in your room each day.
The suites are even more opulent with another level of amenities and features. The Somerset Suite is made to impress the most jaded of travelers. Inside, the corridor leads to the view from the southern tip of the building and panoramic vistas over the Waterloo Bridge and the River Thames. Any time of day the scene is remarkable with cars and people coming and going with a backdrop of the London skyline beyond.
The oval-shaped living room is awash with natural light and is quite spacious with plenty of room to spread out on the comfortable furnishings. The décor is exquisite with interesting original art pieces, books to peruse, as well as a top-notch audio system and smart televisions. The marble-clad bathrooms are first-rate as well with a separate shower and soaking bathtub complete with a television for entertainment during an extra-long soak. The amenities are made complete with a complimentary twice-daily replenished mini-bar with local wine and beer as well as snacks and other refreshments.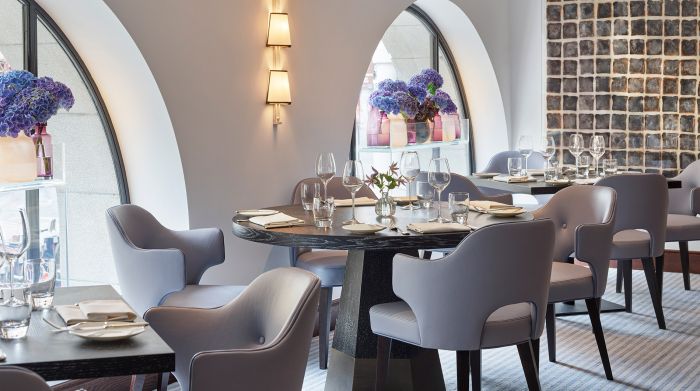 The dining experience at One Aldwych is exceptional as well. Whether it's a casual meal in the lobby bar, top-notch room service, their unusual afternoon tea, or dining in their signature restaurant, Indigo. Indigo is a well-regarded restaurant on the London dining scene and known for its innovative British fare of classics with a twist. The location is on the mezzanine level just above the Lobby Bar with the buzz and people watching that adds to the ambiance.
One thing that sets this restaurant apart is that those with certain dietary requirements need not be concerned as it is completely dairy and gluten-free. The menu is seasonal and changes regularly with a focus on regionally sourced produce. Expect to dine on dishes such as the 28-day aged grass-fed Scottish beef served with roast shallot, hand-cut chips, and soft herb salsa or the Brixham monkfish braised in lemongrass, coriander, and coconut milk.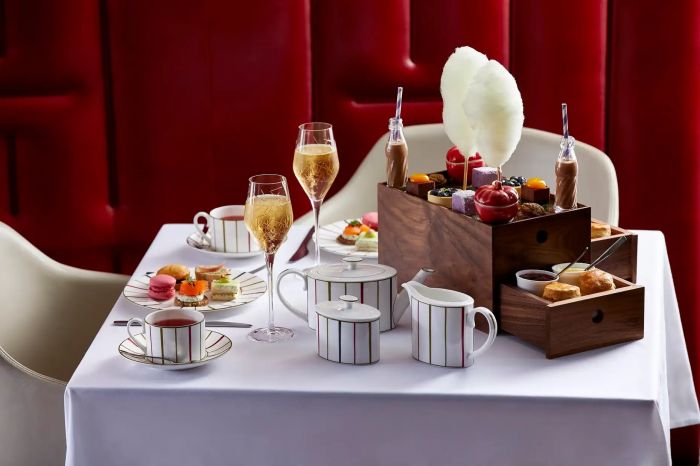 Afternoon tea in London is simply a must for any traveler. One Aldwych offers their very popular afternoon tea with a completely whimsical and fun concept. Their Charlie and the Chocolate Factory tea is very popular, especially for families with little ones. Instead of the predictable three tiers of savory sandwiches and scones, expect an artistic display of fun snacks to nosh on with cotton candy, soda pop bottles with a chocolate milkshake.
One Aldwych has a few more surprise amenities in store to offer their guest. The hotel has a screening room with a capacity for 30 with posh leather armchairs with wide armrests so there is no need to elbow wrestle your neighbor for space. The popular venue is used frequently for viewing performances taking place at the Royal Opera House and other special events. Beyond that, there are regularly scheduled movie nights aptly named Film & Fizz where guests have the perfect date night with a three-course dinner at Indigo followed by a movie with popcorn and free-flowing champagne for the evening. The ideal evening wraps up with a dessert that follows.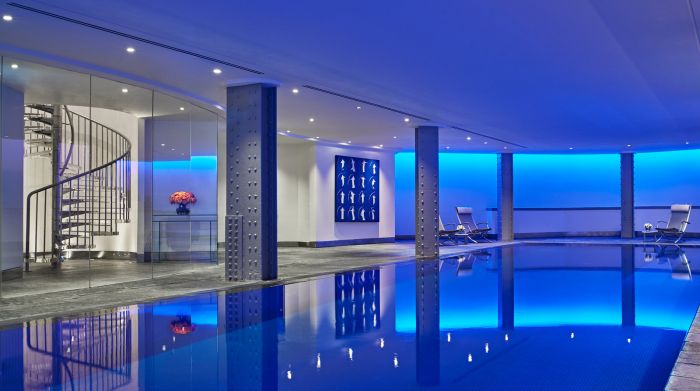 One Aldwych also provides their guests with a state of the artwork out facility as well with Technogym equipment, including cardiovascular machines, and a free weights area. Weary travelers will also want to spend some time in their spa as well and sauna and steam facilities. The surprises and wow factors don't end there. A surprise feature in this hotel is a 59-foot heated pool with mood lighting and a video wall with, get this, an underwater sound system. Guest need not worry about stinging eyes or wearing goggles, the pool is chlorine-free as well.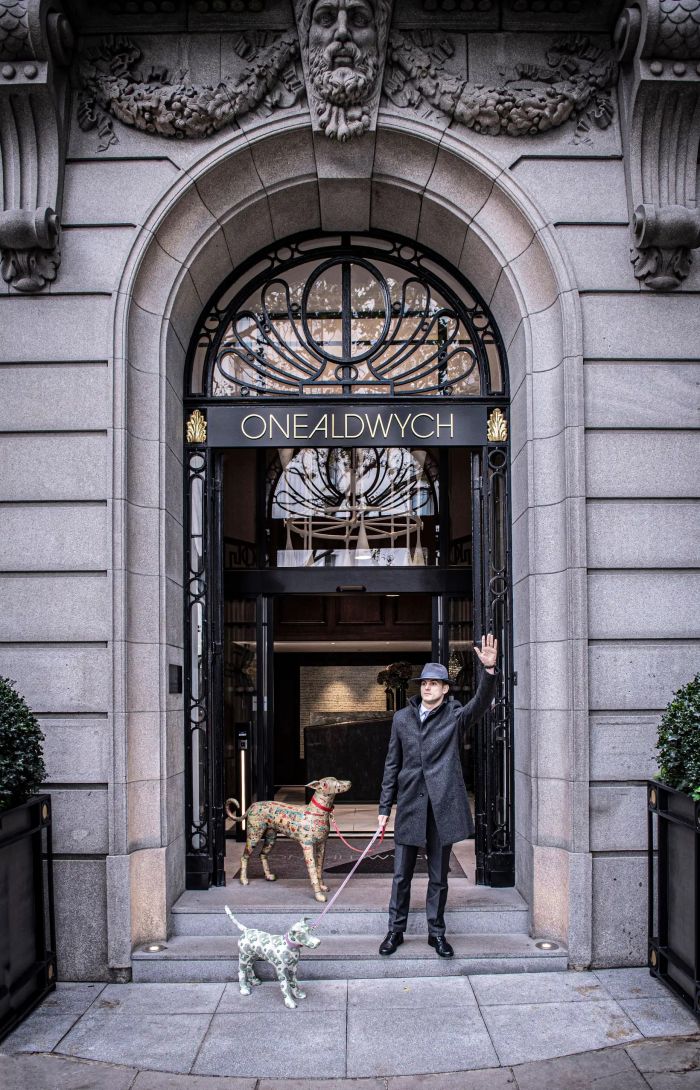 One Aldwych also caters to guests with four legs. The hotel has a place for their papier-mâché dogs and also welcomes their guest's pooches. Furry friends stay for no extra charge and are provided a bed and bowl and a special treat as well.
Campbell Gray once said the hotel was about "stealth wealth rather than dripping deluxe", and it's the same today. He also didn't want it to be a boutique hotel. He felt that those types of hotels follow the fashion of the day and are soon to fall out of favor. Be that as it may, this hotel has truly stood the test of time with no end in sight. It continues to be London's standard of a five-star holiday, popular yet never flashy. One Aldwych will never be London's IT hotel, and that's just fine with the hotel's caretakers and guests who stay there.