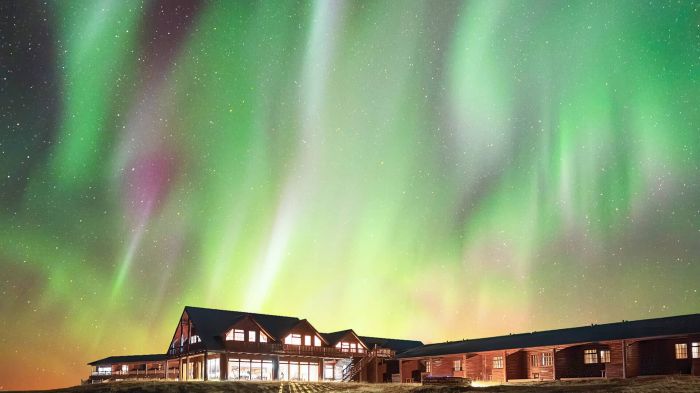 All photos credit Hotel Ranga
There's nowhere on Earth like____. Fill in the blank. You can pretty much say that about anywhere. And it is completely true as all destinations are unique and special in their own way. Be that as it may, some are a bit more special than others and Iceland is such as place. It is, in a word, incredible with an endless offering of natural wonders from magnificent waterfalls, and spectacular glaciers, to breathtaking landscapes with volcanoes that have left behind ethereal moss-covered lava fields. For the active traveler, the adventures to be had in Iceland are without compare. Situated amongst Iceland's most spellbinding natural attractions is the Hotel Rangá, an ideal luxury lodge to experience it all.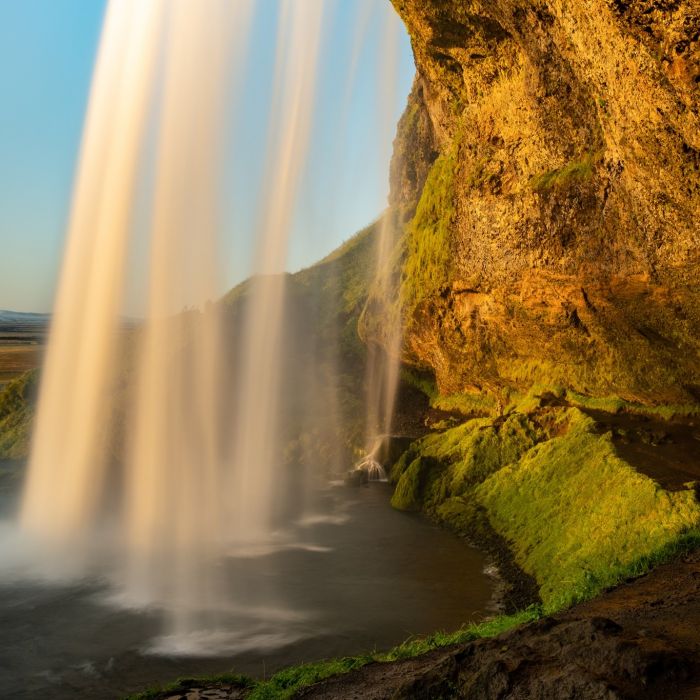 Iceland really does have an adventure for everyone. From easy-going coach tours to the most popular attractions to some serious hard-core adventures including heli-biking to day-long treks across the glaciers. The Hotel Rangá is a good base to explore this spectacular country. The location is on Iceland's South Coast where within short drive guests can take in the beauty of Iceland's most instagramable waterfalls Seljalandsfoss and Skogafoss. Glaciers are nearby to be explored as well as the South Coast's most iconic black sand beach.
Nature's Light Show: The Aurora Borealis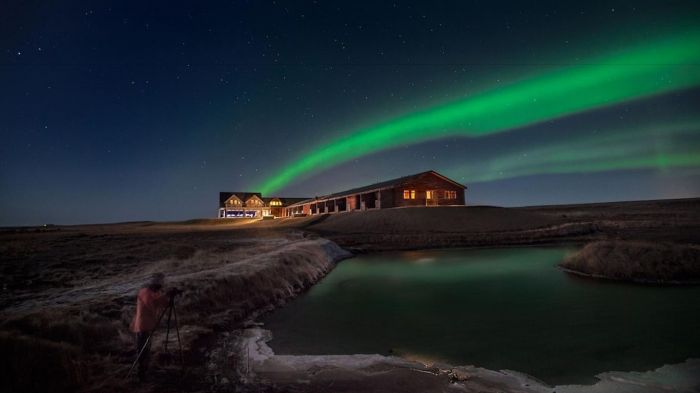 This country is also an island of extremes where summers offer 24 hours of sunlight with a midnight sun that never drops below the horizon. From October until April Iceland is one of the best places on earth to take in the surreal natural phenomenon, the aurora borealis. The artic lights are nothing short of magical as the eerie laser show seems to rain glowing showers of green and occasionally purple, red, pink, orange, and blue light.
"The real adventure is that we can never predict when the Northern Lights will appear. There is nothing like that moment when the sky surprises us with a spectacular show - you have to see it to believe it." ~ Kamil Jablonski, Northern Lights Photographer
There are many places to take in the northern lights. Because of Iceland's small population, there is a small amount of light pollution offering more chances to see this spectacle. The Hotel Rangá is isolated and, especially in the dark of night, feels like it is in the middle of nowhere. As a result, it is an ideal location to take in nature's light show. While others may need to arrange tours to chase the lights, the hotel allows guests to have an ultra-convenient experience where the aurora borealis comes to them. Guests can arrange for a wake-up call of sorts where the hotel's staff will let guests know when the lights are visible in the area. From there they can take in the lights from their balcony or several viewing areas around the property. The most indulgent way to take in the light is in one of the four hot tubs heated by geothermal water for a warm and comfy viewing experience.
Lodge Living at Hotel Rangá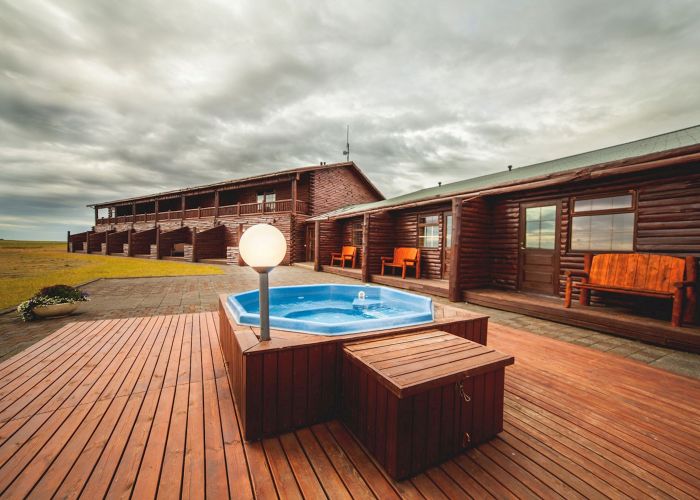 The hotel is not only in an ideal location, but it also looks the part of what you'd be after on your Icelandic holiday. It's called a hotel but feels more like some sort of Artic dude ranch. The log cabin design fits in perfectly in the vast landscape of wide-open fields without another building as far as the eye can see. What you will see with a short walk from the property is acre upon acre of grazing pastures and sheep as well as the winding Rangá River that cuts through the property. Further away you'll spot a herd of Icelandic horses that look like they pranced off the pages of a fairytale book with their aristocratic gate, long flowing mane, and rust, white and calico colors.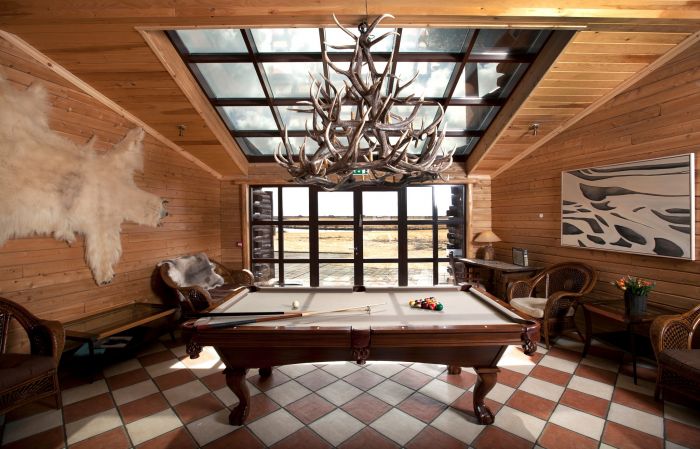 Indoors at the lodge is just as exquisite with a country home style designer, wood panel walls, rustic furnishings, and chandeliers made from deer antlers. Throughout the property are curious oddities from explorer Nordic artifacts to a 15 ft polar bear, which makes for good theater as polar bears are not found in this part of the world.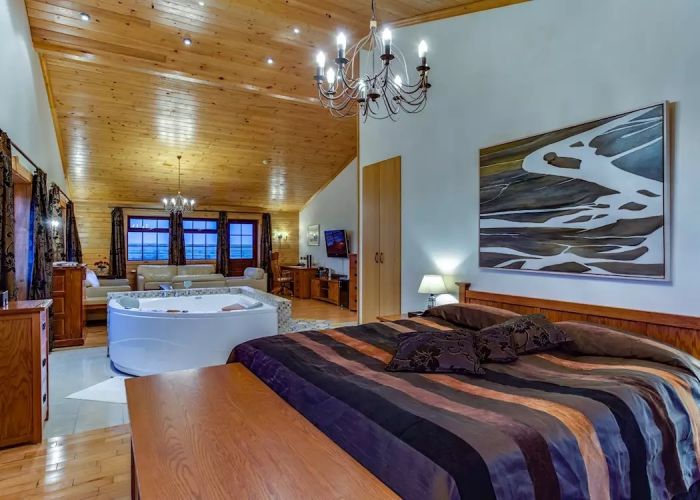 After a long day of exploring all that Iceland has to offer, guests come back to all the creature comforts of an upscale lodge. The 51 accommodations come in several categories with configurations, and sizes, and accommodate solo travelers, couples, and families. There are seven unique signature suites with design themes based on destinations from Africa to Antarctica.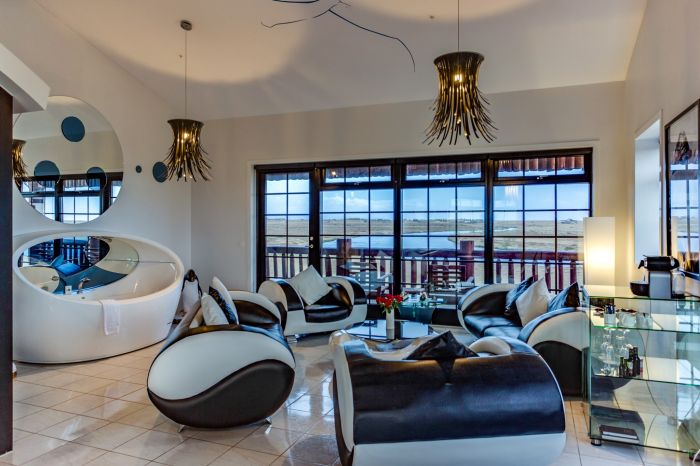 The Iceland suites are truly unique with a retro design palatial in size with a lavish lounge area, a life-size hand-painted mural, and an uber-romantic egg-shaped whirlpool tub. The suite's other loveable amenity is the walk-out balcony providing fabulous views and an endless offering of fresh Icelandic air. The views from all the rooms are spectacular with some with views of the Hekla volcano and other with views over the rolling landscapes and the East Rangá River.
Dinner and Drinks at Hotel Rangá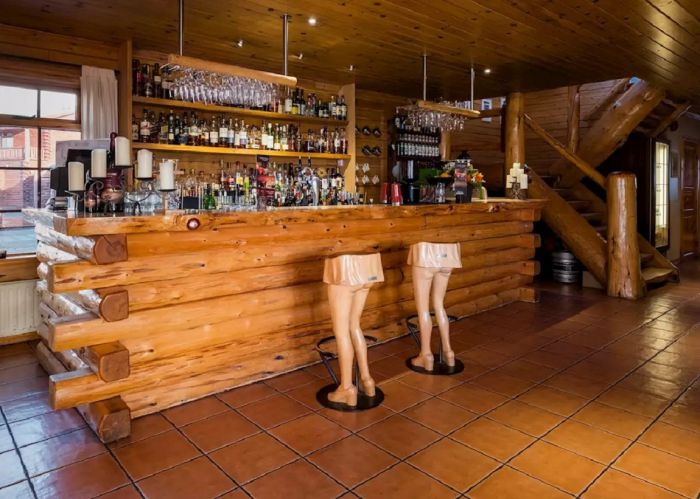 The dining experience at Hotel Rangá is perfectly suited for an Icelandic holiday experience. Authentic Icelandic cuisine from locally sourced ingredients is what guests can expect. The evening typically starts with cocktails at their bar which is an experience in itself. It's always a fun and convivial space and a chance to swap travel stories with other international guests. The bar is quite special in design as well with wooden log construction and two cheeky and whimsical chairs sculpted in the form of a woman's legs and mini skirt. The cocktails include an offering from their whiskey vault, one of the largest selections of whiskey in Iceland.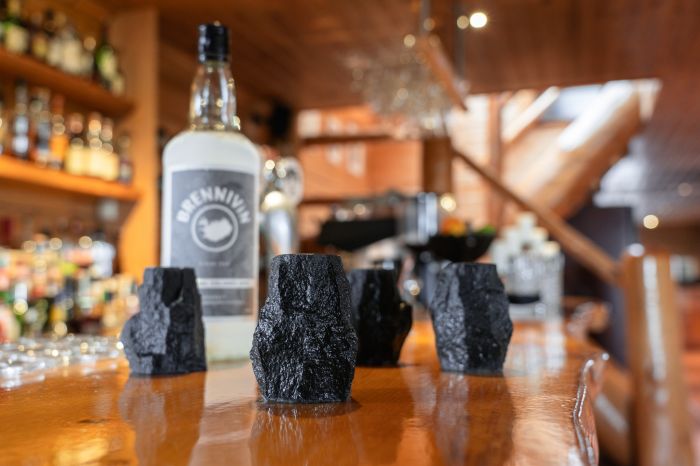 The braver guest will want to indulge in the local spirit Brennivín which tourists fondly refer to at The Black Death, and with good reason. Let's just say this is clearly an acquired taste that is as potent as it is tough the palate. The liquor actually has Danish roots and is made from fermented potatoes and has the somewhat overpowering taste of licorice from flavoring with cumin and caraway. The tradition at Hotel Rangá is to have it in a shot glass made from carved lava stone or softened as a base for a cocktail. Their friendly barmen are all the more happy to walk guests through a tasting experience and the associated grimaces.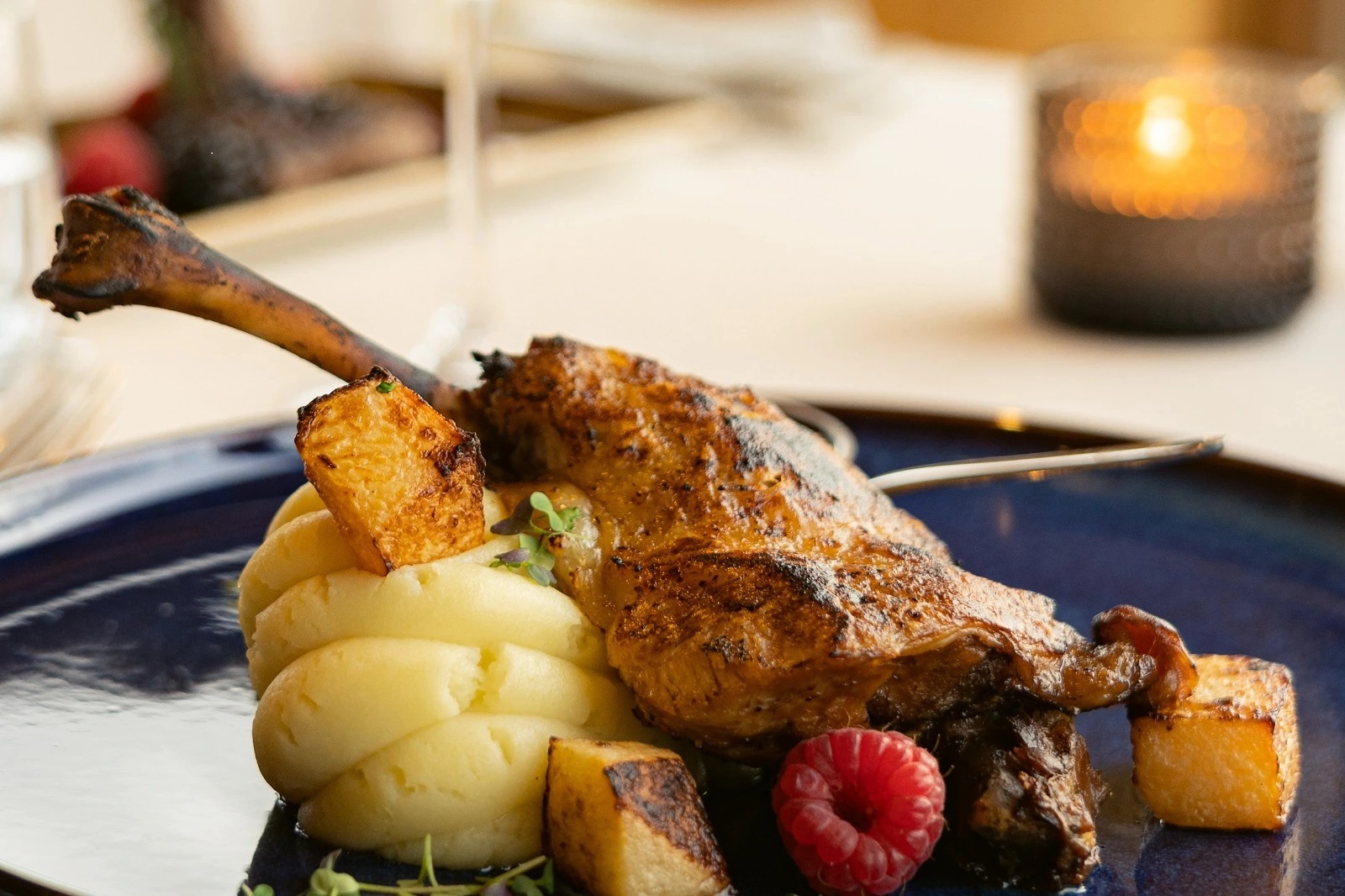 Dinner is equally as memorable with a focus on well-prepared traditional Nordic cuisine made from locally sourced ingredients. The location is in their glass-enclosed restaurant with views over the landscapes or starry skies in the evening. Guests will want to take in the specialty dishes such as wild mushroom soup and scallops or reindeer fillet with fried beetroot, and crowberry sauce.
Icelandic Adventures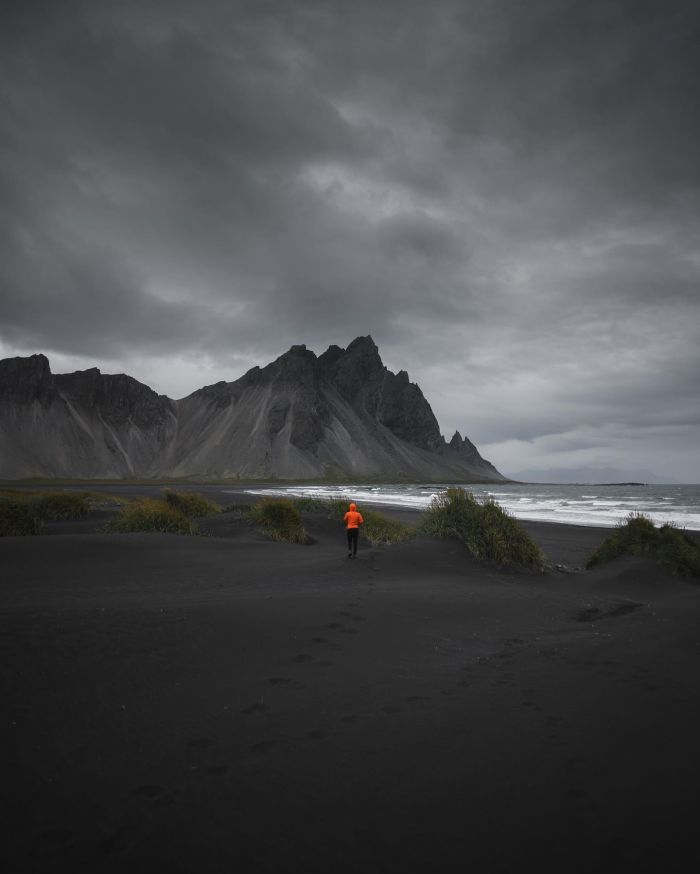 Iceland is truly a land of adventure and a stay at Hotel Rangá makes an ideal base to explore this beguiling country. The two most famous and must-have tours are the Golden Circle and the nearby South Coast.
There are many reputable tour companies in Iceland offering tours. Grayline Iceland is one of the largest tour companies and offers a wide range of services to explore all that this amazing destination has to offer. The tours are staffed with capable and cheery professional guides who do so much more than tell you where to go and the time to be back on the bus. They are experts who know Iceland and the stops on the tour well and share in-depth insights on what guests see and experience from a historic, cultural, and scientific perspective.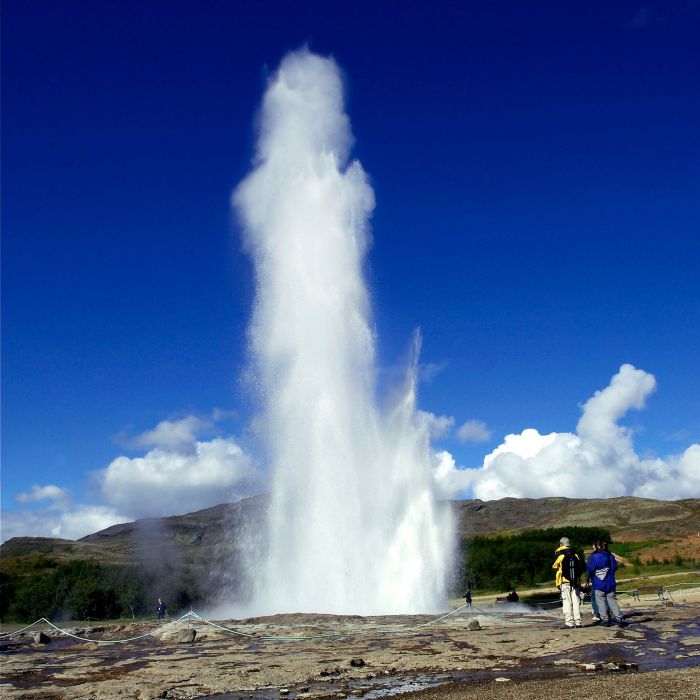 The Golden Circle includes the UNESCO-listed Thingvellir National Park with walks through a corridor of volcanic rock formations, gorgeous vistas, and a view of the largest lake in the country – Þingvallavatn. There is also an unusual geographic occurrence there where the tectonic plates of two continents meet. Visitors can literally walk from Europe to America and back. The most moving sight in the park is the Gullfoss Waterfall. This is one of the most popular and beautiful waterfalls in Iceland due to its two levels and colossal size. Another experience that makes the Golden Circle popular is the Valley of Geysers with geysers that erupt about every ten minutes and shoot 100 feet into the air. Truly a phenomenon to behold.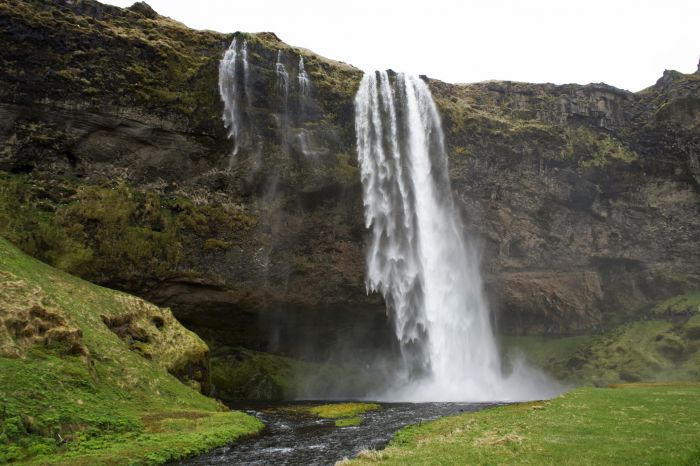 The South Coast of Iceland offers the country's most dramatic scenery. The 200-foot Seljalandsfoss waterfall is the most iconic and the one you've probably seen on Instagram. Not only is a stunning from afar, but visitors can actually walk behind the waterfall and see through it from inside a cave. It's truly an unmissable experience. Further along is the equally impressive Skogafoss, which is an iconic waterfall as well and 200 feet tall and 80 feet wide, and one of the South Coast's most popular landmarks.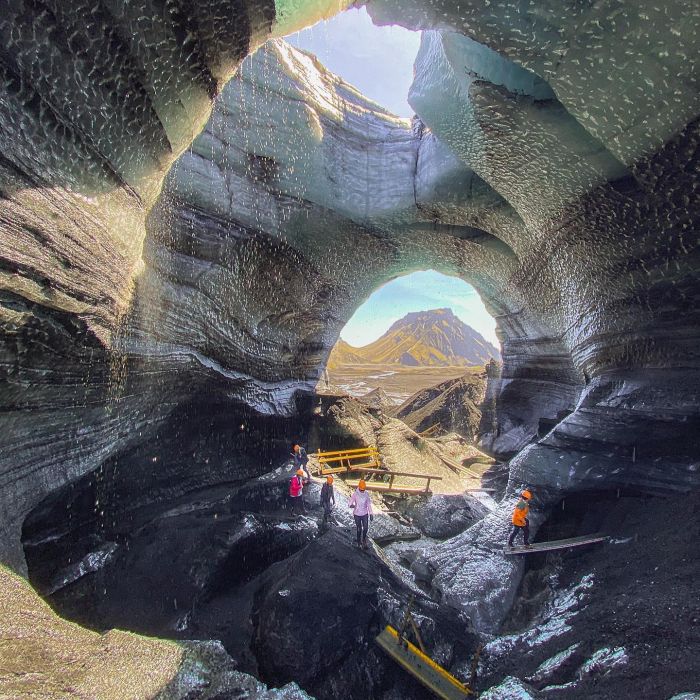 The South Coast is so much more than its brilliant waterfalls. A visit to a glacier is a must as well with an unforgettable landscape of ice, lakes, and volcanic ash. The natural attractions to be seen on Iceland's South Coast truly boggle the mind including the black sand beaches with pure black gravel and black boulders -another popular image from your favorite travel Instagram feed or perhaps you've seen it as a backdrop in a film or fashion shoot.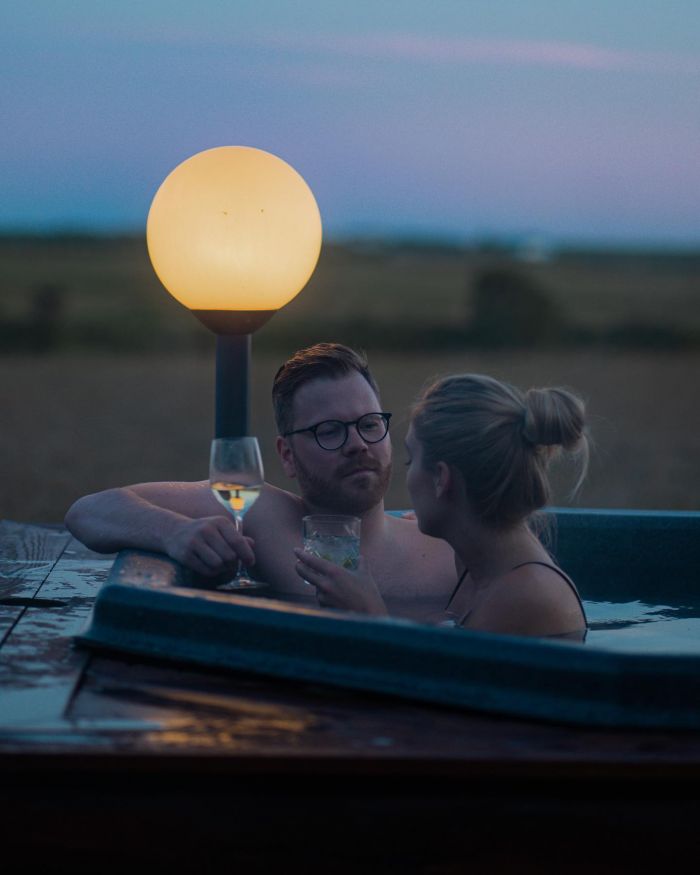 It is so cliché to talk about a bucket list but sometimes there's a phrase that fits too well despite its overuse. Iceland is such a place, for those who haven't been, it's a place that one simply must see. A visit during the fall through spring is an ideal time to see the northern lights as well. A stay at the Hotel Rangá offers the best of this beguiling country and the ideal base to fully enjoy the experience.