Le Negresco- Photo by Gregoire Gardette
Experience the Art and Beauty of the Belle Epoque With A Stay at the Iconic Le Negresco
When one thinks of the glitz and the glamour of the French Riviera, no place embodies this notion more than the iconic Le Negresco hotel. Located a stone's throw from the sea on the famed Promenade des Anglais in NIce, France, Le Negresco stands as an enduring testament to one man's luxurious vision. The hotel's history is as rich and intriguing as its visionary himself, Henri Negresco, a Romanian immigrant born in 1868 who worked his way up in the hospitality industry by working at famous establishments throughout Europe and the United States. This experience gave him the confidence to create his Belle Epoque masterpiece, Le Negresco.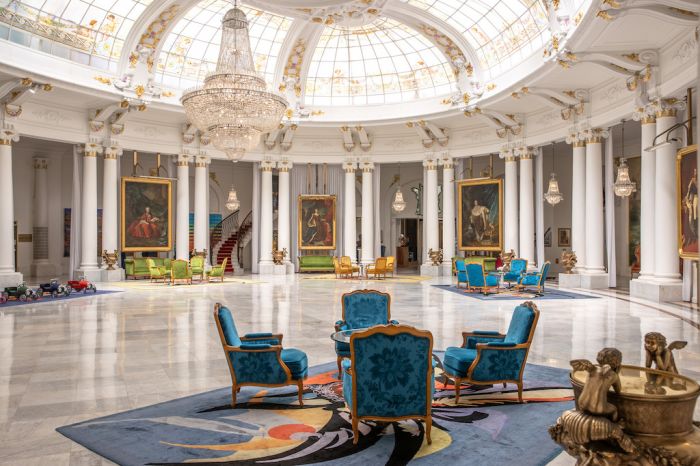 Salon Royal-Photo by Gregoire Gardette
Architect Édouard-Jean Niermans was tasked with designing the hotel, utilizing various architectural styles, including neoclassical, baroque, and rococo elements. When Le Negresco opened its doors on January 8, 1913, it immediately became a symbol of luxury and opulence on the French Riviera. The hotel's Belle Epoque decor, with its rich tapestries, antique furniture, and exquisite art collection, created an atmosphere of timeless luxury that attracted well-heeled guests such as aristocrats, celebrities, and royalty who were drawn to its grandeur and elegance. One of the most remarkable features of the hotel is its striking pink dome, visible from the Promenade des Anglais, which has become a symbol of Nice. The dome's pink hue is said to match the color of a guest's skin after a day basking in sun on the Riviera.
In 1957, the hotel was acquired by art connoisseur Madame Jeanne Augier, a strong-willed and visionary woman who transformed the Negresco into a true palace of art and culture by amassing a museum-worthy collection of art. She expanded the art collection begun by Henri Negresco to include works by renowned artists like Salvador Dali and Moretti and sculptress Niki de Saint Phalle and frequently hosted a creative bunch of artists, writers, and musicians. Today, Le Negresco's art collection features classical and contemporary works, spanning five centuries of French history dedicated to talent and great masters.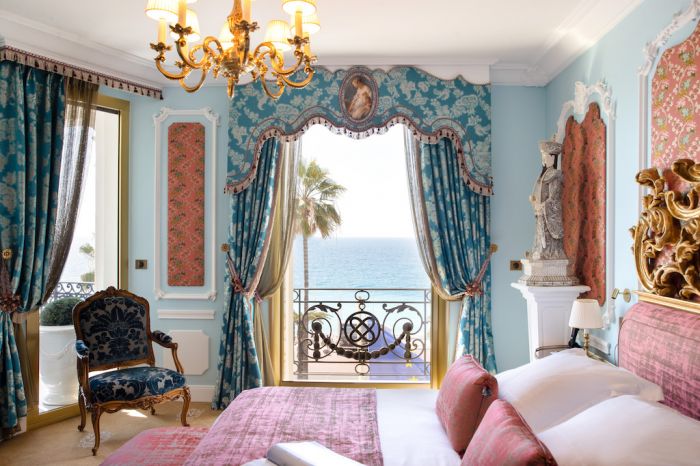 Suite Marie Leszczynska-Photo by Gregoire Gardette
Henri Negresco also had a deep appreciation for art and began collecting art for the hotel from the very beginning. Today, Le Negresco is a destination for art lovers, making it a unique cultural attraction in a luxurious hotel setting. While many hotels limit their art collections to private suites and common areas, the art at Le Negresco is also displayed throughout the hotel's corridors, creating a museum-like experience for guests. Guided art tours are provided by the hotel for its guests, allowing them to learn about the history and significance of the art collection.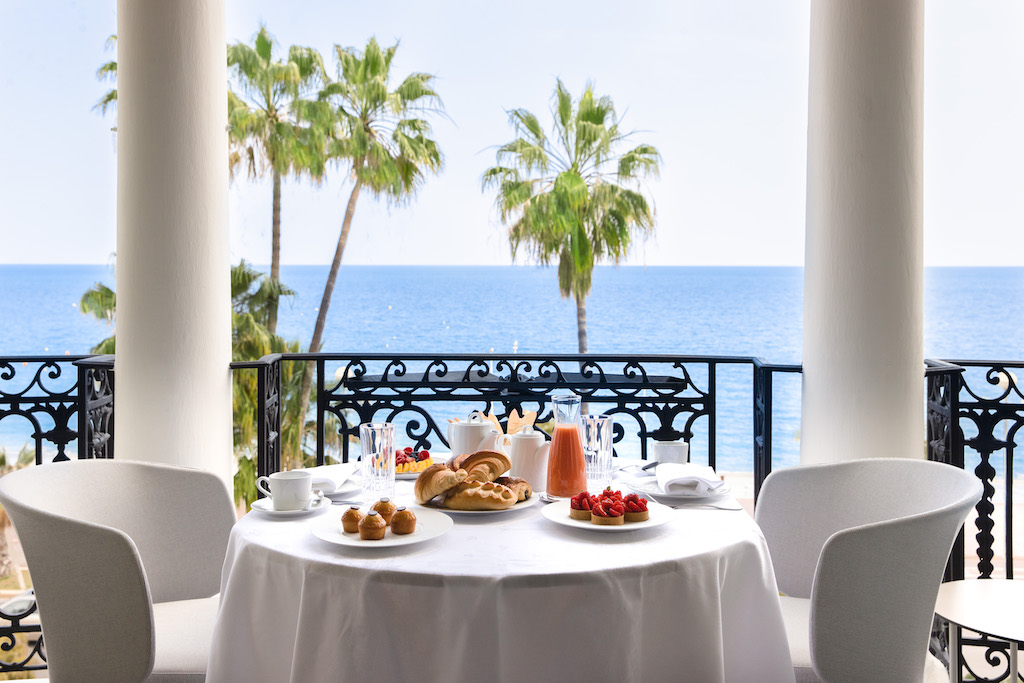 Suite Terrace- Photo by Gregoire Gardette
Known for its themed suites, each of Le Negresco's uniquely designed suites showcases period or contemporary furniture from different eras in history and various styles of artwork. Of the 102 rooms and 26 suites, the most sumptuous ones have balconies overlooking the sparkling sea. The hotel features several categories, starting with the Classic Rooms. These rooms are elegantly decorated with classic French decor, boasting rich fabrics, antique furnishings, and a warm color palette. Many of these rooms offer breathtaking views of either the sea or the vibrant city of Nice. For those seeking more space and luxury, the Superior Rooms are a step up, decorated in a similar style. The Signature Suites are inspired by a famous historical figure or artist, such as the Marie-Antoinette Suite or the Pompadour Suite, and are adorned with original works of art and a unique decor that pays homage to their namesakes. You can also reserve a Louis XIV room with furniture and art from the 17th century or a Napoleon III room with items from the 19th century. These suites are a testament to the hotel's dedication to providing a one-of-a-kind stay.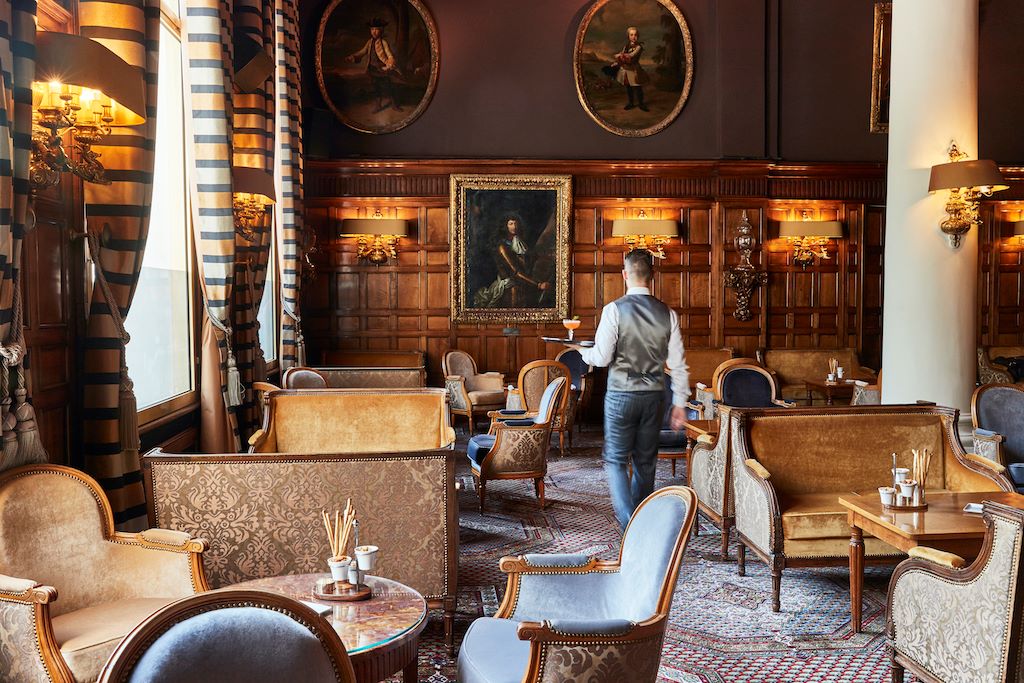 The Bar - Photo by Gregoire Gardette
No matter which room or suite you choose, guests at Le Negresco can expect an unmatched level of service, with amenities like plush bedding, modern technology, and a commitment to attention to detail that ensures every stay is a memorable experience. Whether you're visiting for a romantic getaway, a special occasion, or simply to indulge in the lavish surroundings, the rooms at Le Negresco provide the perfect setting for an unforgettable stay on the French Riviera.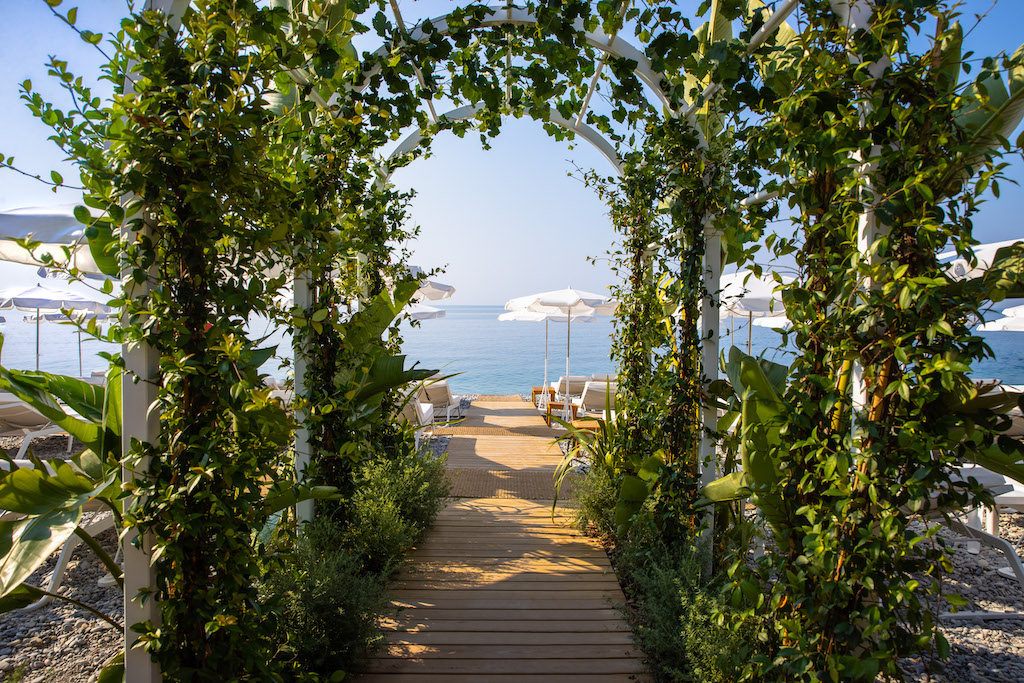 N La Plage- Photo by Gregoire Gardette
Situated directly across from Le Negresco hotel on the glistening Baia des Anges, sits the chic yet carefree Le Negresco Beach Club known as N La Plage. Post up at one of the sunbeds on the private beach for a day of prime people-watching, sunbathing, water sports, and relaxation as the soothing sounds of the ocean ease your mind while you unwind in comfort. Order a curated selection of main dishes, shareables or appetizers such as the refreshing Crabmeat on Mango Chutney (or Chair de Crabe & Chutney de Mangue in French) from the comfort of your sunbed or if you are up for a change of location, enjoy lunch in the open air, beachside restaurant located steps away from the beach. If the sun gets to be a bit much, try a deliciously flavored Ice Cream Stick such as the Détox with lemon, Curcuma and lemon or an Exotique, flavored with mango, passionfruit and ginger to help you cool down.
With Executive Chef Virginie Basselot at the helm, La Plage serves elevated surf and turf cuisine with regional influences for dishes such as Bass Fillet cooked with leek maki (Le Filet De Loup Bio Nacré), Chicken Supreme Confit with lemon (Le Suprême de Poulet Confit au Citron), and a Butcher's Beef Cut with a secret sauce and candied potatoes. Starters include Sea Bream Ceviche with three citrus fruits, Burrata di Puglia with local tomatoes, and of course Oysters. Shareable platters that are not to be missed are the comforting Summer Black Truffle Foccacia and the Summer Black Truffle Tarama served with blinis. The exclusive Lobster Rolls by Homer Lobster of Paris was voted "Best Lobster Roll in the World" in 2018. Lunch is served on the beach and at the restaurant from noon to 3pm and a lighter menu is available at the beach from three until 6pm. Additionally, the Lounge is open from 9am to 8pm, serving beach-friendly fare from noon until close. The beach club is open every day from May to September from 9am to 6pm.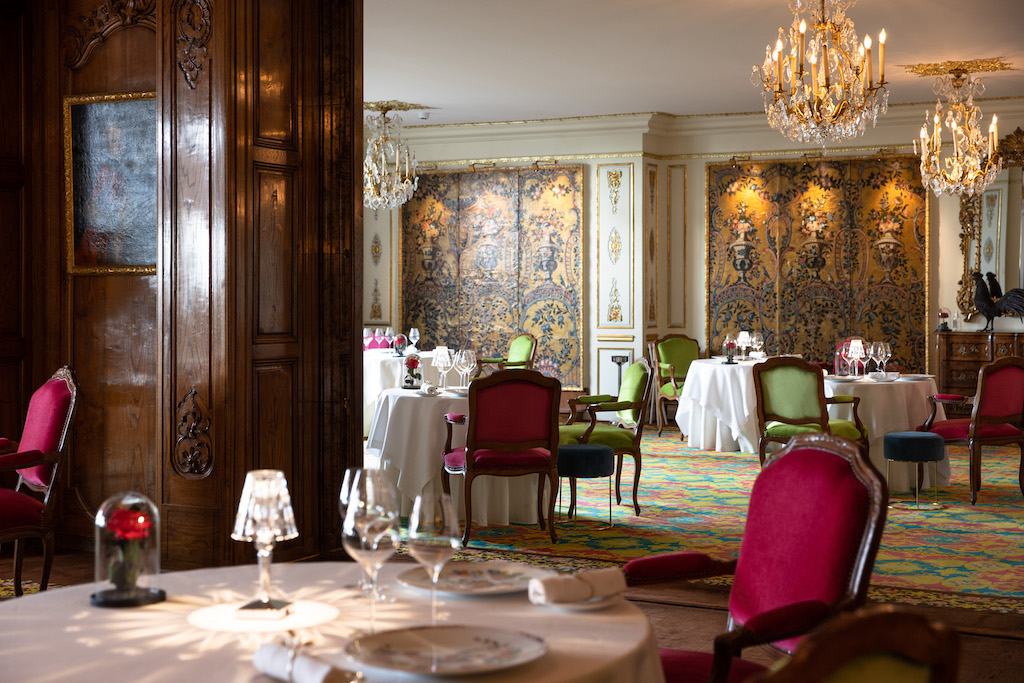 Le Chantecler- Photo by Gregoire Gardette
For a more formal dining environment, guests need look no further than Le Negresco's own Michelin-starred Le Chantecler. Decorated in an extravagant 18th-century style, Le Chantecler serves French gastronomy at its finest. Once again, Executive Chef Virginie Basselot delivers elevated, classic French and Mediterranean masterpieces with a modern flair. Les Secrets de Virginie is her 8-course tasting menu that will add to your memorable experience in the heart of the French Riviera. La Rotonde is a more casual yet refined brasserie that provides diners with family-style cuisine, be it indoors in a playful atmosphere or on the terrace with views of the sea and just steps from the Promenade des Anglais that provides the vital pulse of Nice. The charming restaurant serves breakfast, lunch and dinner.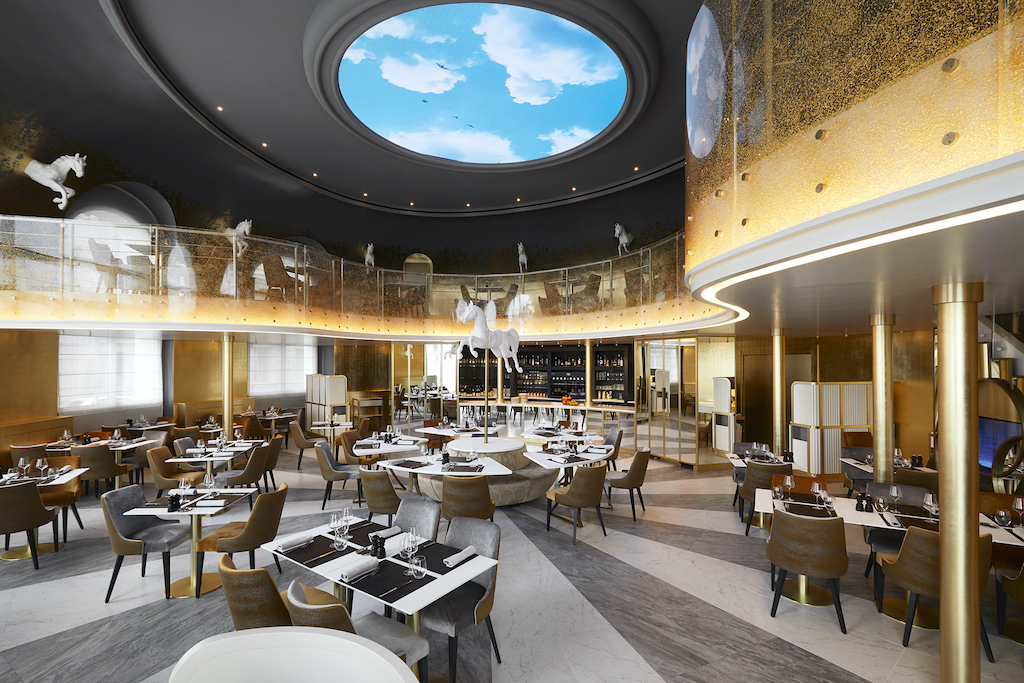 La Rotonde-Photo by Francis Armand
Le Negresco is delighted to welcome a new spa to its offerings in late 2024. The luxurious spa will be open to both guests and visitors alike, and will boast an indoor pool with natural light, multiple treatment areas for wellness and relaxation and seven exclusive cabins for individual or shared use. A timeless sanctuary, Le Negresco will continue to be a place where art, culture and luxury intersect to create an unforgettable experience for each of its guests on the French Riviera.