By Jarone Ashkenazi Dec. 5th, 2018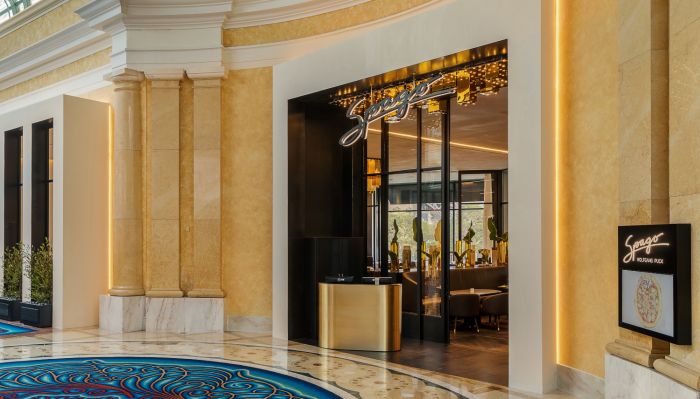 (credit: Anthony Mair)
Wolfgang Puck's Spago originally opened in 1992 at Caesar's Palace, which promptly launched Las Vegas's dining scene into a culinary epicenter. Earlier this summer, Wolfgang debuted the new Spago Las Vegas at Bellagio Resort & Casino, creating an unforgettable lakeside dining destination. Overlooking the Fountains of Bellagio, designer Gelila Puck collaborated with architects Massimiliano Locatelli and Annamaria Scevola of CLS Architetti to create a truly unique space.
The interior of Spago Las Vegas features a meld of classic architecture with modern art, as Las Vegas artist Katie Lewis was commissioned to create a series of 20 topographical map images inspired by the Nevada desert landscape which can be seen throughout the restaurant. Located inside Via Bellagio, the restaurant includes a main dining room, bar and lounge, private dining rooms and a beautiful al-fresco patio.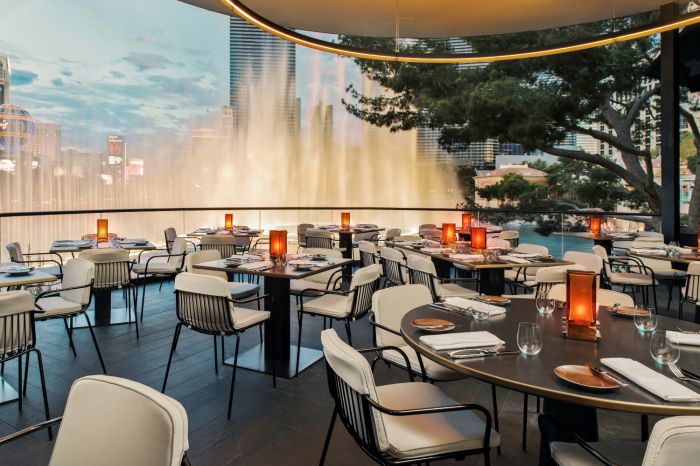 (credit: Anthony Mair)
In the main dining room, guests enjoy floor-to-ceiling windows with picturesque views of Bellagio's famed lake from any seat in the house. The contemporary aesthetic of the room is matched with two exquisite chandeliers which accent the room's modern art pieces. At the velvet-accented bar, the modern and sleek design with rich smoked-oak wood floors and brass fixtures reflect the communal and social atmosphere. Guests can also reserve one of two private fountain-view dining rooms, each seating up to 20 guests, both featuring translucent glass panels with elegant white sheers. The most coveted seats at the restaurant are on the al-fresco patio as the remodeled circular patio gives guests a front-row seat to the magical Fountains of Bellagio.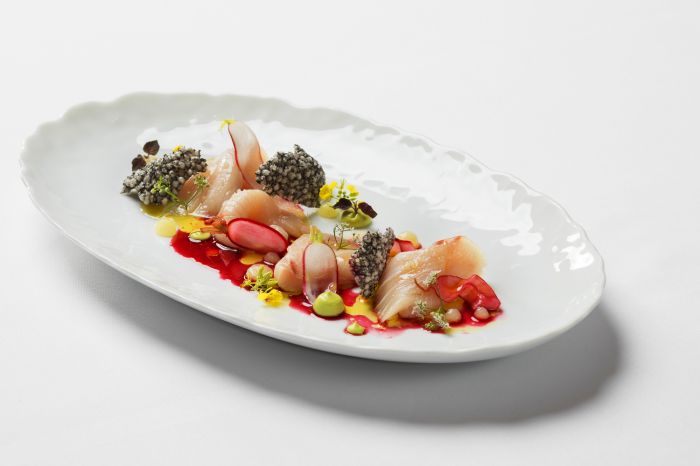 (credit: Anthony Mair)
Wolfgang brings new California Cuisine to Spago Las Vegas with its farm-to-table ethos all in a casually elegant setting. The market-driven menu features hand-selected seasonal ingredients paired with modern technique and creative elements to create the chef's signature menu. Alongside popular Spago dishes like the smoked salmon pizza and the Chinois chicken salad, Spago Las Vegas features new dishes only offered at Bellagio like the Baja Kanpachi Crudo and a Saffron Risotto.
"At Spago, we use farm-fresh, seasonal ingredients to offer diners an accessible take on fine dining,' said Spago's Executive Chef Mark Andelbradt. 'In addition to the food, the amazing views of The Fountains of Bellagio give the restaurant a luxurious yet approachable atmosphere that's enjoyed by all guests.'
For lunch on the lake, choose from a selection of Puck's signature wood-fired pizzas, handmade pasta, salads and sandwiches as well as Wolfgang's Famous Veal "Wiener Schnitzel". For dinner order from the grill and indulge in prime meats, such as Wagyu and Japanese Ribeye carved tableside, and grilled fish such as the Turbot. Finish off either meal with delightful desserts such as the Spiked Lemon, with Japanese yuzu cream, chiffon cake and citrus mousse.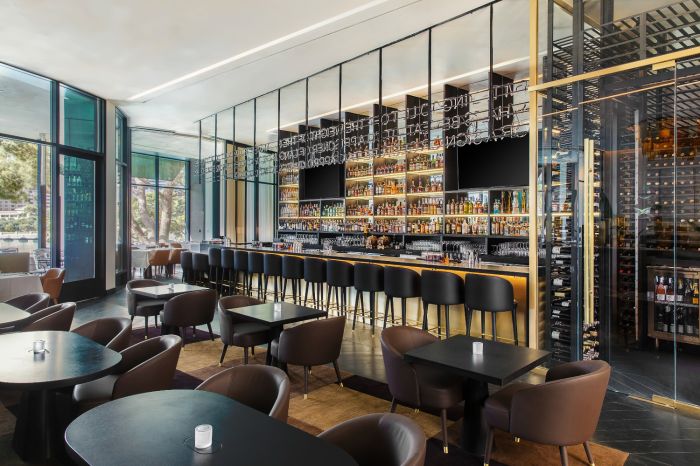 (credit: Anthony Mair)
Spago's bar serves an exclusive selection of bar bites like the Lemon-Herb Blinis with caviar and crème Fraiche and Spicy Tuna Tartare in sesame-miso cones, which can be paired with their sensational sips. Crafted with house-made infusions, artisanal spirits and fresh herbs, try one of their creative cocktails like the Trouble in Mind or Rogue Sour, or sip on one of over a thousand worldly wines found on the menu.
Spago is located in Via Bellagio and is open for lunch daily from 11:30 a.m. – 2:45 p.m. Dinner is from 5 p.m. – 10:30 p.m., Sunday – Thursday and 5 p.m. - 11 p.m. Friday & Saturday. The bar menu is available from 2:45 p.m. until close. To make reservations, call the restaurant directly at (702) 693-8181 or visit OpenTable.

Jarone Ashkenazi
Jarone Ashkenazi is a seasoned writer who covers: travel, luxury items and other lifestyle topics. View more work at www.jaroneashkenazi.com. Connect with him on Twitter at @JaroneAsh ...(Read More)