By Elisabeth Rushton Oct. 29th, 2021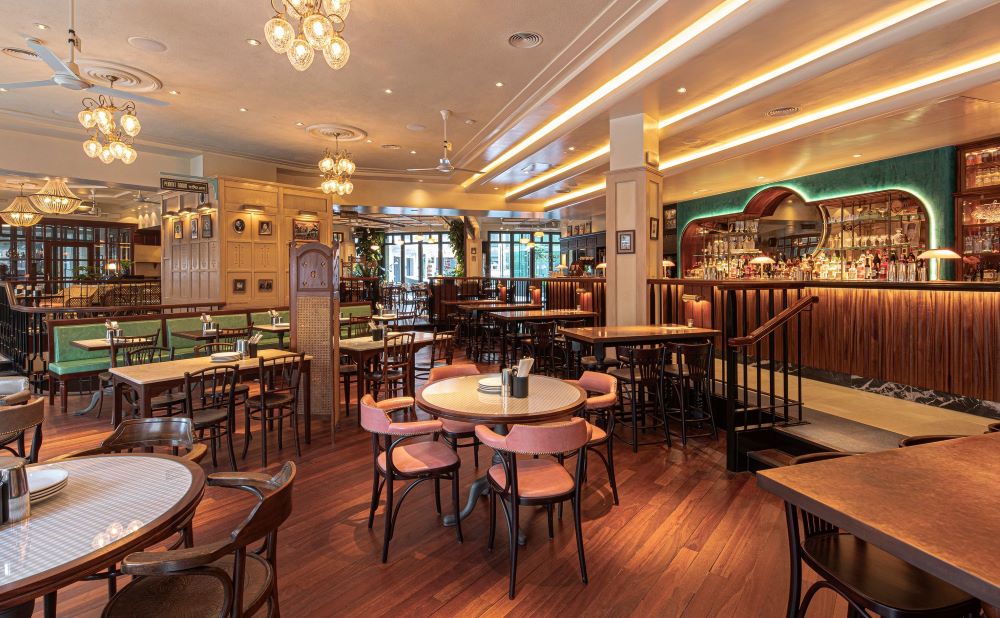 Dishoom
Dishoom's original outpost on Upper St Martin's Lane, Covent Garden, underwent a major redesign in 2020 to mark the café's 10th anniversary. Various lockdown restrictions meant that the unveiling of the 'new' Dishoom Covent Garden was delayed until May 2021. The wait was well worth it, however.
The revamped restaurant is situated in part of the trendy, newly redeveloped set of interconnecting courtyards, The Yards. The characterful Dishoom concept pays homage to the old Irani cafés, which were once part of the fabric of life of Bombay, whilst also telling the story of Bombay's theatrical journey from Parsi theatre to silent film, and the thrill of the Talkies era. The new design of Dishoom Covent Garden uses the heritage of the Bombay theatres that were reincarnated as state-of-the-art cinemas, becoming home to the early Bombay Talkies. These early silver screen Talkies were "all talking, singing, dancing" Indian-made dramas featuring feisty heroines who cast a spell over picture house audiences. These cinemas represented a world of modernity, glamour and freedom. Dishoom Covent Garden's design transports us to this exhilarating age of evolution and reinvention when cinema was introducing Bombay to an intoxicating cocktail of adventure and liberty.
The thoughtfulness of the redesign extends to the lovingly curated menu of Bombay comfort food and award-winning drinks, which are served from breakfast-time until late evening. I visited Dishoom Covent Garden at lunchtime on a Thursday, and although I had a table booked at noon (I was eating with my kids, so an early sitting was essential), the restaurant was already buzzing. The room, with its open kitchen, heady incense, and bustling, young waiters, has a warm, humming ambience.
We were ushered over to a comfy banquette, and the kids were given crayons and sheets of colouring paper. We ordered a mango and fennel seed lassis for the four of us, which were exceptional. In fact, dare I say it, for fear of being marauded by foodies, lovelier than anything I've had along Brick Lane. My children lapped them up.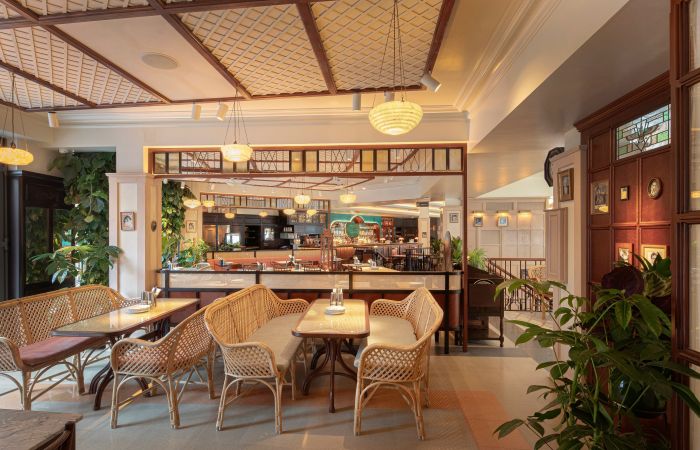 Dishoom
All the dishes that followed were satisfying and interesting, Dishoom's calamari with a grainy crunchy crumb is superb, meanwhile the vada pau — 'Bombay's version of a chip butty': spiced blobs of carbs in a bun — is decadently delicious. Our favourite dishes were the house black daal: gorgeous, hearty, unctuous lentils, and the bhel – a crunchy Bombay Mix confection bejewelled with pomegranate seeds. The chole puri (chickpeas steeped in spices and black tea) – was subtle, but moreish. Each Dishoom has its own 'Chef's Special, and patrons of Dishoom Covent Garden can also enjoy the brand-new Chef's Special, Tila-Foi's Very Best Masala Fish, created by Chef Naved especially for the reopening. The dish features two fillets of sea bream marinated in Tila-foi's masala with ginger-garlic, black pepper, lime juice, carrom seeds and red chilli. The dish is griddled within a banana leaf and served to share, with Coconut Chaas, and is not to be missed. Equally unmissable is the melt-in-the-middle chocolate pudding, served with Kashmiri chilli ice cream. The gooeyness, combined with the chilli kick, is simply superb. Top of Form
The delicious food, along with the evocative atmosphere and stellar service, are what set Dishoom apart from any other Indian restaurant. The popularity of the restaurant is such that the restaurant has mushroomed in seven other places in London and the UK. In addition, the restaurants' co-founders, Shamil and Kavi Thakrar, have been relentlessly engaged in charitable endeavours. For every meal served at Dishoom, the team will donate a meal to one of their long-term charity partners, Magic Breakfast and Akshaya Patra – two charities that provide free, nutritious meals to children who might otherwise go hungry. A great excuse – if any more was needed – to visit this fantastic restaurant.
Dishoom Covent Garden, 12 Upper St Martin's Lane, London WC2H 9FB
To book, please visit dishoom.com/covent-garden/

Elisabeth Rushton
Elisabeth has over a decade of experience as a luxury lifestyle and travel writer, and has visited over sixty countries. She has a particular interest in the Middle East, having travelled extensively around Saudi Arabia, Oman, and the UAE. A keen skier, she has visited over fifty ski resorts around the world, from La Grave to Niseko. She is currently focused on writing about luxury products fo...(Read More)