By Diane Sukiennik & Michael Reiss Jun. 8th, 2018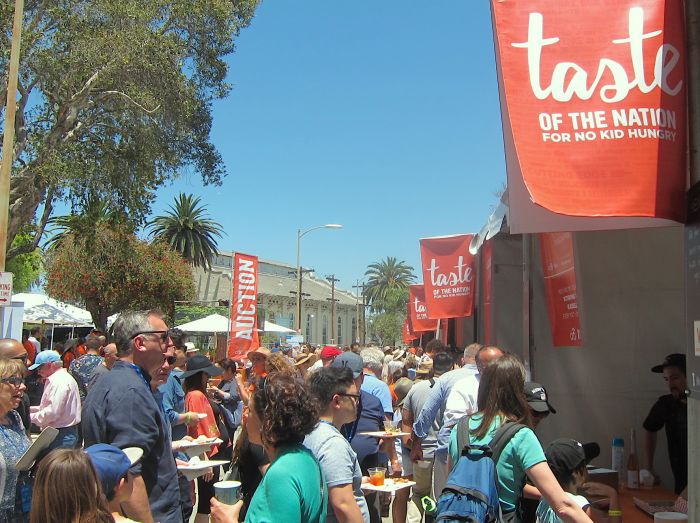 Photo by Michael Reiss
The LA food scene can be as daunting as it is diverse. It's hard to keep track of all the top restaurants in Los Angeles, let alone try them all. One of the most efficient ways to sample some of the best Los Angeles has to offer is to plan on attending the Taste of the Nation event that takes place each June in Culver City's Media Park.
At this event, not only will you be supporting "Share our Strength's, No Kid Hungry" campaign, you'll be tasting gourmet food and beverages prepared by top chefs, sommeliers and mixologists. One-hundred-percent of the proceeds goes to this effort to end childhood hunger. In 2017 alone, the Los Angeles chapter connected hungry kids to 1 million healthy meals.
Each participating chef and restaurateur takes pride in serving one of their signature creations, while a wide selection of drinks enhances the culinary experience. Live music and a generous silent auction rounded out the program. What a great way to nibble your way across LA to decide where to eat next in a city bursting with great bites.
Photo by Michael Reiss
Diane Sukiennik & Michael Reiss
Diane Sukiennik is an internationally recognized writer, coach, keynote speaker, consultant, educator and licensed therapist. She is the author of The Career Fitness Program: Exercising Your Options, 11th edition, Prentice Hall, the most widely used text in colleges and universities in the subject area. A self-proclaimed 'leisurologist,' she speaks French and Spanish, is an avid world traveler and...(Read More)