By Jill Weinlein Jul. 26th, 2019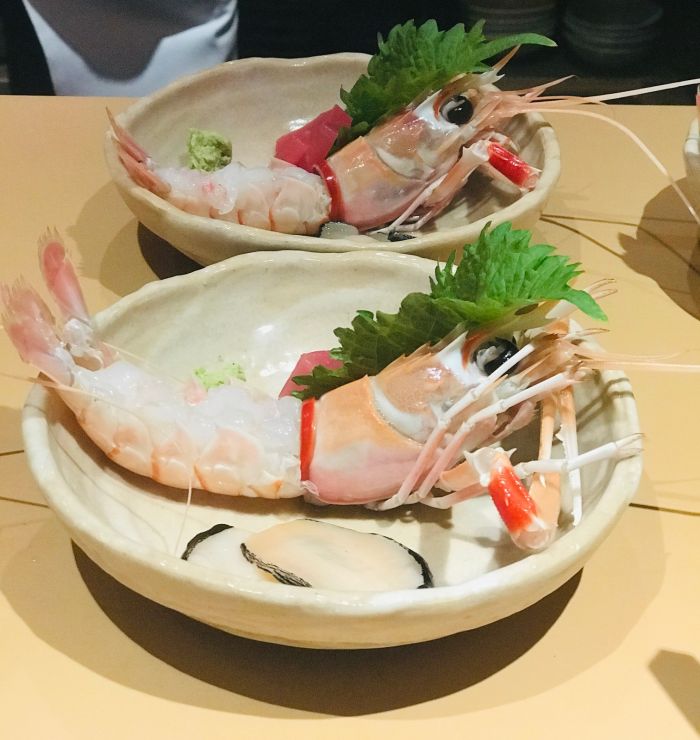 Jill Weinlein
Nozawa Bar, hidden inside SUGARFISH by Sushi Nozawa along the affluent Canon Drive in Beverly Hills, offers an elegant 20-course nigiri sushi, sashimi and handroll dinner for adventurous sushi aficionados.
The reservation-only, intimate Nozawa Bar is located down a long and dark corridor. As a door opens, guest walk into a zen like room with a traditional low, light wood counter and ten chairs.
Master Chef Kazunori Nozawa's trained with other master chefs in Tokyo and has over 50 years of hospitality experience. The Nozawa concept started in 1985 at Sushi Nozawa in Studio City. Later Nozawa teamed up with his friend, Jerry A. Greenberg, to make his sushi concept more accessible to others. Together with founding partners Tom Nozawa, Lele Massimini, Cameron Broumand and Clement Mok, Nozawa and Greenberg created Sushi Nozawa Group, LLC in 2008.The first SUGARFISH restaurant opened in Marina del Rey, and soon the team opened other locations in the greater Los Angeles area.
Nozawa's friend Chef Osamu Fujita leads Nozawa Bar. Together the two Master Chefs have developed relationships with some of the finest fish purveyors from around the world. They arrive 15 minutes early in the morning to the downtown L.A.'s fish market to purchase the best hamachi from Japan, scampi from New Zealand, tuna from almost every sea, and the creamiest uni from California.
Chef Fujita sets the tempo of how the meal is mindfully and respectfully presented to guests. His sense of humor peeks through as he crafts each item onto beautiful Japanese serving plates. While respectfully cutting the fish into fillets with the right knife strokes, he brings out the finest flavor and achieves the desired tenderness.
Besides quality fish, the rice is elevated in consistency and quality. Sourced from a Japanese company that grows rice in the Sacramento Delta, the rice is not too heavy, starchy or fluffy. It's cooked in a special rice cooker, and mixed with a slightly acidic and sweet rice vinegar. The vinegar base is from Japan, and they brew their own rice vinegar using a balance of salt, sugar and heat.
The nori or seaweed is different too. The chefs work with farmers and suppliers in Japan who cultivate the right seaweed consistency for rolling. When Chef Fuji hands his guests a hand roll, it is to be eaten immediately to achieve the perfect crisp and flavorful bite.
You won't find fancy, over the top American-style sushi such as spicy tuna, teriyaki or California rolls. Instead, on the night I dined, we started with seven bite-size pieces of Japanese Jellyfish. Surprisingly I found the texture dense and slightly crunchy.
At Nozawa Bar it's all about the sauces that enhance each treasure for the sea. Nozawa's team makes their own ponzu sauce offering a touch of garlic, pepper, citrus and ginger notes. Their homemade soy sauce is lighter and less salty than commercial brands, offering a hint of smokiness and amplifying the mild, medium and full flavors of the freshest fish.
The next course was a spectacular plate with a whole New Zealand scampi, a couple slices of small Santa Barbara abalone "about three years old," said Chef Fujita, and bright red Canadian Bigeye Tuna. Served in a bowl, Chef Fujita and his assistant David instructs guests how and what to dip the sauce or add wasabi. "Our divers collected the fresh abalone and uni today. It's all about clean water and kelp to get this quality," said Chef Fujita.
Next we had fourteen different nigiri plates that included Baja California bluefin toro, giant clam, popping salmon eggs, Japanese sea eel and the soft, sweet and slightly smokey flavored Japanese Kimmedai nigiri. There was Maine lobster nigiri and a Santa Barbara Uni that was so soft and buttery that it just melted in my mouth. The essence of the sea lingered on my tongue until the next course was served.
Receiving a handroll filled with a slice of Japanese mountain white potato and fermented plum on a earthy shiso leaf was one of my favorite balance of flavor items. The most unique offering was a little mound of Monkfish liver. We were instructed to take a little bit on your chopstick to dip in the sauce on the plate. It's much more mild that chicken liver pate, yet just as smooth.
We finished with a beautiful ceramic cup of Hojicha roasted green tea, and a bowl of Farmers Market berries with a scoop of citrusy Mandarin sorbet in the center. Not only did it cleanse our palate, it left us feeling fully satisfied.
The dinner seating is $175 per person. Reservations can be made through Nozawa Bar's online reservation system or by phone. reservations@nozawabar.com (424) 216-6158. Nozawa Bar - 212 North Cañon Drive, Beverly Hills, CA 90210.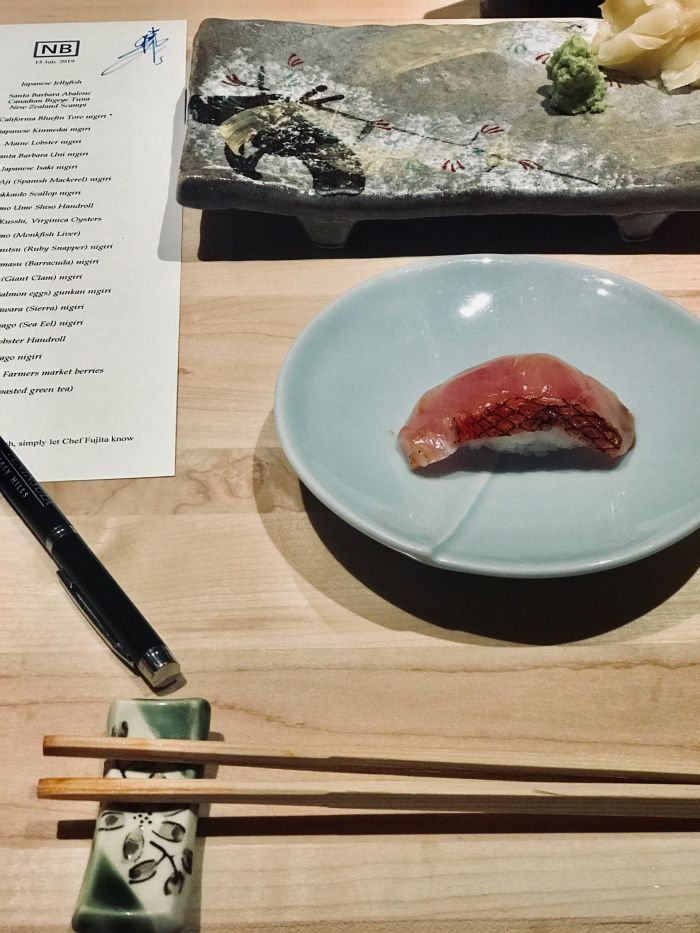 Jill Weinlein
Nigiri is topped on warm rice with a brush of sauce on top to bring out the marine flavors.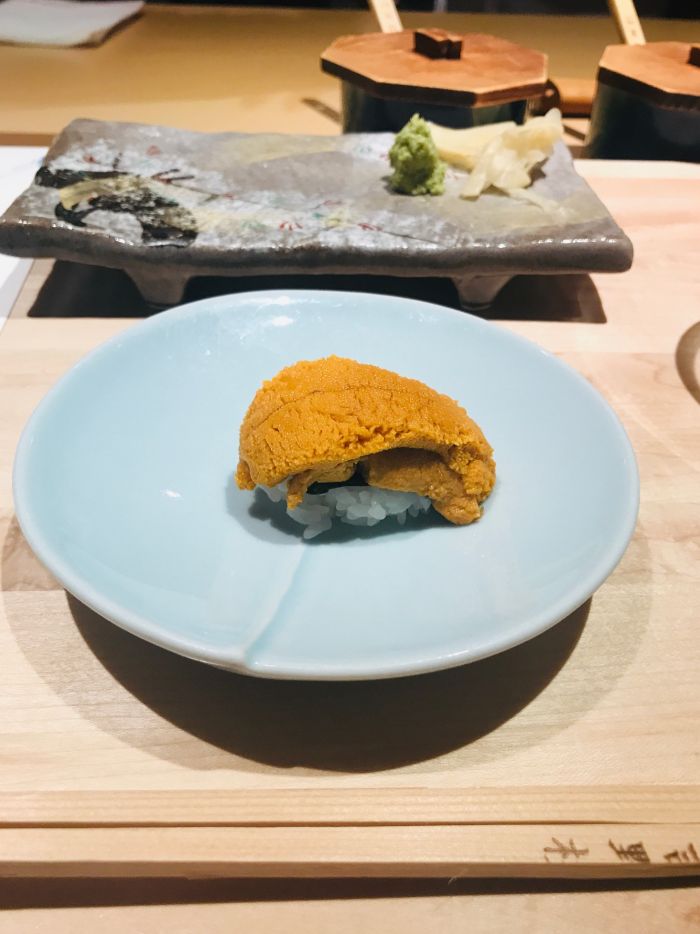 Jill Weinlein
The Santa Barbara uni melts in your mouth and lingers on your tongue until the next course is served.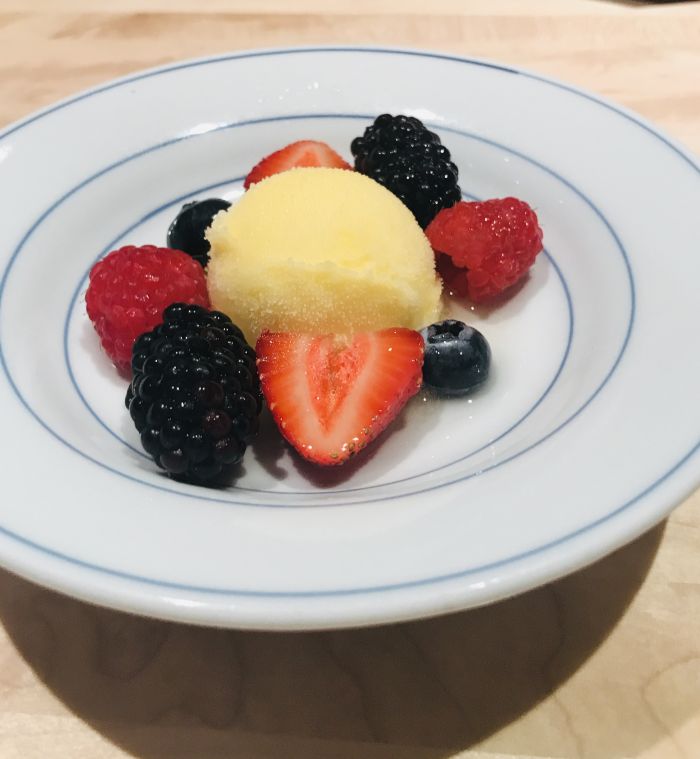 Jill Weinlein
The mandarin sorbet and Farmers Market berries cleanse your palate after 20 different nigiri sushi, handrolls and sashimi courses.
Jill Weinlein
Los Angeles based Jill Weinlein covers travel, food and lifestyle destinations for multiple newspapers, magazines and websites. Her areas of expertise include, luxury travel, culinary reviews, cruising and family travel destinations. Born in Los Angeles, Jill studied Communications and Theatre Arts at UCLA. She has a a Dine and Travel blog - www.dineandtravel.me and she writes a weekly restaur...(Read More)