By Jill Weinlein May. 27th, 2020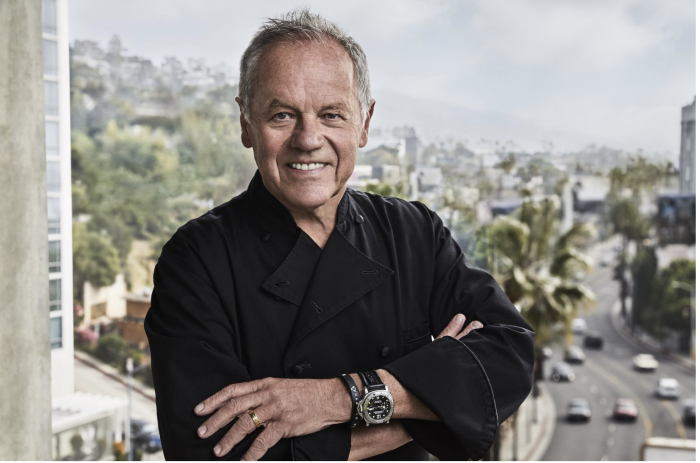 Courtesy of Pendry Hotels
Once a year I see award winning celebrity chef Wolfgang Puck when he caters the Academy Awards Governors Ball. He has been serving Hollywood's A list since 1982 and the post-Academy Awards celebrity dinner party for over 20 years.
Last week I was invited to a Zoom informational meeting with a panel involved in the new Pendry West Hollywood and Pendry Residences West Hollywood by Montage Hotel & Resorts. Everyone on the panel was giddy about the collaboration with Chef Wolfgang Puck returning to the Sunset Strip.
Wolfgang Puck first starting cooking in Los Angeles in 1975 as a chef of Ma Maison in West Hollywood. His big personality and innovative culinary flair attracted the rich and famous eager to enjoy his elegant fusion of French and California fare. With award winning reviews and a steady following, Wolfgang branched out to create his first flagship restaurant, Spago, in West Hollywood.
Opening in 1982, the restaurant perched on a hill next to Tower Records with the Sunset Strip below, became an instant culinary phenomenon. He hired a team of talented chefs that later went on to open their own successful restaurants throughout Los Angeles.
Spago's pioneered "California Cuisine," and became famous for its haute designer pizzas topped with smoked salmon and caviar, and pasta dishes. Known as the pizzeria to the stars, super agent "Swifty" Lazar held his annual post-Oscar party at Spago, and just about every movie star hoped to secure an invitation.
Not only did this accomplished chef earn the prestigious James Beard Foundation Award for Outstanding Chef of the Year, in 1991, and the James Beard Foundation Award for Restaurant of the Year in 1994, but won Outstanding Chef of the Year again, in 1998. Wolfgang Puck is the only chef to have won the Outstanding Chef of the Year Award multiple times.
After 15 successful years in West Hollywood, Puck moved Spago to the more toney Canon Drive in Beverly Hills. "WeHo is different now than when I had a restaurant on the Sunset Strip," said Puck. "It was funky and known for its wild nightlife and rock music in various clubs. I used to go to The Whiskey, and once I saw Chuck Berry," said Puck.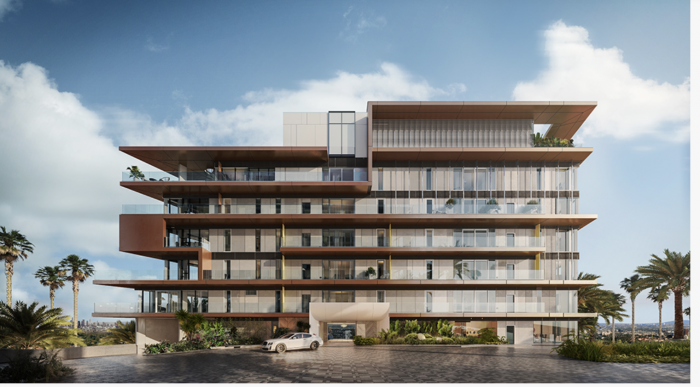 Photo courtesy of Pendry Hotels
Located on the former House of Blues corner, Wolfgang Puck will bring a variety of premier dining concepts to Pendry West Hollywood. 'Now Sunset Blvd., is being revitalized. It's amazing. The Pendry West Hollywood will be the center of the Sunset Strip,' said Puck. 'I like it so much, that I have moved my office here.'
Diners can expect to enjoy Puck's Michelin-starred, seasonal cuisine, highlighting local ingredients and organic options, along with carefully crafted wine and cocktail lists developed by Puck's acclaimed beverage team. He is creating a casual indoor breakfast, lunch, and dinner concept with an outdoor patio, and a sophisticated rooftop restaurant offering stunning views of Los Angeles.
"It's an honor to team up with a world-renowned chef and one of Los Angeles' culinary icons to bring our food and beverage concepts at Pendry West Hollywood to life," said Michael Fuerstman, co-founder and creative director of Pendry Hotels. "Wolfgang has played a singular role in shaping the City's culinary identity, and we are excited to collaborate with an LA legend to continue to push the food scene to even greater heights."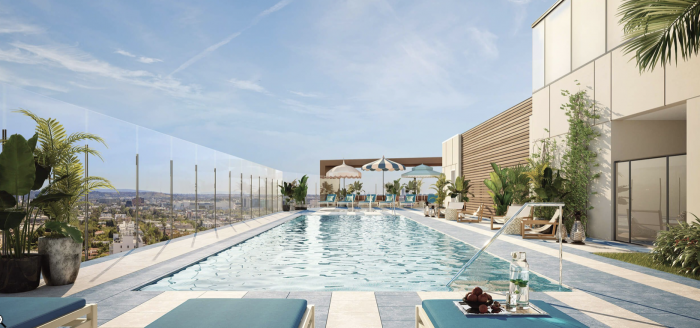 Photo courtesy of Pendry Hotels
Pendry West Hollywood is a $500 million dollar project that has taken 15 years in the making featuring 149 luxury guestrooms in an urban oasis and 40 luxury residences with a piazza separating the vibrancy of the hotel with the privacy of residential living.
Besides Wolfgang Puck culinary and beverage venues, guests and residence owners will have exclusive access to hotel amenities, including a rooftop pool and bar, multi-purpose live music and entertainment venue, a screening room, bowling alley, Spa Pendry and state-of-the-art fitness center, and a curated art collection.
Martin Brudnizki, founder of Martin Brudnizki Design Studio, vision for the new Pendry West Hollywood is the glamour of the 1930s and 1950s with a contemporary twist. "Sunset is a stretched out Time Square," said Brudnizki on Zoom. 'Im creating an inviting public village, that is exclusively perched up above the Sunset Strip with steps cascading down the hill.'
Every resident will have a terrace, some are bigger than others bringing nature and sunshine, a relaxed lifestyle, and uber glamour that inspires a zest for life. The residences start at $3 million for an almost 3,000 square foot private unit.
New to the Pendry Hotel since the coronavirus pandemic, is One Medical, a telecom Medical App, offering check-in with a live doctor 24/7 for associates.
Jill Weinlein
Los Angeles based Jill Weinlein covers travel, food and lifestyle destinations for multiple newspapers, magazines and websites. Her areas of expertise include, luxury travel, culinary reviews, cruising and family travel destinations. Born in Los Angeles, Jill studied Communications and Theatre Arts at UCLA. She has a a Dine and Travel blog - www.dineandtravel.me and she writes a weekly restaur...(Read More)