By Jill Weinlein Jun. 12th, 2020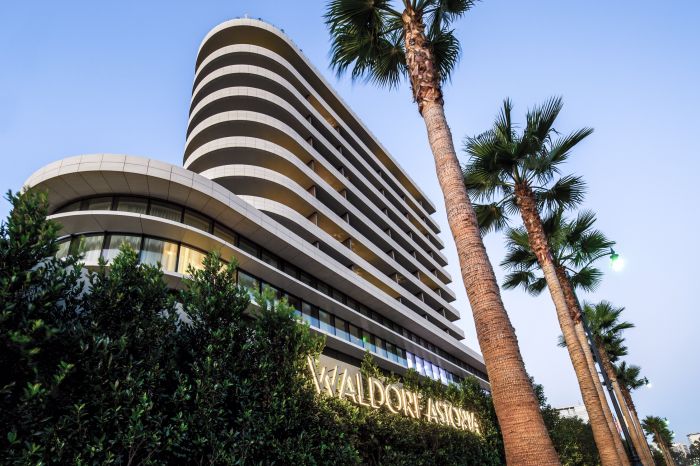 Waldorf Astoria Beverly Hills
The iconic sister properties in Beverly Hills, Waldorf Astoria Beverly Hills and The Beverly Hilton, have put in place new advanced, hospital-grade cleaning measures to ensure a healthy environment for guests and team members.
The two hotels implemented Hilton's CleanStayTM with Lysol protection protocols incorporating current and future hygiene standards such as: the CleanStay room seal to indicate a guest room has not been accessed since being cleaned, extra disinfection of high-touch areas in rooms, guest accessible disinfecting Lysol wipes, enhanced cleaning for fitness centers, reduced paper amenities, contactless check-in and check-out with Digital Key, markers to indicate safe distancing, and boosted cleaning frequency of public areas and disinfecting in high-traffic areas.
Oasis West Realty LLC, the parent company of both properties contracted International SOS/Corporate Medical Advisors, the world's leading medical and security services company, to develop a safety plan for both Beverly Hills properties.
"The health and safety of our loyal guests and dedicated team members has always been, and will always be, our number one priority. We are proud to invest in these enhanced disinfection measures across our properties to ensure we continue to keep everyone well," said Beny Alagem, CEO of Oasis West Realty LLC. "As we begin to travel again, whether that's locally, nationally, or internationally, guests can rest assured they will find a safe haven at Waldorf Astoria Beverly Hills and The Beverly Hilton. We are deeply grateful to our ever-willing team members for working diligently and quickly implement these new protocols."

Hilton Hotels
At the onset of the COVID-19 global pandemic, Beny Alagem assembled a small group of leaders from his iconic hotels to curate the best practices and technologies available to set the new standard of clean for the hotels' guests. The Mission was to find the best hospital grade disinfecting technology and the healthiest cleaning solutions to protect the team members and guests. All cleaning protocols were developed in partnership with these companies' scientists and the International SOS team to ensure proper usage and effective dose in high touch areas.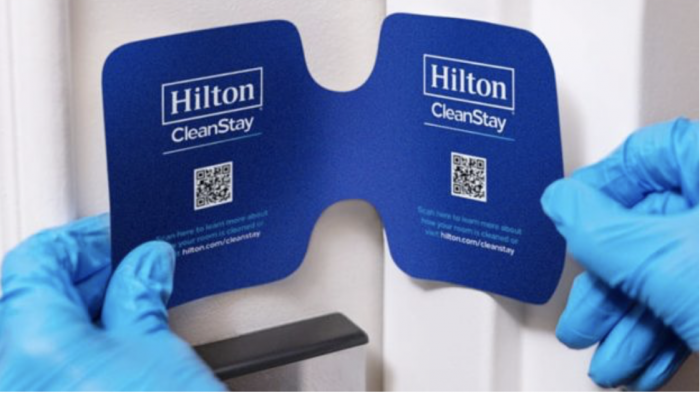 Hilton Hotels
The Xenex LightStrike Robot will be deployed in both hotels. Once a housekeeper completes cleaning, this germ zapping device (confirmed effective against SARS-COV-2), will sanitize hotel guest rooms. The UV Robots will run for 8-10 minutes in each guest room. Once complete, housekeeping and the UV handler will seal the room with a Hilton CleanStayTM with Lysol protection seal.
Xenex UV robots will also be used in public restrooms, elevators, kitchens, meeting rooms, and to disinfect luggage. These are the same type of Xenex UV Robots that have long been used in hospitals such as Mayo Clinic, Stanford and HonorHealth, and deliver up to 4,300x more germicidal UV pathogen killing intensity than UV-c mercury vapor.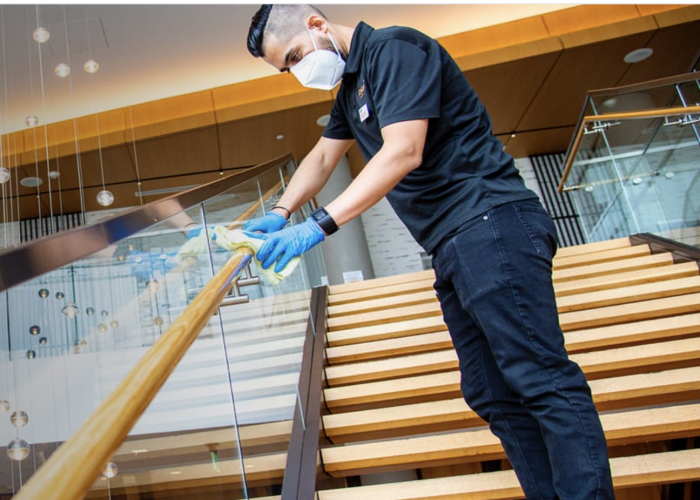 Hilton Hotels
The new Emist disinfectant sprayers that will be used are eight times more effective than using typical spraying devices. These will be used in all guest rooms and public areas. These "super-charged" droplets of disinfectant seek out a neutral or oppositely charged surface to attach. The disinfectant wraps around and clings on the surface, so it can work its magic, providing an even, consistent surface coverage.
An environmentally responsible LEED and Green Seal approved cleaner and disinfectant, Pathosans, will be used across the properties to effectively remove and destroy pathogens. The water-based, scentless solution has been proved to reduce the presence of many dangerous pathogens, including Coronavirus.
Jill Weinlein
Los Angeles based Jill Weinlein covers travel, food and lifestyle destinations for multiple newspapers, magazines and websites. Her areas of expertise include, luxury travel, culinary reviews, cruising and family travel destinations. Born in Los Angeles, Jill studied Communications and Theatre Arts at UCLA. She has a a Dine and Travel blog - www.dineandtravel.me and she writes a weekly restaur...(Read More)