By Keri Bridgwater Nov. 16th, 2020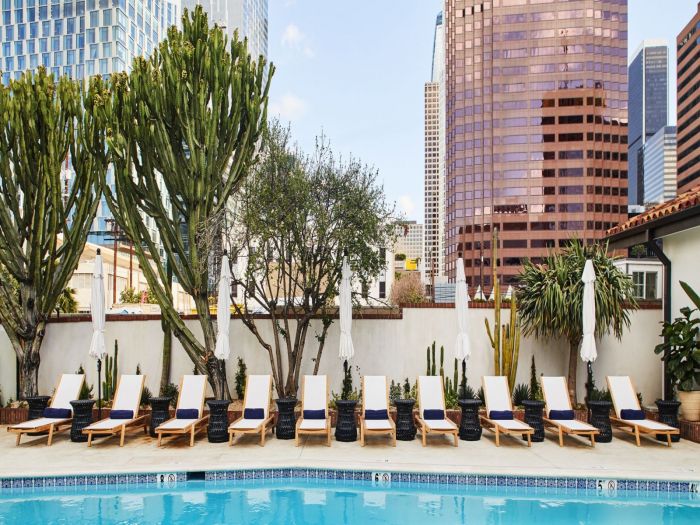 The iconic swimming pool, Hotel Figueroa
One of Downtown Los Angeles' most historic properties, Hotel Figueroa was originally opened in 1926 by the YWCA as a safe haven for businesswomen traveling alone. Gorgeously restored to its former Spanish Colonial splendor and reopened in 2018, today it serves as a stylish urban oasis - whether staying the night or simply stopping in for a drink. To help combat the stress of the ongoing Coronavirus and purple tier restrictions, "The Fig" as its affectionately called, recently launched a new resort experience for Angelenos and visitors looking to engage in some much-needed self-care.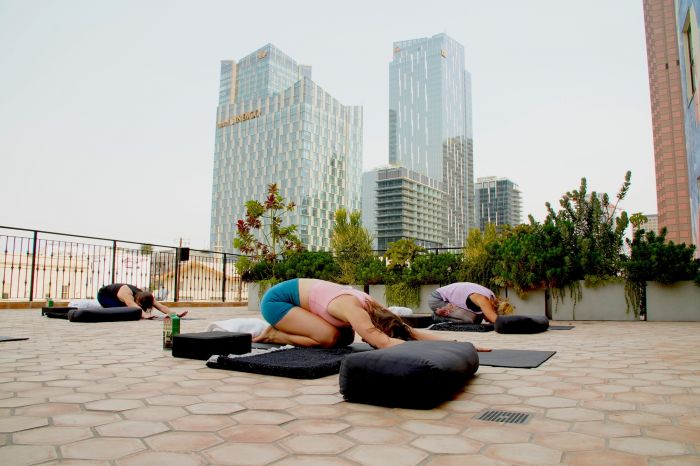 Rooftop yoga, Hotel Figueroa
DTLA Daycation Destination
Because sometimes we all need to take a day. And relaxing beside a picture-postcard swimming pool with a mocktail in hand followed by an alfresco lunch is a pretty lovely way to spend one. In connection with Resort Pass, Daycation Packages at Hotel Figueroa range from morning or afternoon only to all-day affairs in one of the pretty shaded cabanas. The latter comes with additional perks like a bottle of house rosé.
Great as a standalone or Daycation add on, separate morning and afternoon wellness passes are available too. They include access to a Pilates class (Monday through Thursday, 11 a.m.) or rooftop yoga (Wednesdays at 5 p.m.), led by The Bridge Mind Body Movement on the Terrazo Patio. Landing on mats and moving peacefully through a series of asanas as daylight fades to dusk and the city lights start to twinkle is a nice reminder that we can all find balance – even in a busy urban environment.
Mindfulness and meditation have perhaps never been more essential, and one of the most blissful ways to unplug and decompress is with a sound bath. Said to activate the parasympathetic nervous system, it's another thoughtful addition to the hotel's collaborative wellness programming, and one led by Alo Yoga is now held every Wednesday at 6 p.m. Whether coming as a drop-in or bookending a personal 'Wellness Wednesday,' it's a wonderful way to reconnect and round off any rough mid-week mental edges.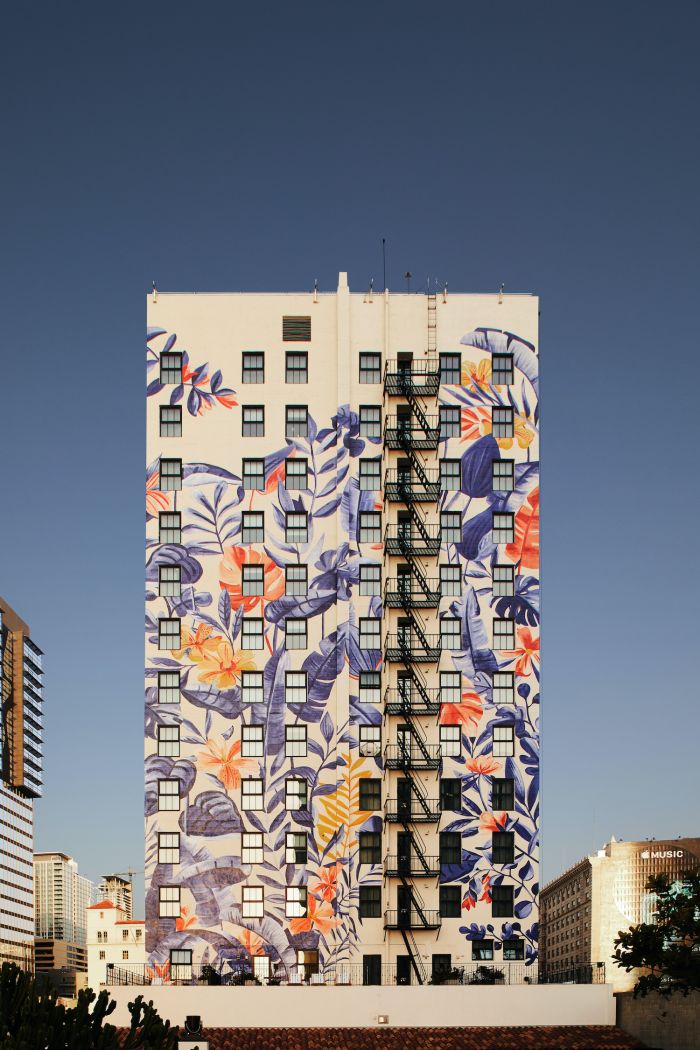 The Bella Gomez mural, Hotel Figueroa
Why Not Make a Night of It?
With 268 tastefully styled rooms and suites spread across 14 floors, making a night of it at The Figueroa probably won't take too much arm twisting. The artwork and historic details really shine here but for an overnight stay with distinction, the six signature suites offer eclectic furnishings, separate living rooms, and in one case, a 436-square-foot terrace overlooking the hotel pool. Locals and SoCal staycationers with a valid California Driver's License or I.D. can enjoy a 26% discount off their stay in addition to unlocking complimentary access to the wellness programming.
Another plus for staying on Wednesday? The outdoor Soothe Massages for hotel guests in front of the fireplace at Lower Rick's.
Currently, only the poolside restaurant Veranda Al Fresco is open for socially distanced service or pick-up orders. Helmed by Chef Adrian Garcia, the menu centers on Mexican city-inspired eats, including street food tacos. A comprehensive list of cocktails, wine, and beer also features.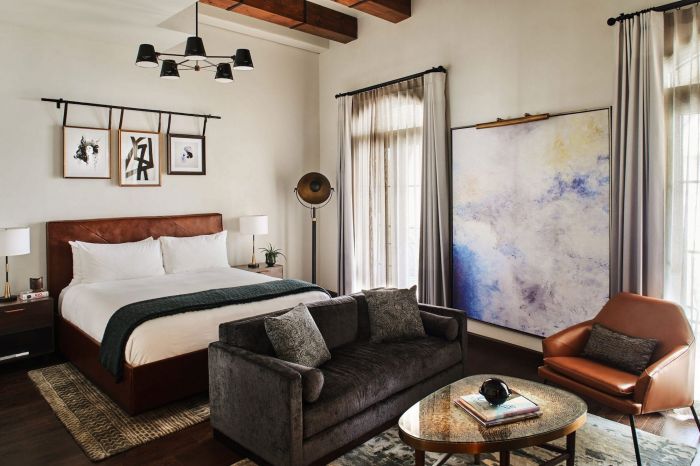 Mirador Balcony Suite, Hotel Figueroa
A Hotel Rich in History
Originally designed, operated and opened by women – its general manager, Maude Bouldin, was the first female GM of any hotel in the world. Deeply rooted in the women's movement, the hotel regularly played host to artists, writers, progressive thinkers. Now in its 94th year, The Fig continues to champion creative and pioneering women - a case in point being its Featured Artist Series partnership, a program that includes a rotating quarterly onsite art exhibition showcasing local emerging and established female artists and shoppable collection at Society6.com.
Hotel Figueroa is located at 939 S Figueroa Street, steps from the Los Angeles Convention Center. Call (866) 734-6018 or visit hotelfigueroa.com for reservations.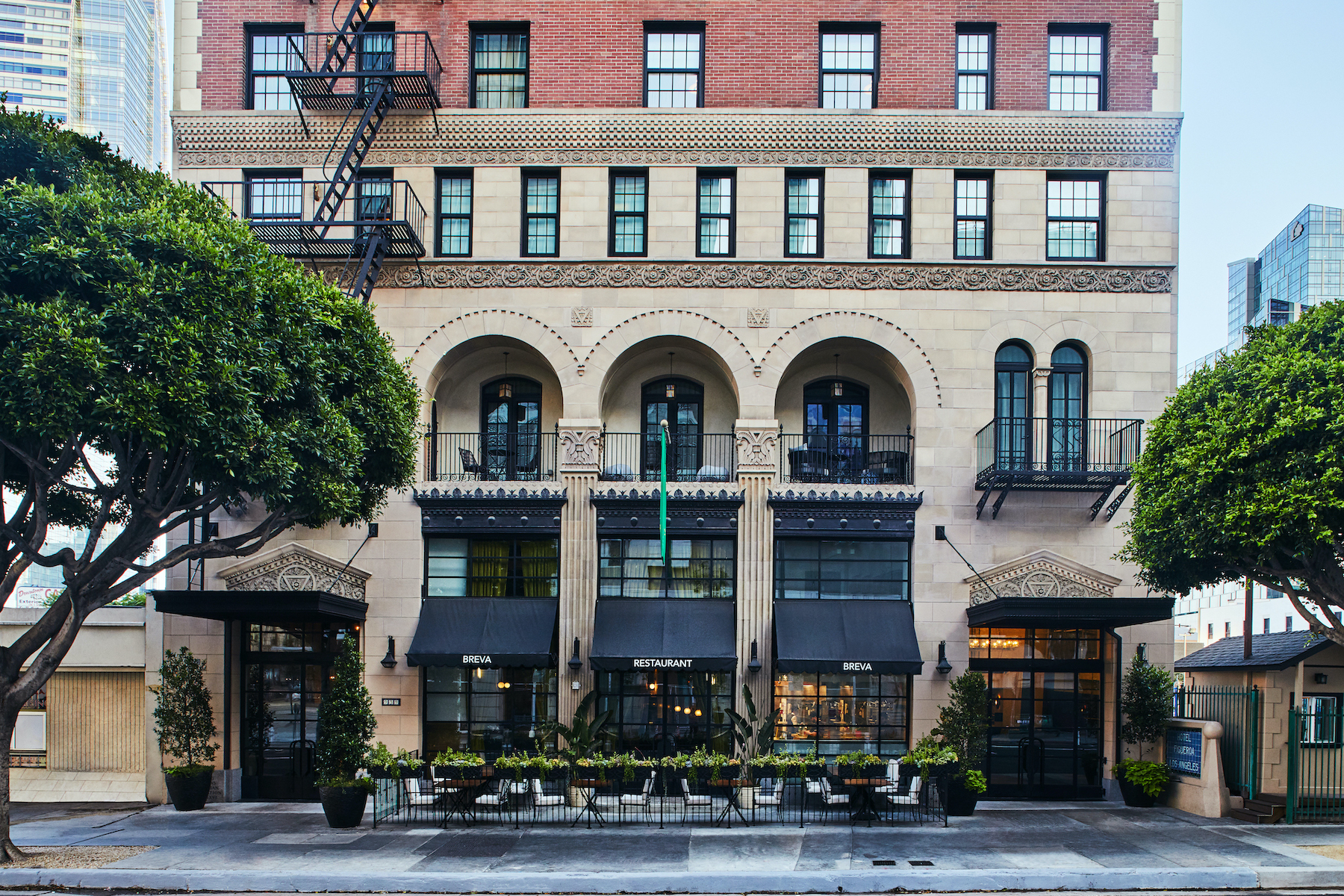 Hotel Figueroa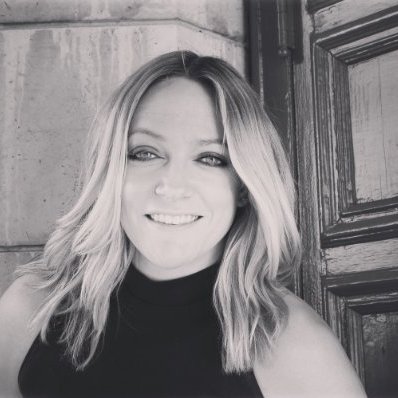 Keri Bridgwater
A native Brit, Keri Bridgwater spent time in house at magazines and publishers in Sweden, New Zealand and Telluride, Colorado before moving to San Diego over a decade ago. She specializes in travel stories, destination guides, hotel news, and profiles for various publications. Bylines in Fodor's, Marie Claire, Yoga Journal, London's Evening Standard, and Virgin Australia's inflight magazine. ...(Read More)