By Jill Weinlein Apr. 22nd, 2021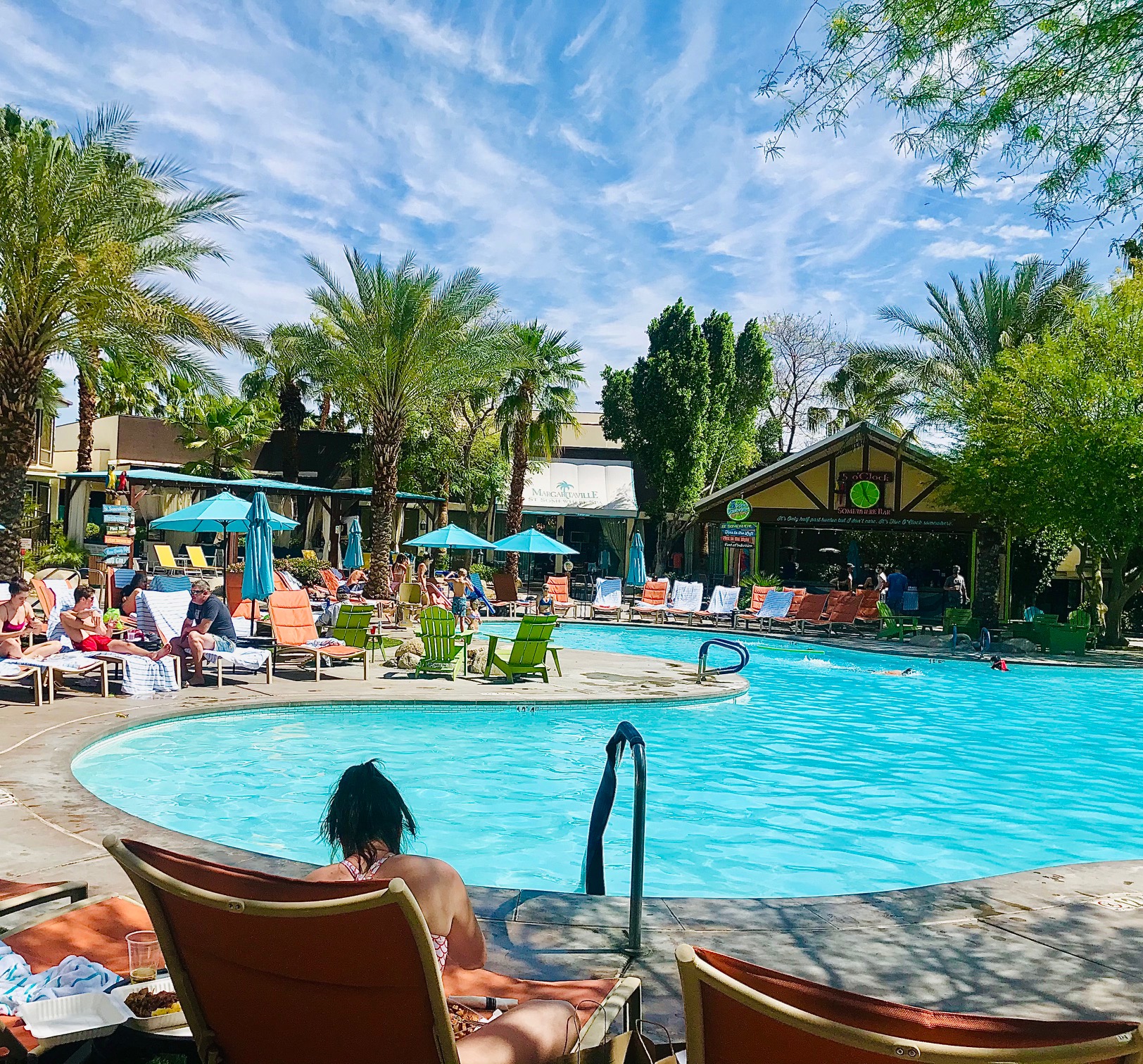 Jill Weinlein
The first West Coast Margaritaville Resort opened its doors in a desert oasis in Palm Springs. Just two hours from Los Angeles, Orange County and San Diego, the chic mid-century, casual-luxe resort allows guests to carve out their own niche, whether it be on a lounge chair by one of the two pools, in a hammock swinging under a palm tree, or chilling by a fire pit with a margarita cocktail in hand.
This is the 24th Margaritaville Resort in singer and songwriter Jimmy Buffett's portfolio. One of the world's richest musicians offers his guests a chill time experience beginning the minute guests drive up to the former Riviera Palm Springs. The semi-circle driveway has resort bicycles lined up outside for guests to take for a spin to explore Uptown and Downtown Palm Springs. Bright tropical colors and Jimmy Buffett music excite your senses.
According to Jeff Ouradnik, Director of Sales & Marketing at Margaritaville Resort Palm Springs, "Architect Irwin Shuman designed the resort in the late 1950s as a nod to Las Vegas. It soon became the desert rehearsal stage and playground for the Rat Pack - Frank Sinatra, Dean Martin and Sammy Davis Jr., along with Marilyn Monroe and others." Jeff shared that the Rat Pack would rehearse their shows in Palm Springs, before performing them in Las Vegas. "Due to the 2-hour Hollywood Studio rule, Palm Spring was an ideal getaway for Hollywood contract players and musicians."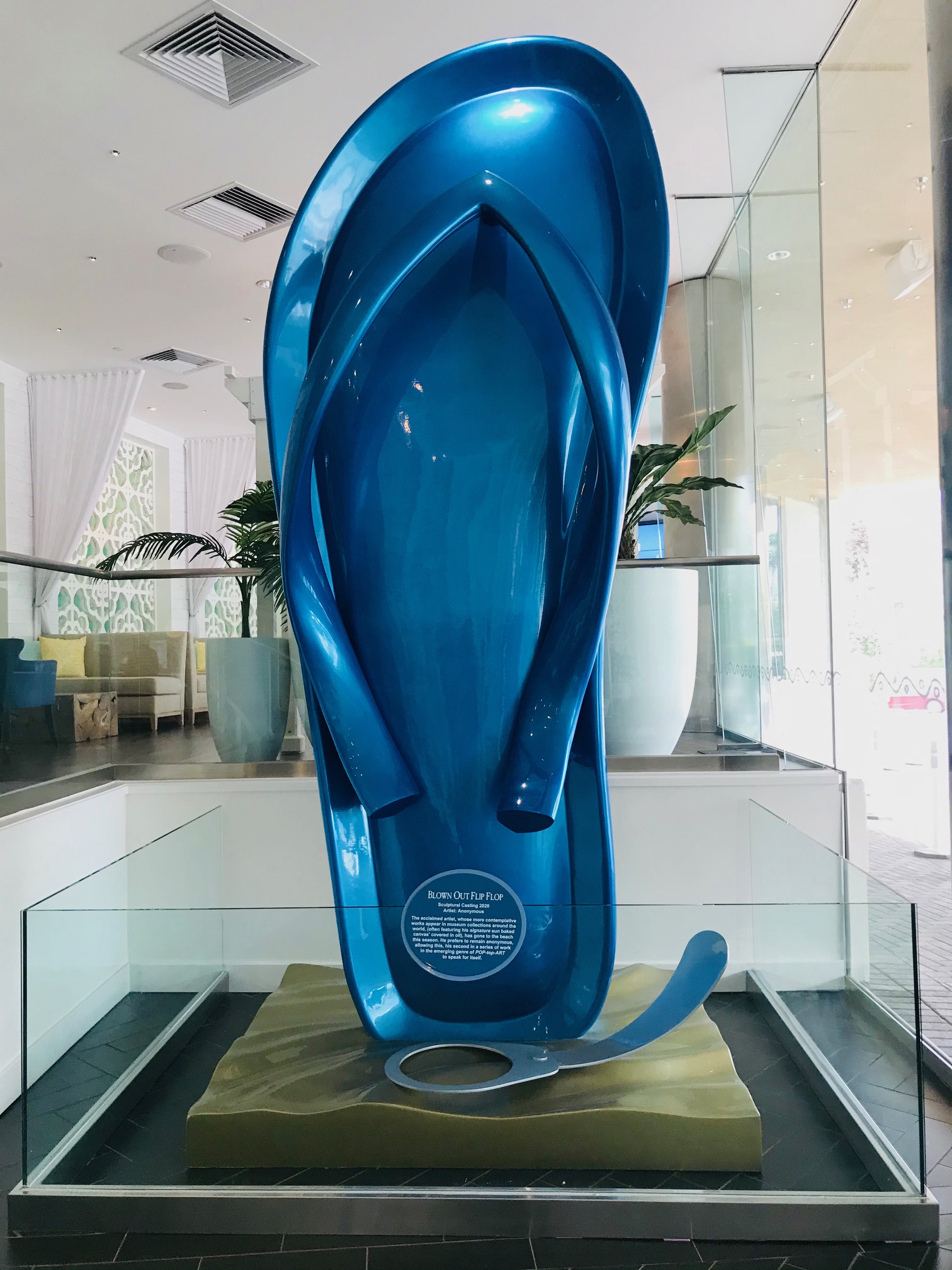 Jill Weinlein
As a businessman, Buffett named his resort chain after the success of his 'Margaritaville' song recorded with his Coral Reefer Band in Key West, Florida. The song was a major hit in 1977, reaching #8 on the Billboard 100 list, and later inducted into the Grammy Hall of Fame in 2016.
His first Margaritaville Beach Resort opened in Pensacola, Florida in 2010, and now there are Margaritaville Resorts in 20 cities and 6 countries. His devoted fan base, known as 'Parrotheads' enjoys listening to his music by the pool, sipping a margarita and enjoying a 'Cheeseburger in Paradise'.
When the Riviera Resort became available, Buffett wanted the Rat Pack music legacy to live on, but now with Jimmy Buffett and friends music. Guest will hear Buffett's hit songs throughout their stay, as well as Tom Petty, Eagles, and others songs from the 1970s and 1980s. 'Every third or fourth song played in the lobby area and by the pool is a Jimmy Buffett song,' said Jeff. The curated playlist is slightly different inside than out by the pools and restaurants.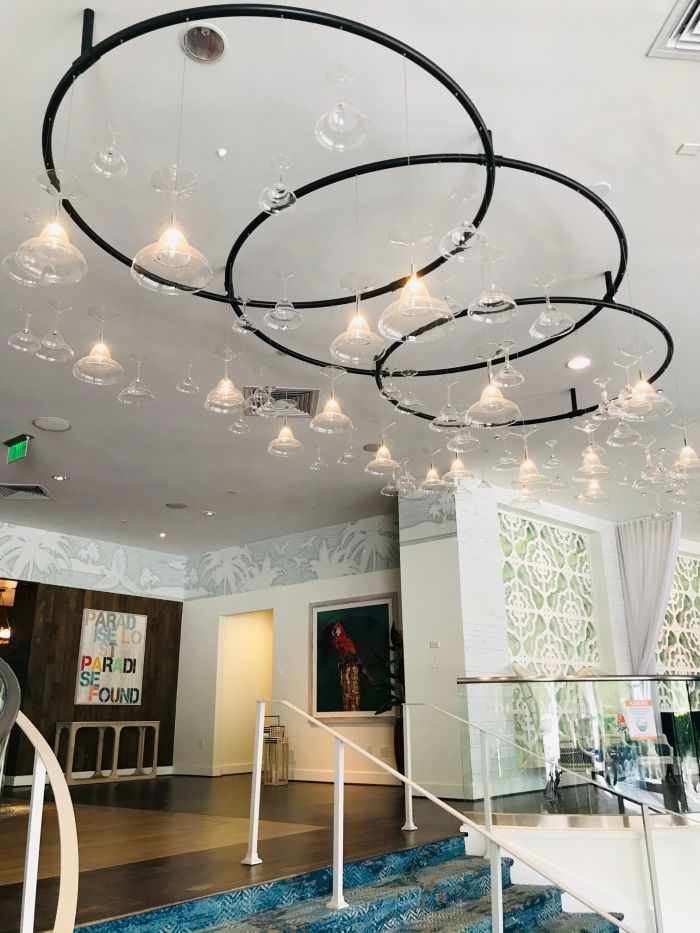 Jill Weinlein
To honor the past, the new designers respectfully kept the mid-century structure, and just added a splash of color, whimsical decor, refreshed the rooms, and outdoor furniture with a tropical island theme. Stepping into the lobby there is a chandelier featuring upside-down margarita glasses. Nearby is a shiny blue 13' tall 'Blown Out Flip Flop' sculpture by an anonymous artist.
Walking to the reception desk, there are two bench 'front porch' swings with lyrics from Buffett's 'Margaritaville' song, and an Instagram worthy wall with two surfboards, green and blue chairs, and a green wall with the words 'The Weather is Here, Wish you were Beautiful,' the title of one of Buffett's songs from his Coconut Telegraph album.
The 398 rooms resort is decorated in pleasing tropical blue colors with a pop of light green, yellow, red and orange to create 'island escapism'.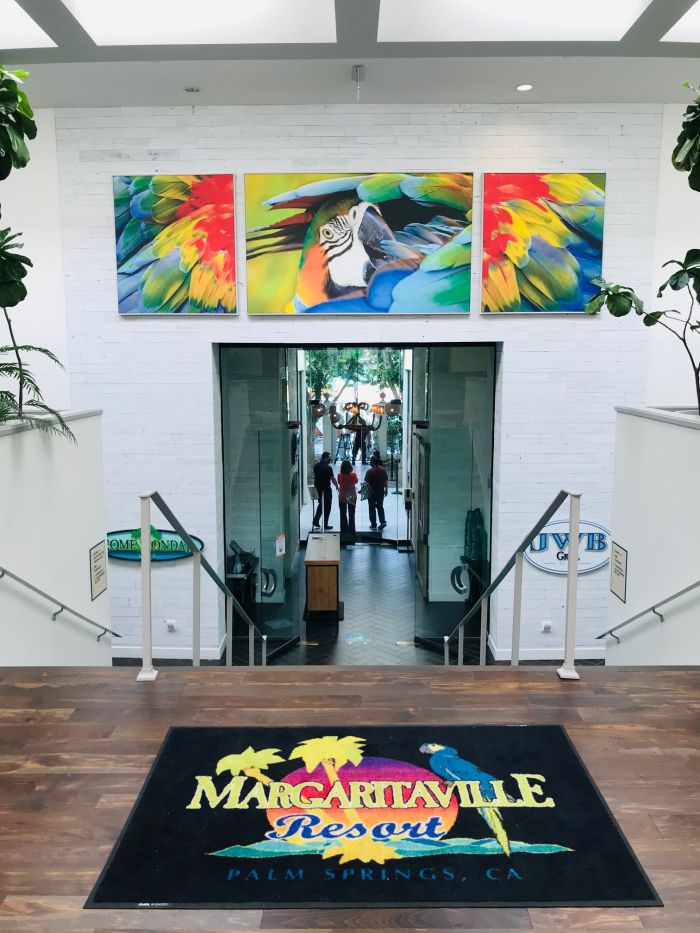 Jill Weinlein
Fun dining options begin in the morning at Come Monday Cafe for a down-home, down-island fare. Sit under basket lights hanging from a canopy of trees to enjoy Brioche French toast, Eggs Benedict, or a Carne Asada and egg bowl. During lunch they prepare a variety of salads, burgers and grain bowls.
The JWB (James Williams Buffett) Grill serves a menu of fine cuts of meat, fresh seafood and globally influenced tropical island favorites. Many items are locally sourced and offer a variety of international flavors. JWB has a rollup bar with a counter and stools integrating the indoor and outdoors. A platform located on the semi-covered outdoor patio is a performance area for live music.
The brand new Joe's Merchant's Coffee & Provisions is a coffee shop serving hot beverages, frappuccino, iced tea, breakfast sandwiches and four different types of 10' or 14' pizzas. Attached is a Key West style market offering Jimmy Buffett Margaritaville apparel and souvenirs.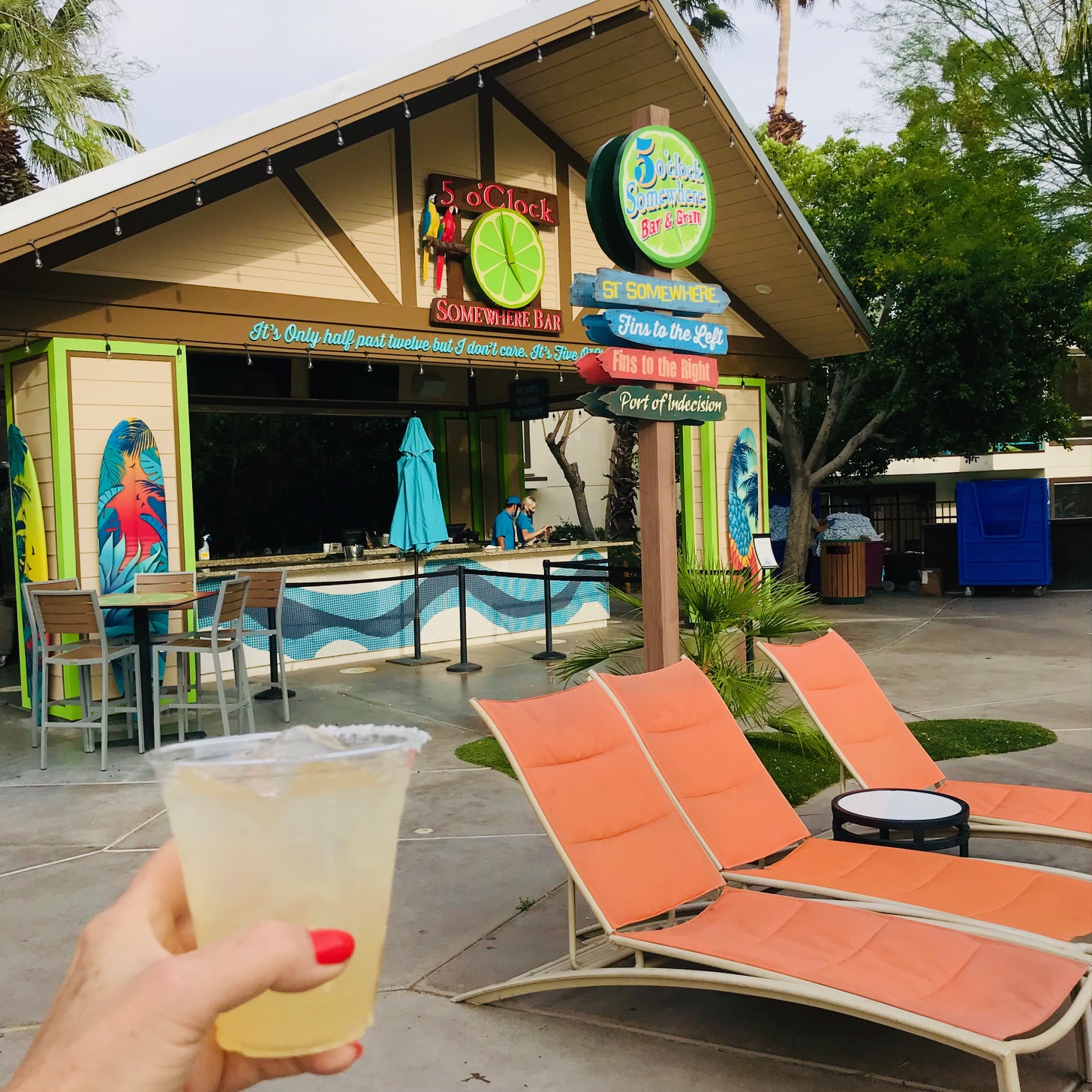 Jill Weinlein
For those who are unfamiliar with Jimmy Buffett, stay at one of the Margaritaville Resorts and you will become a fan, especially sitting near the 5 o'Clock Somewhere Bar at the main pool serving frozen favorites, beer, wine and an array of tropical libations. Bartenders make to order 8 varieties of margaritas including the resort's signature 'Who's to Blame', Pink Cadillac, and a Strawberry Moonshine Rita.
Nearby is the St. Somewhere Spa offering massage, facial, manicure and pedicure services. It's touted the biggest resort spa in the desert.
The Lone Palm Pool is open daily and the Lone Palm Bar/Grill is open on the weekends. This pool a little quieter than the main pool and near Building 4.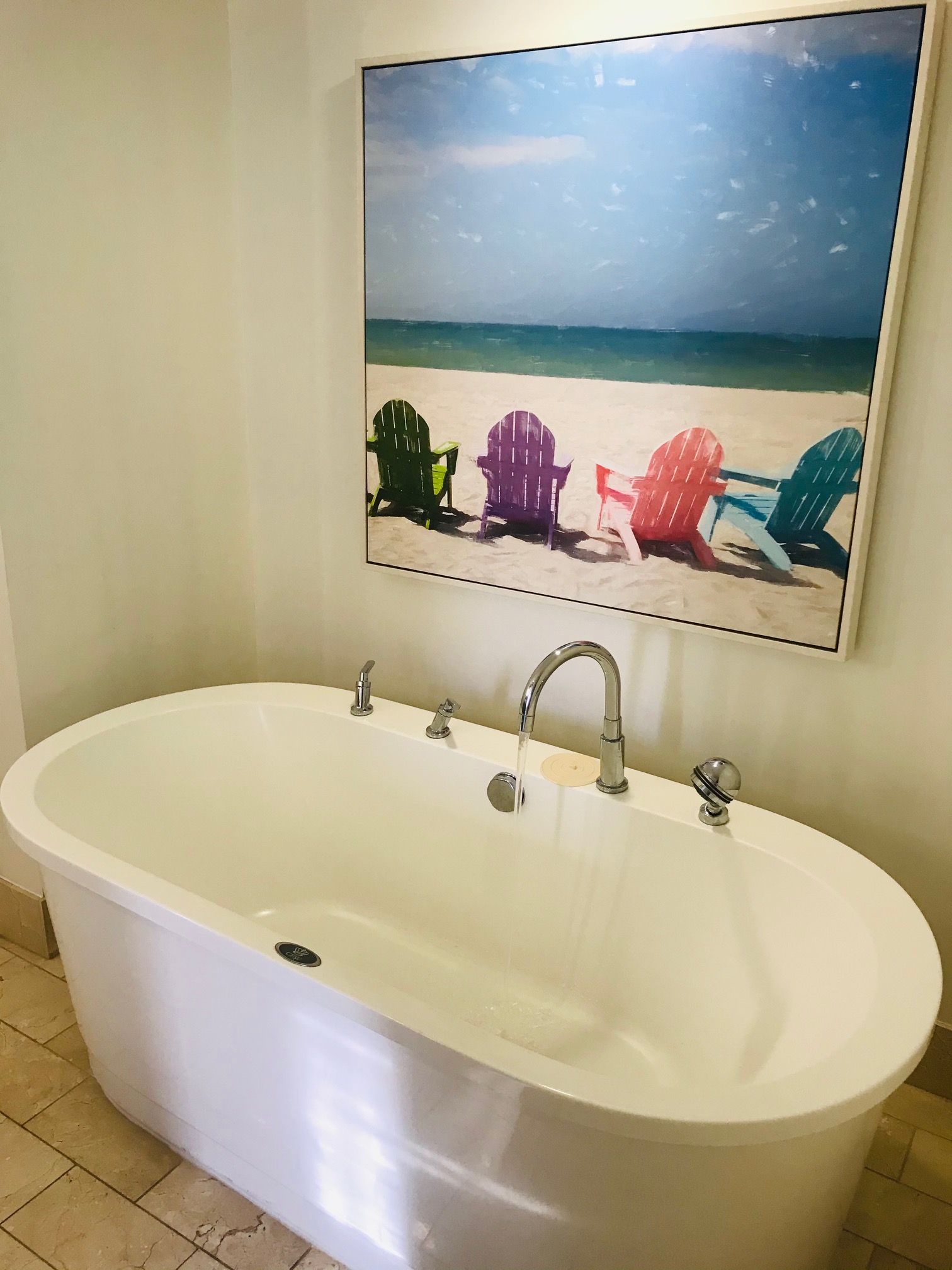 Jill Weinlein
Guestrooms and suites are designed as a sanctuary with a color palette of sea, sand, and sky touches. Guest appreciate the plush and crisp white comfortable bedding, 50' LCD smart televisions, microwave, coffee maker, refrigerator, complimentary wi-fi and in-room safe. Most of the rooms offer a patio or balcony to enjoy pool or desert views.
Guests staying in the Jimmy Buffet Suite will have 1700 sq.ft. with a soaking tub and large outdoor patio with a private firepit.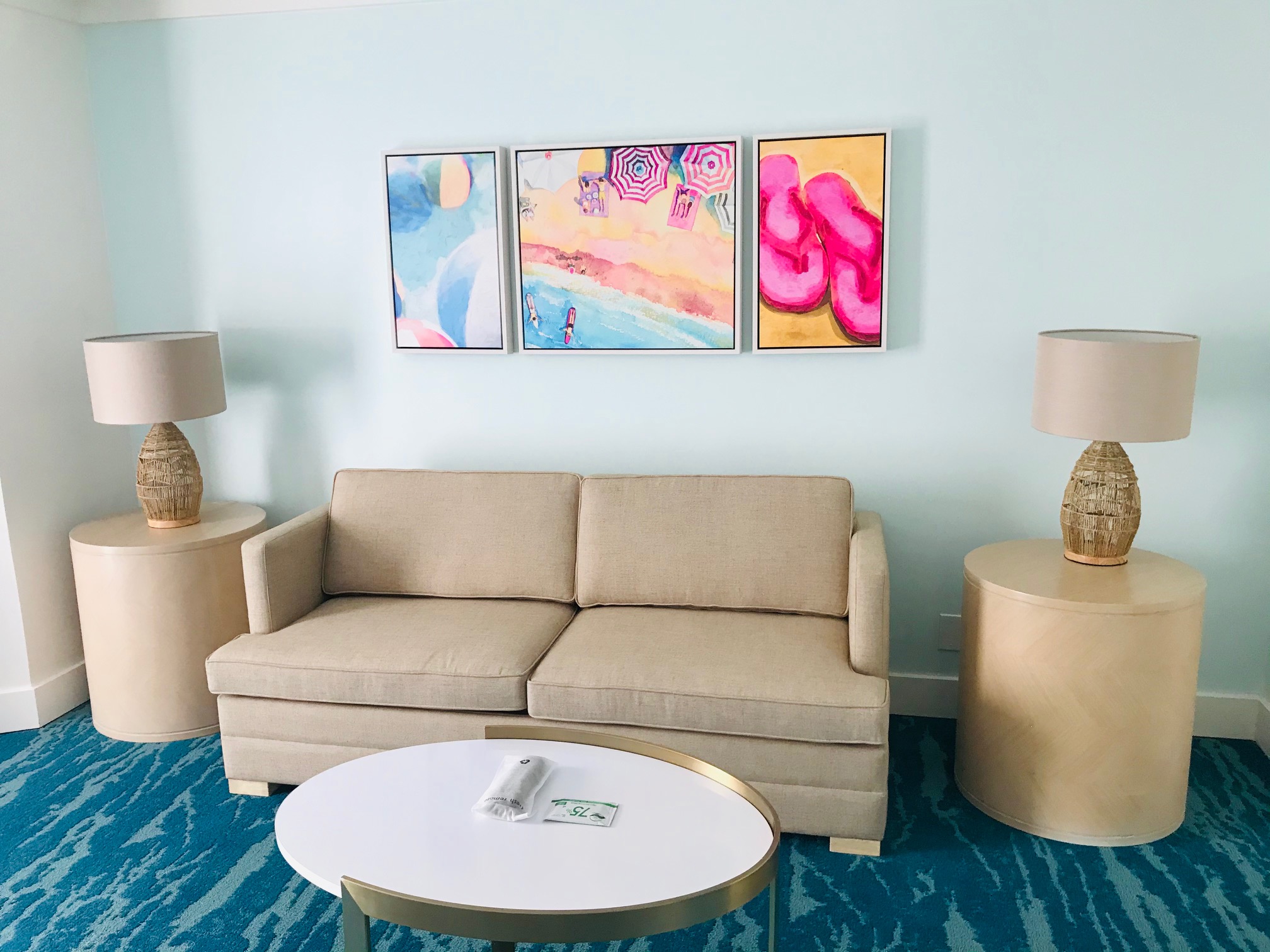 Jill Weinlein
The 'Chill Out' Suite has a separate bedroom, sitting area with a sleeper sofa, morning table and chairs for coffee and breakfast. The large bathroom offers a stand alone soaking tub and large walk-in shower. There are two sliding doors leading out to a small balcony with views of palm trees and the San Jacinto Mountains.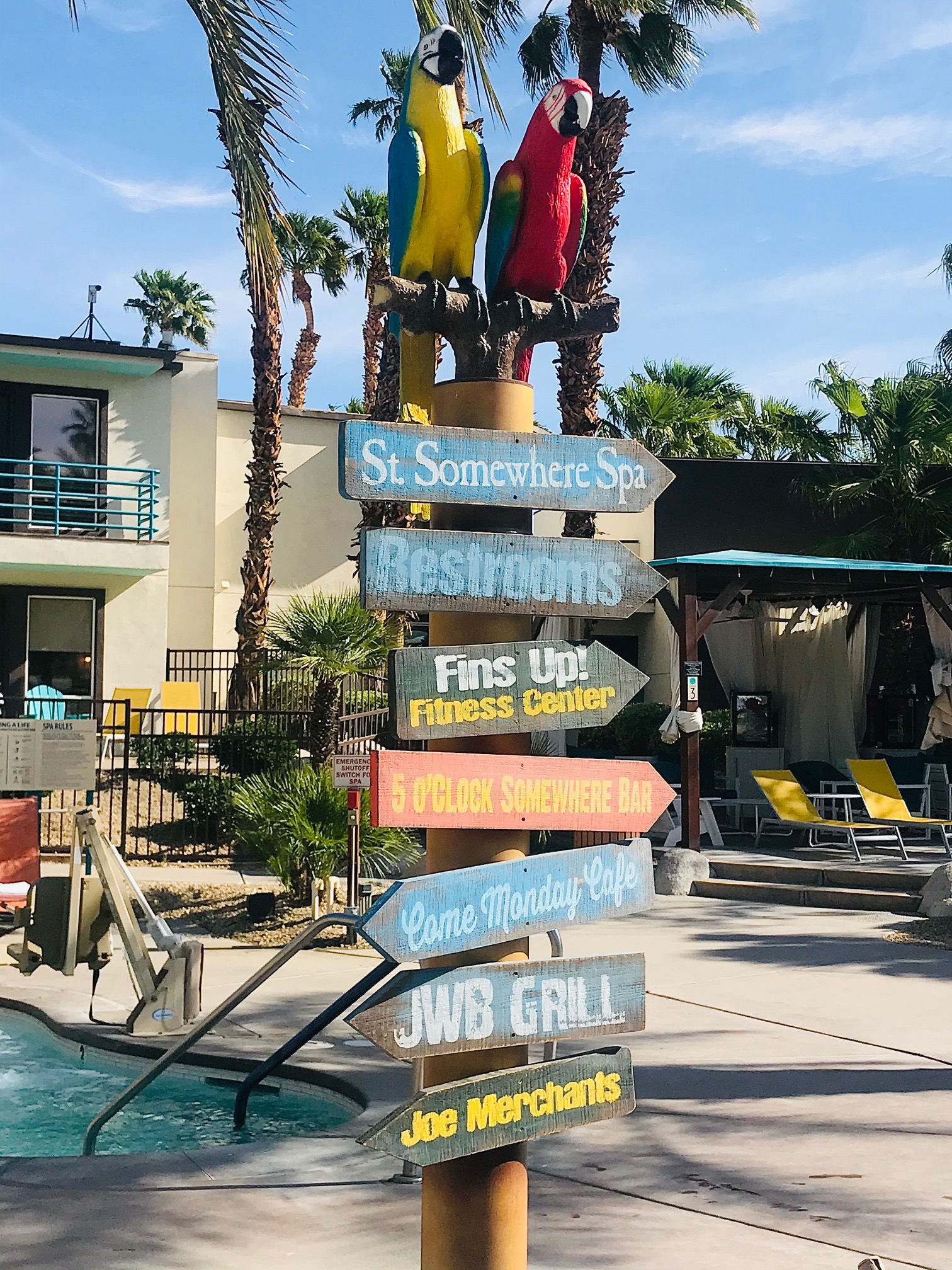 Jill Weinlein
Margaritaville Palm Springs is close to the Palm Springs Aerial Tram, Palm Springs International Airport, and the Escena Golf Course.
Summer specials include 20% off on certain days. Stay 3 nights and receive 25% off and special wine discounts. Stay 4 or more nights and receive 30% off. This promo is subject to availability and black-out dates.

Jill Weinlein
Los Angeles based Jill Weinlein covers travel, food and lifestyle destinations for multiple newspapers, magazines and websites. Her areas of expertise include, luxury travel, culinary reviews, cruising and family travel destinations. Born in Los Angeles, Jill studied Communications and Theatre Arts at UCLA. She has a a Dine and Travel blog - www.dineandtravel.me and she writes a weekly restaur...(Read More)