By Keri Bridgwater Oct. 13th, 2021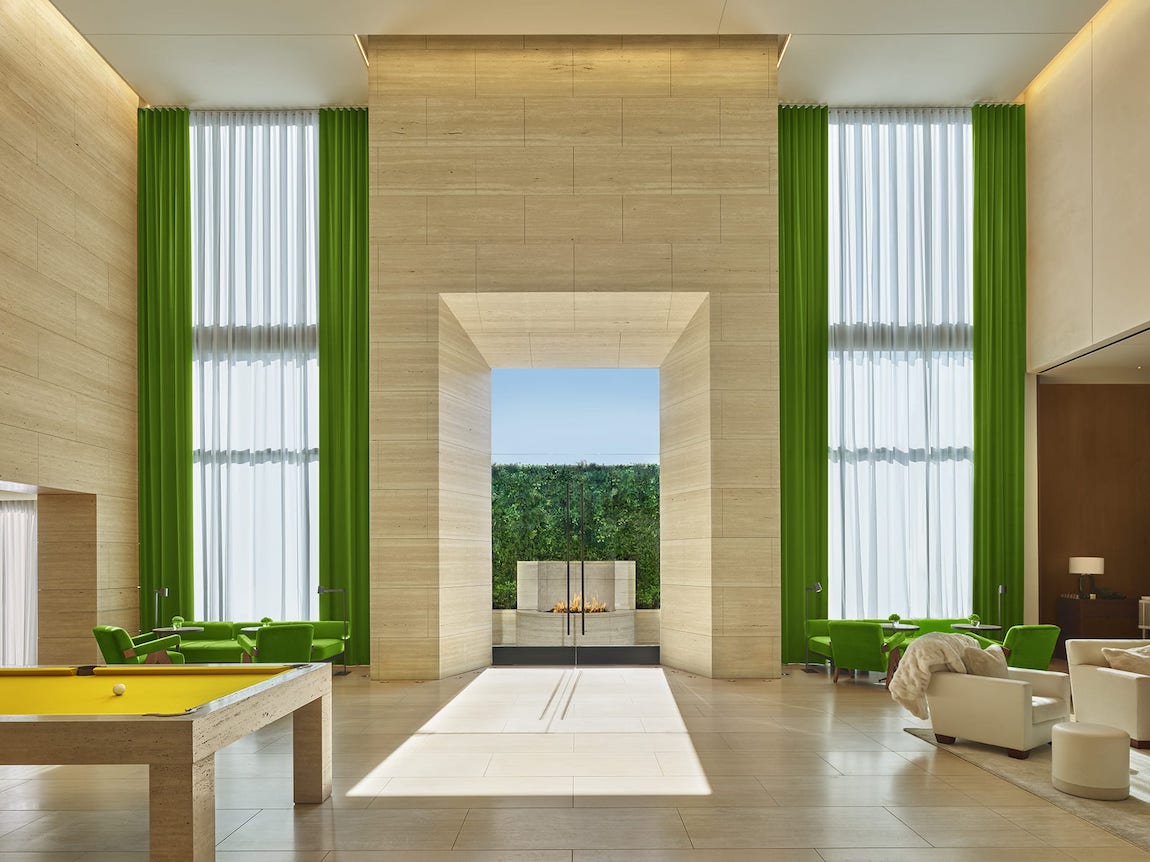 Synonymous with gorgeous spaces and minimalist luxury, Ian Schrager's boutique EDITION hotel brand is sleek, sophisticated, and, according to Vogue, delivers plenty of "high octane glamour." Whether in Abu Dhabi, Tokyo, or New York, EDITION hotels are places to see and be seen, and Los Angeles is no exception. Since opening in late 2019, The West Hollywood EDITION has welcomed a steady crowd of sartorial travelers and local movers and shakers – and its Zen-like spa wellness devotees and self-care seekers looking to find inner peace in a serene and stylish setting.
The Spa at The West Hollywood EDITION
Step through the showstopping Italian travertine-clad lobby and hang a left beside the acid-yellow pool table - just a short walk beyond the concierge desk, a curated retail space serves as the entrance to The Spa at The West Hollywood EDITION. Plan to arrive half an hour or so early to spa day like a pro and hit the sauna and steam room before slipping into one of the soft EDITION robes and padding downstairs to the elegant relaxation lounge.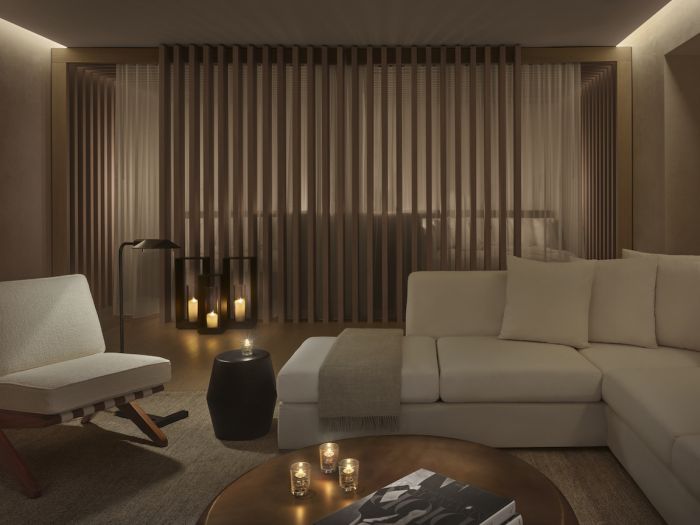 The Ultimate Spa Day
Recently re-opened to the public, Angeleno's and visitors to the City of Angels alike will love the new and heavenly Stay All Day experience that combines a trio of treatments each one inspired by the California landscape.
Lead therapist and spa supervisor Michael Scola explained the experience starts when guests choose which aromatherapy oil scent most resonates. For Canyon, it would be a blend of juniper and eucalyptus. The three- and half-hour treatment begins with a sculpt facial using plant-based skincare products by Odacité and is followed by a detoxifying body treatment using a seaweed-infused body oil before the Off Sunset massage finale. For a deep coastal dive, the lavender, citrus, and bergamot scented 'Ocean' incorporate products by Malibu-based brand Osea across its hydrating facial and moisturizing body treatment, which concludes with a fifty minute signature EDITION massage.
Notes of grapefruit, sage and cedar evoke the senses during Canyon as a Poly LED light therapy treatment improves skin tone, and a full CBD facial and warm muscle massage will leave you feeling light as a feather. Scalo says treatments can be scheduled back-to-back or spaced out to allow time for a poolside lunch upstairs at The Roof or more downtime to enjoy relaxing within the space between services.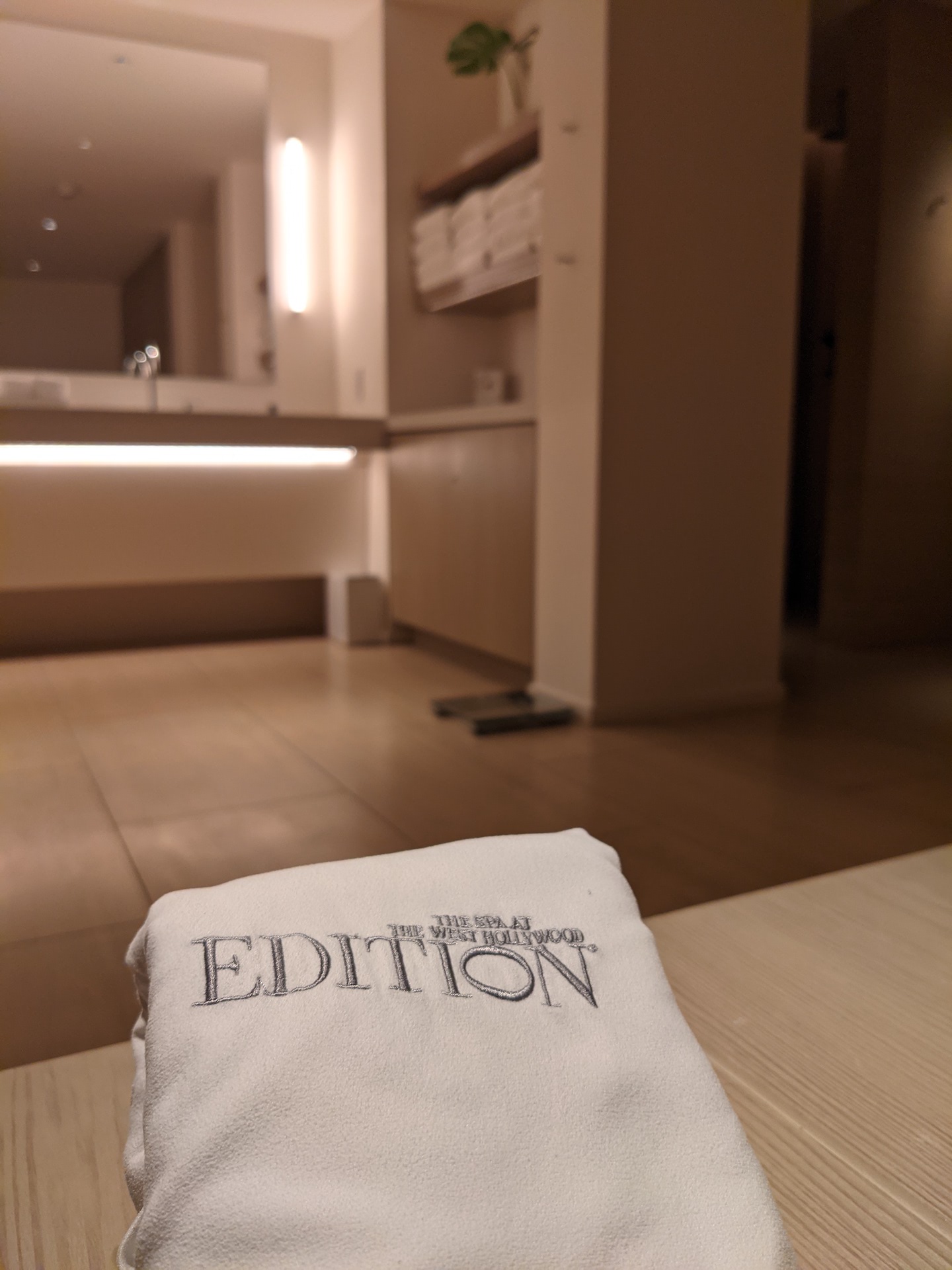 JustLuxe/Keri Bridgwater
Signature Treatments
According to Scalo, the most requested treatment right now is CBD + Sticks and Stones, which incorporates 'bliss molecule' CBD oil, natural bamboo sticks and basalt stones warmed in a special drawer; he says the experience is profoundly soothing and therapeutic. Glow is the most requested facial and utilizes cutting-edge Jet Peel technology to lift and firm skin to a new level of close-up ready complexion perfection.
Incorporating Gua Sha techniques the Off Sunset lymphatic drainage massage is another crowd favorite. Derived from traditional Chinese medicine ('Gua' means to scrape, and 'Sha' means sand), a flat stone is firmly scraped over the skin in upward strokes to relax muscles and promote tissue drainage. Scalo says guests are invited to select the stone best suited to their intention: there's green aventurine (luck and good fortune), rose quartz (self-love, harmony), and blue sodalite (detox, grounding).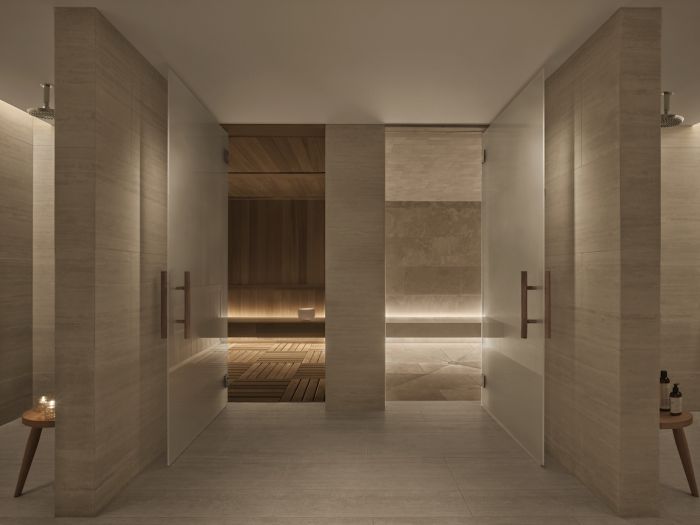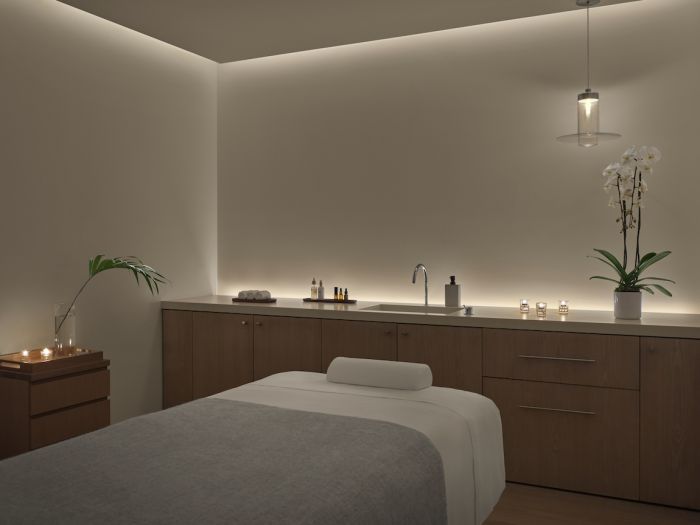 The Sanctuary
The re-opening menu also features two new Sanctuary Services that tick both boxes regarding high-tech treatment and ancient wellness practices.
A game-changer in the world of skincare, wavelengths emitted during the thirty-minute POLY LED light therapy session will smooth fine lines and tighten pores leaving skin looking radiant and red carpet ready. Scola can also incorporate a KNESKO sheet mask, beloved by celebrities Diamond Radiance adds brightness, while the 24K Nano Gold promises brilliant age-defying results. Meditation is one of the best things for managing stress, and a sound bath session creates a deeply meditative and restorative state while aligning minds and bodies back into balance. During the treatment, seven crystal bowls are played at different frequencies for each chakra.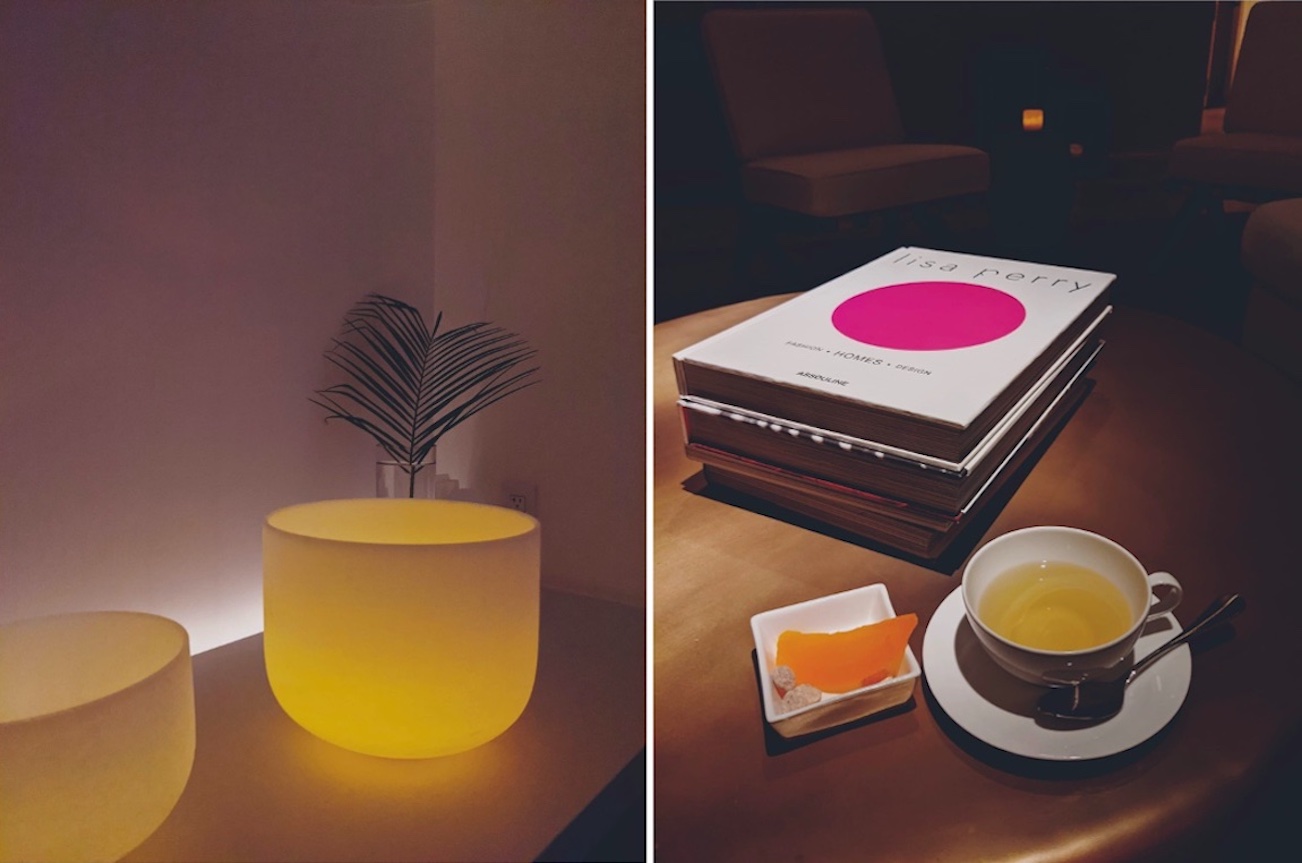 JustLuxe/Keri Bridgwater
Relaxation Lounge
With its oversized sofas, cozy faux fur throws, and arty coffee table books, the subterranean lounge is perfect for curling up or stretching out after a treatment. You'll receive a housemade detox juice (pineapple juice, activated charcoal, and coconut water blend served in a glass swing bottle), but fruit-infused water and herbal teas are also on offer in addition to healthy snacks, including lavender almonds (delicious), plump strips of dried mango and chocolate covered raisins. Separated by a gauzy curtain, two sanctuary cabanas provide extra privacy and a quiet space for romantic partners to sip a glass of Prosecco together, post couple's massage.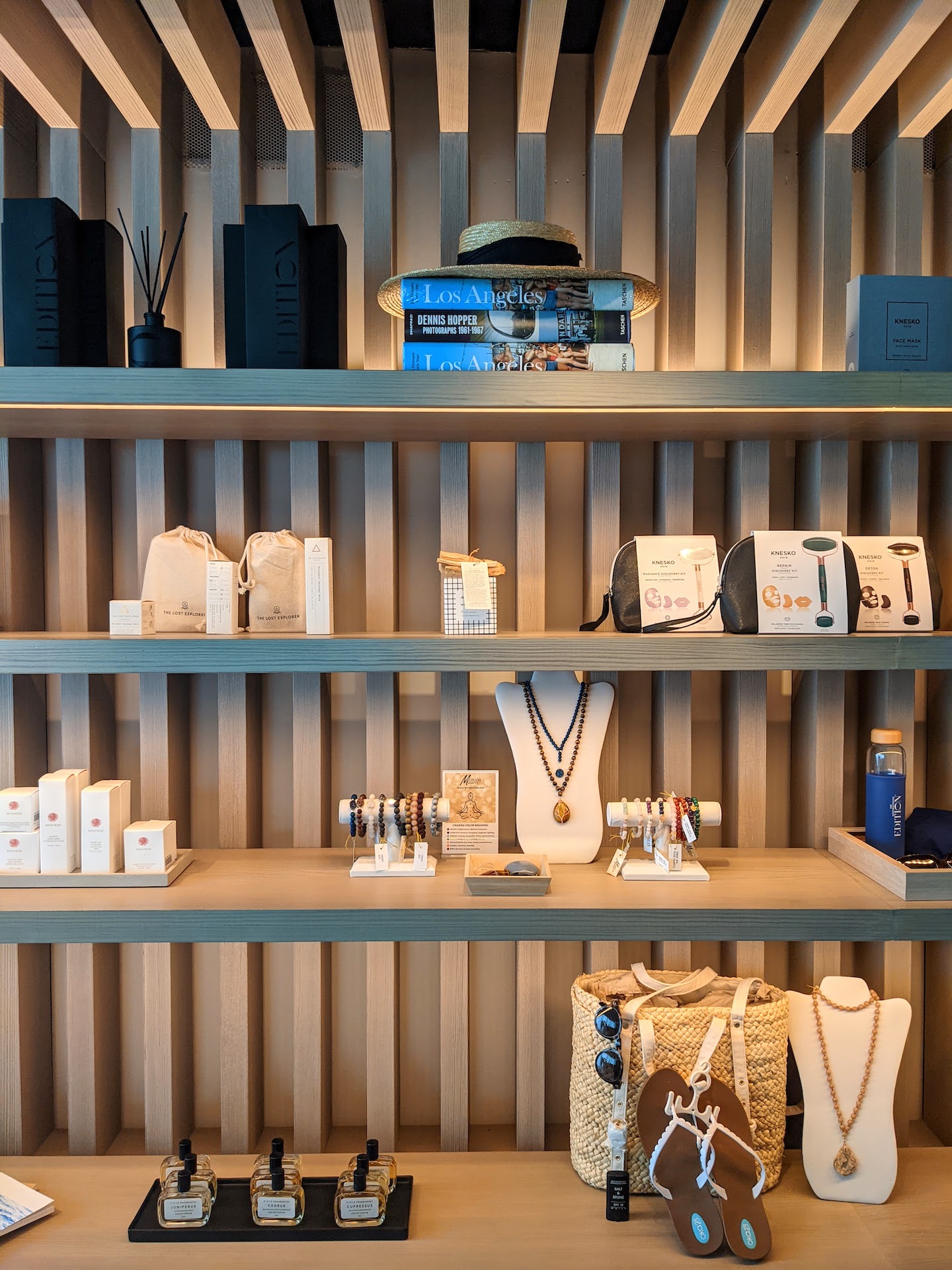 JustLuxe/Keri Bridgwater
Retail Space
The spa boutique carries a hand-picked selection of California-based clean and cruelty-free beauty brands, many of which, including OSEA, are used within treatments here. Standout lines include Mowellens CBD-based moisturizers and oils, LIVE BY BEING bath salts, and skincare by Odacité and Shiva Rose. Handmade in Los Angeles, Fiele Fragrances also feature alongside a Sicilian bergamot, green tea, and cedarwood scented candle created for EDITION by cult-favorite fragrance house, Le Labo. You'll also find sunscreen by Soleil Toujours and loose-leaf tea by Leaves and Flowers.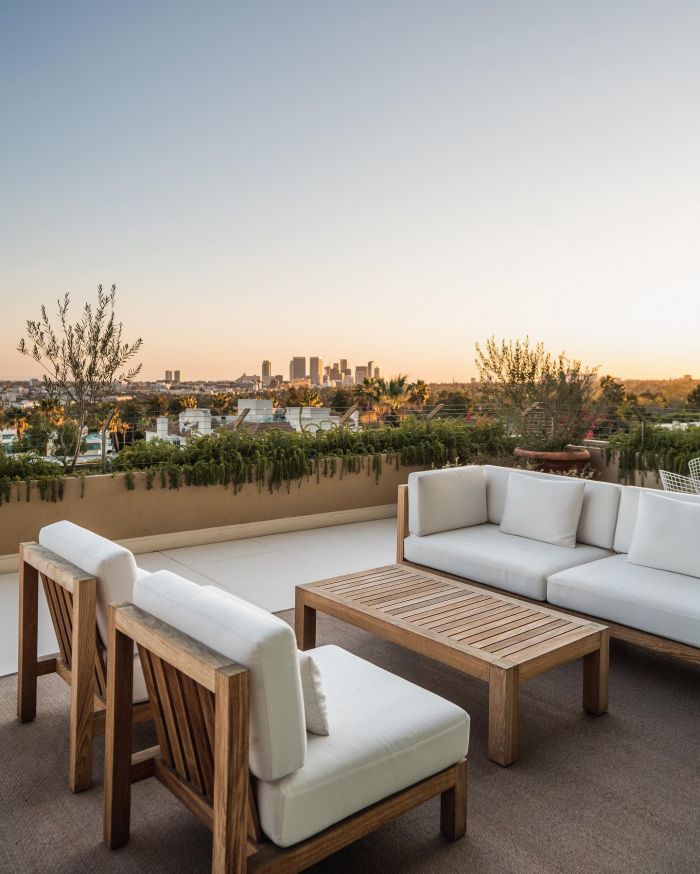 The West Hollywood EDITION is located at 9040 West Sunset Boulevard, West Hollywood. Visit editionhotels.com/weho for more information.
All photos courtesy of Nikolas Koenig unless otherwise noted.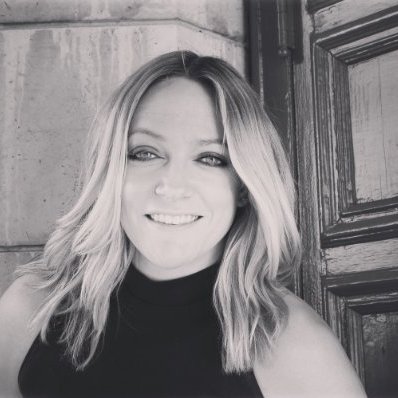 Keri Bridgwater
A native Brit, Keri Bridgwater spent time in house at magazines and publishers in Sweden, New Zealand and Telluride, Colorado before moving to San Diego over a decade ago. She specializes in travel stories, destination guides, hotel news, and profiles for various publications. Bylines in Fodor's, Marie Claire, Yoga Journal, London's Evening Standard, and Virgin Australia's inflight magazine. ...(Read More)