By Jill Weinlein May. 1st, 2022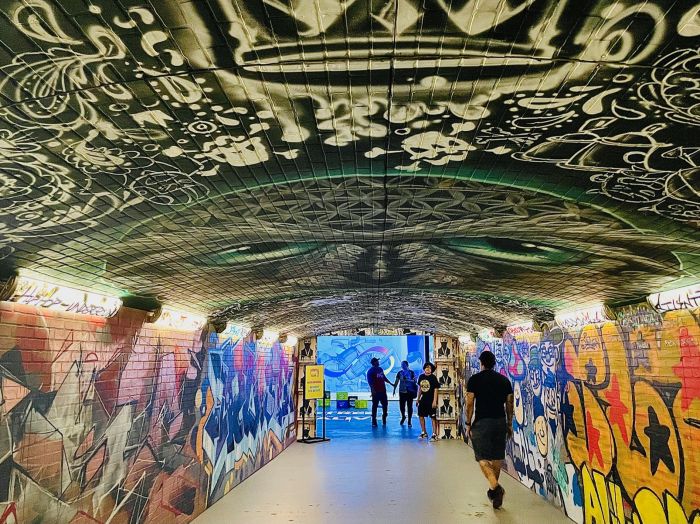 Jill Weinlein
Visitors walk through a recreated New York subway tunnel and examine parts of the Berlin wall inside an immersive art exhibit at THE LUME Los Angeles. Grande Experiences Street Art Alive partnered with Magic Box LA to create a lively digital art gallery in downtown LA. It's an exciting new medium for visitors to engage in art and culture.
The Greek called it 'graphein' and the Italians 'graffito'. In modern times, the Godfather of stencil art Blek le Rat, and British artist Banksy became two of the most famous stencil artists. Lady Pink was one of the first female street artists in New York City's subway graffiti subculture. Each street artist has a story to tell through their art.‍
Gangs like DONDI's 'Crazy Inside Artists' (CIA) paved the way for crews to get their names out in the world, and in the 90s, an explosion of street art blossomed. By the 2000s, street art took over graffiti in the public eye, and soon well-known artists were commissioned to create murals. In 2010, 'Muralism' became the forefront of street art to beautify a city and display global gentrification. Miami has 'Wynwood Walls' and Hawaii's 'Pow Wow'.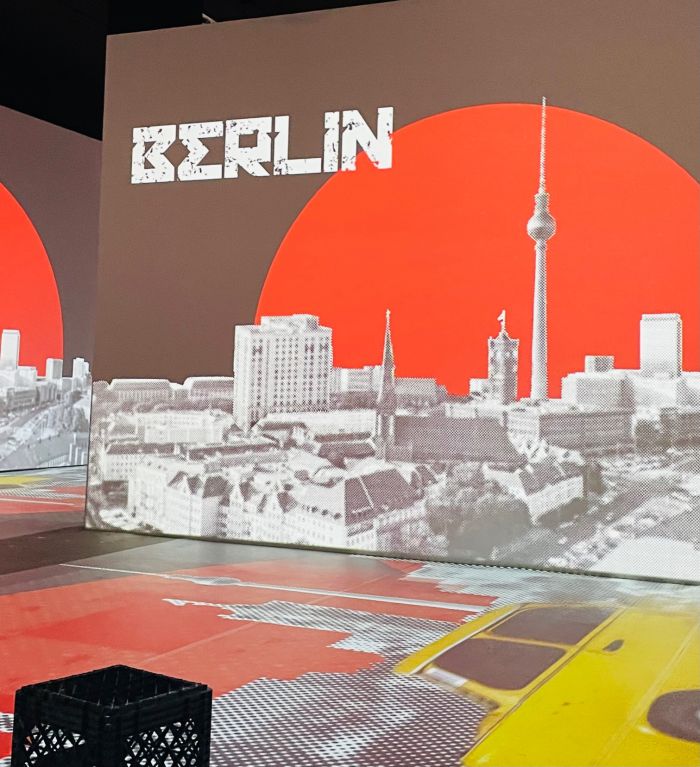 Jill Weinlein
Walking through the 25,000 sq. ft exhibit, visitors are introduced to over 200 artists through SENSORY4 Immersive Technology. The curated soundtrack of hip-hop, post-punk, pop and glam rock music enhances the constantly changing images on displayed on the floor and walls.
Street art in Berlin was coined by art critic Emilie Trice as the graffiti Mecca of the urban art world. Torn apart by wars and cut in two with a 96-mile long, 4-meter-tall concrete barrier, the Westside of the Berlin wall became a canvas covered with spray-painted political messages, while the East side remained bare due to guards and land mines halting artists from getting too close.
Some of the cities displayed in the exhibit have a theme, such as London for its rejuvenation, Melbourne for its fresh take on history, and Sao Paulo for its fight for rights.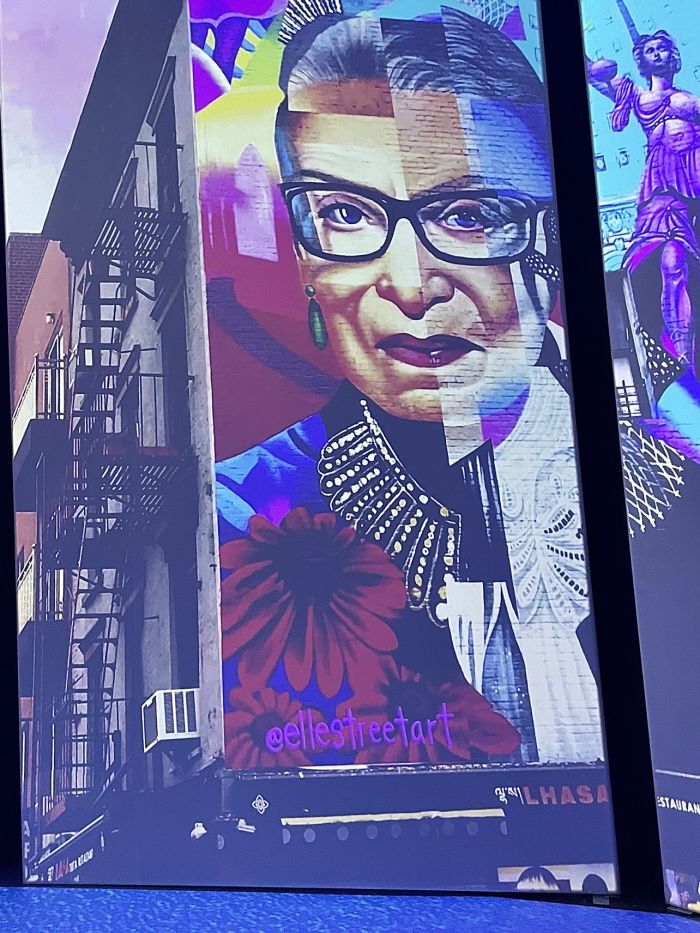 Jill Weinlein
Be sure to purchase the colorful 68 page program to learn about other street artists and see their artwork. The artist Tyler is quoted saying, 'I am just trying to mirror my society. I just want to be known as someone who had the courage to speak up.'
Be sure to see artist Elle and German artist Hendrik Beikirch huge murals paying homage to iconic political giants Ruth Bader Ginsberg and Mahatma Gandhi. It shows how powerful these leaders can be at this scale. They did have the courage to speak up.
You will also gain insight into why many of D*Face's paintings are about heartache, love, loss, and life. 'These unifying feelings and emotions are we all share and can connect to, regardless of gender, race or age.' Artist BoogieREZ shares in the program, 'When I was younger, I always had problems connecting with people through verbal conversation, so art became my voice.'
Jill Weinlein
Towards the end of the exhibit is a room with murals displaying the names and faces of women subjected to violence. A red hand over the mouth of one woman is a symbol of a growing movement, 'The Murdered. This area honors and pays respect to the murdered and missing Indigenous Women (MMIW) movement. This powerful movement stands for all the missing women whose voices could not be heard.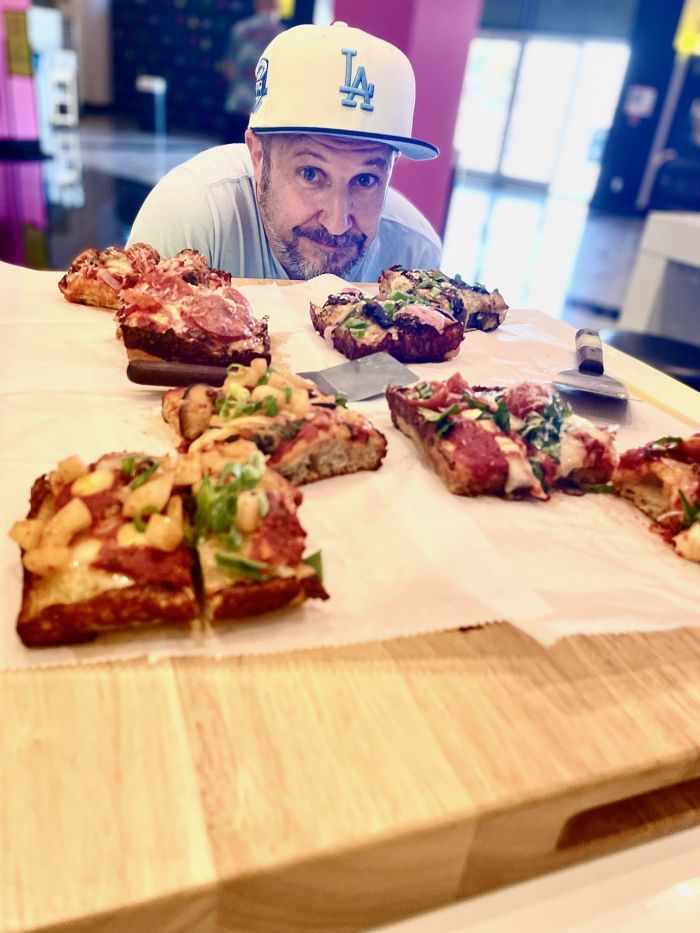 Jill Weinlein
Before or after exploring Street Art Alive, Chef Fred Eric offers a multi-sensory experience with his pizzas, salads and sandwiches. His gourmet pizza cafe in the lobby is next to the entrance of the exhibit. He named his pizzas after iconic cars, which in LA with such a strong car culture are also a work of art. Meat lovers will enjoy the GTX Muscle Car pizza topped with cupped pepperoni, fennel pollen sausage, fresh mozzarella and roasted red onions.
The Just Kid'n Opel GT is the ultimate four-cheese pie topped with bechamel sauce, mozzarella, fontina, Jack cheese and provolone. Wolfie's Packard is a homage to Wolfgang Puck with smoked salmon, cream cheese creme fraiche, cherry tomatoes, dill and chives.
A fan favorite is also the Impala Low Rider is topped with mole chicken, roasted pumpkin, Oaxacan melting cheese and rajas con crema.
Diners can order pizza by slice or a whole pie. Chef Fred Eric also has fresh packaged salads ready to eat that include a Thai Cobb, Italian meat and veggie 'Chopped and Lowered', and an arugula salad.
Be sure to select one of his hand pies, brownies or giant cookies for the ride home.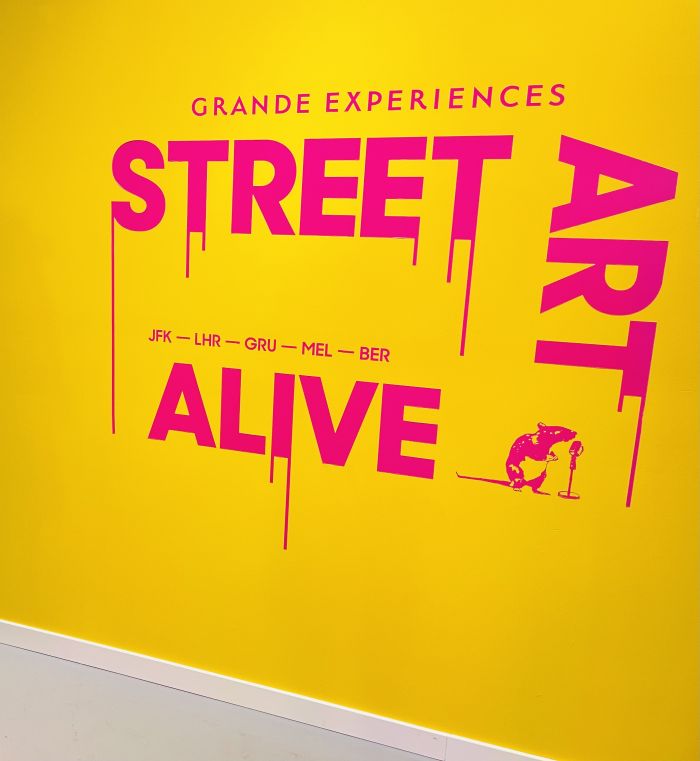 Jill Weinlein
General admission tickets start at $39, and $29 for children four to 14 years old. The exhibit is closed on Monday and Tuesday. https://tickets.thelumelosangeles.com. 1933 S Broadway, (213)608-3014.

Jill Weinlein
Los Angeles based Jill Weinlein covers travel, food and lifestyle destinations for multiple newspapers, magazines and websites. Her areas of expertise include, luxury travel, culinary reviews, cruising and family travel destinations. Born in Los Angeles, Jill studied Communications and Theatre Arts at UCLA. She has a a Dine and Travel blog - www.dineandtravel.me and she writes a weekly restaur...(Read More)