By Jill Weinlein May. 2nd, 2022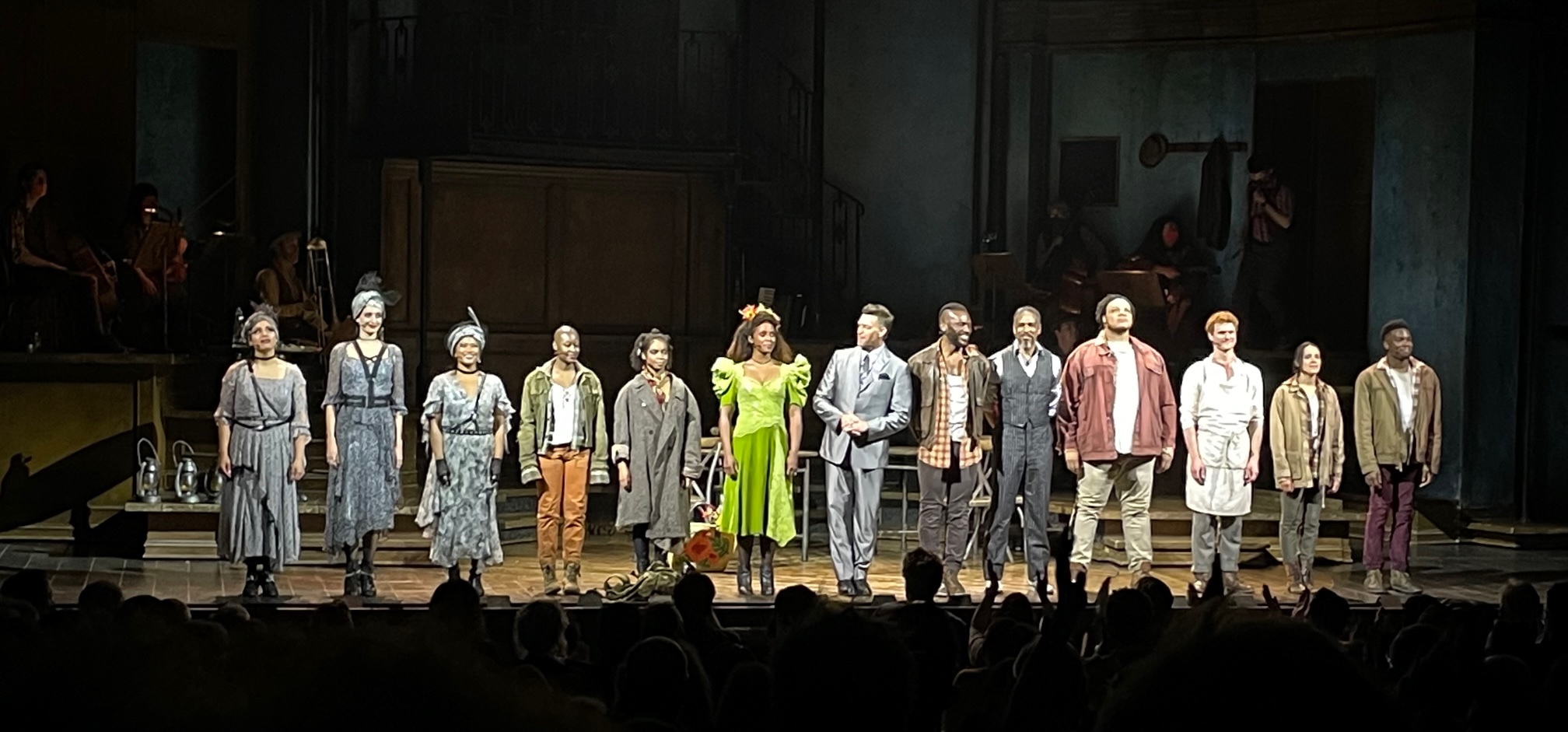 Jill Weinlein
I was originally going to see Hadestown in 2020, when the most honored show of the 2018-2019 Broadway season was making its West Coast debut, and then the pandemic caused the Ahmanson Theatre to go dark for almost two years. Finally this haunting and hopeful musical opened on April, 27, 2022 and will play through May 29, 2022. Afterwards the touring company will be at the Segerstrom Center for the Arts from August 9 to 21, 2022.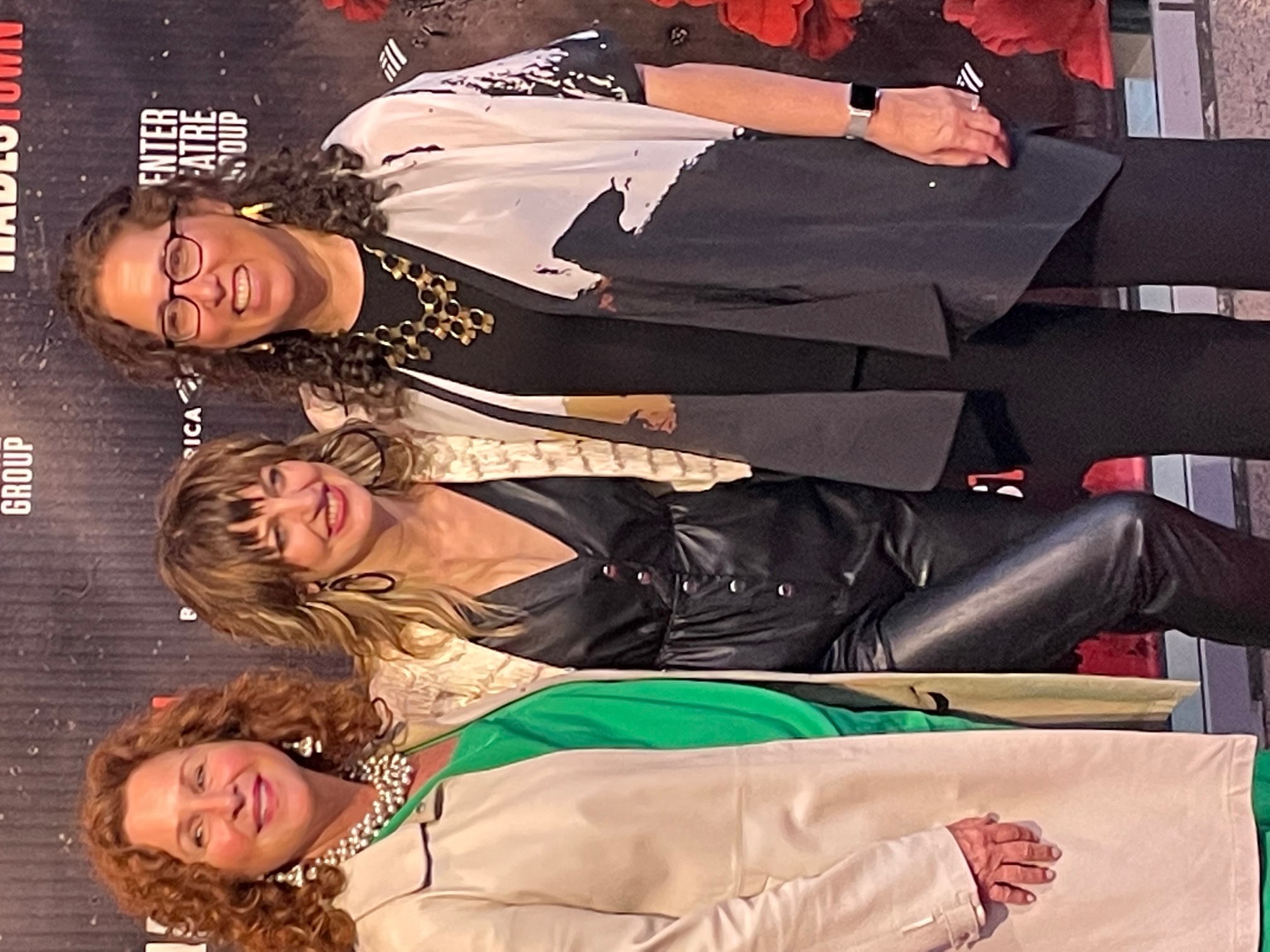 Jill Weinlein
I know that I like a musical when I come home and seek out the soundtrack to play the songs over and over again. Last night at the Los Angeles engagement of "Hadestown" at Center Theatre Group / Ahmanson Theatre, I listened to the music of the acclaimed new musical by celebrated singer-songwriter and Tony Award®winner Anaïs Mitchell and knew she had a winner. This is her very first musical, where she wrote the music, lyrics and book. She is the fourth woman in Broadway history to accomplish this creative endeavor.
The show originated as Mitchell's indie theatre project that toured Vermont. She turned into an acclaimed album with Rachel Chavkin, her artistic collaborator. Hadestown has been transformed into a genre-defying new musical that blends modern American folk music with New Orleans-inspired jazz and a touch of Harlem.
The show is a winner of eight 2019 Tony Awards including Best New Musical and the 2020 Grammy®Award for Best Musical Theater Album, "Hadestown". In addition to the show's eight Tony Awards, it has been honored with six Outer Critics Circle Awards, including Outstanding New Broadway Musical, four Drama Desk Awards and the Drama League Award for Outstanding Production of a Musical.
It's based on characters in Greek Mythology and as the characters tell their story, it reminded me of how Hamilton the musical tells a story about American History.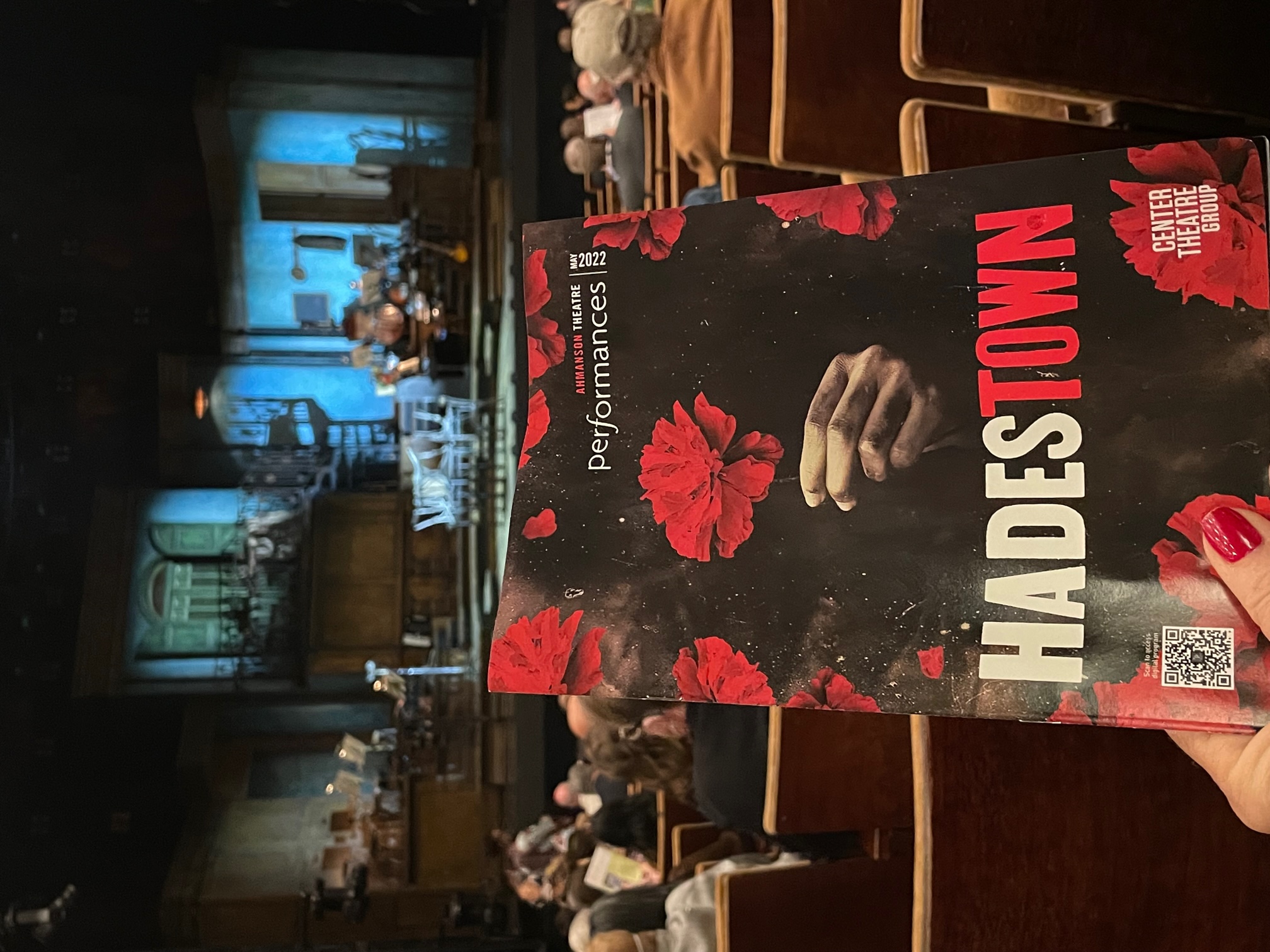 Jill Weinlein
It's a story of two intertwining lovers. One of young dreamer and songwriter Orpheus and tired and hungry Eurydice. The other love birds are King Hades, God of the dead and ruler of the underworld and his wife Persephone, the goddess of seasons. She spends half her life in the hell-raising underworld and the other time in the world of Orpheus and Eurydice. Mitchell's beguiling melodies include "Wait for Me", "Livin' It Up On Top' and 'Epic I, II and III." Chavkin's poetic imagination pit industry against nature with hints of climate change, and doubt against faith and fear against love and the enemy.
In the playbill, singer-songwriter Anais Mitchell was struck one day with almost divine inspiration. "The melody of the hauntingly beautiful "Wait for Me" dropped out of the sky." Mitchell said, "It came with some long-lost lyrics that seemed to describe the Orpheus and Eurydice myth."
Mitchell wrote the song "Why We Build The Wall" in 2006, long before President Trump started building his wall. The lyrics of building a wall "for freedom" "to keep us free" "to keep the enemy out" and "the enemy is poverty and they want what we have," gave me chills.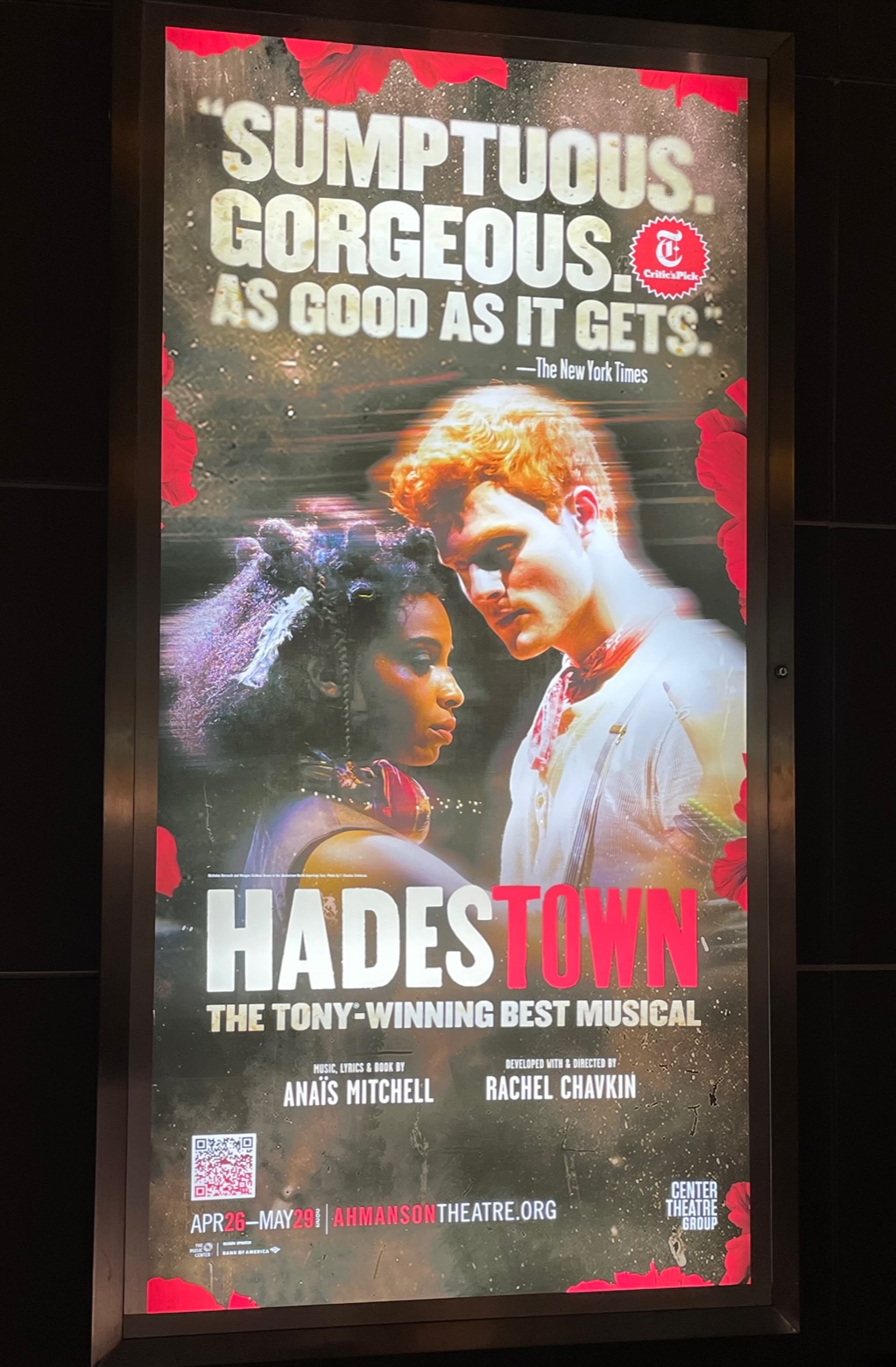 Jill Weinlein
Performed by a vibrant and talented ensemble of actors, dancers, singers and musicians, "Hadestown" delivers a deeply resonant theatrical experience that I have missed for two years.
The North American touring production of "Hadestown" stars Drama Desk Award nominee Nicholas Barasch as Orpheus has a golden voice and can reach such high notes in the Epic songs. Morgan Siobhan Green as Eurydice has a mighty voice, as does Tony Award winner Levi Kris as Hermes. He projects his voice as a preacher would in a revival church in the opening song "Road to Hell". Kimberly Marable as Persephone is stunning as the Lady of the Underground, and is from the original Broadway company. Olivier Award® nominee Kevyn Morrow is striking as Hades, especially in his shiny silver suit.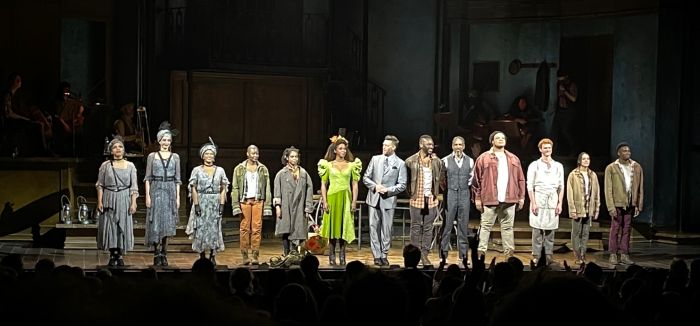 Jill Weinlein
The Fates are played by Belén Moyano, Bex Odorisio and Shea Renne. The Workers chorus features Lindsey Hailes, Chibueze Ihuoma, Will Mann, Sydney Parra, Eddie Noel Rodríguez and Jamari Johnson Williams. The swings for the touring production include Tyla Collier, Ian Coulter-Buford, Alex Lugo and J. Antonio Rodriguez.
Set Designer and Tony Award winner Rachel Hauck's two story set with an opening to the underworld and rotating stage floor set in the center of the set is creative and works well on the Ahmanson stage. Four-time Tony Award nominee Michael Krass' costume design for Persephone, the three goddess fates, Hades is glamorous, and Hermes loves dancing in his shiny silver suit, while the others are dressed more drab.
Two-time Tony Award winner lighting designer Bradley King displays bigger than life shadows on the wall, and vibrant red to portray the underworld.
Chita Rivera Award® winner and three-time Bessie Award® winner David Neumann's choreography is fun to watch, especially when the workers use chairs as trees, and a table as a pathway for Orpheus.
Producers Mara Isaacs, Dale Franzen, Hunter Arnold and Tom Kirdahy said jointly, "Throughout its development, 'Hadestown' has been deeply influenced by audiences around the world. We are thrilled and humbled to now share this beautiful story of hope, faith, and rebirth – written and directed by two amazingly talented women and brought to life by a diverse company of performers – with audiences across North America."
I went home and listened to the Grammy® winning "Hadestown" Original Broadway Cast Recording, available at Hadestown.com/music. The album is produced by David Lai, Sickafoose and Mitchell on Sing It Again Records.
Tickets for "Hadestown" are currently on sale at Center Theatre Group / Ahmanson Theatre and start at $35. They are available through CenterTheatreGroup.org, Audience Services at (213) 972-4400 or in person at the Center Theatre Group Box Office (at the Ahmanson Theatre at The Music Center, 135 N. Grand Avenue in Downtown L.A. 90012). Performances run Tuesday through Friday at 8 p.m., Saturday at 2:00 p.m. and 8 p.m., Sunday at 1 p.m. and 6:30 p.m. Call for exceptions.
Jill Weinlein
Los Angeles based Jill Weinlein covers travel, food and lifestyle destinations for multiple newspapers, magazines and websites. Her areas of expertise include, luxury travel, culinary reviews, cruising and family travel destinations. Born in Los Angeles, Jill studied Communications and Theatre Arts at UCLA. She has a a Dine and Travel blog - www.dineandtravel.me and she writes a weekly restaur...(Read More)