By Jill Weinlein Jun. 6th, 2022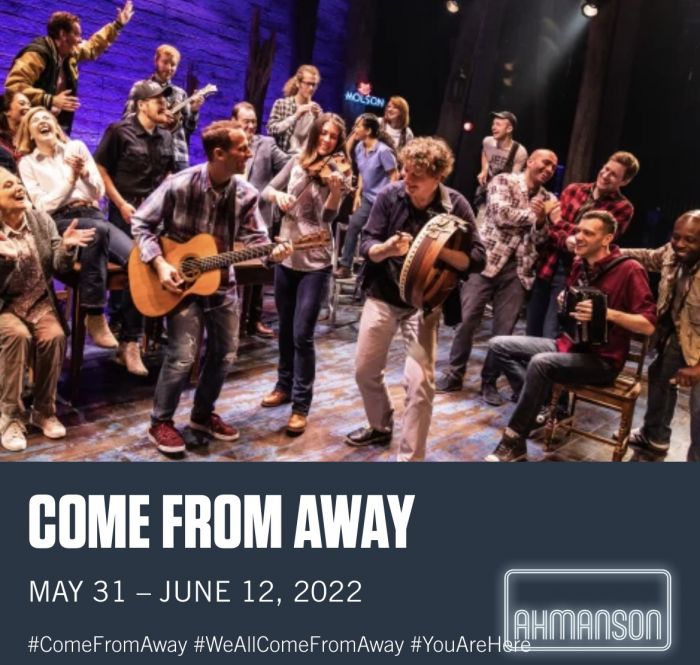 Ahmanson Theatre
"Come From Away," is an award-winning Broadway musical about the effects of September 11, 2001, that happened in the small Canadian town of Gander. Cultures clash and nerves run high, but uneasiness turns into trust, and gratitude grows into enduring friendships.
I first saw the uplifting musical in 2018 at the Ahmanson Theatre in Los Angeles. Now it's back again opening on June 1 through June 12, 2022. "Come From Away" features a book, music and lyrics by Olivier, Drama Desk and Outer Critics Circle Award winners and Grammy and two-time Tony Award nominees Irene Sankoff and David Hein.
Both were inspired by the bond of New Yorkers, helping one another during and after the aftermath of 9/11. When they heard about the selfless people in Gander comforting 7,000 strangers, they had to tell their story.
Hein grew up with Newfoundland music and felt the story should incorporate the island's Irish, English and Cornish musical traditions. When Sankoff and Hein traveled to Gander during the 10th anniversary on September 2011, they learned the Canadians called the passengers "Come-From-Aways" (people from beyond the island), hence the title.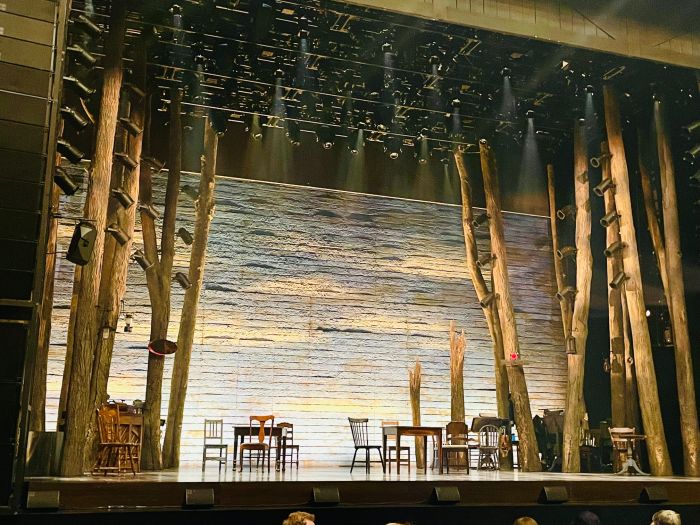 Jill Weinlein
Earning "Best Musical" winner all across North America, I was wowed in 2018, and noticed many of the actors and musicians are back in 2022.
Beowulf Boritt's set again has 16 tree trunks and the musicians perform 15 uplifting songs in the trees. Led by conductor Cameron Moncur playing the keyboard, accordion, and harmonium, the versatile musicians include Isaac Anderson back playing the whistle, Irish flute and Uilleann pipes. Kiana June Weber is back on the fiddle, while Billy Bivona plays a wicked electric and acoustic guitar. Martin Howley not only plays acoustic guitar, but also mandolins and bouzouki. Steve Holloway plays the Bodhran and percussion, and Ben Morrow is back playing drums and percussion.
What is remarkable about this musical is how these musicians and the cast are on stage for about 100 minutes without an intermission.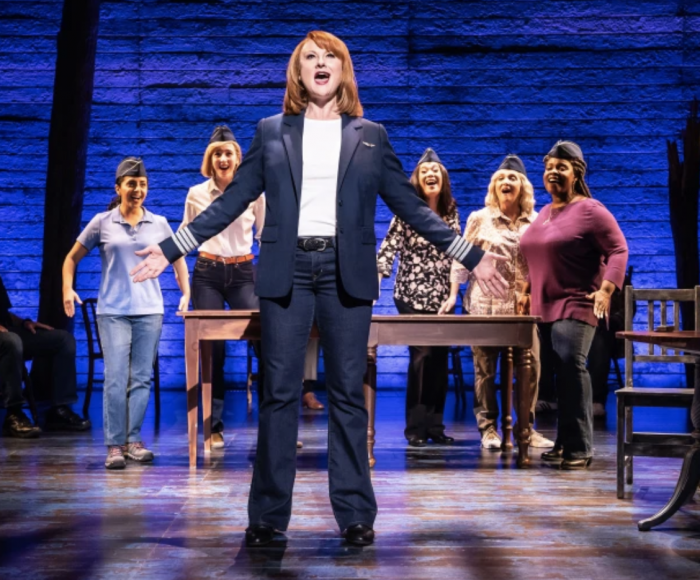 Matthew Murphy
We learn in "38 Planes" and "Me and the Sky" that one of the jets to land in Gander was an American Airlines airplane en route from Paris to Dallas, Texas. All U.S. airplanes were treated as bomb threats. Actress and singer Marika Aubrey portrays the first female American Airlines Captain Beverley Bass, who bravely led her captive crew and passengers inside the plane for 28 hours and eventually flew them safely home. Even with tensions growing, boredom accelerating and patience turning into fear and frustration, she stayed with them throughout to the end.
The company of 12 versatile actors not only sing and dance, but each play multiple characters seamlessly. They portray passengers on the airplanes and then switch to the residents of Gander and nearby communities. At times it feels like there is three times the number of actors on stage because each character has a strong and distinctive personality.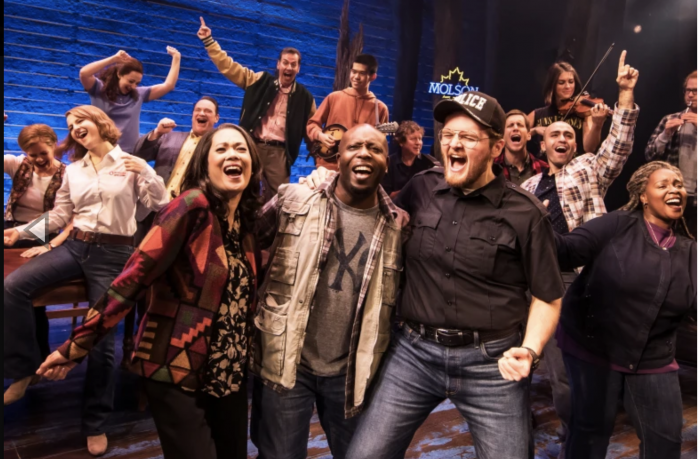 Matthew Murphy
One of my favorite actors is Nick Duckart, who I fondly remember from the 2018 production. He is back playing Ali, an Egyptian and Muslim chef, and Kevin J, a gay New Yorker who questions his relationship with the other Kevin. With a different accent, quick wardrobe change and gait, his characters fears and raw vulnerability are highlighted in each scene.
During the song "28 Hours/Wherever We Are" his anxiety illuminates the stress of over 200 passengers sitting idle for such a long time. Looking out their seat window they noticed police cars, armed guards and the army outside, but since this was before most people had mobile phones, Twitter and Instagram, they did not know what was happening in New York City, the Pentagon and across America.
The airplanes were filled with international passengers. In the number "Prayer", Duckart and others illuminate a space to practice their different religious beliefs safely.
Actor James Earl Jones II offers comic relief while playing Bob, a skeptical New Yorker, and the suave pilot from Virgin Atlantic. Two key characters that the audience roots for throughout the show are Englishman Nick played by Chamblee Ferguson and Diane played by Christine Toyy Johnson. The character Bonnie played by Sharone Sayegh is the loveable, animal loving town's SPCA manager who takes care of all the animals who were flying on the planes.
Direction is by Tony Award winner Christopher Ashley, and musical staging is by Olivier Award winner and two-time Tony Award nominee Kelly Devine. They did an outstanding job keeping the audience mesmerized by this true story. From the first song "Welcome to the Rock" to the finale, the stories of thousands of displaced people, and the kindness from generous Canadians will capture your heart and uplift your soul. The show honors what was lost in 9/11 and commemorates the friendships that were found.
Tickets for "Come From Away" are currently on sale and start at $40. They are available through CenterTheatreGroup.org, Audience Services at (213) 972-4400 or in person at the Center Theatre Group Box Offices (at the Ahmanson Theatre) at The Music Center, 135 N. Grand Avenue in Downtown L.A. 90012. Performances run Tuesday through Friday at 8 p.m., Saturday at 2 p.m. and 8 p.m., and Sunday at 1 p.m. and 6:30 p.m.
Jill Weinlein
Los Angeles based Jill Weinlein covers travel, food and lifestyle destinations for multiple newspapers, magazines and websites. Her areas of expertise include, luxury travel, culinary reviews, cruising and family travel destinations. Born in Los Angeles, Jill studied Communications and Theatre Arts at UCLA. She has a a Dine and Travel blog - www.dineandtravel.me and she writes a weekly restaur...(Read More)