By Gabe Greenberg Jun. 7th, 2023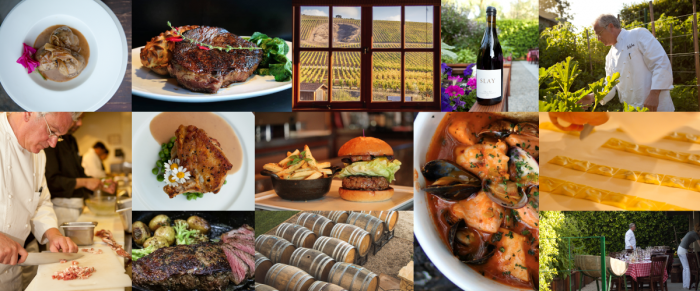 Slay Restaurants
Chef David Slay has brought the best of the Mediterranean and France to the South Bay with a new French/Mediterranean inspired bistro aptly named Fete a Bistro by Slay in Manhattan Beach.
David Slay is a third-generation American restaurateur with a reputation for turning out great food at award winning restaurants. Slay first started his training at the age of 11 in his father's kitchen. Slay then apprenticed with classically trained European chefs in Las Vegas when he was 17, and at 20 opened his first restaurant, a 26 seat French café with no liquor license, because he was not old enough to get one.
Known first for Park Ave Dining and il Garage Ristorante in Orange County, California, his restaurants are consistently among the top-rated restaurants in Zagat and recognized by Orange County Register as well as Beat of LA by LA Magazine.
Slay added to his empire by starting SLAY Steak & Fish in the old Darren's location close to his home in Manhattan Beach as his first flagship in the SouthBay. He clearly enjoyed being in the there and close to home as he further expanded before the pandemic with SLAY Italian Kitchen in MB, and SLAY Hermosa in 2022.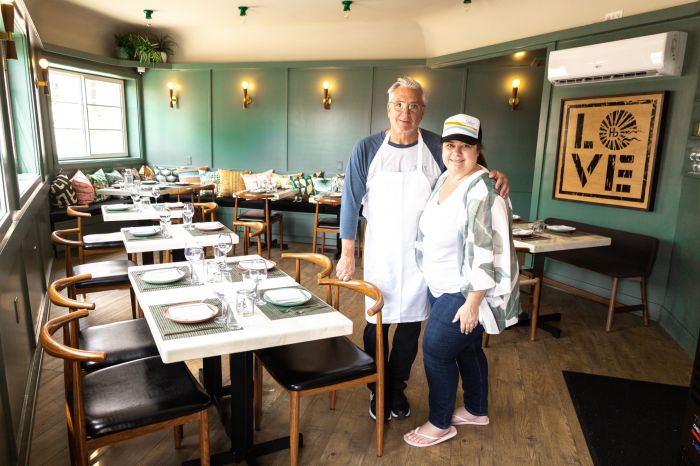 Photos by Kevin Cody
SLAY Hermosa is tucked into the corner on Hermosa Ave., not far from the MB border with a beautiful rooftop overlooking the ocean and serving delicious California Coastal cuisine which fits so well with its vibe and location.
Clearly one of the three prominent restauranteurs now owning a large chunk of the Manhattan Beach and SouthBay dining scene alongside Chef David LeFevre and The Simms brothers as well as Michael Zislus, Chef Slay and his host of haunts offer flavors and something truly for everyone other than perhaps an Asian option.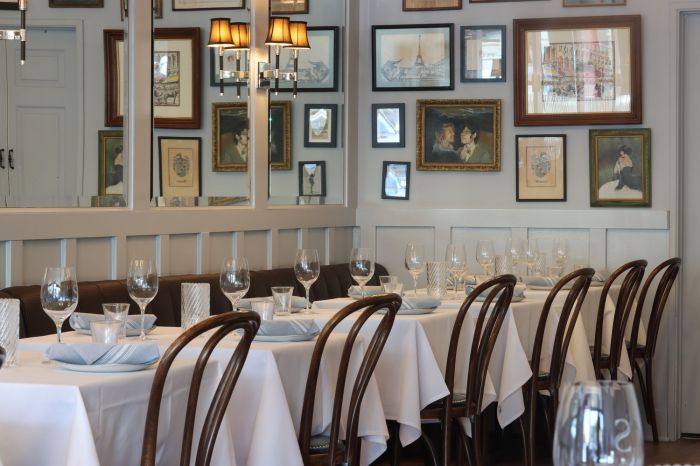 SLAY FETE
Fete' is indeed fantastic. Their Mediterranean options not to miss include their hummus with crudités as well as the warm freshly baked pita along with the French Onion Soup Gratin and the Steak Tartare and the French baguette. If you do not at least get these you are missing out! If they have the off-menu stone crab claws, don't pass them up! The Scallop St Jaques is delicate, delicious and artfully served atop its own shell.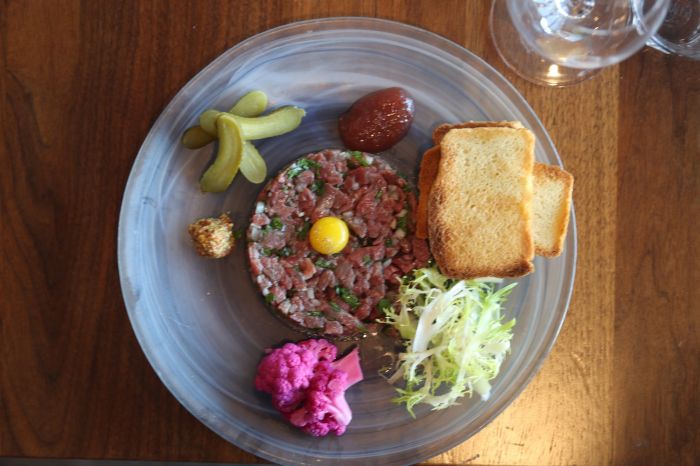 SLAY Restaurant Group
I loved the baguette but have a bone to pick with the restaurant. Having to pay for pita with the hummus separately or for bread in a French restaurant should be changed. These accoutrements are expected and make the meal. I recognize we are living in a post-pandemic reality where things you'd expect like fresh warm delicious French bread for free is our new reality so I have overlooked it, but do encourage the Chef owner to reconsider. I'd love to see chef perhaps the baguette at half the size for free as well as some pita with the hummus as an option for those who'd like to enjoy it (with gluten allergies not everyone eats it so I recognize the desired frugality balanced with local customer awareness).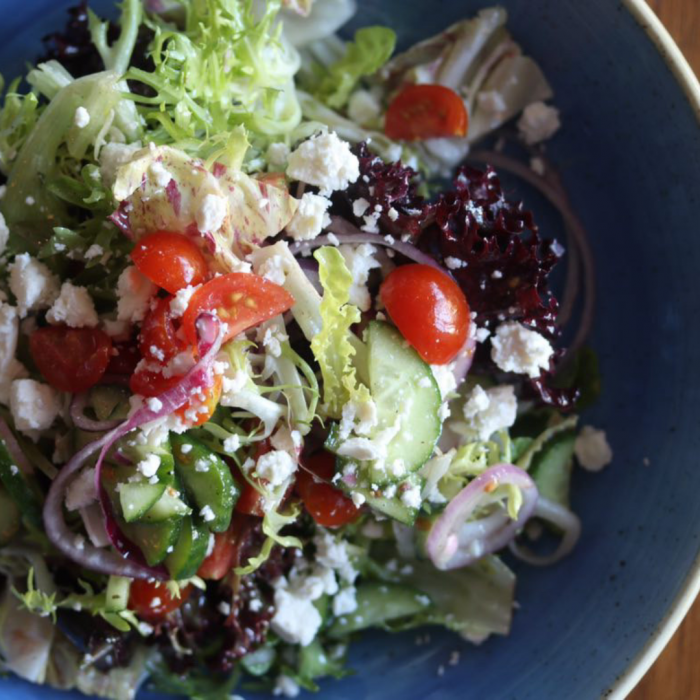 SLAY Restaurants
On the Entree side of the menu, I've tried the salmon, duck al' orange , steak frites, shrimp kebabs and the lamb shank and every one of these dishes were magical and delicious. You will not go wrong with any of them. The steak here is even better than at the award winning SLAY Steak. At this pace, I have no doubt they will follow RYLA with a quick Michelin, Zagat and other award recognition as this menu and location should not be missed.
Fete' have superb French deserts for those with a sweet tooth like me. I've tried both the Vanilla and Chocolate Crème Brûlée as well as the Apple Tarte Tatin and chocolate mouse cake. The brûlées were delicate, masterly made and were topped with the perfect brûlées sugar coating. The chocolate is to die for and this dish alone will put them on the map! The Apple Tarte Tatin is served warm topped with house made vanilla bean ice cream. The pastry is delicate, the apples are expertly poached and balanced with sweet and cinnamon spiced flavors. The home made ice cream pairs well.
The bar offers a wide variety of top shelf spirits and specialty cocktails and a nice wine menu. Chef Slay even features wine from his CA winery for those who enjoy good CA wines.
If you enjoy french and Mediterranean cuisine you'll want to make a reservation and get to Fete'. You will not be disappointed.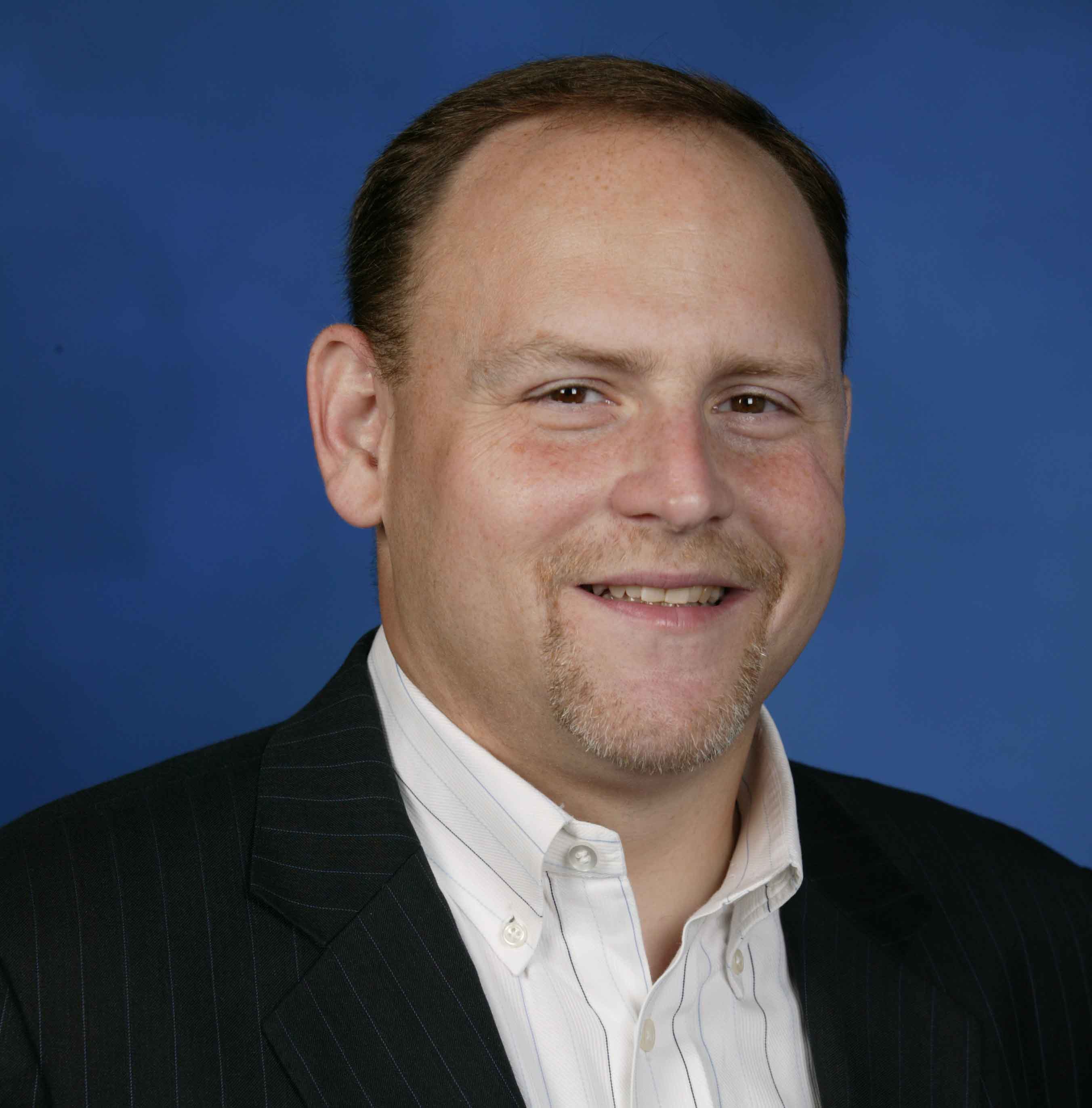 Gabe Greenberg
Food, Auto, Tech and Travel writer with a passion for photography all things luxury. Gabe is a true road-warrior who has traveled the world and visited every continent. When it comes to luxury accommodation, the best restaurants to visit and the best cars to drive, you'll want to read what Gabe says. ...(Read More)