By Shaena Engle Jul. 24th, 2023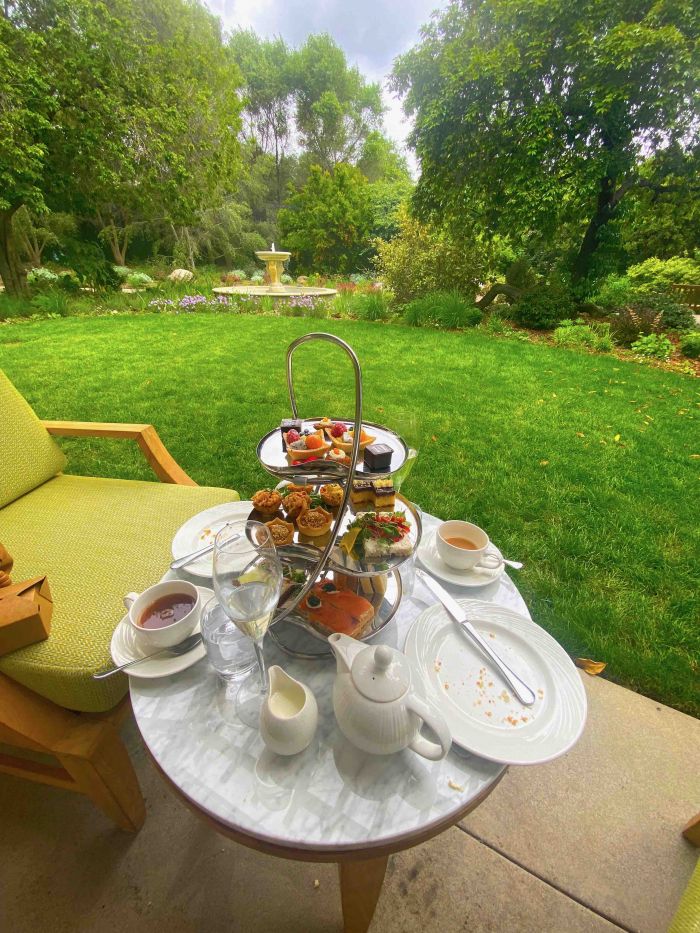 Shaena Engle
Now is the perfect time to visit the Huntington Library, Art Museum and Botanical Garden and enjoy an afternoon tea at their new Rose Garden Tea Room.
The Tea Room has reopened after a $11.2 million face-lift and a three-year closure. After strolling through the 150 acres of beautifully sculptured gardens (make sure not to miss the gorgeous new Chinese and Japanese gardens with bonsai and bamboo trees) and woods showcasing a breathtaking variety of over 15,000 kinds of floral and fauna, or visiting one of three art galleries and library housing magnificent collections of paintings, furniture and decorative arts, the new tea house is a welcome stop to admire the roses and indulge in sandwiches and sweets.
We were seated in the beautiful outside Shakespeare Pavilion patio overlooking the back garden and fountain. This area is al fresco but has a roof for shade. There is also a nice new lobby, and an indoor Main Tea room and Herb Room, which overlooks the herb and rose gardens. The inside areas are brightly painted in yellow and green and house large mirrors, flower prints and comfy chairs.
We sat in plush low wooden chairs with pretty green cushions, while others eating in the patio area relaxed around round and rectangular white tables with pretty rose flower arrangements.
Shaena Engle
The tea menus are also updated and are much closer to a traditional afternoon tea than the tea room's previous buffet. The traditional tea ($62) includes savory sandwiches such as cucumber and dill cream, tarragon chicken salad, smoked salmon with dill cream cheese and caviar, roasted Kurabota pork loin, mustard and rhubarb mostarda, strawberry and saba with whipped black pepper cream cheese and a deviled egg salad phyllo cup. The house-made scones are perfectly flakey and come with Devonshire cream, lemon curd and sweet orange marmalade. There's also a selection of sweets, all scrumptious, including ginger cake with poached caramel apple cream cheese mousse, chocolate brown butter almond cake, Banoffe tart with dulce de leche and banana jam and a seasonal fruit tart. The Huntington Tea is a tad more at $75 and includes a glass of bubbly, lobster salad with truffles and a special bonbon. Diners can also order vegan, gluten free and children's teas.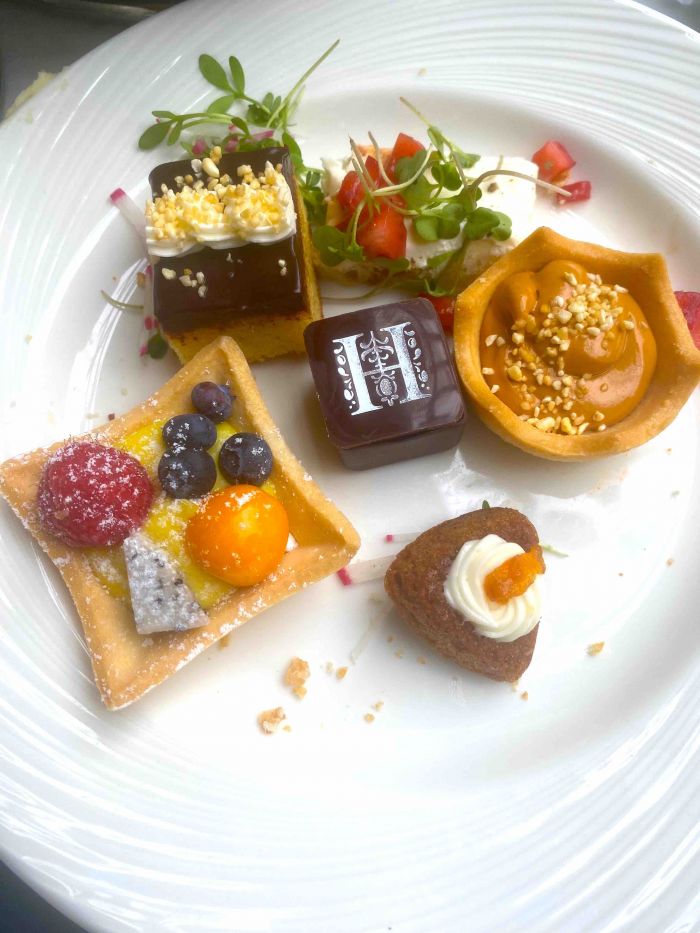 Shaena Engle
Art of Tea provides a wide variety of teas to choose from and we loved the Huntington Signature Blend of jasmine, vanilla and bergamot.
Tea is served Monday, Wednesday, Thursday and Friday from 11am to 4pm and on Saturday and Sunday from 10:30am to 5pm. Admission to the Huntington is also required, but well worth the price to roam the beautiful gardens and view the many blooming flowers and plants.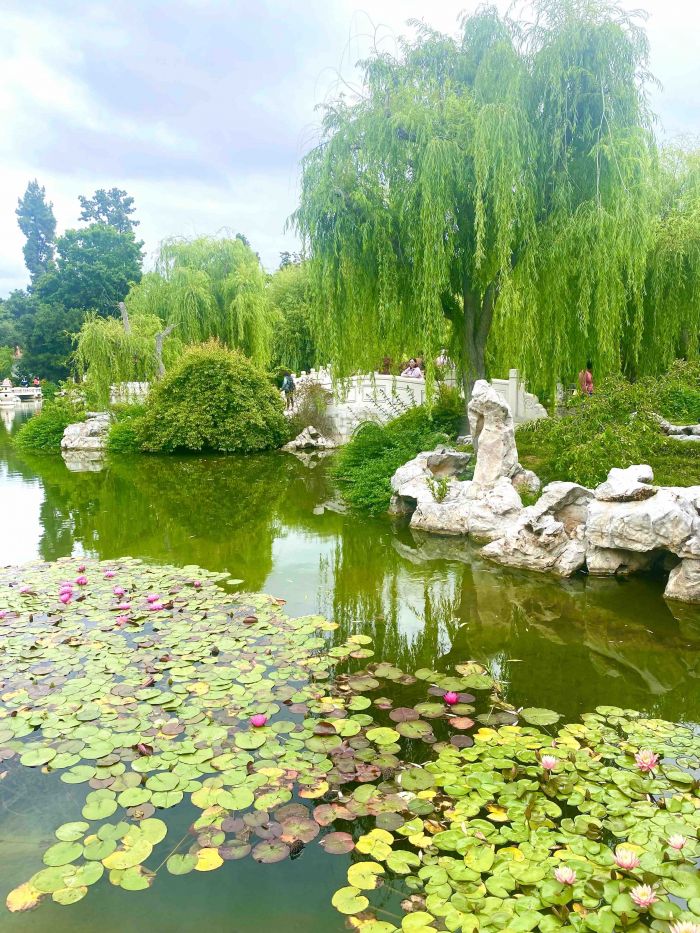 shaena engle
Make sure to stop by the Huntington's beautiful guest shop on the way out. Here you can purchase teas, scarves, toys, books, gardening items and much more.
The Huntington is also offering Movie Nights at The Huntington with "Toy Story" on Friday, July 28 from 7pm to 9:20pm. Their Movie nights are family-friendly and you can bring a picnic. They also offer Twilight Garden Strolls on certain summer nights, a great way to stroll the gardens when the temps are cooler. The Huntington also offers plenty of lectures and garden talks, all can be viewed at their website at https://huntington.org.
The Huntington Library, Art Museum and Botanical Gardens is located at 1151 Oxford Road in San Marino. Reservations can be made on Open Table.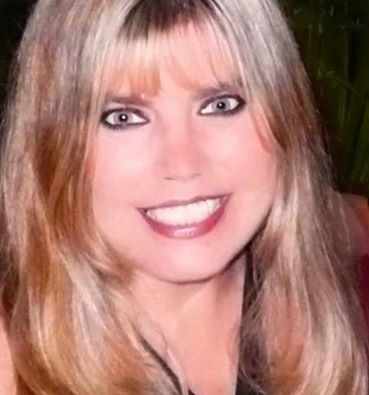 shaena engle
Shaena Engle is the lifestyle, food and travel editor for Perception Magazine and also writes for the Los Angeles Times, Pasadena Magazine, M Magazine, Los Angeles Times Las Vegas Magazine, The Daily Meal, AOL, WeHo Times and other outlets. She has authored The Best Places to Kiss in Southern California, The Cheap Bastard's Guide to Las Vegas and other outlets. She writes about travel, food, welln...(Read More)