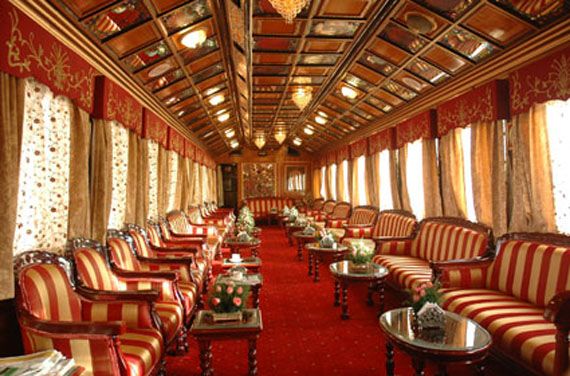 India
is a cultural mesh — an attack to the senses. The variant people and landscape of this exciting country create extremes that are commonly seen right next to each other.
There are two types of trains in India offering two very different experiences. Ordinary commuter trains are popular with locals and tourists alike, offering affordable fares and an authentic experience, respectively. Often running hours behind schedule, packed with people, and without bathrooms, you will be fighting for air to breathe...or perhaps even riding on the roof. Keep your eyes on your bags or travel without them – thievery is common (and easy) on these over-crowded conditions.


Luxury Trains. No sooner than the train engine roars, you are given a chilled bottle of water and variety of Indian sweets. Outfitted with large comfortable seats, an abundance of food, never ending tea and beverage service and overwhelmingly attuned hospitality, you will feel like you stepped into a WWII era romance film. You know - how air travel used to be.

Luxury trains are a good value for the money, commuter trains are a lesson in life in an over-populated, third world country. Whichever path suits your desire for adventure and discovery abroad, it will be met on the Indian railways.


If the Darjeeling Limited has inspired you to hop on one of these high-end home-away-from-home on wheels, we have some India luxury train suggestions for your next Asian excursion.

Palace on Wheels is rated one of the most luxurious and prestigious trains in the world. Itineraries on Palace on Wheels ensure that you travel by night and get to see palaces, forts, havelis, sand dunes, wildlife sanctuaries and more during the daytime hours. It stops at some of the best travel destinations including Delhi, Jaipur, Jaisalmer, Jodhpur, Sawai Madhopur, Chittorgarh, Udaipur, Bharatpur and Agra.


Deccan Odyssey would be another great choice for journeying through this country. As the newest luxury train of India, it is known as the Palace On Wheels of Maharashtra. Deccan Odyssey will take its guests to exotic locations in Western India such as Mumbai, Ratnagiri, Jaigadh, Ganapatipule, Bhatye Beach, Goa, Sindhudurg, Tarkarli, Sawantwadi, Pune, Aurangabad, Ajanta and Nasik while providing all the modern luxuries they could need during their stay.


From the newest to the oldest, the Fairy Queen has been running since 1855 and holds the Guinness World Record for being the oldest locomotive in regular operation. The Fairy Queen takes its guests to the world famous Sariksa Wildlife Sanctuary, operating on only the second and the fourth Saturday of the months of October to March. It delivers once-in-a-lifetime experiences to the tiger sanctuary, Delhi and Alwar on its two-day, one-night packages.