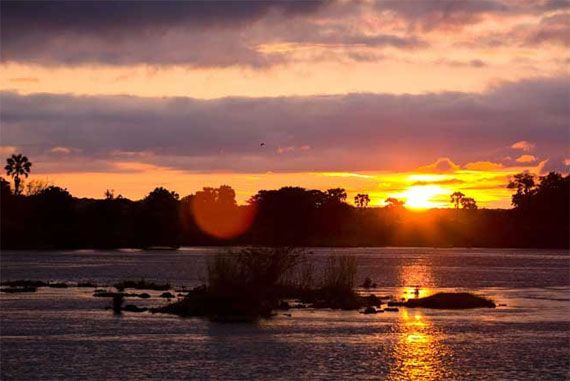 Put simply, Botswana is home to some of the best safari experiences in the world. From Victoria Falls to the Okavango Delta to the luxury base camps, unforgettable experiences are just waiting to happen. As an authority in luxury travel, Black Tomato has been creating bespoke travel experiences worldwide for more than six years. Their extravagant and extraordinary adventure travel itineraries are meant to leave a lasting impression, and this one is no exception.
Bungee Jump Off Victoria Falls


Named after Britain's Queen Victoria and referred to by the locals as Mosi-oa-Tuny, its Kololo name, which directly translates to 'the smoke that thunders,' Victoria Falls is a breathtaking site. With 145 million gallons of water cascading over the lip each minute, there's certainly a thunder when its falls over 350 feet to the bottom.

What can we arrange for you?
A bungee jump off the Victoria Falls Bridge where you'll plummet down 30 stories ending your thrill ride with your head dunking into the refreshing waters (if you like).

A microlight ultimate flying experience. With room for only one passenger and one pilot, this motorbike in the sky is a great way to get close to the water and rare wildlife.

For a more luxurious flying experience, a helicopter ride is also a memorable way to see the falls.

White water rafting is easily arranged for you and your travel companions.

To wind down, hop on the African Queen and cruise on the Zambezi River to enjoy a sunset dinner.
Helicopter Ride Over Okavango Delta


You can't go to Africa and not see some incredible wildlife. We suggest starting at the Okavango Delta. 2009 saw water levels at its highest since 1963, and with more water comes more wildlife. Visitors are now able to take boat rides deep into parts of the delta that have been inaccessible for decades.

Where do we start?
You'll fly in towards the heart of the Delta and land on Xaxaba Island (pronounced 'KaKaaba') and set up base at the Eagle Island luxury tented camp.

You won't even need to leave your room (though we suggest you do) to experience the safari as you will be surrounded by marshland, floodplains and waterways.

The next three days will be spent venturing into the shallow waterfront on a Mokoro canoe, where you'll see everything from elephant and rhino to egrets, owls and wild dogs.

To delve deeper into the Delta, you'll take a speed boat for an exhilarating ride to get even closer to the beautiful wildlife.

Finally, get a bird's eye view from the skies on your complimentary helicopter ride where you'll hang out (yep they've taken the door off) to grab that shot worthy of National Geographic.
Night Drive in the Bush
Wait, there's more!
Take a quick flight up north to the land-based Zarafa Camp.

With some of the most exciting game viewing in Africa, this stay will revolve around nature walks and drives.

Your days will be spent roaming the arid bush in an open-top 4×4 searching for big predators and their unfortunate prey.

Night drives are the best way to catch the glistening eyes of one of the big five; a moment you won't forget.

Zarafa Camp will provide you with an SLR camera, ideal for catching those speedy cheetahs or roaming elephants in the distance, and the best way to take all your memories home with you.

See all of our picks for Best Adventure Travel