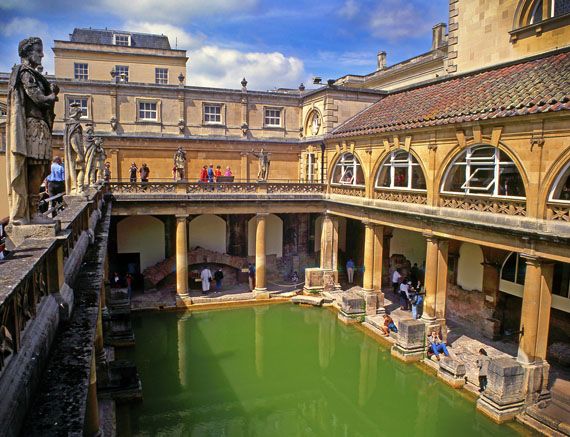 Photo Courtesy of Shutterstock
The idea of
international travel
is always intriguing, but occasionally we need a little extra inspiration. Enter the UNESCO World Heritage Sites, a treasure trove of amazing things to see and do, with cultural and historic significance that bring travelers closer to the culture of the places they visit, while educating them a little bit along the way. These sites are located all over the world, so chances are you could find one in the next region on your list, or maybe our list will help you decide on where to start.
UNESCO World Heritage Sites
(United Nations Educational, Scientific, and Cultural Organization)
-
"to contribute to peace and security by promoting international collaboration through education, science, and culture in order to further universal respect for justice, the rule of law, and the human rights along with fundamental freedoms proclaimed in the UN Charter"
City of Bath
Location:
Southwest United Kingdom
When to go:
Summer, May-September
What to do:
The City of Bath contains a cornucopia of cultural attractions. At the center of it all is the Temple of Sulis Minerva, which features a thermal spa complex fueled by nearby natural hot springs. The steamy
pools
are known for their longstanding history and are believed to have mystical healing powers. From the Temple, quaint streets spiral through the town, dotted with a variety of smaller-scale attractions.


The city has five well-known theatres that produce shows year-round, as well as a large concert venue that is home to musical performances and organ recitals. There is also a myriad of museums and art galleries here, one of which is dedicated solely to fashion. A short walk from the city's center takes visitors to the Royal Victoria Park with verdant lawns and an 18-hole golf course. On a nearby hillside is Alexandra Park, which provides stunning views of the city.

The City of Bath also has a highly-regarded rugby team that plays home games here, along with a football club. Don't leave the city without trying their famous teacakes, and the eponymous Bath Buns, sweet and rich pastries with sugar-coated toppings.




Why it's special: The City of Bath represents the most famous Roman remains north of the Alps. As a result of this, much of the city features gorgeous depictions of Roman and Georgian architecture. The Temple of Sulis Minerva, for example, surrounds the baths with quintessential Roman columns below towering spires.

Elsewhere in this utopia of urban design are beautiful abbeys and homes, but the architectural apogee is the Royal Crescent. This sinuous residential street features thirty luxurious townhomes, a hotel and museum. It is rumored that the design of this building, the nearby Circus, and surrounding natural elements were crucial to the development of secret societies during the eighteenth century.

Hotel Pick: The Academy. Located a short drive away in London's West End, The Academy Hotel was originally built as five distinct Georgian-style homes, but is now home to a single

luxury hotel. This romantic boutique hotel features gardens and architecture that provide a perfect complement to your adventures in the City of Bath.

Fun Fact: The Latin name of the city, Aquae Sulis, or Waters of Sulis, appears on the city's Coat of Arms. Sulis was a Celtic goddess who was believed to carry out curses placed on her worshipper's enemies. Visitors to the baths used to inscribe the names of those who wronged them on bronze tablets and place them in the waters with the hope that she would carry out punishments.