Best Hotel Pools
Costa Careyes | Mexico
This is actually a castle and Costa Careyes resort. There are a handful of these kinds of accommodations all spread throughout the property. Each boasts a lovely pool, but this one is the best. The pool encircles most of the building, with an infinity edge that vanishes over a cliff down toward the crashing waves below.
Best Hotel Pools
Best Hotel Pools
San Alfonso del Mar | Chile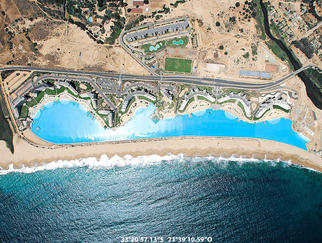 PLAY VIDEO
READ ARTICLE
The most emblematic building work at San Alfonso holds the current Guinness World Record as the world's largest crystalline water pool, with an extension of more than one kilometer in length, eight hectares and 250 million liters of water. Hard to imagine? We are talking about nothing less than the equivalent to 6,000 familiar eight meter-long pools.
Best Hotel Pools
Banyan Tree | Seychelles
Mahe, Seychelles - Nestled in Intendance Bay with spectacular views of the Indian Ocean, one of the world's most beautiful beaches, swaying palm trees and lush tropical forest, the Banyan Tree hotel and spa resort in Seychelles provides a rare taste of paradise for your Seychelles holiday. The Banyan Tree Seychelles main pool is an amazing infinity pool overlooking the ocean. Between the main pool and the array of private pools you are sure to find an oasis of your own.
Book the Banyan Tree Seychelles
Best Hotel Pools
Delano | South Beach
Delano's stunning pool is a complete reinvention of the standard form, and more akin to a "Water Salon," with its soothing underwater music and separate areas devoted to floating and meditating. Exclusive cabana dining poolside, with a butler, is available to help you fully enjoy the beautiful Florida landscape.
Best Hotel Pools
Hotel Caruso | Amalfi Coast
The infinity pool is a magical provocation. A sense of unlimited as the gaze is drawn to the horizon. At the highest point of Ravello, just past the hotel's handsome portico bar and lovingly preserved 18th century drawing room, the pool is accessed via an alley of roses under a covered pergola, with musical rivulets of water coursing along stone runners on the side. At the alley's end, the top of the world infinity pool is elliptically shaped, in line with the geography of the escarpment.
Best Hotel Pools
Castel Monastero | Tuscany
Since the eleventh century, Castel Monastero has shone forth amongst the most beautiful hills of the Chianti region. This Medieval village is now a resort in Siena, and offers some of the most luxurious accommodations. The pool here offers scenic views of the Italian countryside that have inspired travelers for decades.
Best Hotel Pools
Blue Lagoon | Iceland
While perhaps not technically a pool, we think the Blue Lagoon Iceland deserves a spot on our list. Why? Just take a look. "Condé Nast Traveler" voted Blue Lagoon as the best medical spa worldwide. The lagoon is consistently at 98-102°F, and holds six million liters of geothermal seawater, which is renewed every 40 hours. The mist that constantly rises from the lagoon provides a secluded and relaxing experience.
Best Hotel Pools
Mandalay Bay | Las Vegas
Located on eleven acres, Mandalay Bay Beach provides the ultimate in aquatic relaxation. This world-famous playground offers a wave pool, lazy river, three swimming pools, jogging track and 2,700 tons of real sand. A $30 million expansion in 2007 brought to The Beach more premium seating and the exclusive new Beachside Casino. If that weren't enough, Mandalay Beach and Moorea offer 100 rentable cabanas, day beds, bungalows and villas that include personalized service.

Book the Mandalay Bay, Las Vegas
MOST POPULAR IN CATEGORY
Castel Monastero | Tuscany
Costa Careyes | Mexico
The Joule | Dallas, Texas
Best Hotel Pools
Mondrian | Los Angeles
This beautifully designed pool, set flush with the surrounding teak deck and featuring soothing underwater music, is the perfect spot for lounging and enjoying the stunning panoramic views of the city beyond. By day, the lushly landscaped Outdoor Living Room brims with fragrant flowers, blooming vines, enormous trees and comfortable teak and wicker furniture. By night, with hundreds of flickering lanterns placed around the deck and hanging from the boughs of trees, it transforms into a magical and romantic hideaway.
Book the Mondrian, Los Angeles
Best Hotel Pools
Perivolas | Santorini
The Perivolas Infinity Pool, one of the most magnificent settings on earth, has been featured on the cover of the world´s most distinguished travel magazines. Built amphitheatrically, Perivolas' secluded location combines expansive views with the luxury of absolute tranquility. To protect guest's privacy, fragrant fig trees, red-hot geraniums, and brilliant bougainvillea surround the houses.
Best Hotel Pools
Atlantis | Bahamas
Aquaventure, is a thrilling 141-acre water park that is complimentary for all guests staying at Atlantis. Featuring over twenty million gallons of water, this non-stop "aqua" adventure offers incredible Atlantean-themed towers with multiple high-speed water slides, a mile-long river ride with rolling rapids and waves, a spectacular kids water-play fort and eleven unique and refreshing pools.
Best Hotel Pools
The Joule | Dallas, Texas
The pool at The Joule reaches eight feet beyond the hotel's structure and includes a glass window at its end, providing swimmers with the sensation of swimming off the building's edge. The pool, heated to perfection, is a visual treat not only for hotel guests, but also for the passerby below admiring the pool's eye-catching design.
Book The Joule, Dallas