Best Water Toys
JetLev-Flyer
For anyone with a mega yacht the $130k you will need to purchase a JetLev-Flyer is not much more than usual operating costs. However if you aren't quite in that tax bracket, a visit to a resort near you will shortly do the trick. Salt and fresh water friendly, this water-propelled jetpack uses a 250hp engine to shoot flyers up to 33 feet above the water at up to 22 miles per hour. Pick one of these up and after 10 hours of flight time the makers claim you will be doing Donuts, Sea Otters and Leaping takeoffs in no time.
Expand visit website
Best Water Toys
Best Water Toys
FlyNano
Ever imagined what it would be like to fly? FlyNano was created for just that--the pure fun of flying - no passengers, no cargo; just you, FlyNano and the endless blue. Flying across the water at 43mph, the craft can cruise through the air up to 90mph. Classified as a microlight aircraft, the FlyNano combines high-tech materials with extreme lightness and durability, without compromising on the flight characteristics. The winged water toy reaches sky high at 3,000m (1.9 miles).
Expand visit website
Best Water Toys
SCUBACRAFT SC6
On the surface the of the water the SCUBACRAFT SC6 can propell up to six passenger to 45 knots. But the real reason that you have to have one of these is because underwater exploration at up to 100 feet below the surface is awesome. Underwater the SCUBACRAFT flies through the water at up to 3 knots. Battery operated and silent in the water, taking one of these for a spin will not disturb the fish. The price is available per request, but according to CNN the smaller SC3 goes for about $164,000.
Expand visit website
Best Water Toys
Flying Hovercraft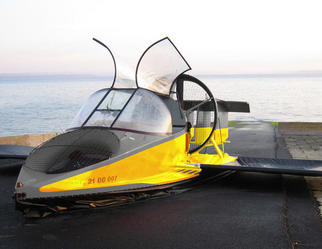 PLAY VIDEO
READ ARTICLE
The Flying Hovercraft from Hammacher Schlemmer is an amazing vehicle that is sure to rank as one of the year's best water toysThis incredible machine can travel at 70 miles per hour and is powered by a 130 horsepower, twin cylinder liquid-cooled gasoline engine. The Flying Hovercraft operates in both fresh and saltwater and also has the ability to glide over 30% inclines of soft terrain including sand, snow, mud, desert, and grass.
Expand visit website
Best Water Toys
Virgin Oceanic Submarine
The Virgin Oceanic submarine represents a transformational technological advance in submarine economics and performance. Able to operate for a full 24 hours unaided, the craft provides the unequalled capability explore up to 37,000ft (7 miles), the craft will cruise at a max of 3 knots and can dive 350ft per minute. At that speed, a dive to the bottom of the Marianna trench and back is estimated to take about five hours.
Expand visit website
Best Water Toys
Powerski Jet Board
Somewhere between surfing and jet skiing there lives the JetBoard. Ride the waves or glassy water at speeds up to and over 35 miles per hour. This fun toy runs at 55 horsepower with 350 psi of thrust to push riders of up to 350 pounds. Although we doubt you will be hitting the full 35mph if you don't lose a few first. Can't wait to start carving waves? PowerSki plans to offer this bad boy at a $7,995.
Expand visit website
Best Water Toys
Iguana Yachts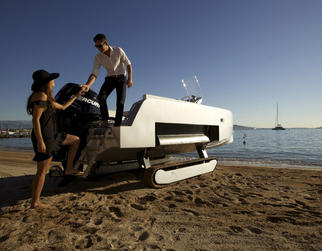 PLAY VIDEO
READ ARTICLE
A top-of-the-line toy, the Iguana loves a challenge! French designed, this innovative cruiser is created to rove land and explore as the first iguanas did millions of years ago relishing the challenge of both terrain and sea conditions. With "sustainable motor cruising" and gently curving and widely spaced tracks, it can take on virtually any tricky surface, slope or incline. No need to be a sailor to master boating with the Iguana, however. The integrated under-carriage system gives their boats a functional ability inside and outside the water. Opening up the world of recreational sailing, with Iguana Yachts, no need to worry about finding a marina berth or getting into or out of the water.
Expand visit website
Best Water Toys
EGO Semi Submarine
In just a few words the EGO is the ultimate yacht toy. South Korean company Raonhaje created this baby so you can explore the underwater world with very little effort and virtually no training at all. The EGO is semi-submersible, meaning that the bottom portion sits under the surface for an incredible view and the top section floats above for those who prefer to remain in the sun.
Expand visit website
MOST POPULAR IN CATEGORY
FlyNano
Virgin Oceanic Submarine
Flying Hovercraft
Best Water Toys
Watercar
Welcome to the world?s fastest amphibious vehicle, The Watercar. Winner of the Guinness amphibious speed record, this hot rod reaches 60mph speeds in the water and can 0-60 in 4.5 seconds on the street. Speedy and sturdy, the cars frames are built from chromoly steel for strength and powder-coated for corrosion protection. Starting at $200k, these four-seater vehicles are hand-built with an engine "based on the famous aluminum LS Corvette power train."
Expand visit website
Best Water Toys
Cayago Magnum
Scuba diving is fine, by why not add a little extra oomph? Seabob has been around for a few years now, but it had to make the list. Particularly the limited edition Cayago Magnum, of which only 100 will be made. What better way to simultaneously explore underwater and feel like you are a Navy Seal? The Magnum boasts 10 gears, 4 hours of operating time, Sonar and 10 horsepower. Pick one up for a little over $100k.
Expand visit website