Best Romantic Vacation Destinations
Santorini | Greece
Santorini is one of the most famous islands of the Cyclades as well as one of the most renowned Greek islands around the globe. Santorini presents a unique geological phenomenon, as today it is what has been left from the initial one (Stroggyli), which was submerged into the sea after the eruption of its volcano during the 16th century B.C. The island is attractive, full of secrets and unknown beauties and continues to have one of the most famous sunsets of the planet. It is also famous for its local production of wine as the vines have been cultivated since the ancient times.
Expand visit website
Best Romantic Vacation Destinations
Best Romantic Vacation Destinations
Niagara Falls | Ontario, Canada
Niagara Falls, Canada is a destination unlike any other. From the top of Skylon Tower (775 feet up) to the base of Horseshoe Falls (188 feet down), Niagara Falls is an awe-inspiring Ontario, Canada vacation destination. The Falls give off a round-the-clock roar, a refreshing and surprisingly far-reaching mist, and a reminder of just how wondrous our natural world is. The new Niagara Falls, Canada ? with eclectic restaurants, contemporary hotels, and electrifying attractions ? is a true Canadian vacation destination for couples. Grown ups have upscale hotels, modern casinos, nightlife and concerts, fine dining, golf courses and spas, and wine country is just down the road.
Expand visit website
Best Romantic Vacation Destinations
Napa Valley | California
Napa Valley is one of the premier travel destinations in the world. Breathtaking views abound at every turn ? mustard in the late winter, picturesque rolling hills planted with vineyards year-round and wineries of every stature dot the landscape. Whether you are wine tasting, dining at renowned restaurants like the French Laundry, pampering yourself with a mud bath in Calistoga, or just enjoying your stay at quaint bed & breakfasts, hotels or resorts ... Napa Valley is your spot of heaven on earth.
Expand visit website
Best Romantic Vacation Destinations
Dana Point | California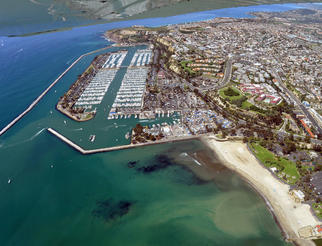 PLAY VIDEO
READ ARTICLE
While it may be best known for its exceptional surfing conditions, Dana Point is also home to some of the west coast's most romantic hideaways. From five-star hotels to secluded beaches, Orange County's Dana Point is an ideal destination for any couple who happens to be seeking a little romance.
Expand visit website
Best Romantic Vacation Destinations
Bora Bora | French Polynesia
Romantics from around the world have laid claim to this island where the castle-like Mount Otemanu pierces the sky. Lush tropical slopes and valleys blossom with hibiscus, while palm-covered motu circle the illuminated lagoon like a delicate necklace. Perfect white-sand beaches give way to emerald waters where colored fish animate the coral gardens as they greet the giant manta rays. This could be easily be described as the center of the romantic universe, where luxury resorts and spas dot the island with overwater bungalows, thatched-roof villas, and fabled ambience.
Expand visit website
Best Romantic Vacation Destinations
Marrakech | Morocco
Gorgeous, exotic and romantic, Marrakech offers beautiful architecture and a wealth of cultural heritage to discover. Mysterious mosques, authentic Morroccan shopping and five-star hotels ensure that a couple won't run out of things to do. Marrakech boasts the largest souk (outdoor market) in all of Morocco, its a perfect place to shop for berber rugs, spices and other goods. A vacation to Marrakech must include a visit to a Hammam (or Turkish Bath), and a couple can easily spend days strolling the streets of the more interesting and ancient parts of the city, discovering architecture that dates back to the 11th century.
Expand visit website
Best Romantic Vacation Destinations
Victoria | BC, Canada
From museums and art galleries to castles, landmarks, gardens and zoos, Victoria's attractions invite visitors into a world of history, entertainment and color. Take a guided tour or stroll at your own pace. The only catch to visiting Victoria's attractions is that you will want to come back again and again. You can feel the pulse of a city through its arts and entertainment, and Victoria is alive with culture. Victoria and Vancouver Island boast a year-round schedule of cultural entertainment bursting with talent; experience live theatre, art exhibits, music concerts, festivals and films.
Expand visit website
Best Romantic Vacation Destinations
Venice | Italy
Venice, the fairytale city created by human ingenuity ascends the laws of nature. The area in and around Venice is a realm of culture, art and civilization that coalesces to create a unique and exceptional human experience. Venice, the city in the sea, was first settled because it was inaccessible to the invaders, but today it is easy to reach thanks to its terminals, by road, rail, sea or air. From whichever direction it is approached, the city will reveal itself to the visitor in all its splendor.
Expand visit website
MOST POPULAR IN CATEGORY
Dana Point | California
Napa Valley | California
Paris | France
Best Romantic Vacation Destinations
Paris | France
Paris, luxury and delight. From great classics to the latest trends, luxury is omnipresent in Paris. The year's calendar is one of prestige events: haute couture fashion shows of course, but also prestigious horse racing events and contemporary art and antiques fairs. For luxury gourmets there is haute cuisine, Michelin-starred establishments, the latest culinary trends, and the creations of top chefs to delight the palate. For relaxation and well-being, the capital has ultra chic addresses, not forgetting the "Golden Triangle" where the greatest fashion designers present their collections.
Expand visit website
Best Romantic Vacation Destinations
Prague | Czech Republic
A walk through the narrow, gaslamp-lighted streets, a kiss under a tree in blossom in a Baroque garden, a cruise on a historical steamship, night time at a castle or chateau, a ride on a steam train, a wedding in a chateau park? All of these are ingredients in the cocktail that is Prague. And it's up to every visitor which ingredients to add. Undulating topography gives Prague its inimitable beauty and its stunning panoramic views; Prague's many hills provide some stunning vistas. The city's huge number of towers led to the city being called "the city of a hundred spires" several centuries ago, and at present there are around 500 towers in the city.
Expand visit website
Best Romantic Vacation Destinations
Quebec City | Quebec, Canada
Old Québec, a UNESCO world heritage treasure, is alive with history. See for yourself with a visit to the Fortifications of Québec and the Citadel, the city's two main defensive works. Moving from military history to religious history, take in the stunning Notre-Dame-de-Québec Basilica-Cathedral, the Cathedral of the Holy Trinity, the Jesuits Chapel, and St. Andrew's Presbyterian Church. After stopping off at one of the city's many museums and interpretation centers, take a walking tour or a horse-drawn carriage ride to get a true feel for this unique historic district. Fine dining and shopping are an art form in Old Québec, particularly along rue Saint-Jean and rue Saint-Louis, where European charm adds a dash of flair to any outing.
Expand visit website