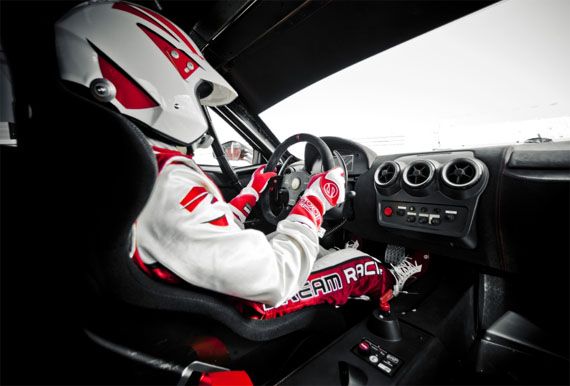 Photo Courtesy of Dream Racing
Next vacation, you may be relaxing on a sun lounger, somewhere tropical, or maybe spending a couple weeks in the Hamptons. But check this out: The guy in the office next to yours is going to be
dancing on Broadway
.
No, this isn't merely something you might dream after an unsettling late-night meal. As fantasy camps for grownups become a fast-growing and ultra-luxurious trend, people who fantasized 20 years ago of being a rock star, a Broadway singer, or a race car driver are paying tens of thousands of dollars to live those dreams and get access to their idols. Maybe only for a week, and without a stadium full of fans, but in a setting that's close enough to pass for the real thing...if you squint just a little bit.

Rock 'n Roll Fantasy Camp

What do Steven Tyler, Tommy Lee, Dave Navarro and Meat Loaf all have in common (besides thriving secondary careers in reality television)? All three of these legendary rockers have headlined Rock 'n Roll Fantasy Camp, perhaps the most ambitious and certainly the noisiest escapist getaway in its niche.



For four days, attendees "discover their inner rock star" by jamming, co-writing songs, and hanging out with real rock stars — plus a host of less-famous, but still very successful, musicians and many producers, songwriters, etcetera acting as instructors and quasi-"counselors." Instead of career or psychological guidance, though, the staff assists adults in throwing themselves headlong into the life they once thought they'd have. (Photo courtesy of Rock 'n Roll Fantasy Camp)

Since its beginnings, approximately a decade ago, Rock 'n Roll Fantasy Camp has been successfully staged in New York, London and even the Atlantis Resort on Paradise Island, but Los Angeles is its true spiritual home. And just to prove that statement, the upcoming May 2012 camp features Steven Tyler as the headliner and the Playboy Mansion as the VIP party venue. The price is formidable — starting around $5,500 for a four-day camp — but sharing a stage with someone who's been on the cover of Rolling Stone is indisputably a bucket list experience.

Broadway Camp

Over in an entirely different section of the musical universe, Broadway Camp is a new venture that's garnering a lot of buzz even before its debut performance. Founded by Drama Desk Awards producer Lauren Class Schneider, the camp is set up to give any adult Broadway enthusiast the full theatrical experience, from professional headshots (which participants can keep) to rehearsals, to the legendary "grease paint" stage makeup to professional coaching in singing, dancing and acting.



The five-day camp culminates with a mock "opening night" party at a Times Square restaurant and a live performance for family and friends. 2012 is the first year for Broadway Fantasy Camp, and in addition to three five-day sessions slated for summer, additional shorter sessions are also in the works. Schneider, who is a member of the Broadway League and a 30-year veteran of live theater, says she aims "to expose participants in an authentic Broadway-caliber experience in a friendly and nurturing environment." It's living the dream without any of the audition/rejection rounds, bad reviews, or having to wait tables on the morning shift. (Photo courtesy of Shutterstock)

MLB Fantasy Camp

Before there were music fantasy camps, baseball franchises hit upon the idea of hosting fans in a mock "Spring Training" setting where they could mingle with the players they saw on screen every season, brush up their skills, dress in the team uniform, and play against their peers and heroes. Most major league baseball teams offer a fantasy camp, including the Boston Red Sox, Minnesota Twins, New York Yankees and Arizona Diamondbacks.



Many elements of the "real" game are incorporated — i.e., players in some camps get their own locker in the actual team locker room — but since this is still a vacation experience, many of the cold-weather teams host their fantasy camps in warm locations somewhere in Florida or Arizona. (Photo courtesy of Baseball Fantasy Camp/Flickr Carlos dal Vaca)

Auto Racing

If baseball camps play at the major league experience, auto racing camps one-up it by teaching people skills that might actually come in handy in their day-to-day lives. At the Skip Barber Racing School, the premier racing and driving academy with a dozen locations around the United States, many first-time attendees opt to take the safety course instead of the Formula or other high-performance programs.

"A lot of valuable life-saving skills are learned," says instructor Spencer Pumpelly. However, as an institution that offers multiple racing programs, operates an amateur racing circuit and owns 150 race cars, Skip Barber definitely understands the appeal of high-speed laps in a high-performance vehicle.



Auto racing experiences continue to gain popularity, not just in cities with a strong NASCAR or Indy following, but in destinations that cater to adult adventure-seekers. Many of them are shorter than a full five-day "fantasy camp," — for example, Mario Andretti's Racing Experience offers a maximum one and a half day at about 10 locations nationwide, including Chicagoland Speedway and Texas Motor Speedway. (Photo courtesy of Skip Barber Racing School)

In Las Vegas, the newest auto racing experience is Dream Racing, a one-day experience created by former European pros Enrico Bertaggia and Adriano De Micheli. The high point is five high-speed laps in a track-ready Ferrari F430 GT. Operating shuttle pickup out of Crystals at City Center, this is catered to business travelers with just a few hours allotted for fun.

Cruising With the Stars

Another newcomer in the fantasy camp realm, Cruising with the Stars combines two popular pastimes: cruising and ballroom dance. The brainchild of international champion ballroom dancer, renowned instructor and author Sharon Savoy, this fanciful high-seas experience allows amateur dancers of every level to take as many courses as they want every day, get the highest level of professional training, and enjoy all the amenities of a deluxe Riviera cruise liner.



Most appealing is the chance to meet and learn from dance paragons they've seen for years on "So You Think You Can Dance," "Dancing With the Stars," "Star Search" and other shows. Karina Smirnoff is the headliner, and other instructors include Enio Cordoba and Terryl Jones. (Photo courtesy of Cruising with the Stars)