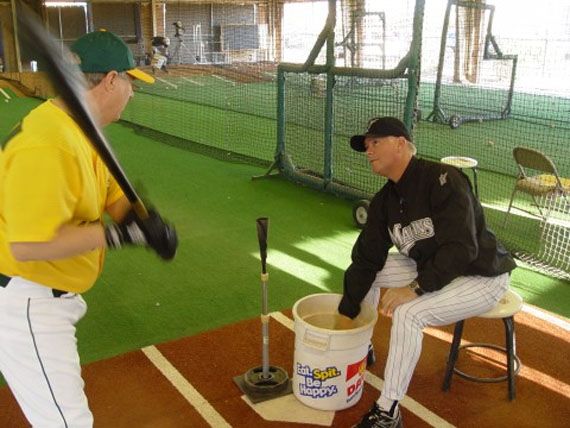 Photo Courtesy of Pro Ball Baseball Clinic
What a golf academy provides for serious golfers, the baseball camps by the Ultimate Adult
Baseball Camp
do for advanced-level teenagers and adult baseball players who are looking to improve their game.   
This four-day camp consists of baseball drills from dawn to dusk. It is a learning annex for ballplayers, and coaches too, who want to improve their skills of the game or teach others how to. For around $3,000, a guest ballplayer can experience playing at a professional facility and receive guidance from a coaching staff that works for various Major League Baseball teams. Some notable instructors include the pitching coach for the Los Angeles Angels of Anaheim, Mike Butcher, the hitting coach for the Baltimore Orioles, Jim Presley, and the outfield coordinator for the Chicago Cubs, Lee Tinsley, among many others.
Students of the baseball camp will participate in skill-building exercises with a focus on the fundamentals of hitting and fielding. Each guest will receive a video, and all defensive positions will be given individual attention, including pitchers and catchers. The fee also includes nightly, catered dinners in the locker room area, and overnight lodging.
Additionally, there will be a father/son clinic at the Ultimate Baseball Camp at the Peoria Sports Complex in Peoria, Arizona, on January 13-16, 2012. This is the same facility used by the San Diego Padres and the Texas Rangers as their spring training site.  
Keep in mind that you must bring your own bats, batting helmets, gloves, shoes, and all other vital items required to participate. There is a handy list of all required equipment in the FAQ section of the company's website. For more information on upcoming baseball camps by the Pro Ball Baseball Clinic, visit
Pro-Ball.com
.
Get personal instruction from Angels Pitching Coach, Mike Butcher
Learn from Reds Hitting Coach, Brook Jacoby
Tony Muser Working in the Cage