Mystery Vacation: Paris
After weeks of waiting, a small package from American Express Travel arrived just before the intended departure. Inside the box held all of the tools needed to guide any traveler through a weeklong vacation. The envelope sitting snugly on top read "Open Me," the contents inside held just a few words. "Paris! Enjoy!" We were leaving for Paris in just over a day! A quick search through the rest of the items revealed a Google Smartphone with accessories and a European adapter, along with a bundle of small envelopes each labeled with a corresponding day. Day one cryptically stated "Depart for Charles de Gaulle." They really do intend on making this a mystery vacation.

Each day going forward, we opened a fresh envelope informing us just what was in store; the Smartphone updated with a schedule of customized suggestions on what to do, where to go and, perhaps most importantly (at least to the foodies that we are), where to eat. Prior to any of the trip being planned our Travel Agent had already determined just want sort of vacation was ideal for travelers like us. Interested parties take an online quiz determining their Travel Sign – in our case it was Blisstorian. Travel signs, much like the traditional horoscope, describe the personality of their bearer, a Blisstorian "travels so far that East becomes West.". For a closer look at the beginnings of a mystery trip and a more in-depth look at just what goes into the planning of a NEXTPEDITION, check out the interview with Travel Agent, Curtis J Kowalski.
Images Above Courtesy of ThinkStock
Maintaining an element of surprise while providing impeccable customer service is at the core of American Express Travel NEXTPEDITION. Place your trust in them, and experiencing Paris with an almost completely unprepared mindset leads to discovering things you may not have, should you have planned every moment. Thanks to the trusted guide programmed by Curtis, discovering the City of Love came easily.
Travel in Europe during the winter is fantastic, which may come as a surprise. No other time of year will you find twinkling lights strung around lines of trees. Moving in, out and around the city without the crushing pressure of crowds is refreshing, much like the air when you step outside. Cooler weather makes the perfect backdrop for sampling vin chaud, marrons chauds and, of course, Soupe à l'oignon gratinée: Hot Wine, Roasted Chestnuts and Onion Soup. So we begin a journey in which to discover Paris, finding some of the best in dining, culture, and local flair, with the help from our friends over at American Express Travel's NEXTPEDITION.
When visiting Paris, one of the most important things to consider when choosing a hotel (in addition to quality) is the location of the nearest Metro stop. Of course having a driver will do as well, but in many cases the most efficient way to get around is underground.
Curtis chose Hotel Lutetia as our home base, an elegant property where the staff is caring and helpful. Accommodations included a delicious breakfast daily, providing fuel for the day ahead and enabling us to hit the ground running. However the one thing that became abundantly valuable is property's location, just steps from the Metro and plethora of activity blocks away on St. Germain-des-Prés.
Traveling in January, breezing into the Louvre took no more than two or three minutes, and a trip to the top of the Eiffel tower no more than 15. In the high season both of these attractions can take hours to just make it in the door.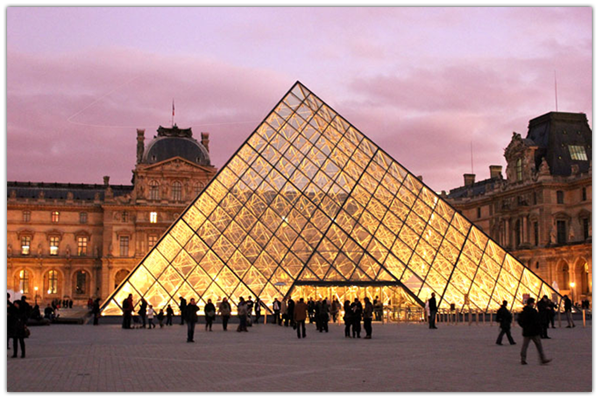 Image Credit: Courtney Driver

If you have yet to visit Paris, you should absolutely make time to do what one might refer to as the 'touristy.' There is a difference between gimmick attractions and ones that have earned the right to demand everyone's attention. Visit the impressive Notre Dame (don't forget to go underground), add your own love lock to the Pont de l'Archevêché, and shop on the Champs Élysées. But this is an adventure just as much about the sights as it is the food – as perhaps every trip to Paris should be.
Regardless of your vacation plans, the key is to travel when tourist season is low.
For a more complete list of the classic things to do in the City of Love, visit our Paris Luxury City Guide.
Throughout Paris, sidewalk cafes line the streets in exactly the way you might picture them. Guests smoke, drink, eat, sit and talk for hours in the relaxed manner Parisians are known for. Long recognized as the heart of art and literature, the intersection of St. Germain-des-Prés and Rue de Rennes offers visitors popular places to dine including Les Duex Maggots, Brasserie Lip and Café de Flore – all spots made famous over the last two centuries by patrons like Oscar Wilde. Should you be in need of a night cap, just a short stroll towards the river from this intersection lies Café Mabillon, a small, hip destination that is open 24 hours, which is a rarity in this part of the city.
Image Courtesy of Lapérouse
If you are especially keen on diving into the epicurean history of Paris, Le Restaurant – A Parisian is an excellent way to spend an afternoon. Did you know that the first restaurant ever created still resides in Paris? That fact is the foundation of this private tour. It is a place where scratched mirrors line the walls: a memorial to the women who tested the authenticity of diamonds used in payment of "services" rendered. Restaurant Lapérouse offers a rich and colorful past that dates back to 1766 and today patrons come to enjoy the authentic centuries-old establishment that overlooks the Seine. Classic French menu items like rabbit and Foie Gras are done impeccably here, served behind the closed doors of small, private rooms. Over lunch, a personal guide shares the colorful and interesting history that has taken place within these very walls. After dessert, a walking tour of the surrounding area brings the city to a new level of interest with stories of the people that walked these very streets. This is a very fun and interactive tour to take, especially if you are one to relish in sophisticated food and connecting with something a city is known for: culinary excellence. This experience is a shining example of Curtis' and American Express Travel's expertise when it came to orchestrating this trip.
Of course one of the best places to connect with a city is to visit a local market. There are many markets throughout Paris, including a prominent one right outside of Hotel Lutetia, and an even larger one just under the Metro bridge near the Eiffel Tower (stop Bir-Hakeim). From fresh escargot, pigs' feet or ears to varieties of cured olives and whole rabbits, this market is markedly French. Put this on your list of foodie attractions should you want to sample local cheeses, charcuterie or freshly baked baguettes.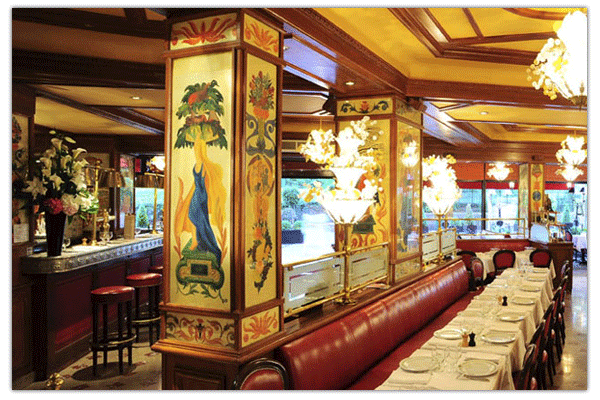 Image Courtesy of Au Pied de Cochon
Assuming one visiting would perhaps not have the means to physically cook some of the items available at the market, this is the place where many chefs from local restaurants come to source ingredients; so should you have it in mind to sample something decidedly different from mainstream fare, a visit to Au Pied de Cochon may be in order. Directly translated as the The Foot of the Pig, the restaurant is known for just that, in addition to a signature Onion Soup. Almost every café in the city offers this traditional and beloved soup, but Au Pied de Cochon serves the best.
During the few days that we spent in Paris, we managed to see a vast majority of the city. American Express Travel's NEXTPEDITION program made it all possible. One of the best parts about an experience like this simply resides in the ability to think less and enjoy more. The Smartphone provided by American Express Travel was easy to use and worked as a custom tour guide, interactive map and Facebook Travel Log; inarguably a handy device that provides live mapping and directions from wherever you are in the city. While knowing where you are and where you are headed is by far a good thing, the best part about a NEXTPEDITION is the not knowing just what you will be up to the following day. Which is just where we found ourselves half way through the trip: not knowing that the very next day, we would be in Rome to start the whole adventure over again.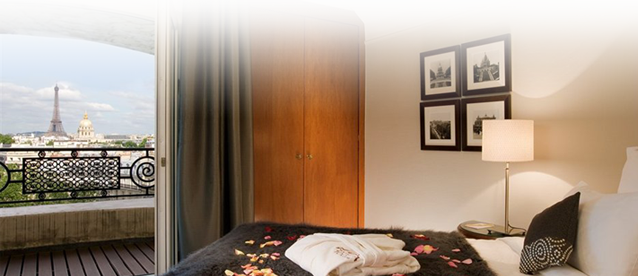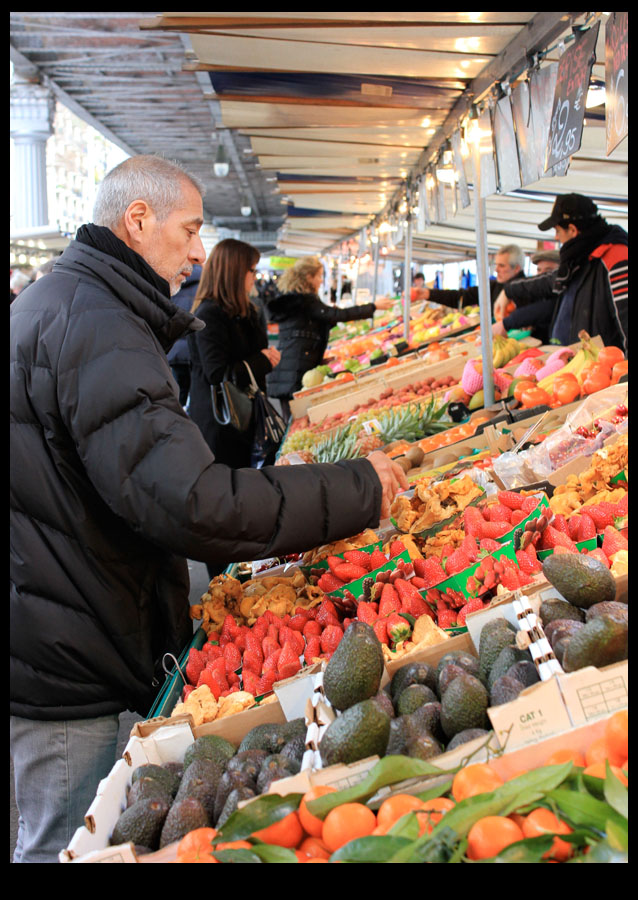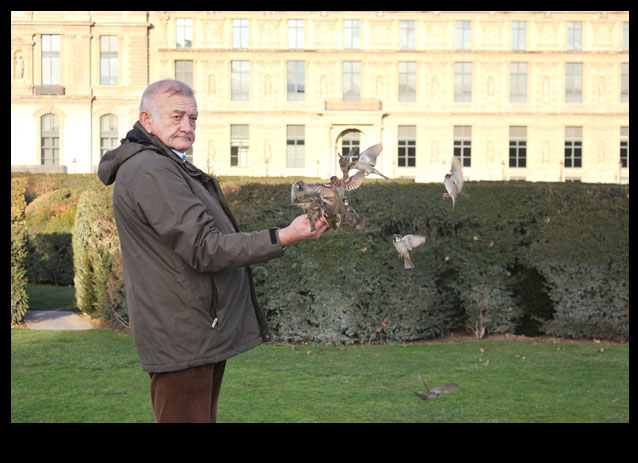 Images Above Credited to Courtney Driver