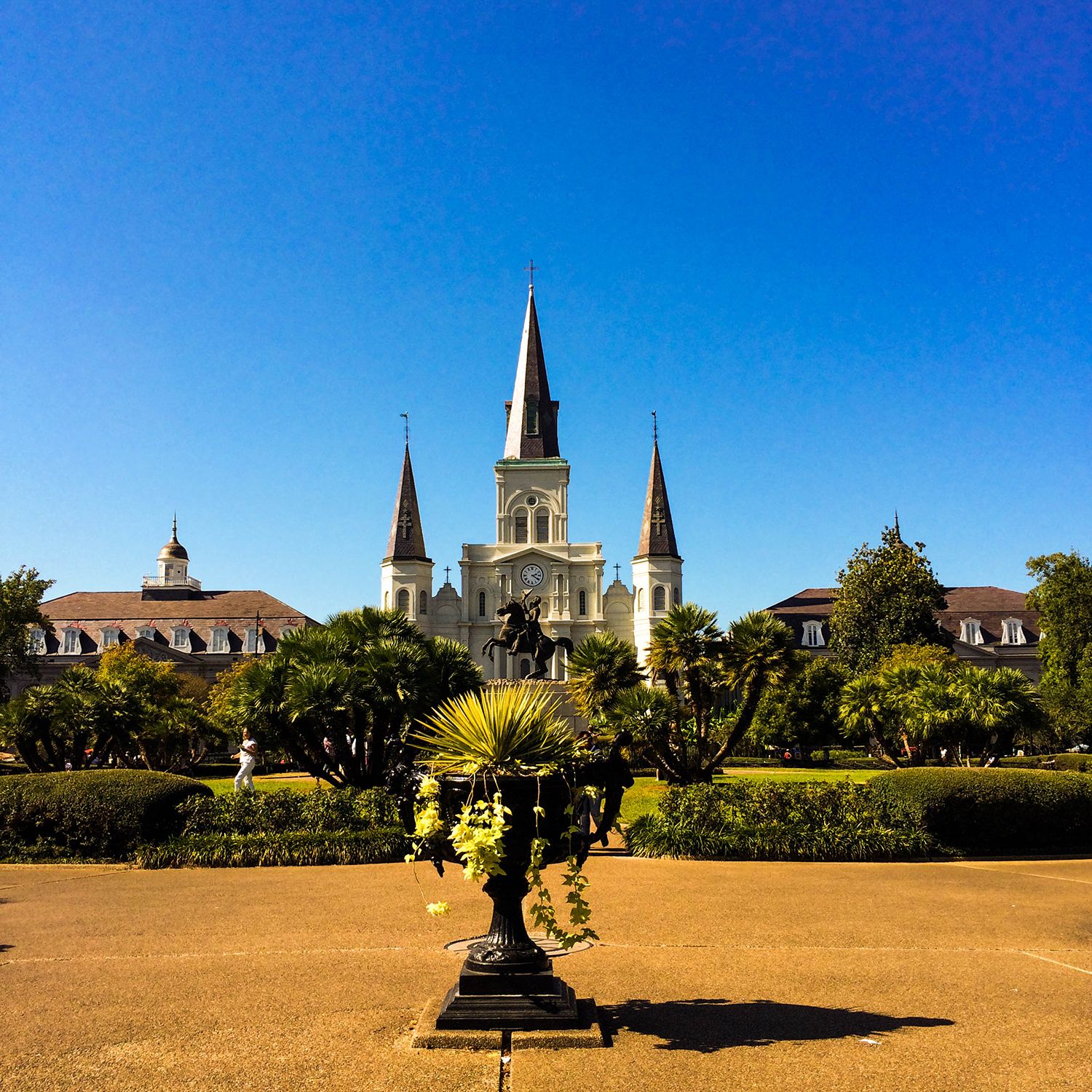 Photo Credit: Courtney Driver
Fall is a lovely time to visit New Orleans, especially if you tie it into a Saints game. The Superdome is right in the middle of downtown, an easy walk or pedicab ride from the French Quarter. The city is lively as it is, and when the fans come out in full force it practically pulses with energy and excitement. Stack that on top of NOLA's colorful assortment of activities, architecture and history, and you have all of the ingredients for a fun getaway.
Photo Credit: Chuck Wagner / Shutterstock.com
Culturally the city is vibrant and rich, and while it may seem like an overly 'touristy' thing to do, grabbing a carriage tour right out of the gate will give you an overview of the French Quarter in about 30 minutes. It's a great way to take mental notes on where you want to work back to on foot, while also dishing out a quick bite of history. Buggy tours can be found right in front of Jackson Square, across from Café du Monde, a landmark restaurant built in 1862 known for their version of a New Orleans staple: the beignet (a sweet, fluffy and slightly chewy French pastry doused in powdered sugar). Once you've gotten your bearings and are back to where you started, it is fairly easy to discover the historical side of the French Quarter, either on your own or on a guided foot tour, which you can find on offer near the café.
Photo Credit: Courtney Driver
Located on the waterfront, Jackson Square is one of the most popular historic sites to visit in the area and you can meander around its perimeter to check out all of the local art on display. Ranging from creations made from leftover Katrina debris or pieces of locally salvaged architecture to paintings, sketches and more, it's a cool spot to pick up a rather authentic souvenir.
Photo Credit: Courtney Driver
It probably comes as no surprise that New Orleans has many haunted or creepy spots, so if that's your thing you should check out Marie Laveau's House of Voodoo on the corner of Bourbon and St. Ann, and you might want to pick up a walking map of haunted locations at Boutique du Vampyre. Clearly the architecture here is amazing as well; the houses vary from traditional French design or colorful Creole to sweeping antebellum mansions. If you pay attention you can easily find hidden courtyards with softly bubbling fountains.
Photo Credit: Courtney Driver
On the historical buff or foodie front, Antoine's should certainly be on your list as it's one of the oldest restaurants in the United States to be owned and operated by the same family the entire time, since 1840. That's FIVE generations in case you are wondering. And if you are a celebrity chef fan, Emeril Lagasse's NOLA is situated over on St. Louis, just a couple blocks down from Bourbon. But I would wager that any quick search online will bring up either of those spots, so for something a bit off the beaten path you might want to check out the latest celebrity chef project, Johnny Sánchez, for a progressive take on Mexican cuisine created by Aarón Sánchez and John Besh. The menu features classic dishes like tacos, with modern ingredients like pork belly, sweet breads or even goat, topped with things like pickled jalapeño guacamole or tamarind salsa.
Photo Courtesy of Ritz-Carlton New Orleans
As a home base, The Ritz-Carlton, New Orleans makes a solid destination choice. Luxurious of course, oozing southern hospitality (as a Californian I just can't get over how much I love those charming accents!), and right along the edge of the French Quarter. Not one ounce of the ruckus happening just a block away can be heard from behind its walls, but it was close enough to dive into it at any time. The rooms are decorated in a classic French-inspired New Orleans style, with short cornflower blue canopies patterned in gold, and the city's signature fleur du lys. A sealed fireplace adds a touch of warmth and historical feel; the building in which it sits is the Beaux Arts Maison Blanche and was built in 1908. Bathrooms are done in typical Ritz-Carlton fashion, with a separate (huge) bathtub and shower, complete with tall candles for a romantic or simply relaxing soak. As with all of the properties these days, bath amenities are London brand Asprey in a unisex scent called Purple Rain; no need to pack any of your bath products, or even toothbrush or toothpaste—everything comes standard.
Photo Courtesy of Ritz-Carlton New Orleans
To kick it up a notch travelers can opt to upgrade to Club Level, which entitles them to up to three freshly-pressed items per day, full breakfast, mid-day bites, hors d'uevres and desserts, as well as beer and wine until 10 p.m., and non-alcoholic beverages and light snacks around the clock. All of this is provided to guests in their own private section of the hotel called the Club Lounge, which is complete with various seating options, service staff and relaxation areas, along with free Wi-Fi and a dedicated concierge. Entirely included in the upgrade, this set up is ideal for getting an early start, taking in the city, recharging in the afternoon, and heading right back out for a night on the town. The property offers a full spa, and in the evenings Jeremy Davenport can be found in the Davenport Lounge entertaining patrons with jazz well into the night, a display more than one local assured me is one of the best in the area.
Photo Credit: Courtney Driver
Speaking of jazz and nightlife if you want to party like a local, the best place to go is actually a quick cab ride away up to a street called Frenchmen, which is a strip of bars, restaurants and even an art market that stays open late. If you are a fan of Treme on HBO you will recognize and definitely want to stop by The Spotted Cat, where the bar heats up (literally this place gets packed) and the jazz is worth the cover charge. This was easily one of the highlights of the weekend.
Photo Courtesy of New Orleans Online
The St. Charles streetcar happens to stop right outside of the Ritz-Carlton on Canal street and if you need a reason to hop onto one, a quick journey to Uptown's Magazine Street might be in order. The area has a quaint collection of shops and restaurants, as well as the World War II Museum. For some authentic Louisiana brunch fare, make your way to the adorable Atchafalaya for live music, a fantastic Bloody Mary bar and fun southern menu choices like cream cheese grits, alligator sausage and fried green tomatoes.
Photo Credit: Cosmo Condina
It's no surprise that New Orleans has been ranked the 17th best city in the world according to the Condé Nast Traveler Reader's Choice Awards. It's true there is a strong party element, and like Miami or Las Vegas you are allowed to drink in public and yes, the Quarter is a total party scene lively. But this is a place with many layers of history, culture, art, music, food, activities, shopping, architecture and a ton to do, all within a an easy-to-navigate and walkable vicinity.
Photo Credit: Courtney Driver
Folding all of that into the supercharged energy levels that accompany a football game or any other fun-filled festival (they have a ton, don't let your imagination stop at Mardi Gras) and you're gonna have a good time.
Photo Courtesy of New Orleans Online
Photo Credit: Courtney Driver
Photo Courtesy of New Orleans Online
Photo Credit: Courtney Driver
Photo Credit: Courtney Driver