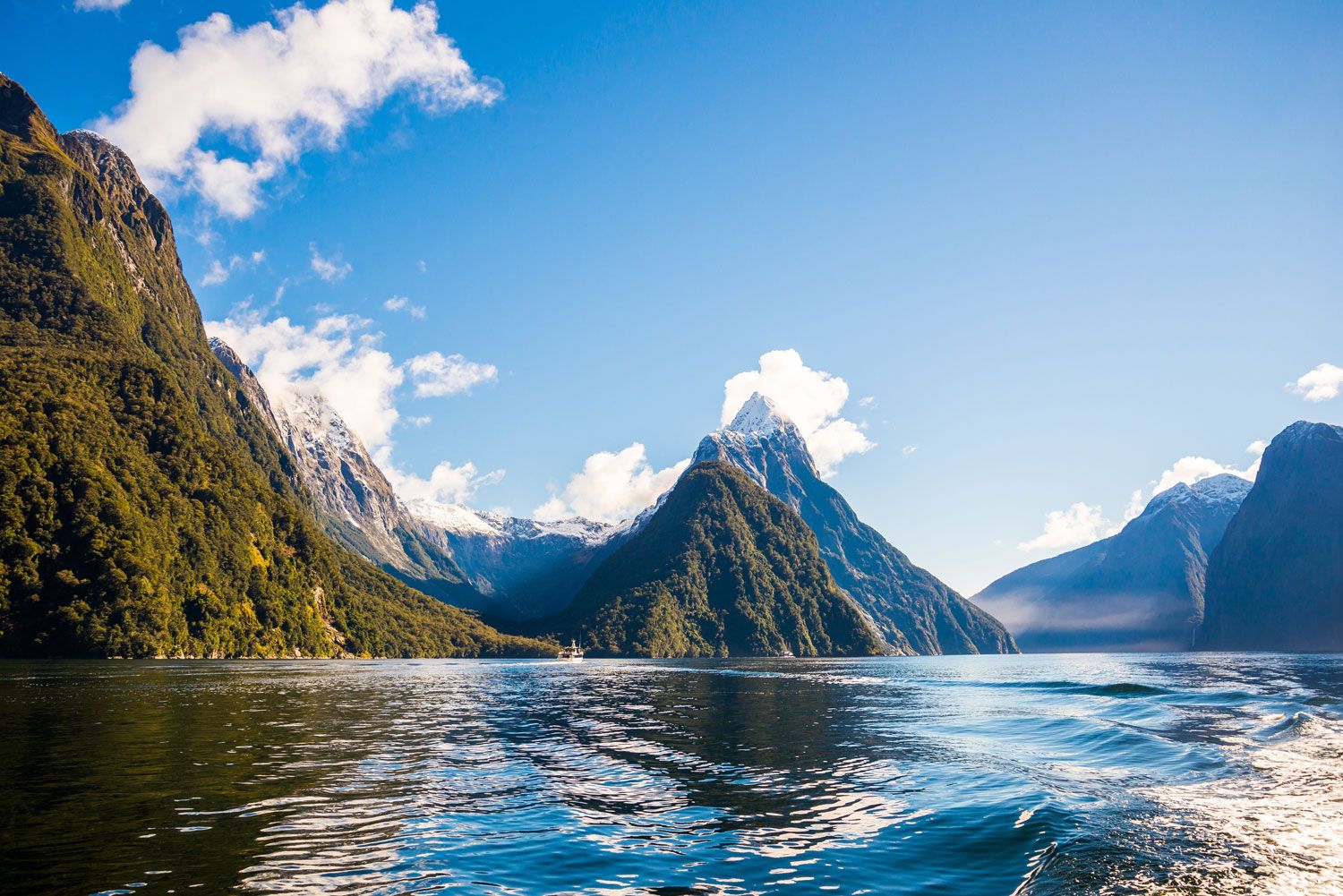 courtesy Blanket Bay
This past winter, contributor Jared Paul Stern embarked on a two-week trip across New Zealand. While there, he discovered some of the best destinations, activities, restaurants and sights that the country has to offer. In this three-part series, he'll highlight the very best in luxury travel from what to pack to which airline to choose and where to stay. (Part One & Two)
Moviegoers who hear of New Zealand probably picture Middle Earth. And of course, the gorgeous country was the backdrop for the Lord of the Rings movies. Millions of Hobbit fans have come to see it firsthand, but even if you've never seen the movies, your first glimpse of Fiordland National Park is a jaw-dropping experience.
Photo Credit: Jared Paul Stern
One of country's most remote and untouched areas, it abounds with lakes, glaciers, waterfalls, jagged peaks and plunging valleys. Without a doubt the best way to see it is via private helicopter charter from Alpine Helicopters, which operates nimble machines which can set down almost anywhere, allowing you to explore uncharted territory. The largest of New Zealand's 14 National Parks, Fiordland is a major part of the Te Wahipounamu World Heritage site. In the first two installments from our epic trip to New Zealand, we visited Auckland and the amazing Wharekauhau Country Estate. In the final edition we bring you the rest of the eye-popping places we visited, from incredible natural wonders to lavish luxury lodges, covering the gamut of New Zealand's impressive attractions.
Photo Credit: Minaret Station
Minaret Station
One of New Zealand's first luxury lodges, Minaret Station is accessible only via helicopter and is tailor-made for the truly adventurous traveler. The ruggedly-stylish Alpine lodge is perched at the head of a stunning glacial valley in the heart of the Southern Alps, with just four private chalets for rent surrounding the main building. The food prepared by in-house chefs is excellent and you can book expeditions to go fishing, hunting or skiing as you prefer. Sip whiskey in a sumptuous leather chair by a roaring fire after a long hike over the craggy hills or along the snaking riverbed. Though we didn't stay the night, we helicoptered in for a delicious lunch and stayed to drink in the unparalleled scenery.
Photo Credit: Wanaka Haven
Wanaka Haven
Wanaka Haven is also an intimate luxury lodge, and though not as remote as Minaret Station it too has a strong attraction for the discerning traveler looking for a more personal guest experience. Located near Lake Wanaka and surrounded by mountains as well as New Zealand's fourth largest lake, the eco-friendly property is devoted to the "simple" pleasures of gourmet food and drink, luxurious bedding, and comfortable places to relax in. With only five bedrooms, it has the feel of a private home, and the proprietors are perfectly inviting without being at all intrusive. An outdoor heated swimming pool, al fresco fireplace and panoramic views of the beautiful scenery add to the appeal of the cozy lodge.
Photo Credit: Blanket Bay
Blanket Bay
We have no hesitation in stating that Blanket Bay is one of the best luxury lodges we've ever stayed in. New Zealand's preeminent property, made up of huge wooden beams and massive blocks of stone, has the feel of a highland retreat situated in the Southern Alps on the shores of Lake Wakatipu. Rustic elegance meets its apex at Blanket Bay. With its gracious Great Room overlooking the lake anchored by a huge stone fireplace and soaring cathedral ceilings, a cozy wood paneled bar-lounge, game room, fitness center, spa and several indoor and outdoor dining venues, it's a place you'll never want to leave. Sir Ian Mckellan (Lord of the Rings) is a big fan, and has called it "the most splendid property, possibly the best in the world and everyone should stay there when visiting New Zealand." We couldn't agree more.
Photo Credit: Jared Paul Stern
Pacific Jemm
Just as the best way to see Fojrdland is from the air, the best way to see Lake Wakatipu is by water. The Pacific Jemm is a charter yacht favored by the likes of Ozzy Osbourne and other visiting celebrities that cruise the lake in serious style. The 80-foot Versil-designed motor yacht is available for day sails, fishing charters, VIP events, cocktail parties or overnight accommodation. The spacious craft features an elegant main salon, entertainment area and bar, separate formal dining area for eight guests, an alfresco dining area on the sun bridge, and a foredeck with a large sun pad for relaxing and sightseeing. It can accommodate eight guests overnight with a crew of varying size depending upon your wants and needs.
Photo Credit: The Spire
The Spire Hotel
Queenstown is known as New Zealand's adventure capital, and over a million people flock there annually for everything from skiing to jet boating, snowboarding, rafting and bungee jumping. On the shores of Lake Wakatipu it's a sophisticated city for its size, and at night the intrepid adventurers have a lively time in its jewel-like bars and restaurants. The place to stay is The Spire Hotel, a modern boutique luxury hotel with just ten spacious suites that opened in 2014. Decadent baths, leather-upholstered Eames loungers, gas fireplaces and large picture windows define it as modern, stylish, chic and refined. Its No.5 Church Lane restaurant and bar is a mecca for fine food and wine, and it's centrally located for shopping, dining out and sampling all that Queenstown has to offer.
Photo Credit: Matakauri Lodge
Matakauri Lodge
Just seven minutes from Queensland, along the banks of Wakatipu is Matakauri Lodge, a perfect lakeside retreat. With a refreshing contemporary flair, the light and airy lodge and cottages take full advantage of the natural wonders at its doorstep. Part of the prestigious Relais & Chateaux association, it maintains very high standards for wine and cuisine. Each suite offers a private porch, bedroom with sitting area, open fireplace, walk-in wardrobes and a spacious bathroom. Facilities include a full service luxury spa, infinity pool, a fully equipped fitness center and an elegant meeting and business center. Acclaimed New Zealand interior designer Virginia Fisher is responsible for its stylish interiors. We came for lunch and plan to return for an overnight stay as soon as possible.