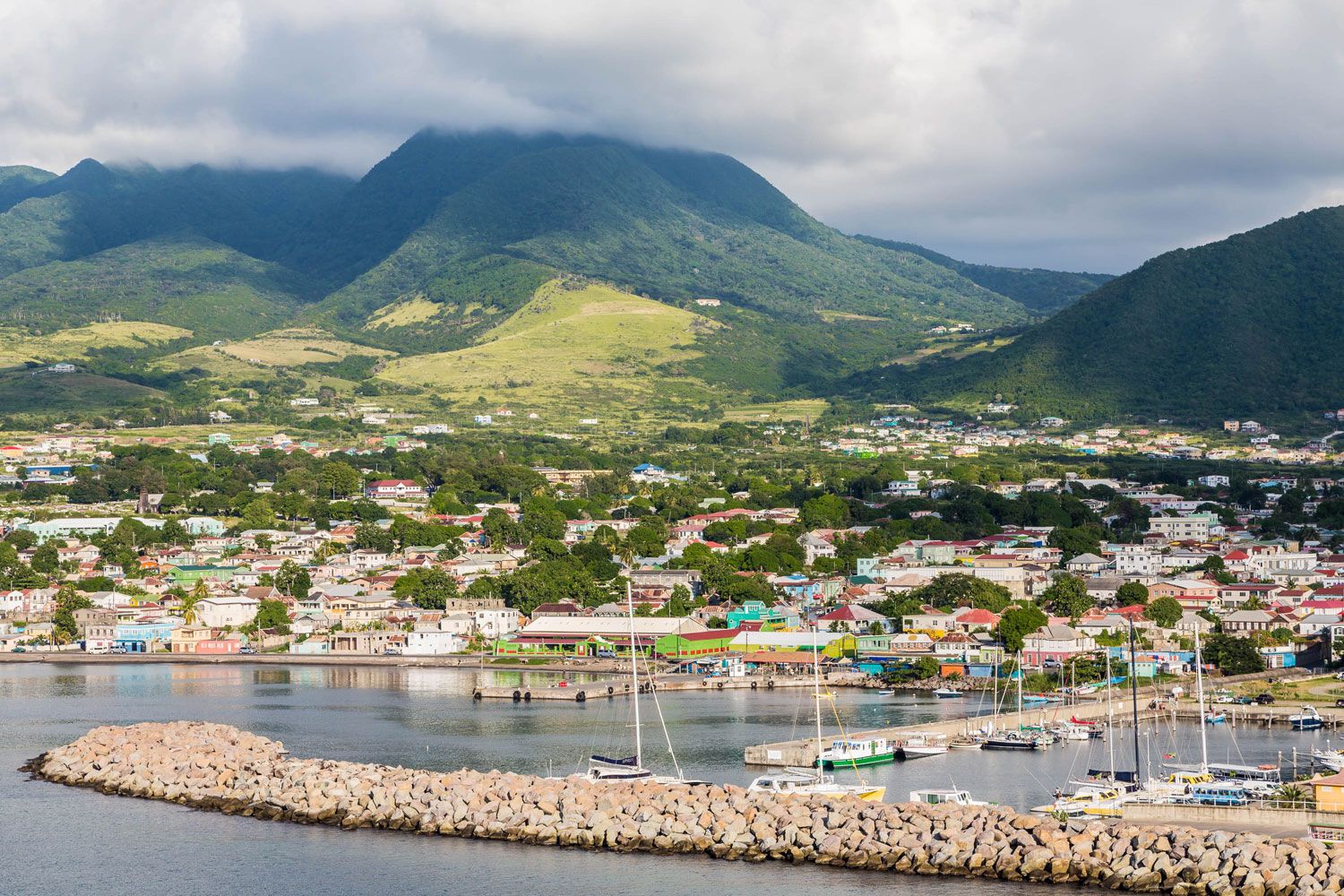 Photo Credit: Shutterstock.com
For some of us, the onslaught of winter means the perfect time to head to warmer horizons. For me, that involved St. Kitts, catamaran rides, cocktails and plenty of fresh seafood. If you book a VIP package with St. Kitts Marriott & The Royal Beach Casino, after you arrive on the island you'll be escorted to the YU Private Lounge. The terminal, located just west of the Robert L. Bradshaw International Airport, used to only offer travelers flying privately, to and from St. Kitts, this amazing service. Now it is available to passengers on commercial flights.
Photo Credit: Parm Parmar
While we waited for our baggage, immigration and customs formalities to be taken care of, we were treated to Champagne and appetizers. After everything is in order, a shuttle whisks you from the lounge to the resort, where you're welcomed with tropical cocktails and shown to your ocean-facing suites. The property is only 10 minutes from the airport and features eight restaurants, three bars, a 15,000-square-foot Emerald Mist Spa (offering island-inspired treatments), 18-hole championship golf course and the largest Vegas-style casino in the Caribbean.
Photo Credit: St. Kitts Marriott
Dining in the warm atmosphere of the Blu Seafood Restaurant, with its stunning 180-degree ocean view, is a fish lover's dream. Order from the St. Kitts menu, where traditional dishes of succulent lobster and conch fritters are served. Another must-do is the resort's latest attraction located inside the Royal Beach Casino. The Sky Ultra Lounge features exotic cocktails such as the island favorite, a Ting with a Sting. Throughout the night, the DJ will keep you entertained with the latest music and beats.
If you want to venture beyond the resort and explore the island, here are a few excursions to put on your list:
Photo Credit: Parm Parmar
Brimstone Hill Fortress is a UNESCO World Heritage Site designed by British military engineers then built and maintained by African Slaves. It's one of the best-preserved historical fortifications in the Americas. At Caribelle Batik at Romney Manor, adjacent to Wingfield Estate, guests can discover popular batik products. Batik is created by an ancient Indonesian method that uses wax to resist dye on parts of the fabric and then designs are applied with that method by using a canting tool or stamp. You can watch the artist create these beautiful Batik's from start to finish.
Next door, the Wingfield Estate is an amazing destination and its place in Caribbean history is unique, dating back to 1625. It was the first working estate on the island for tobacco, sugar and rum. Sam Jefferson, originally owned the estate, and is the great-great-great-grandfather of Thomas Jefferson. Set in the picturesque foothills of the central mountain range at the 400 foot level, it sits above Old Road Town and was the first English settlement in the Caribbean.
Photo Credit: Parm Parmar
For something a little more adventurous, try ziplining with Sky Safari and zoom through the lush rainforest canopies while enjoying a birds-eye-view of the area's diverse terrain and wildlife. Porte Zante is a great destination for sailing via Leeward Island Charters' day trip to Nevis, St. Kitts' sister island. After snorkeling in a nearby cove, you'll sail on to Nevis for a BBQ followed by an afternoon of relaxing on the beach. If time allows a stop at Sunshines Bar for one of its famous Killer Bee cocktails. Just about every celebrity who visits Nevis will make a stop at this bar.
Photo Credit: Ballahoo Restaurant
When it comes to dining, Ballahoo Restaurant offers a mixture of Caribbean and French cuisine in the heart of Basseterre, the bustling capital city. They make the best conch fritters and provide balconied seating with views of the town square. Carambola Restaurant is an upscale eatery located on the pristine beach of South Friars. It's serenely romantic, overlooks the water and provides a fine dining atmosphere with an à la carte menu featuring sushi, beef tenderloin, lobster tails and lamb racks.
Photo Credit: St. Kitts Marriott
The oceanfront Spice Mill Restaurant stands out as a masterpiece of indigenous design, paying tribute to the region's original Amerindian inhabitants. During the day you can gaze at views of Sister Island Nevis from your table. Their cuisine and ambiance reaches across the spectrum of Caribbean ethnicity, marrying flavors from across the globe.
When it's time to say goodbye to your St. Kitts adventure, the luxurious Emerald Mist Spa is the perfect place to rejuvenate and relax before heading home. Get to the spa at least a half hour before to take advantage of the sauna, steam room and the relaxation lounge. It's a decadent way to finish your trip.