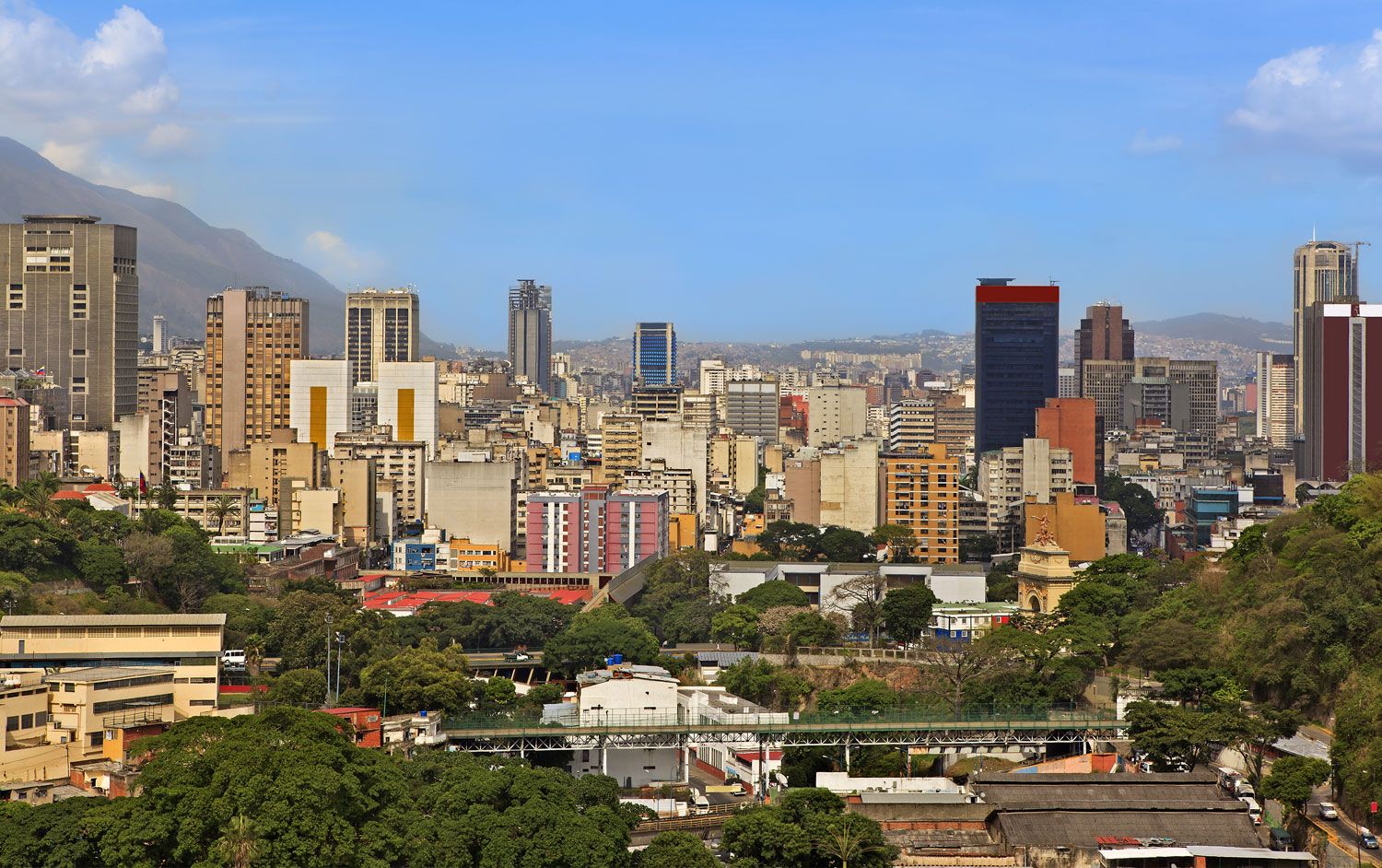 Photo Credit: Shutterstock.com
If you ask around, there probably aren't a lot of travelers who would jump at the chance to visit Caracas, Venezuela. For one, the destination has risen to the No. 1 spot on the world's most dangerous cities list with 119.87 murders per 100,000 people. According to the DailyMail, there were "just under 1 million arrivals [in 2014], four times fewer than neighboring Colombia which is successfully marketing itself, despite decades of drug wars and a Marxist insurgency." Even its neighboring countries, which are also not super safe, are getting more visitors.
Second, its current USD exchange rate is incredibly low. The country's biggest currency note is 100 bolivars which is equal to around 0.16 US cents. That means, if you're exchanging money, you better have a group of security guards around because your pockets will be filled with hundreds of bills.
Photo Credit: GMEVIPHOTO/Shutterstock.com
In September 2015, The Department of State updated its Venezuela Travel Warning, which was surprisingly encouraging. "Thousands of U.S. citizens safely visit Venezuela each year for study, tourism, business and volunteer work. While U.S. citizens are not specifically targeted, violent crime in Venezuela is pervasive, both in the capital, Caracas, and in the interior," states The Department of State. The page goes on to indicate government personnel are more affected by the country's violence rather than traveling civilians.
But where does that leave us? Is it wise to visit Caracas and if so, what's so great about the city that is teeming with violence, street crime and a poor economy? The answer to the first question is yes…but also, no. The latter—plenty, you just need to know where to look. We know there are some of you out there who thrive on adrenaline, love the idea of new adventures and live on the outer edges of most people's comfort zones. Because of this, going to Caracas isn't a matter of why, but when. Others of you may have ancestral roots in the city or are just curious about Venezuela as a whole. If you're considering going, here are some helpful tips on what to know before and during your trip.
Photo Credit: Testing/Shutterstock.com
Before You Go
The best time to visit the country is from September to April, which is its dry season. Since Caracas is a major destination in South America, many American airlines have daily and nonstop flights to Caracas such as American, Continental and Delta. As safety is the main concern on your getaway, be sure to follow typical protocol when visiting a rougher country: hand out copies of your itinerary, register with the U.S. Embassy and get vaccinated. For Venezuela, they generally will include measles-mumps-rubella, diphtheria-tetanus-pertussis, varicella (chickenpox), polio, and your yearly flu shot. The CDC also recommends Hepatitis A and Typhoid vaccines.
To get into the country, U.S., Australian, Canadian and other EU citizens are required to obtain a tourist visa in advance. Prior to leaving the country, schedule an airport transfer through your hotel or book a private car, as cabs are not immediately recommended. Once you're at your property, all transportation can be arranged by the concierge who will know which services are trustworthy.
Photo Credit: Cayena-Caracas
Where to Stay
There's a good number of high-end properties in Caracas and well-known luxury brands. JW Marriott hotel sits in the middle of downtown and is 17-stories high with contemporary guestrooms and suites. Located in the financial and business district, it is within easy walking distance of nearby shopping, restaurants and entertainment. Rooms begin at around USD $200 a night. Nearby is also Lidotel Centro Lido, a boutique hotel that features a chic European ambiance and elegant décor. Along with a full-service spa, the property includes 102 guestrooms and suites, a restaurant, fitness center, coffee shop and bar/lounge area. Rooms begin at around USD $120 a night.
Our top choice, however, would be Cayena-Caracas located in the La Castellana neighborhood. It offers a more private retreat tucked away within lush gardens in one of the city's most exclusive areas. Rooms range in size from 452 square feet to the 932-square-foot Cayena Suite which comes with a private balcony and butler. The hotel's restaurant La Sibilla is helmed by renowned chef Massimo Mori and serves fine Italian cuisine. Outside, the heated rooftop pool overlooks El Avila mountain and the valley below from its hillside location. Rooms begin at around USD $286 a night.
Photo Credit: Shutterstock.com
What to Do
Salto Ángel is Venezuela's number-one tourist attraction and the world's highest waterfall. It's 3,211 feet high with an uninterrupted drop of 2,647 feet, 16 times the height of Niagara Falls. But the waterfall can't be reach by vehicles. Visitors must either fly into Canaima (the area's local town) and take a boat there, or they can choose a six-seat Cessna flight over Auyantepui and the falls. The latter takes about 45 minutes from the Canaima airport and is priced around USD $60 to $80 per person.
Visiting Avila National Park is also among the city's top experiences. The park's mountains rise some 3,300 feet over the northern edge of Caracas and slope down into the Caribbean on their other side. Many choose to hike from the bottom to the top, but should you wish to reach its peak more quickly, you can ride the teleferico (cable car) up. Once there, there are some smaller hikes to do, villages to explore, a restaurant and a playground. Keep an eye out for Avila's animal inhabitants such as deer, sloths, howler monkeys and elusive ocelots.
Photo Credit: Alto Restaurante
If retail therapy is on your list of things to do, Centro Comercial El Tolón is an upscale shopping destination in Caracas. The mall contains a very diverse range of shops, high-end cosmetics and perfumeries, two cinema houses and trendy restaurants. Or, located in Campo Alegre, is Scabal, a 21,527-square-foot, family-owned business that offers bespoke tailoring and made-to-measure menswear.
There are two churches in Caracas that usually draw travelers interested in architecture: Santa Teresa and Santa Ana. The dual churches sit within the main Basilica de Santa Teresa building. To the east, its façade is dedicated to Santa Teresa while its west side is dedicated to Santa Ana. It was built by Hurtado Manrique in 1877, completed in 1881 and was named a National Historical Monument in 1959. The church was inaugurated on October 28, 1881 in honor President Guzman Blanco's wife Dona Ana Teresa.
Helmed by Carlos Garcia, Alto Restaurante serves contemporary Venezuelan cuisine that pays homage to its geography. The eatery was named one of Latin's America's 50 Best Restaurants in 2015 by utilizing high-end techniques that breathe new life into traditional ingredients and dishes. With an emphasis on fine dining, everything from its menu items to the service and classy décor make this destination a must visit for foodies.
Photo Credit: Shutterstock.com
Final Precautions
Caracas, probably isn't the safest bet for your family vacation, and even avid travelers may find it hard to feel completely safe. But those who do visit (under the right conditions and security measures), will find a city that is laced with friendly locals, great museums, some of the country's best dining options and a scenic landscape of jungle-clad backdrops. Architecturally, it is also one of the most modern and distinctive cities in Latin America. Be advised that even locals don't go out alone in the evenings, so always be conscious of your surroundings and make sure your money is concealed at all times.