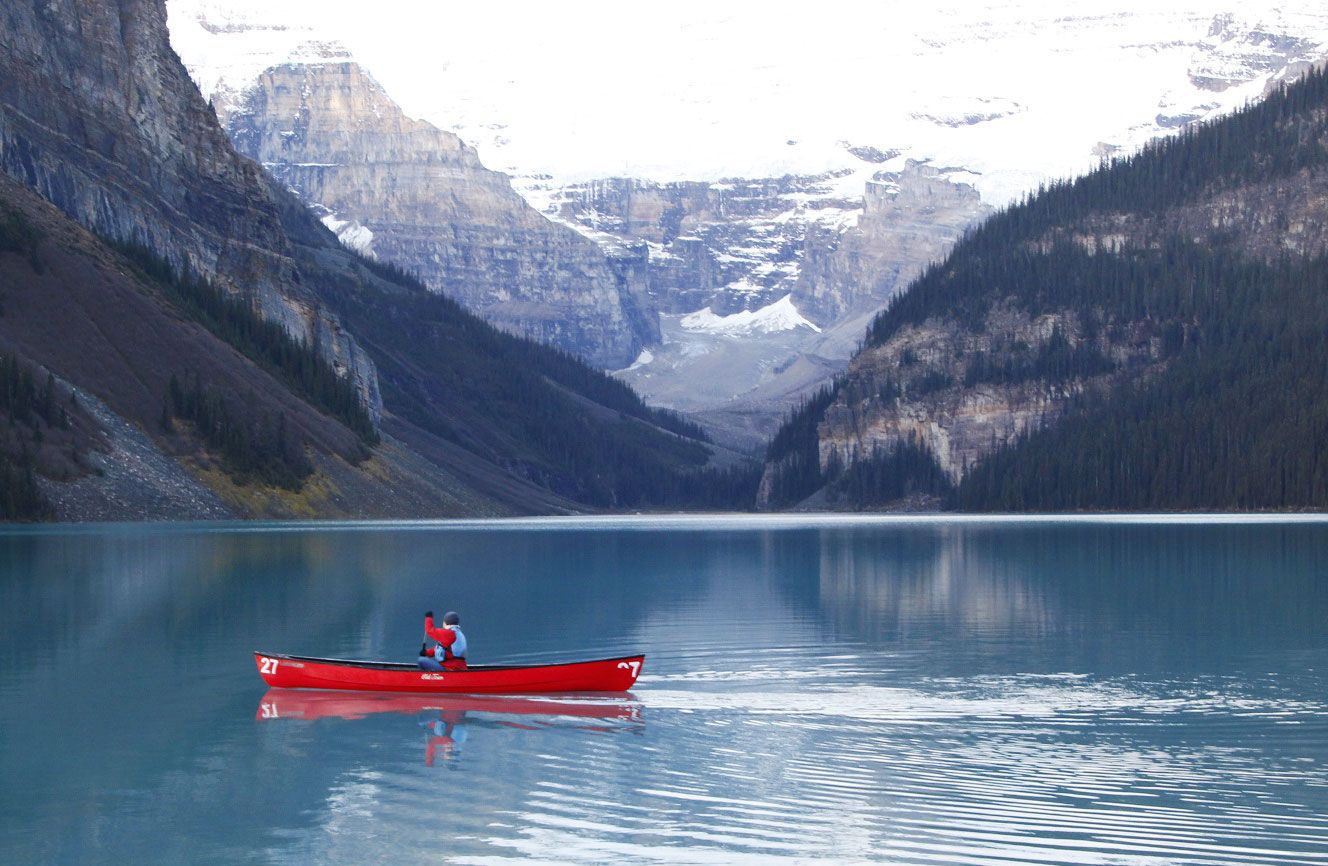 Photo Credit: Cynthia Dial
To best appreciate Banff National Park, visits to its most noted landmarks are key. Originally constructed as lures for the jet-set crowd (albeit long before jets), Fairmont Banff Springs and Fairmont Chateau Lake Louise continue to draw those who seek more plush accommodations. Each of these long-time national icons were built along the Canadian Pacific (CP) Railway line in the late 1800s to provide deluxe digs to those traveling the rails in style.
Ensconced within a national park and surrounded by the dramatic backdrop of the Canadian Rockies, the structural styles of the two properties are striking. Fairmont Banff Springs projects Scottish Baronial while Fairmont Chateau Lake Louise is reflective of French Renaissance design. However, each is punctuated with distinctive elements—whether towers and turrets, spires and swirling staircases, pitched roofs and porte-cocheres or Gothic gables—and each evokes the feel of a European castle. Through the years and despite almost complete replacement, periodic reconstruction and continued renovation, the results remain the same: majestic.
Photo Credit: Jeff Whyte/Shutterstock.com
Most easily reached from the gateway of Calgary, the 90-minute drive via the Trans-Canada Highway (the nation's east to west roadway) begins in Alberta's flatland, initially appearing a world away from the mountainous terrain that will soon encircle you. On approach, the first peek of what's to come is the tree line running atop the foothills. Though its hue varies with the season, the colorful stripe is like a ribbon wrapping the gift you are about to open.
Established in 1885, 131-year-old Banff National Park is Canada's oldest. Designated a UNESCO World Heritage Site in 1984, this area of more than 2,500 square miles—complete with ice fields, glaciers, mountains, dense forests and alpine meadows—is the stunning setting of Banff and Lake Louise.
Exploring each town, along with its namesake resort, is essential to appreciating the appeal. Beginning with Banff, this is a no-jay-walking kind of town, one punctuated with historical structures, specialty restaurants and bear-proof containers. It features retailers such as Lululemon and North Face, with pedestrians typically outfitted in fleece shirts, cozy parkas and sturdy shoes. A humorous aside is the occasional souvenir store displaying a bear-adorned tee saying, "Keep Calm, Play Dead."
Photo Credit: Fairmont Banff Springs
At an elevation of 4,537 feet, the village covering less than three square miles is Canada's highest town. It is a town treasured for its natural hot springs available year round. The main drag, Banff Avenue, is positioned to face the area's prominent pinnacle, Cascade Mountain, said to be one of the most photographed peaks in the Rockies.
Affectionately called the "Castle in the Rockies," Fairmont Banff Springs initially opened June 1, 1888, with the promised pledge to be a "bastion of luxury." It's since earned the designation as a National Historic Monument and today's resort features 764 rooms, 27 holes of golf, the Willow Stream Spa (created to be reminiscent of the area's famed hot springs and routinely named one of the nation's best) and 12 restaurant and beverage outlets. Among its eateries are such choices as afternoon tea in Rundle Lounge (with an IMAX-like view of the Rockies) and Waldhaus Restaurant, serving up Alpine dishes in a Bavarian cottage-like atmosphere.
VIP Concierge Don Mooney's unofficial motto, "If you can dream it, we can do it," surmises the hotel's attention to its guests. Among the comments in his leather bound journal is the description of Mooney by actor Christopher Plummer as "the patron saint of concierges." However, being on the big screen is never the criteria for treatment as a king or queen, though King George VI and Queen Elizabeth have been guests.
Photo Credit: Cynthia Dial
In winter there's downhill skiing, snowshoeing, cross-country skiing, sleigh rides and the hot springs. There's nothing quite like a toasty outdoor soak beneath a light snowfall amid jagged peaks. With warm weather comes hiking, whitewater rafting, golfing, river float trips, fishing, paragliding, gondola sightseeing and horseback riding. Banff Trail Riders, Canada's largest horse outfitter, also creates one-of-a-kind experiences such as one-hour or one-day horseback rides, barbeques and two- to six-day back country trips.
Sprinkled throughout the year (though spring and fall are the best times) are wildlife sightings for such local residents as black and grizzly bears, elk, moose, coyote, deer, bighorn sheep and many more. An insider's tip: When near railroad tracks look for bears, as these thoroughfares often double as the mammals' personal walking paths.
Photo Credit: Fairmont Chateau Lake Louise
While Lake Louise's town center is more akin to a strip mall, it is less than a five-minute drive to its high drama, glacial-backed sapphire blue and Tiffany-blue centerpiece. Lake Louise, named for Princess Louise Caroline Alberta (fourth daughter of Queen Victoria), is fed from six glaciers, its water rarely tops 40 F and its depth is 230 feet.
Situated lakeside, from sunrise until sunset Fairmont Chateau Lake Louise provides an ever-changing photographer's playground and hiking mecca. Explored by guests since 1899 when CP Railway hired Swiss mountain guides, this long ago tradition explains the hotel's over-the-years alpine ambiance. Today the Chateau's Mountain Heritage Program, headed up by naturalist Jeff Douglas, gets guests up-close-and-personal with its back-to-nature terrain.
"I've hiked with Warren Buffet and the Rolling Stones," says Douglas. "Eventually, everybody comes here." Sharing a story about Buffet, the actor was stopped by a guest and was told, "You know, you look a lot like Warren Buffet." His reply: "I hear that all the time." Another celebrity is mascot and resident dog, Marcus. Originally trained as guide dog for the blind but deemed too friendly, this white lab became the hotel's Director of Pet Relations. As a part of the job (complete with his own business cards), he roams the hotel and is available for walks Monday through Friday.
Photo Credit: Cynthia Dial
To best appreciate the hotel's roots, you should take note of its details: doormen dressed in traditional Swiss attire and chandeliers embellished with torch-bearing women depicting the long ago after-dark practice of spouses guiding their hiking husbands home. There's also the selection of truffle fondue as the specialty of the famed Walliser Stube restaurant.
Lake Louise's backyard is your playground. Similar to Banff, winter's sports include snowshoeing, cross country and downhill skiing. Three distinctive mountain resorts serve the Banff/Lake Louise region: Lake Louise Ski Resort, Sunshine Village and Mount Norquay featuring 8,000 acres of skiing, two gondolas, 26 chairlifts and 30 feet of annual dry Canadian Rockies powder snow.
Photo Credit: Fairmont Chateau Lake Louise
Summer brings canoeing (red canoes crisscross Lake Louise), hiking, horseback riding, sightseeing by gondola (described as the Rockies' best grizzly bear viewing), wildlife safaris, rock climbing, fishing, hiking and lakeshore strolls.
Situated amid the Canadian Rockies, located within a national park and world renowned for its historic hotels—this is Banff and Lake Louise. They are destinations best described by two words: picturesque perfection.