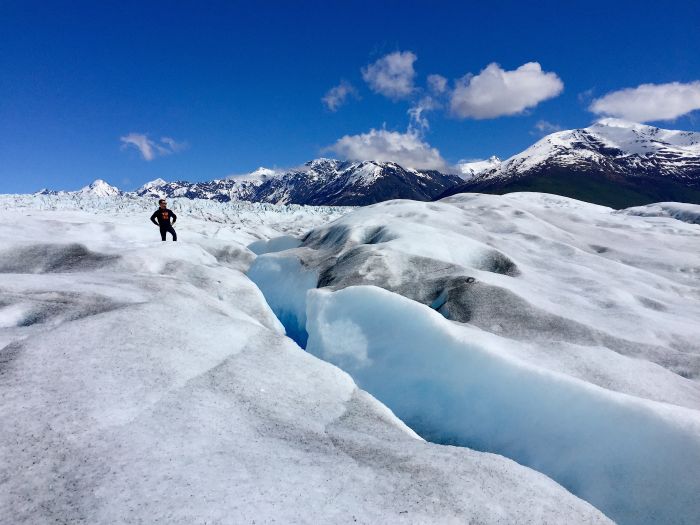 Photo Credit: Janice Nieder
Alaska, by far the largest state in the USA, is filled with endless natural treasures including untamed wildlife, pristine forests, majestic mountains and powerful waterfalls, but for sheer awesomeness, there is nothing more humbling than actually standing on one of their 100,000 grandiose glaciers. The deep iridescence of the sapphire, aquamarine, turquoise and just about any other Crayola box blue color can be found in the glacial ice forms offering selfie backdrops on steroids.
On a recent visit, the focus of my itinerary was glacier hopping to three distinctly different glaciers found in Matanuska-Susitna Valley, aka Mat-Su, which is the soul of Alaska. For a luxury travel writer who thrives on creature comforts, I was having some serious doubts, however, I am now a convert to the joys of slightly rougher luxeperiential travel.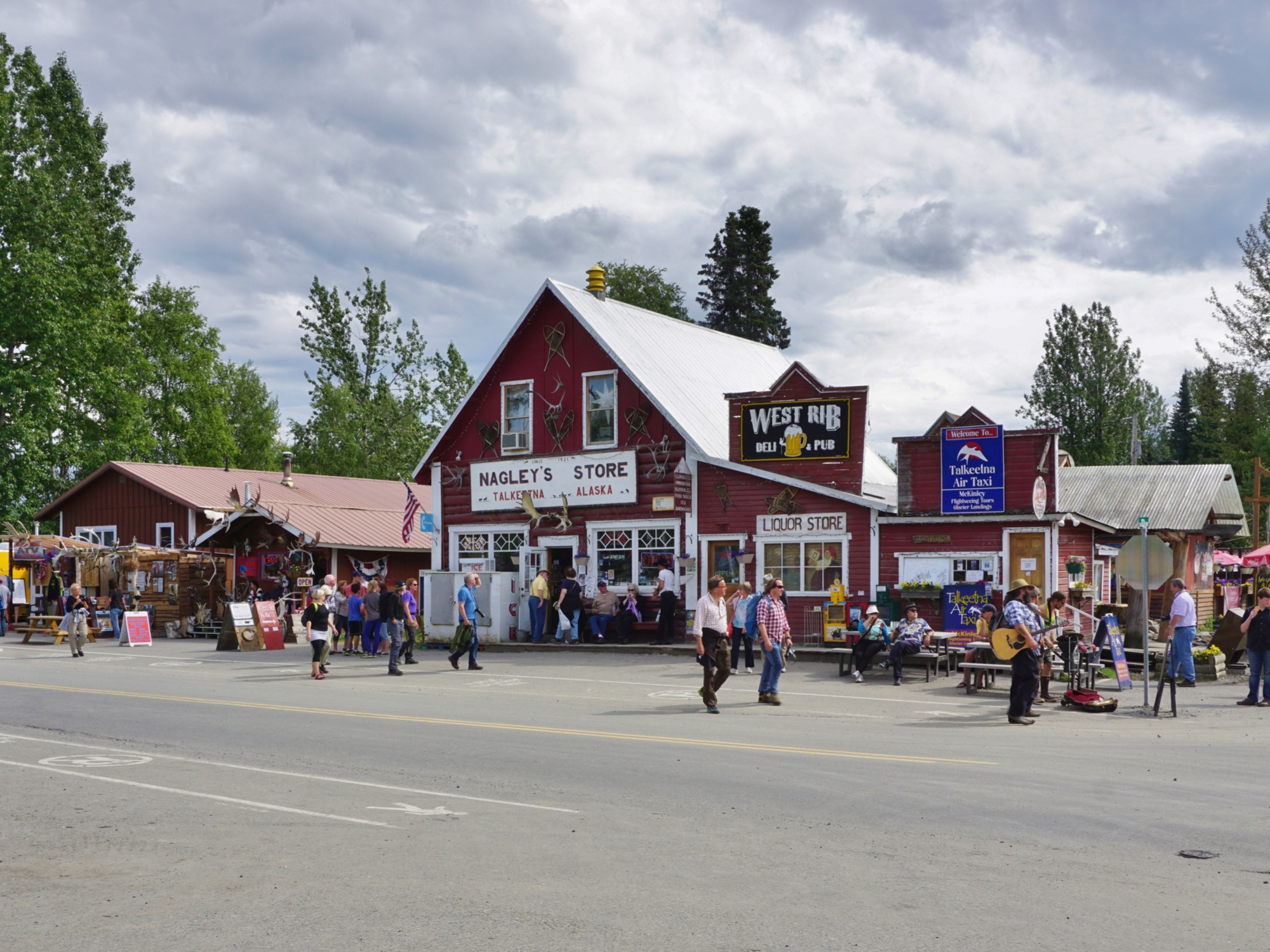 Photo Credit: EQRoy / Shutterstock.com
My glacier explorations began with a two-hour drive from Anchorage to the funky-fun, pioneer town of Talkeetna, aptly known as "a drinking village with a climbing problem." Talkeetna is ground zero for climbers attempting to summit the 20,320-foot Mt. Denali, the highest summit in North America.
Before heading to K2 Aviation (Denali National Park's highest scoring glacier landing company) for my flightseeing tour, we popped into the Walter Harper Talkeetna Ranger Station, named after the first person to summit Denali. After reading the 2017 stats it became crystal clear that this was no walk in the park, since out of the 1,071 climbers registered only 116 have reached the summit.
The good news for me was that posted daylight hours were from 4:15 A.M. - 11:45 P.M. —so I had an excellent chance of viewing the summit which is often obscured by clouds and rain.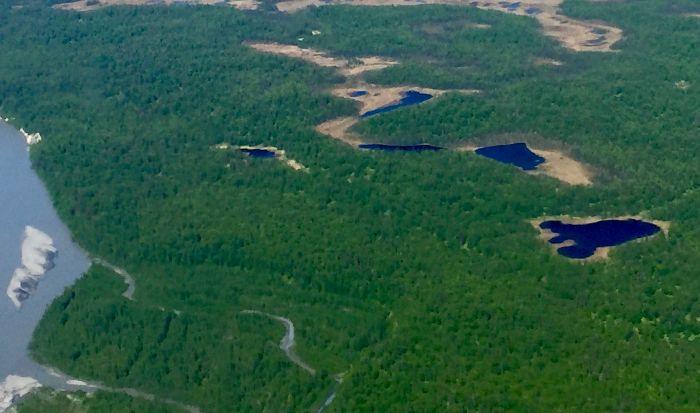 Photo Credit: Janice Nieder
During my check-in at K2, I was thoroughly impressed by their professionalism, custom designed fleet and their perfect safety record, although the glacier booties they gave us to wear had zero style sense. Then it was up, up and away. As we soared amongst the glaciers I was literally dumbstruck by the sheer magnitude of the Denali.
Our highly skilled pilot pointed out the various gorges, mountain peaks and ice fields, providing just the right amount of scientific commentary through our headsets. We smoothly landed on the 45-mile-long Kahiltna Glacier, Base Camp for those climbing Denali, where we enjoyed a brief walk-about and some superb photo ops.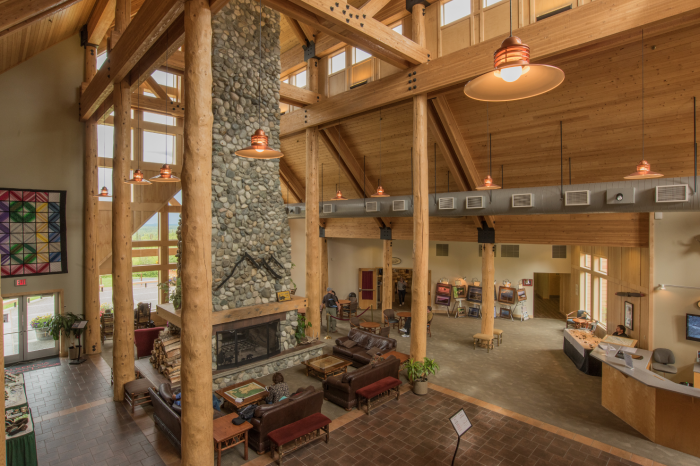 Photo Credit: Tom Bol/Mat-Su CVB
A five-minute drive from town brings you to the tastefully designed, Talkeetna Alaskan Lodge, built high on a bluff with panoramic views of the entire Alaska mountain range from their oversized porch. The wow factor hits you the moment you enter the Alaskan timber filled lobby and see the towering 46-foot-high stone fireplace.
Fun fact: The rocks for the fireplace are from the Matanuska River, and were collected by the Colony High School football team in exchange for help with new uniforms. The 200 comfy rooms (some with whirlpool tubs and kitchenettes) award-winning cuisine, live music, and friendly service ensure a relaxing stay.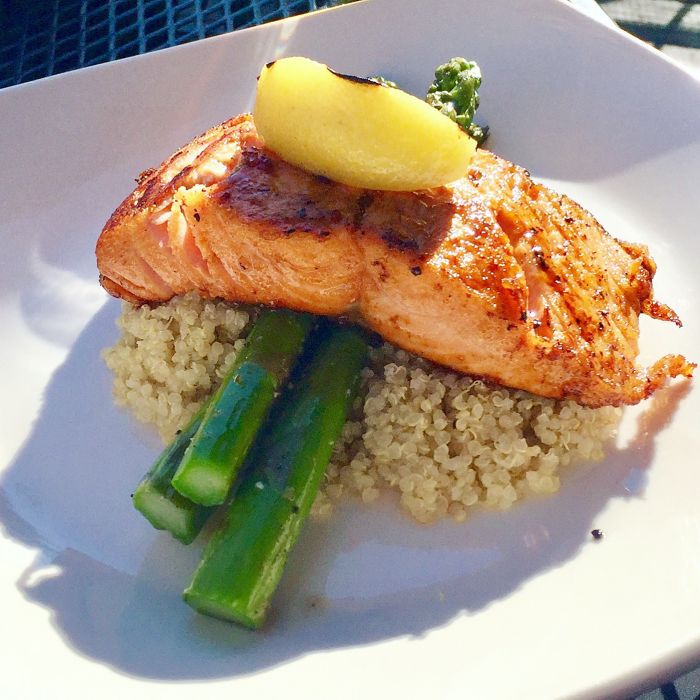 Photo Credit: Janice Nieder
For the best local grown, caught, and brewed food and drink head to Denali Brewing Co. on Main Street. I doubled down by ordering the Smoked Sockeye Salmon Spread followed by a teriyaki salmon entrée. Not only was the fresh-caught salmon cooked to perfection but D.B.C. is the only company in Alaska that makes their own beer, spirits and mead!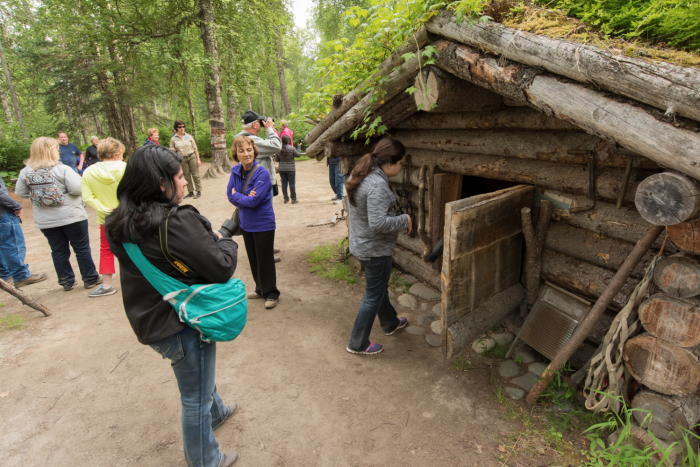 Photo Credit: Tom Bol/Mat-Su CVB
Before heading to Glacier two, take in a fish-eye view of Alaska with a Mahay's Jet Boat Adventure. Board the 52-passenger "Talkeetna Queen" where for the next couple of hours your naturalist will educate you re: Alaskan wilderness, pointing out the flora and fauna: beavers, bald eagles and perhaps a bear if you're lucky. We landed for a short walk to see a Dena'ina Indian Encampment, the earliest native settlers in the area, as well as an authentic trapper's cabin.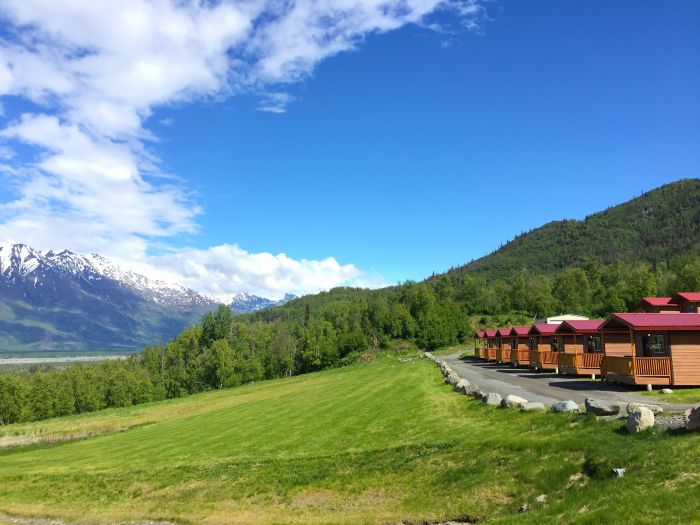 Photo Credit: Janice Nieder
On to the remote Knik River Lodge, where I loved my immaculate, adorably cozy, knotty pine, mountainside cabin complete with fluffy duvets, free Wi-Fi, gas fireplace, refrigerator, microwave, and flat-screen TVs with DVD player and, thankfully, a Keurig coffee maker with all the fixin's.
I ran down the path to the helipad for my highly anticipated helicopter flight and landing on Knik Glacier, which is located on the northern edge of Alaska's Chugach Mountains and certainly lives up to its moniker: " the sunny glacier." Helicoptering quickly became my favorite mode of transportation since it's supremely smooth and the large windows (even some on the floor) offered incredible up-close views of ice towers, whipped-cream bergs and sparkling glacial rivers and lakes. We were the only ones on the glacier for a 30-minute walk around God's backyard, which really added to the specialness.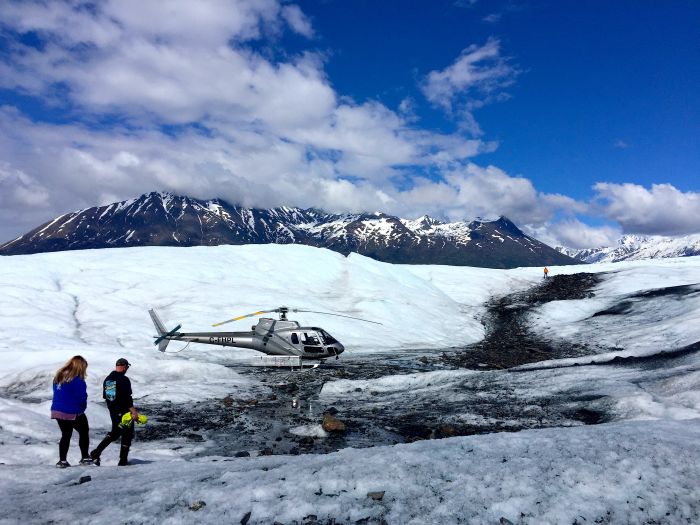 Photo Credit: Janice Nieder
Since the lodge is in the middle of nowhere, you'll be dining at their Raven's Perch restaurant which turned out to be absolutely scrumptious with a superb wine list, which figures once I found out the owners were European. Entrées ran the gamut from Alaska classics like grilled fresh salmon and pan seared rock fish, to more creative dishes such as Espresso Braised Short Ribs or Chicken Pastilla. The next morning I wanted to take an invigorating morning hike so stopped in at the front desk for directions. Instead of reminding me to bring sunscreen, the helpful woman at the front desk asked if I was carrying any bear spray? Uh, no…actually we don't have much use for it on the streets of San Francisco. She handed me a can, explaining how to use it and warning me it was ONLY to be used in dire emergency. Otherwise, if I see a bear, I should start singing at the top of my lungs and casually (ha) walk away.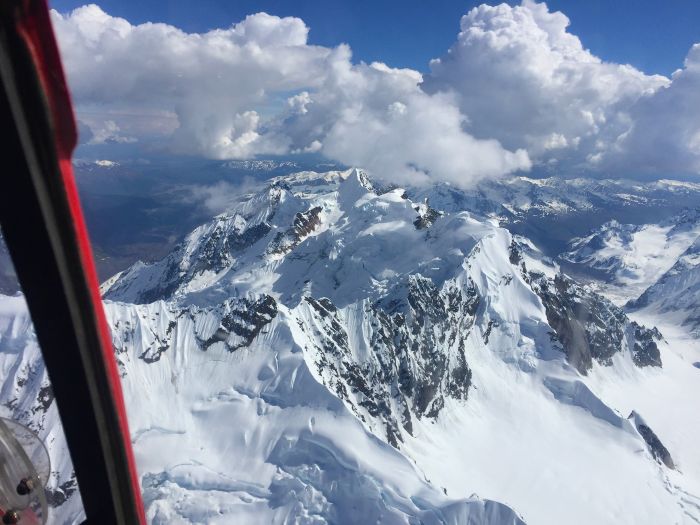 Photo Credit: Janice Nieder
"Sing a song?" I repeated incredulously.
"Yes," she replied matter of factly, "I prefer something by Carol King."
Although I adored being in the land of the midnight sun when the longest summer days get 21 hours of sun, I'm sorely tempted to brave the winter cold for a return trip to Knik for their Alaska Dogsled Tour & Glamping Adventure while experiencing their famed aurora views.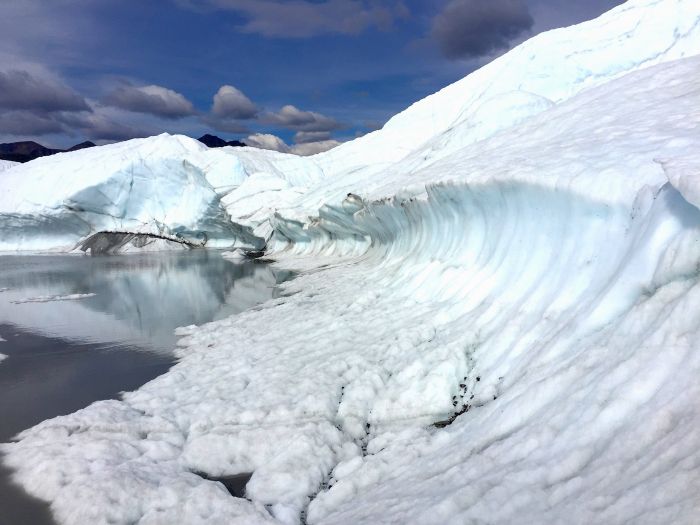 Photo Credit: Janice Nieder
I really bonded with my last glacier, Matanuska. This bad boy is the largest glacier accessible by car in the United States. Although it was amazing to fly over, around, and through the glacial mountains, nothing beats the thrill of getting up close and personal, which is exactly what occurred during our three-hour, MICA Ice Fall Trek. Open since 1999, MICA, which has a superb reputation for safety and fun, offers ice climbing, glacier treks and extreme zip-lining. After getting us outfitted with boots, crampons and safety helmets (they are very serious about making sure we return in one piece) our sweetly supportive guide, Peter, led out trusty group of three out to a cliff overlooking Matanuska, where he showed us how much the glacier has retreated over the last 50 years.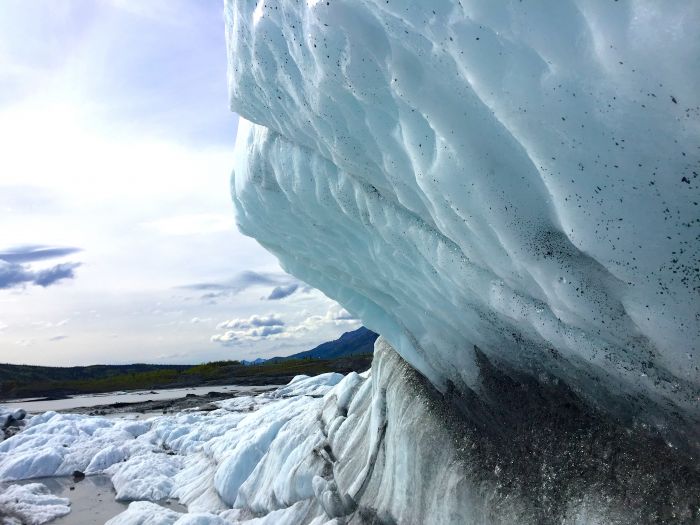 Photo Credit: Janice Nieder
Once we hit the ice, Peter patiently taught us some important ice-stepping moves. We soon mastered the uphill duck-walk but found the John Wayne cowboy downhill ambling to be a bit of a challenge. Once we got the thumbs-up, we delightedly spent the next few hours crunching around the deep blue melt pools, cracks, and crevasses, checking out a surreal ice cave, filling our water bottles with pure glacial water and stopping at Peter's favorite photo spots. He shared many fascinating glacier facts. I never knew that the study of glaciers is prettily called glaciology. We stopped by a pristine river where the stillness was broken only by the most serene babbling brook noises that try as they might Hammacher Schlemmer's sleep sound machines just can't seem to duplicate.
Photo Credit: Sheep Mountain Lodge
Pleasantly tired, and starving, I was thrilled that our accommodations were only a few minutes away at the Sheep Mountain Lodge, which Peter told us had the best food in the valley! After a hearty home-cooked, so-typically Alaskan dinner of reindeer nachos, seafood chowder, fresh-caught salmon, humongous sourdough rolls, and home-grown strawberry-rhubarb pie (fresh from their organic garden) I was one happy little camper. Before I could decide if I wanted to plop on my porch and take in my last midnight sun view or soak in the oversized hot tub, Marc, the adorable owner of this family-run lodge, came to my table and said, with typical Alaskan hospitality, "I overheard you saying that you hadn't seen any animals during your visit and we can't have that. Would you like me to take you flightseeing around the mountains for some wildlife viewing?"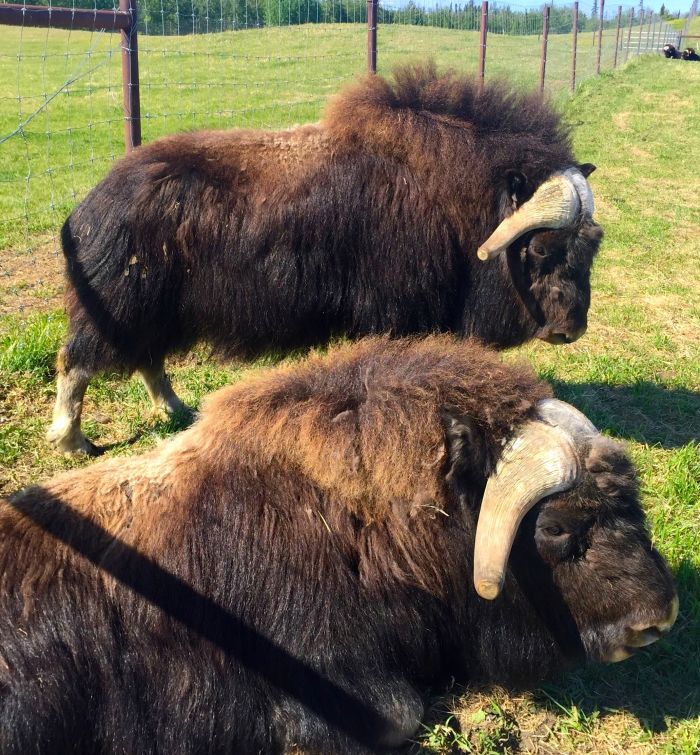 Photo Credit: Janice Nieder
Hell yes I would, and after an amazing hour spent in the coolest lil' two-seater plane (flying low over some of the most remote wilderness imaginable) I can happily report that I have now seen Alaskan moose, black bear and a huge band of Dall sheep nimbly scampering along the looming cliffs.
Before heading to the airport, for one final unforgettable experience, stop in for a tour of the Musk Ox Farm. About the only things older than Alaska's glaciers are their musk ox, which you can visit at the non-profit, Musk Ox Farm.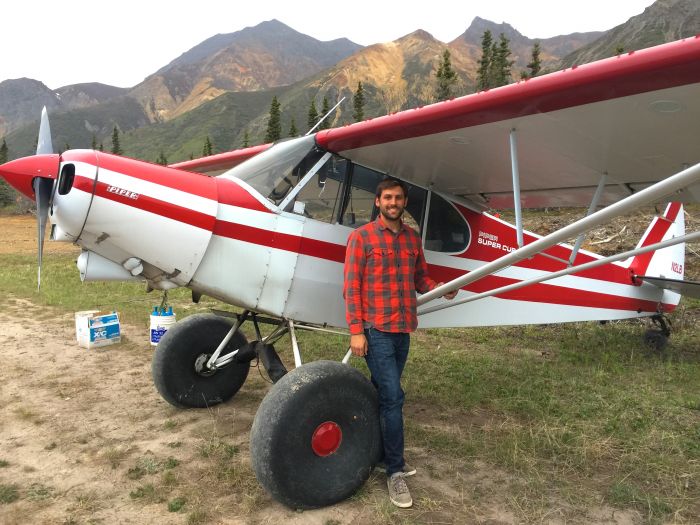 Photo Credit: Janice Nieder
Dani, our informative naturalist explained that musk ox once hung out with saber-tooth tigers and woolly mammoths back in the Ice Age. The reason they survived was that they were masters at conserving energy. They seem very content to just lie on the ground, look around, get up to eat some grass (they rarely bother to drink water-too much trouble?) and then plop back down. As if to prove her wrong all of a sudden one younger musk ox, literally jumped up and started twirling around.
"Oh that's Sage," Dani informed us ruefully. 'She's a total ditz and loves chasing butterflies."
For tons of helpful tips, including itinerary, lodging and activity suggestions, check out the Mat-Su CVB.