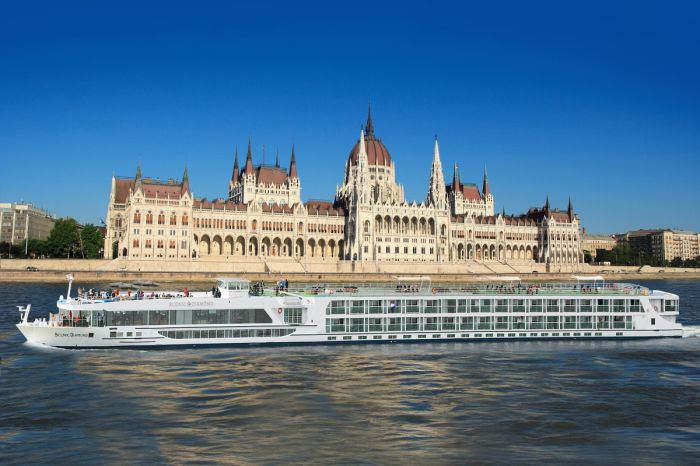 Photo Credit: The Scenic Diamond
Scenic has recently redesigned of two of its river cruise vessels, the Scenic Diamond and The Scenic Sapphire, to include numerous improvements. These cruise vessels, called Scenic Space Ships, have reduced the number of accommodations to 78 cabins and 155 guests, all the while keeping the same crew count for even greater personal service. Also, the vessels now have Culinaire: a private cooking emporium offering tailored cooking classes.
But arguably, one of the most unique and wellness-based improvements is this: Scenic is now the first and only river cruise line to offer a therapeutic Salt Lounge.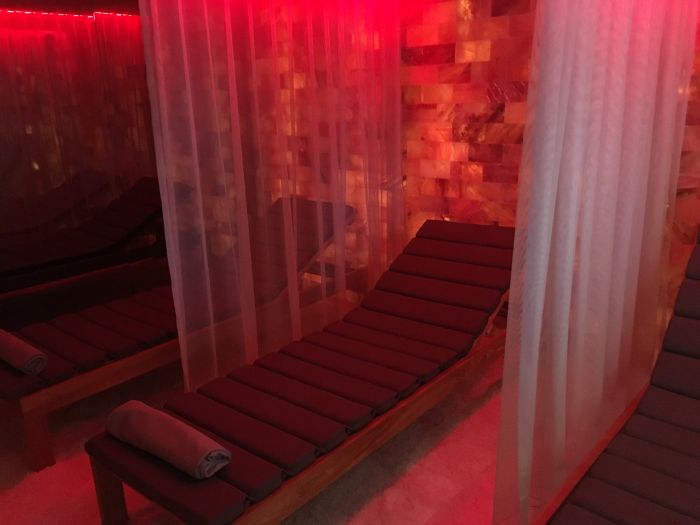 Photo Credit: Lauren Frye
This three-station Salt Lounge offers guests a non-invasive way to feel energized and healthier while relaxing on board. The humidity and temperature-controlled room is handcrafted from salt bricks and creates a micro-climate similar to a natural salt mine.
Its inclined lounging chairs are separated by light curtains for privacy, and low-level lighting and calming music promotes the natural, healing effects of the salt. Guests on board the two ships are free to use the rooms as they wish, spending up to a recommended 45 minutes in the peaceful environment. The negatively-charged salt ions bear a very high kinetic energy and offer the same refreshing feeling that one might find when relaxing on a beach, breathing in the salt air. The ions also increase the efficacy of healing, improve respiration and skin conditions as well as boost the immune system. And finishing up with a customized Aroma Oil Massage leaves the guests in a deeply relaxed state.
Salt therapy has existed for centuries; salt's therapeutic properties being first noticed by European monks who found that ailing respiratory patients who spent time in the natural salt caverns improved much more quickly.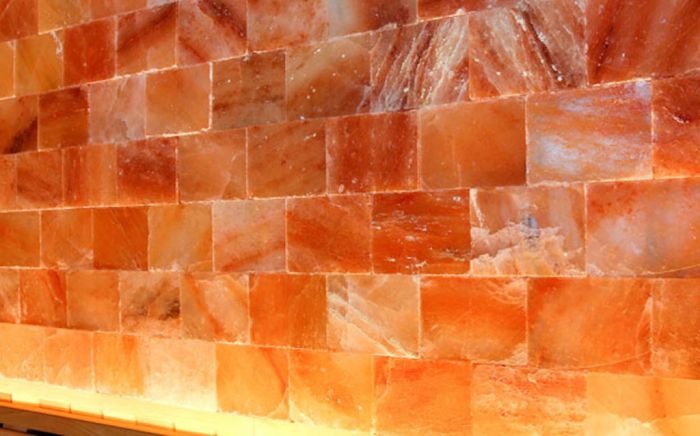 Photo Credit: Scenic USA
This type of therapy therapy benefits adults and children, and even animals, as there are no side effects. Those who visit salt rooms on a regular basis may find relief from a variety of respiratory conditions, especially asthma, allergies, common cold, bronchitis, COPD, and Cystic Fibrosis.
Salt Therapy is also helpful for those who also have particular skin conditions, like eczema, psoriasis, acne, and others who are recovering from cosmetic surgery. However, one does not need to have any conditions like this, since salt therapy is very beneficial for general wellness by removing toxicities and impurities from the respiratory system.
Salt Therapy is also called Halotherapy – in that the word 'halo' means 'salt' in Greek. It is this ancient therapy that is used in a unique new way: on Scenic River cruising, where the mind can be stimulated by new destinations, and the body can be detoxified during the cruise. A win/win for all mind/body connectivities.