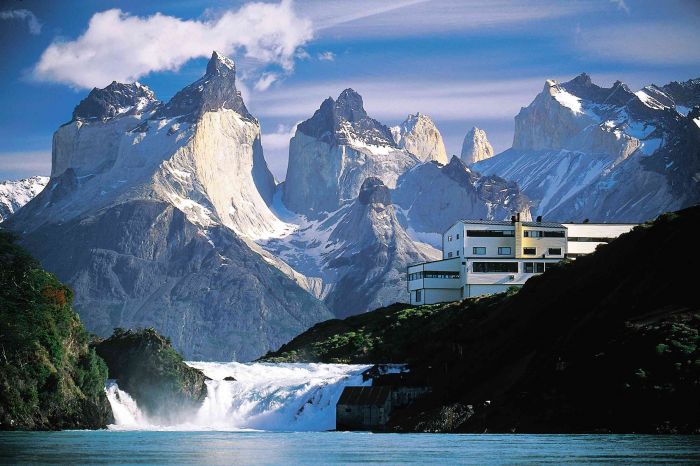 explora hotels
The best places on the planet are often the hardest to get to. This just adds to the allure of the destination, as merely arriving to a place often gives a feeling of accomplishment and delight. One such destination is Torres del Paine National Park, so-called "the most southern tip of the world," set within the blazing blue lakes and snow-dusted mountains of Patagonia. The park was declared a biosphere reserve by UNESCO in 1978 and has been a hiker's dream since. Twenty-five years later, it was also the dream of Pedro Ibanez Santa Maria to build the first explora hotel property there. I had just stayed at explora's stunning Peru property, located in golden haze of the Sacred Valley, and I didn't hesitate to say "yes" to venturing further down South America to make it to explora Patagonia.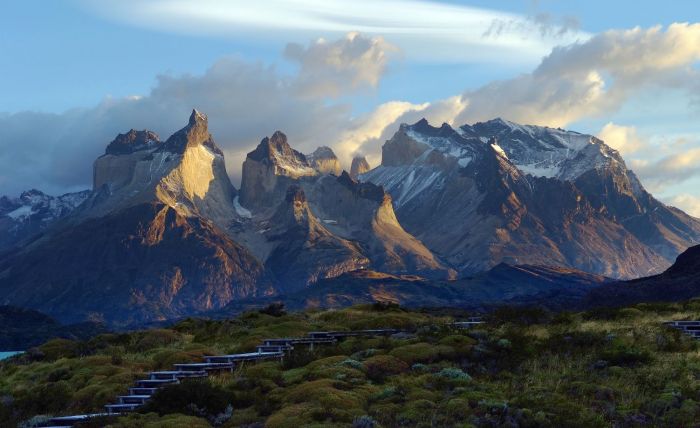 After a four hour drive from Punta Arenas, our van pulled to a stop at the elegant two-story explora Patagonia. Even inside the van, I knew there was a view about to stupend my senses. I noted from Google Maps that we were exactly located in the middle of Torres del Paine, at the foot of Lake Pehoe where the jagged 9,000 foot Paine Massif mountains would soar in the backdrop. And they did. The postcard panoramic view seen from nearly every window in explora Patagonia is utterly arresting. The view is so incredible that guests tend to gaze at it for hours on end, snapping photos at every hour of the day. The decor of the property, like all exploras, is elegantly minimalistic so as not to compete with the richness nature provides. Most of the 49 rooms of the property offer guests this same view, and it is wonderful to wake up to it in the comfort of explora's sublimely comfortable beds.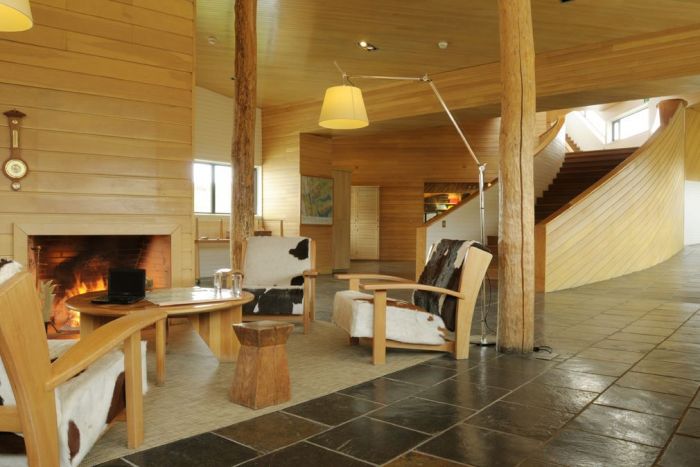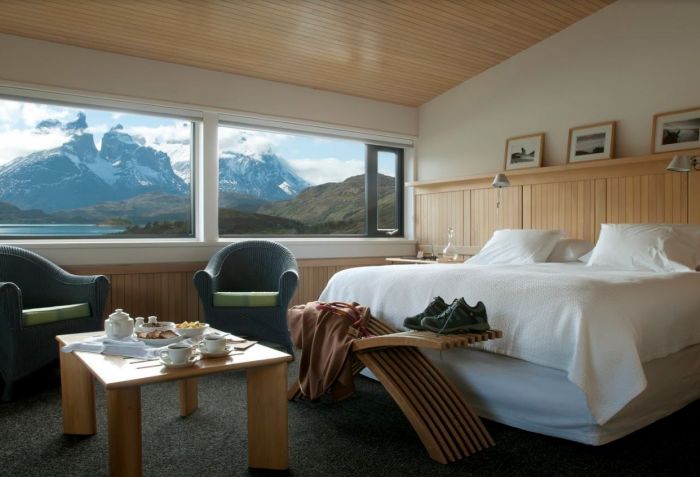 There's one thing I've noticed in the hundreds of resorts I've visited across the world. Behind every truly unbelievable resort, such as The Ranch at Rock Creek, Aman resorts, or Nihi Sumba, is a visionary who has the immense wealth and deep conviction to make a harsh, unreachable location, luxurious and accessible. These same visionaries also have a vigilant dedication to preserve the natural surroundings their properties share with Mother Nature. Pedro Ibanez Santa Maria, one of South America's prominent businessmen and philanthropist, is just this kind of visionary and his promise of luxury and honor of nature is consistent at each of explora's four properties and particularly at the first one, explora Patagonia.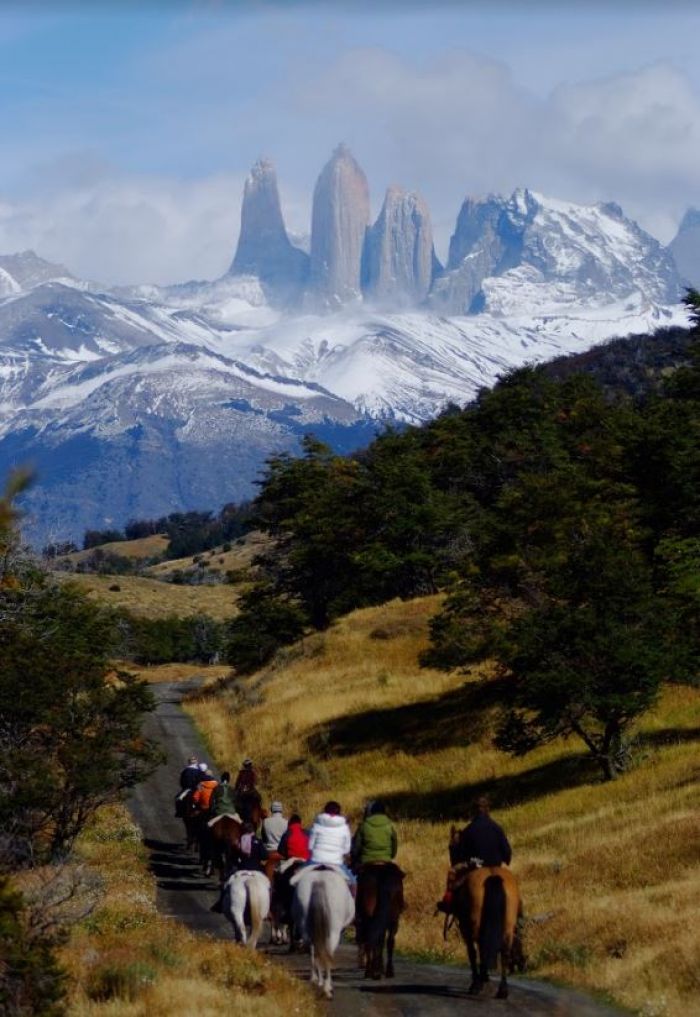 I couldn't have sustained my pace of daily adventures without the comfort of "coming home" to explora. Every evening, guests are treated to canapés in front of the sunset views of the mountains before hearty three-course dinners. I would put my feet up at the fireplace and sip hot chocolate as the fire popped and sizzled. Before retreating to my room after dinner, I would stroll the short path to the property's spa and plop into one of the four open-air jacuzzis with endless views of the stars. One guest said to me, "Isn't this heaven?" and I replied, "Yes, and literally! What a place."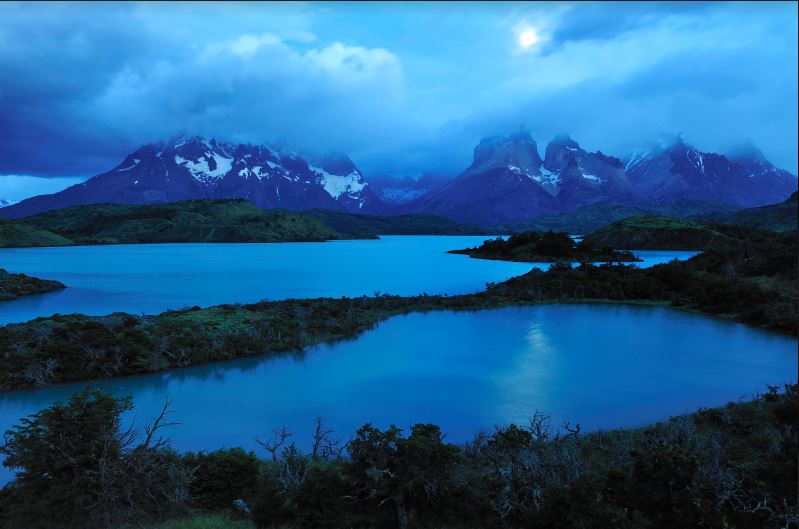 As the name conveys, explora is dedicated to bringing exploration to its guests. A few dozen hikes, excursions, and horseback riding experiences are offered any given week and included in every accommodation. I've found that explora's guides are the cornerstone of every explora stay. Guides are well trained, gracious, and eager to share their playground with every guest, no matter the fitness level of each guest. Every day, I embarked on aggressive, day-long hikes that offered the most untouched views of the park, from the massive glacier Greg to the twin skyscraper formations of Paine Torres. For the less fitness inclined, many of explora's shorter walks and horseback rides provide a number of stunning vista views and up-close glimpses of llamas, hawks, and pumas.
Though explora's destinations alone are reasons enough to visit, explora is celebrating its 25th anniversary with several generous promotions throughout September 30, 2018. In addition, the hotel group is luring solo travelers with attractive single occupancy rates in many of its properties. Solo travel, particularly among women, is increasingly popular, and explora recognizes that spectacular scenery plus a great spa and cuisine is a winning recipe to rekindle your relationship with yourself. Similar to Aman resorts' "Amanjunkies," travelers who round the world just to visit Aman properties (me included), explora has its own cohort of explora fans. The hotel group offers a "passport" which extends room upgrades and other discounts for travelers that book explora properties consecutively. This passport will soon expand with the opening of explora's next resort in 2020 in Argentina's Los Huemules Natural Reserve. I'm already looking at flights.