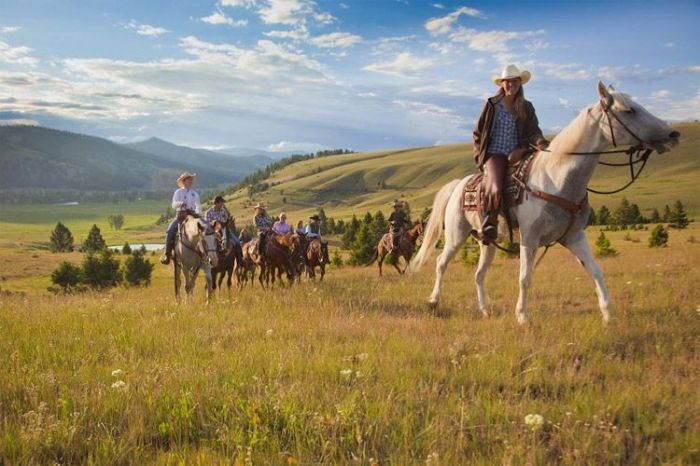 Photo Courtesy of The Ranch at Rock Creek
It's a hard phrase to live up to: "The last best place on Earth." But Montanans feel so adamant about their state's token slogan that it even gained protection from the U.S. Patent Office earlier this year. First coined by Montana author William Kittredge in 1988, the "last best place on Earth" describes more than my favorite state. It's an ideal description for the Ranch at Rock Creek, a spectacular resort and manifestation of a lifelong dream set in the southwest corner of Montana. Here are just a few a reasons to visit this property:
The Detail in the Dream:
According to his family, Jim Manley started talking about owning a ranch at the age of 10. Although one of nine siblings who had never experienced more than a pony ride at the New Jersey state fair, Manley was compelled to find his piece of cowboy contentment. It was a tall order. Manley spent twenty years canvassing the Western region of America and Canada, methodically searching for a property that would meet his requisite list of qualities. There had to be a running river, no poisonous snakes, and a nearby ski resort, to name a few.
Upon visiting the 6,600 acres known as the Ranch at Rock Creek, Manley made an offer immediately. Today, the Ranch at Rock Creek is open to the public and has quickly become, in just over three years, a sold-out destination for families and discerning groups. Staff members are as friendly as tried and true Midwesterners, cuisine is of international caliber, and it's immediately apparent how thought out the entire resort is. All of this and more is testament to Manley's dedicated pursuit of a saddleback Shangri-La.
Each log cabin and canvas tent was meticulously decorated by Jet Zarkadas, principal designer of Los Griegos Studio in Santa Fe. She and Manley spent three years sourcing authentic Montanan décor such as fox furs, cream rawhide shades, leather fringe chairs, and Native American slipper artifacts. Barn awnings were converted to bunk beds in one log home, and 1950s era cowgirl pinups were framed in the Silver Dollar Saloon. This interior design detail is swoon-worthy, and Zarkadas has a keen eye for meshing Old Western ruggedness with luxurious comfort. I liked the additional personal touch of incorporating Manley's wife's own collection of 1800s silver dollars in the entire bar top of the appropriately named Silver Dollar Saloon.
In addition to the impeccable design, Manley didn't cut a cowhide corner with the year-round amenities for guests and staff. The Ranch at Rock Creek is currently the only Relais & Chateaux property in the world with four lanes of bowling, a delight in the evenings for guests of all ages. The 14-foot movie screen, saloon, and karaoke entertainment are also much appreciated. A heated rubber floor gazebo allows ice skaters to clomp right up to the "make your own" hot chocolate bar in a charming gazebo during winters.
A Sno-Cat machine grooms cross-country ski routes or hitches up sleighs when guests request rides through the hillsides. Fly fishing in the Blue-Ribbon Rock Creek (4 miles of the creek are private to the Ranch) or sporting clays at the Ranch's elaborate range can keep the outdoor lover busy for days. In the back of the ranch a fire truck, full service auto body garage, and generators ensure the ranch stays practically self-sufficient.
The Granite Spa:
Among the amenities at the Ranch at Rock Creek is the superb Granite Spa. Staffed by internationally trained therapists, the menu at the Granite Spa would rival one of any large destination spa across the nation (such as Canyon Ranch's or Miraval's). Treatments range from the Fisherman's Facial, ideal for rejuvenating skin after a day in the sun, and Traditional Thai massage. An absolute must for spa lovers is one of the Ayurvedic spa services. Originated in India thousands of years ago, Ayurveda is known as the sister science to yoga.

I sampled the Abhyanga treatment which used brisk body strokes and warm herbal oils, ideal for the cold October day. My adept therapist, Tamara, studied in India for several months, and explained how this treatment detoxifies the lymphatic system and quells the nervous system. I love India, and it was an extra treat for me to hear about Tamara's knowledge of the country's time honored healing practices. Following the Abhyanga treatment, I was treated to another Ayurvedic practice known as Swendana, an herbal steam tent. For a blissful 30 minutes, I rested under my personalized dome of eucalyptus and sage infused steam. The oils used in the previous treatment soaked right into my skin, which was thirsty for comfort against the dry, brisk Montana air.