Thompson Hotel Zihuatanejo
The Riviera Maya might get a lot of the attention in Mexico, but this little town in Ixtapa-Zihuatanejo on the Pacific Coast definitely deserves a lot of attention. A sleepy fishing village until recently, it has developed into the third most visited area in Mexico after Cancún and Puerto Vallarta with the various resorts that have taken this quaint town to the next level.
The name itself has various possible meanings pointing to an interesting history with rich cultural and linguistic diversity. The first possibility places the name in a language called Purépecha with the meaning of "water of the yellow mountain" and the second one comes from Nahuatl and means "place of women" referring to the western paradise of the place of the goddess women. With a rich history and tradition like this and extensive biodiversity, it's no wonder that the bay is well-protected from the open ocean, making it a perfect destination for turtles laying eggs and there are multiple efforts to keep its ecosystem intact.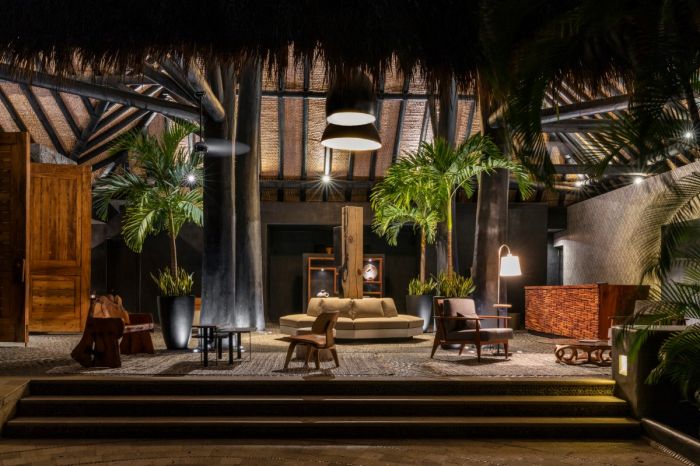 Thompson Hotel Zihuatanejo
About 20 minutes from the Ixtapa-Zihuatanejo International Airport, lies Playa La Ropa, called so after a merchant ship carrying silks and fabrics from India that sunk in the bay during the colonial times causing all the fabrics to be washed out on the beach. It is here, where you will encounter the Thompson Zihuatanejo Hotel, the newest debut from the Thompson Hotels luxury brand. Having just opened after a major renovation, this luxury resort is the only one of its kind as it features direct beachfront access and offers its visitors an ultra-luxurious getaway package, which includes a private jet, spa treatments, and exclusive culinary experiences. A secluded oceanside destination, the Thompson Zihuatanejo is located right in the heart of Playa La Ropa, a place that according to Carlos Carreon has been "a magnet for artists, surfers, makers and early adopters" for decades.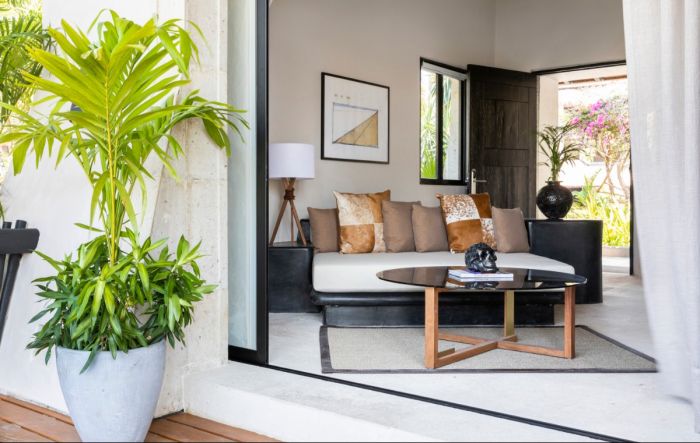 Thompson Hotel Zihuatanejo
The completely redesigned resort features 56 rooms (from deluxe rooms, to suites and penthouse suites with private lounge pools), two adult swimming pools, one family-friendly, cooking classes, yoga classes, an air-conditioned gym, plus an intimate spa that allows for in-room or on the beach massages for the ultimate level of relaxation. 11 of the suites are Swim-Up, each with its own outdoor shower and terrace to cool you down or get rid of the sand before entering the room.
In an effort to preserve the surrounding natural beauty, the Thompson Zihuatanejo Hotel blends the hotel's signature mid-century modern style with traditional Mexican art and architecture. Created by the Thompson Hotels' design team in collaboration with local interior design company Andres Saavedra Design, the hotel's public spaces and guest suites feature furnishings and details crafted by area artisans, including furniture by Casa Studio (a collective of local Zihuatanejo artists), native stone finishes, Mexican mosaic tiling, and brightly colored handwoven rugs, which pay homage to the deep-rooted textile traditions of Zihuatanejo.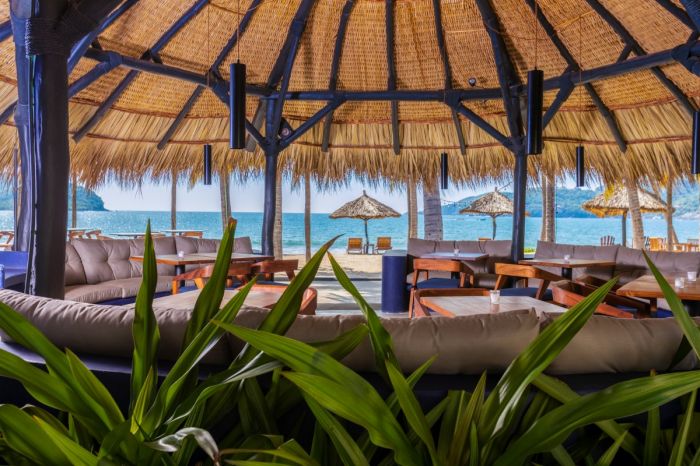 Thompson Hotel Zihuatanejo
The two restaurants on site offer distinct experience, that allows visitors to enjoy the local cuisine both in a relaxed and upscale environment. CENIZA, which happens to be the Spanish word for ash, takes traditional wood-fire cooking to a new level with seasonal ingredients from the hotel's organic garden and fish from the local fishermen.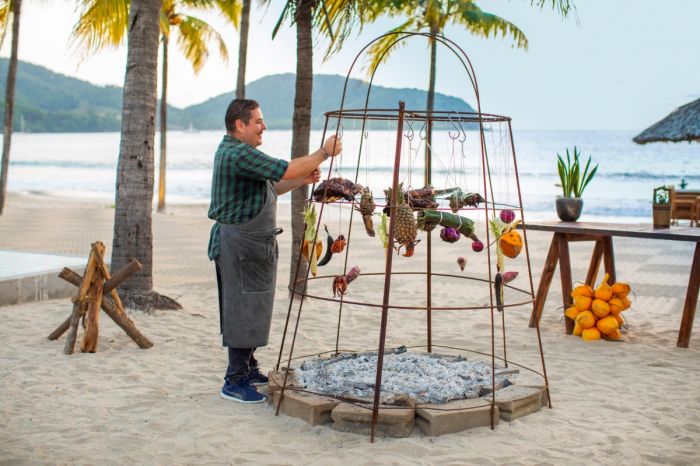 Thompson Hotel Zihuatanejo
The open-air, candle-lit restaurant, led by Chef Miguel Baltazar presents a menu that is crafted every day from a variety of ingredients, all sustainably sourced and prepared in a handmade roasting cage - a metal frame placed over a fire pit intended to caramelize produce and meats and lend a signature fire-roasted flavor. In addition to à la carte options which change based on the seasonal availability, CENIZA also offers a delicious four-course tasting menu with each course inspired by a fire element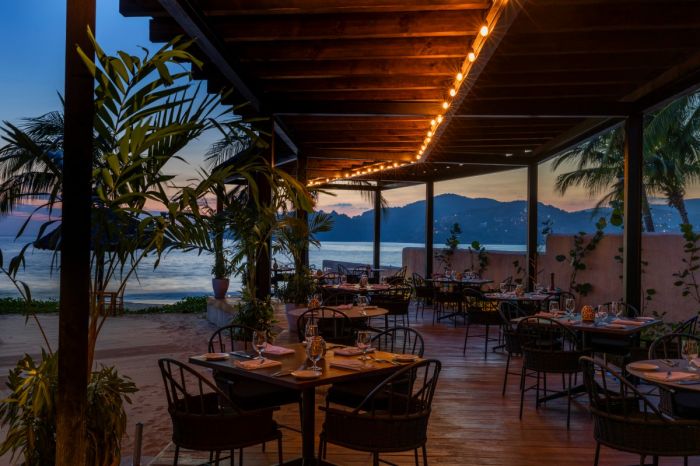 Thompson Hotel Zihuatanejo
The second restaurant HAO, meaning "ocean wave" in the Nahuatl language is a day-to-night restaurant and beach club with impressive views of the ocean and a variety of menu items in a casual beach-side atmosphere. At night, it turns into a lounge area featuring live music from emerging regional artists, DJ sets played to the setting sun and specialty dinners with local chef collaborators.
What makes the Thompson Zihuatanejo Hotel an even more luxurious destination is the fact that the services don't begin when you arrive, but much earlier with the ultra-luxurious getaway package, which includes five nights in the beautifully appointed Swim-Up Suites (featuring their own private pool for the group), private jet charter with onboard or departure cocktail party, luxury ground transportation, spa treatments, a private cooking class and poolside dining experience with Chef Baltazar, artisanal tequila and mezcal tasting, exclusive in-suite brunch, and a host of destination-inspired amenities.
Making sure it caters to an exclusive clientele, the Thompson Zihuatanejo Hotel realized that getting to your destination is just as important as setting your gaze on that amazing destination, which is why this ultra-luxurious charter jet getaway is the perfect option for friends or families who are looking to travel together in style and experience the highest level of luxury, while at the same time staying in touch with the local culture.
For more travel options visit our Best Hotel Pools list.
Luxury Travel by Justluxe