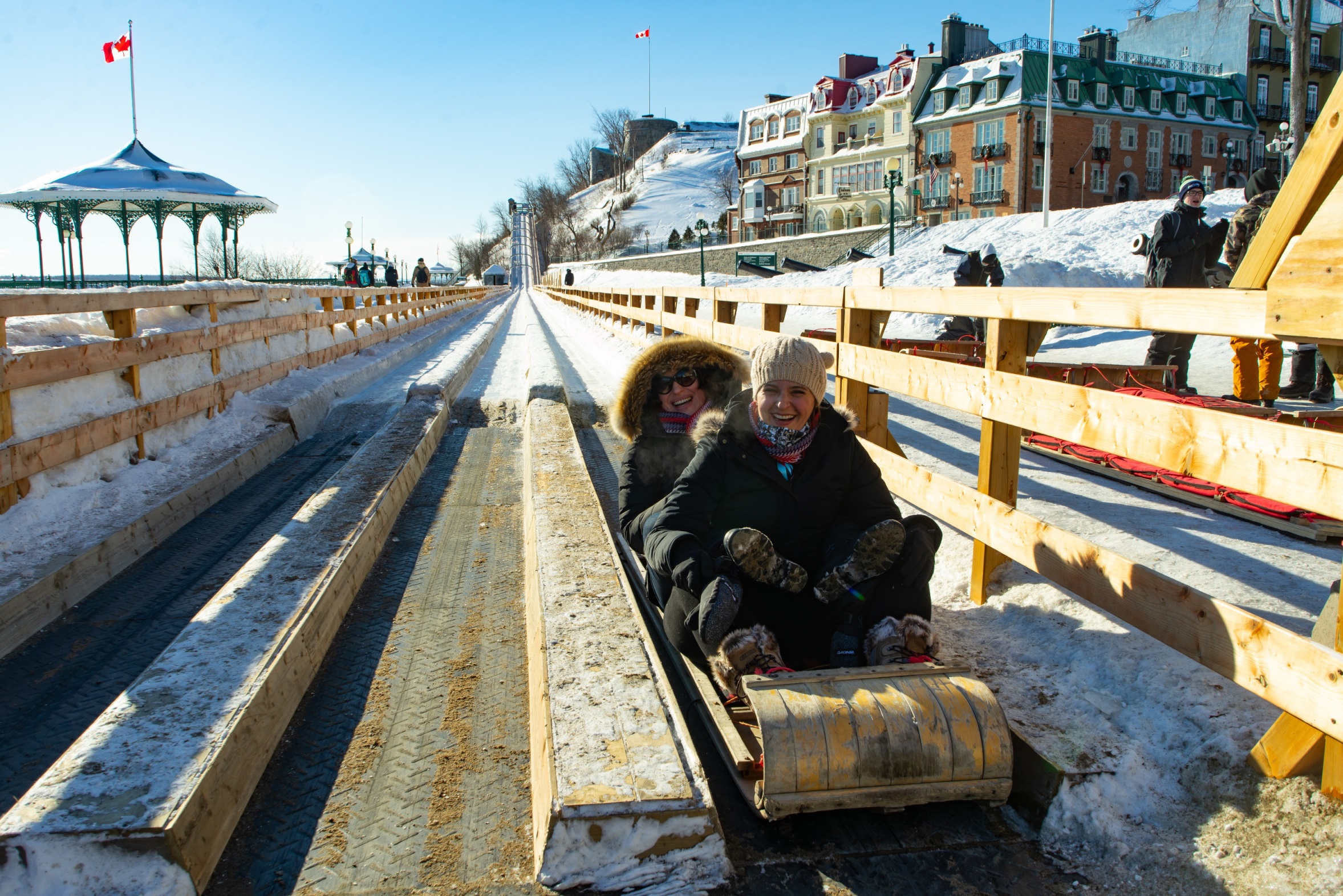 Photo Courtesy of Paul Shio
As a veteran visitor of Canada's Alberta region, I didn't expect Québec to be that much different – aside from it being a predominantly French-speaking province, of course – but I was completely wrong. Winter in Québec City is an experience unlike any other. This romantic city is full of so much history, food and culture that you could spend an entire week here and still not absorb everything, especially if you time your trip perfectly to coincide with Le Carnaval de Québec.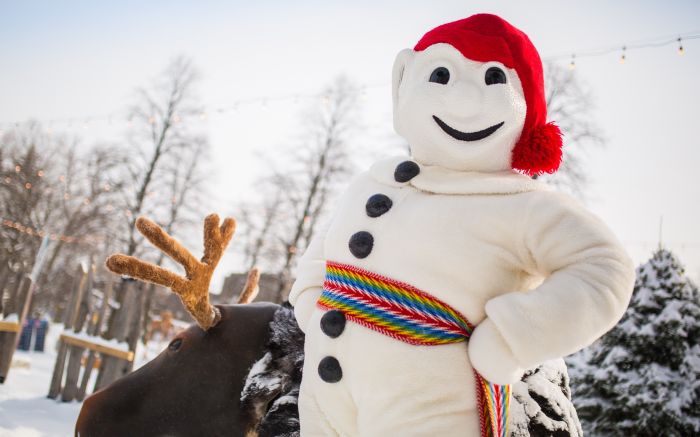 Photo Courtesy of Carnaval de Québec
In celebration of the Québec Winter Carnival (which ran February 8-17, 2019; next year it will run February 7-16, 2019), the entire city was decorated with lights and tributes to the King of the Carnaval himself, Bonhomme. As a Southern Californian, I had no idea who Bonhomme was. But within five minutes, I fell in love with the jovial figure who might actually be more famous than Santa for Canadian children. As the official representative of the carnival, Bonhomme made his public debut in 1955 and every year since, he has kicked off winter tourism by inviting everyone to start celebrating weeks in advance of the carnival. He even tours the world! Fun fact, there is only ever one official Bonhomme, so if he is in New York City to celebrate the christmas tree lighting, he isn't anywhere else. Also, no one knows who is the person behind the plush costume, not even his official bodyguards. Everything is a tight-lipped secret, which adds to the mystique and joy of the season.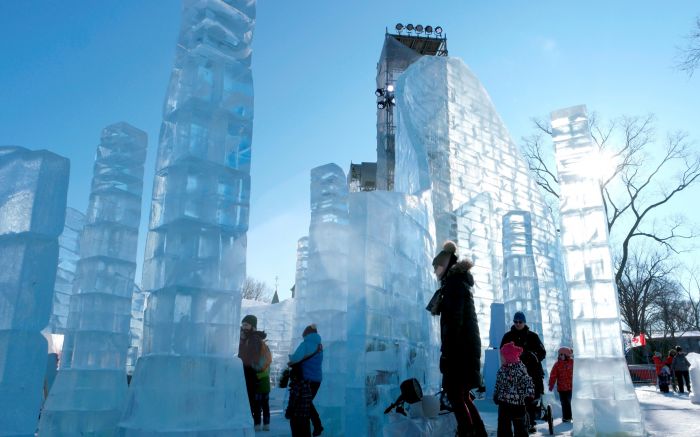 Photo Courtesy of Carnaval de Québec
The centerpiece of the carnival is the Loto-Québec Royal Court, which features an ice fortress, a huge snow sculpture, plenty of games (like ax throwing for the adults and mazes for the kids), an indoor heated bar and tons of treats (like maple syrup popsicles made right on the ice in front of you). To gain access to the Royal Court, you will need to purchase an Effigy for $10 CAD, which is a little keychain picturing Bonhomme that you simply attach to your coat.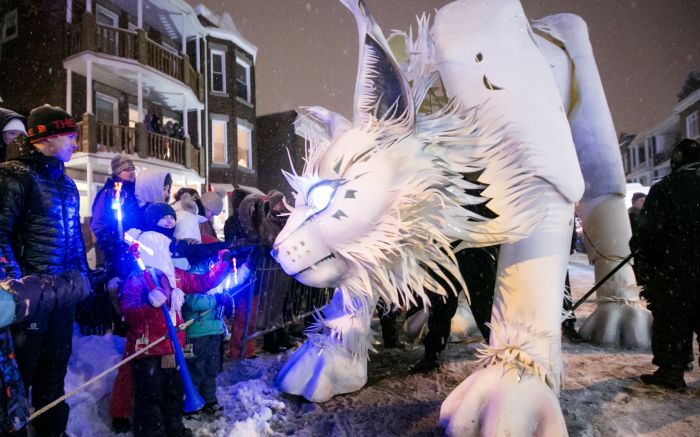 Photo Courtesy of Carnaval de Québec
The carnival is bookended by a massive parade that is full of fire breathers, larger-than-life animal puppets, choreographed dance routines, acrobatics, stilt-walkers and fireworks. Unlike the type of parades that feature a steady stream of acts, this one has more individual performances where the entire parade stops for around 10 minutes at a time. Making sure you are situated right where a performance will end up so you can see it clearly is pretty tricky, so you might have to move around to find a better vantage point. Word of advice, wear lots of layers and come prepared with boot and glove warmers.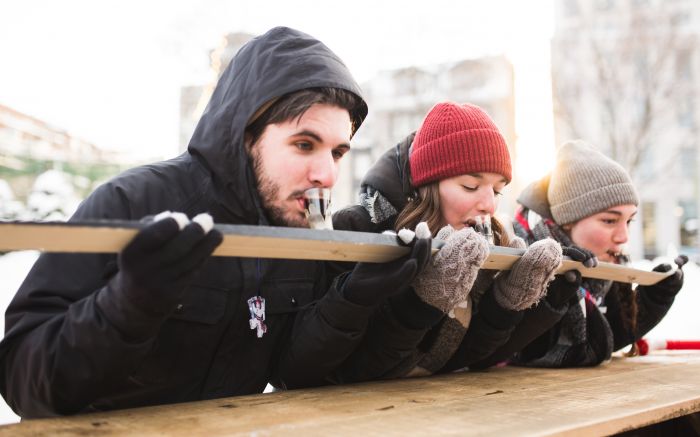 Photo Courtesy of Carnaval de Québec
Better yet, grab some Caribou from one of the many vendors that will be all over the carnival. This traditional drink is a staple of Carnaval de Québec and is one of the main ways people stay warm while enjoying the outdoor activities. Served hot or cold, the drink is made with red wine, hard liquor (oftentimes whisky, brandy or rum) and maple syrup. Though Québec's liquor board sells it by the bottle, many people make their own version and add things like cinnamon, cloves, citrus and nutmeg. Often referred to as liquid sunshine, the story is that Caribou got its name from back when hunters used to apparently drink a mixture of caribou blood and whisky to stay warm while out in the snow. But according to Steeve Gaudreault, a private tour guide who literally knows everything there is to know about Canada, the name just comes from a simple misunderstanding. When the French popped up in Canada, they took their drink of choice with them, which happened to be a form of today's Caribou. When natives saw French trappers drinking it to stay toasty, they mistook the dark red color from the wine for being caribou blood. The name stuck and now it is a cultural staple for the winter.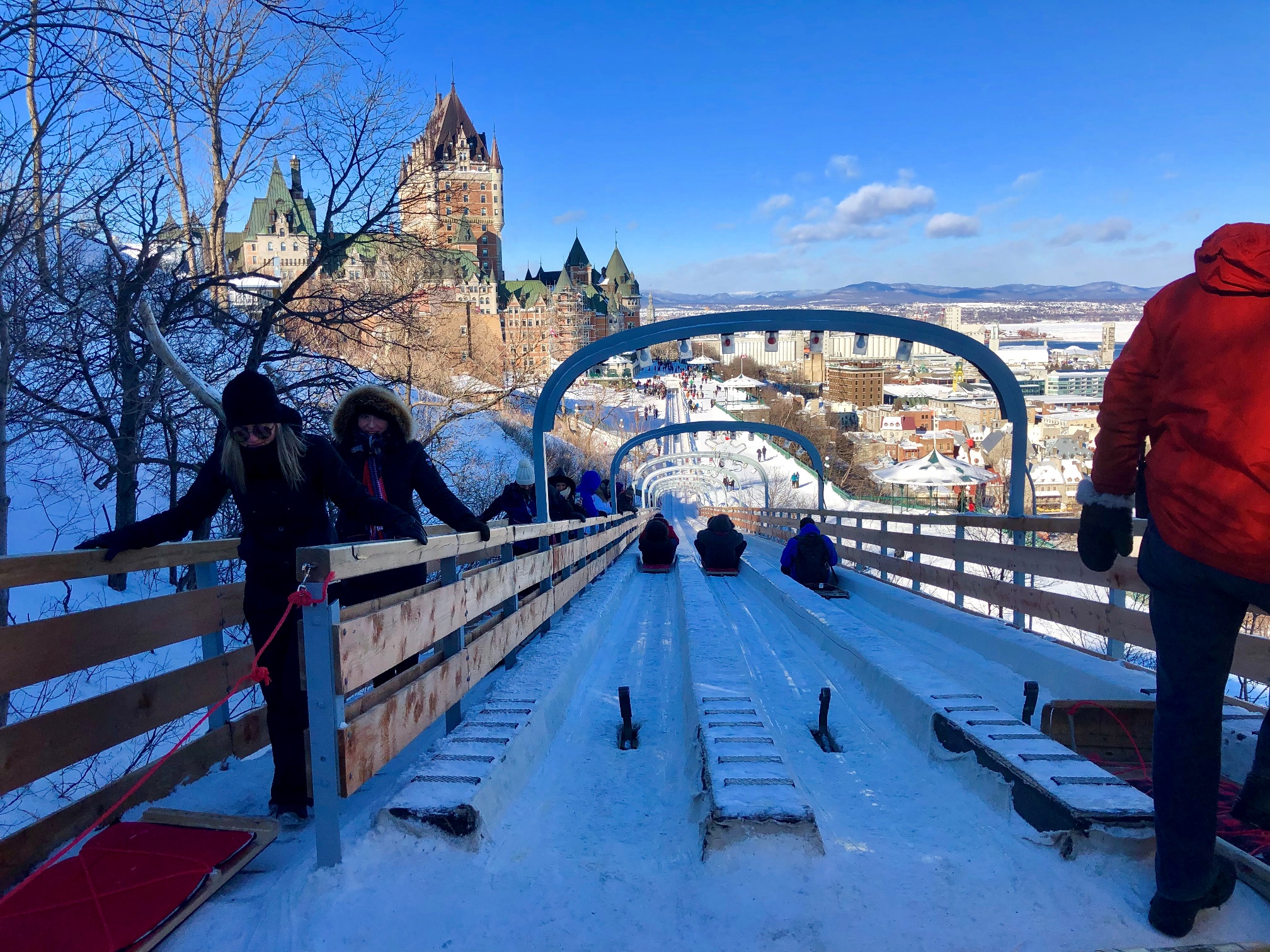 Photo Courtesy of Paul Shio
There is plenty to do in Québec City aside from the carnival. In between taking pictures with the multitude of Bonhomme statues around the city (or with the real deal himself), there are a few restaurants and activities you simply must check out. I recommend hitting up the three-track toboggan run in Old Québec that sits on the St. Lawrence River, right next to the Fairmont Le Château Frontenac. Open from mid-December to mid-March, the run is simple, costs barely anything to enjoy, and so much fun you will want to do it over and over again.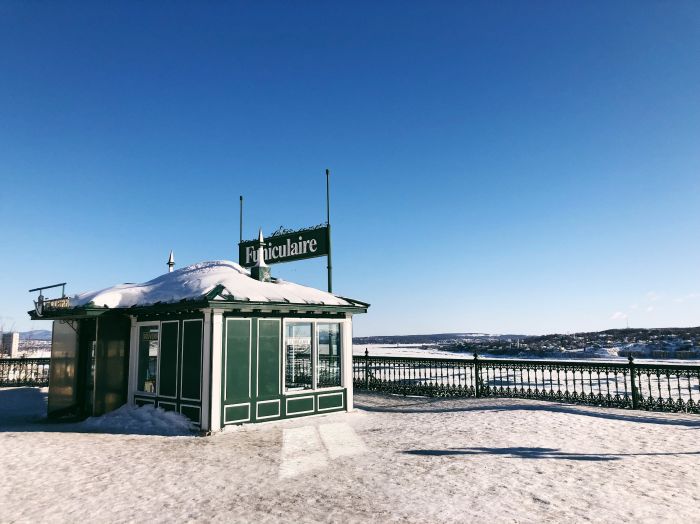 Photo Courtesy of Mila Pantovich
Afterwards, you should definitely head to the Funiculaire du Vieux-Québec, which is right next to the toboggan run. If you are unfamiliar with what a funicular is, it is a railway that uses a cable system to pull a passenger car up and down a steep slope. This one connects the upper and lower areas of Old Québec. At the bottom, you will find a picturesque little district full of unique shops and restaurants.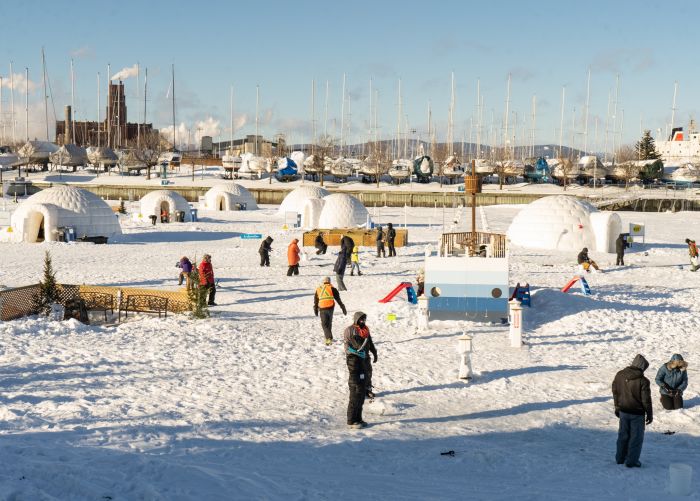 Photo Courtesy of Paul Shio
While you're down there, you should head to the Old Port of Québec City and try your ice fishing skills on the frozen river. There are plenty of people working to help you get started and to drill more holes if need be. If you don't want to freeze while waiting for a fish to take the bait, you should rent one of the inflatable igloos that come equipped with little heaters and bench seats.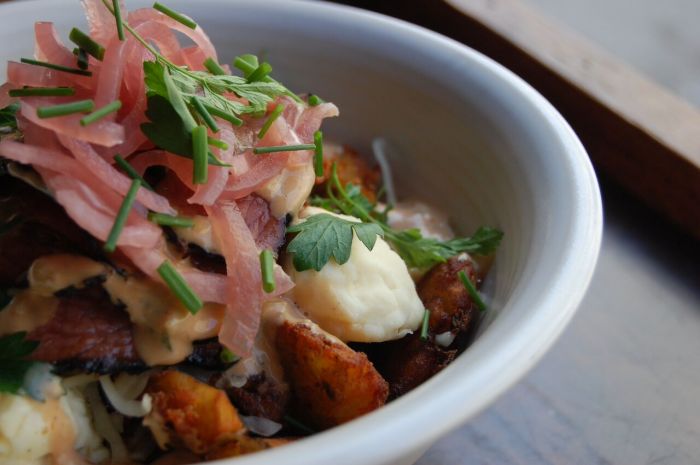 Photo Courtesy of Le Chic Shack
If you get hungry, head back to the funicular (or take the stairs if you're feeling fit) and stop at Le Chic Shack right down the road. Offering burgers, famous Canadian poutine, salads and an array of shakes, this little place is fantastic. As a favorite eatery among the locals, you might have to wait for a little while before being seated. I ordered one of their unique spins on poutine, the La Forestière (wild mushroom with parmesan, cheese curds, shallots and fresh herbs), and weeks later I am still thinking about it.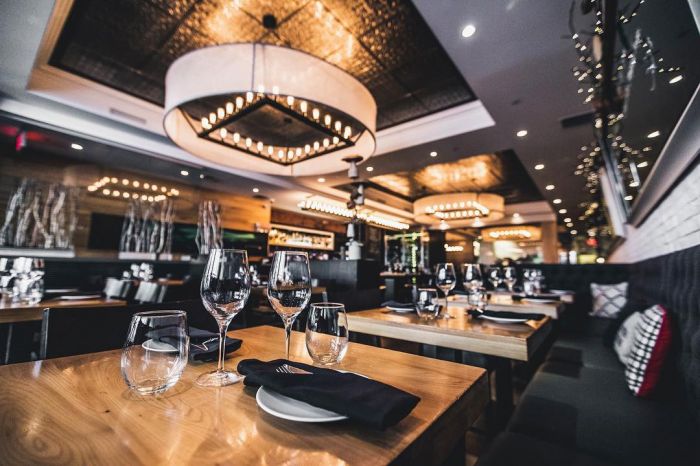 Photo Courtesy of Chez Boulay-Bistro Boreal
For a nice night out, go with the charming Chez Boulay-Bistro Boréal. Opened by chefs Jean Luc Boulay and Arnaud Marchand, the restaurant offers Nordic cuisine, which is based on responsible cultivation, harvesting and consumption. The menu features seasonal items that are unique to the region like elk, trout, elderberry flower and Labrador tea. The chefs also replace common cooking staples like olive oil and citrus, with more unique products like cranberry seed oil, hemp oil and apple cider vinegar. As a vegetarian, I was impressed by the thought and imagination that went into the vegetable-based plates. Though I wasn't new to croquettes, Chez Boulay-Bistro Boréal put an unexpected spin on the dish by preparing the croquettes using mushrooms and Louis d'Or cheese spelt risotto, as well as roasted leeks, confit king oyster mushrooms, smoked hollandaise sauce and mushroom nougatine.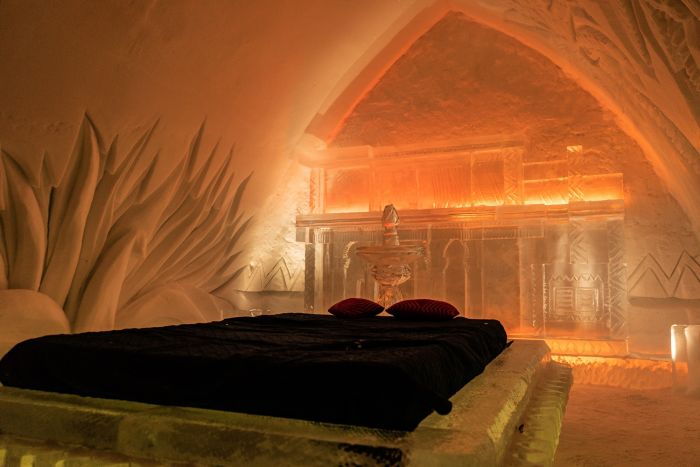 Photo Courtesy of Paul Shio
If you have the time (and the layers!), you simply must drive the half-hour to Hôtel de Glace. An experience like no other, staying the night in an ice hotel might not be for everyone, but we promise it will be a story you can tell over and over again. The only one of its kind in North America, the hotel has a three-month life span each winter, boasts a new theme each year (this year focuses on gardens of various kinds), and offers 42 rooms – 16 of which are stunning ice-sculpted suites that are designed and executed by individual artists (one suite even has a private hot tub and sauna in its "back yard"). If you want to read all about how my stay at the Ice Hotel went, check out my full-length review where I offer some advice on how to survive the night.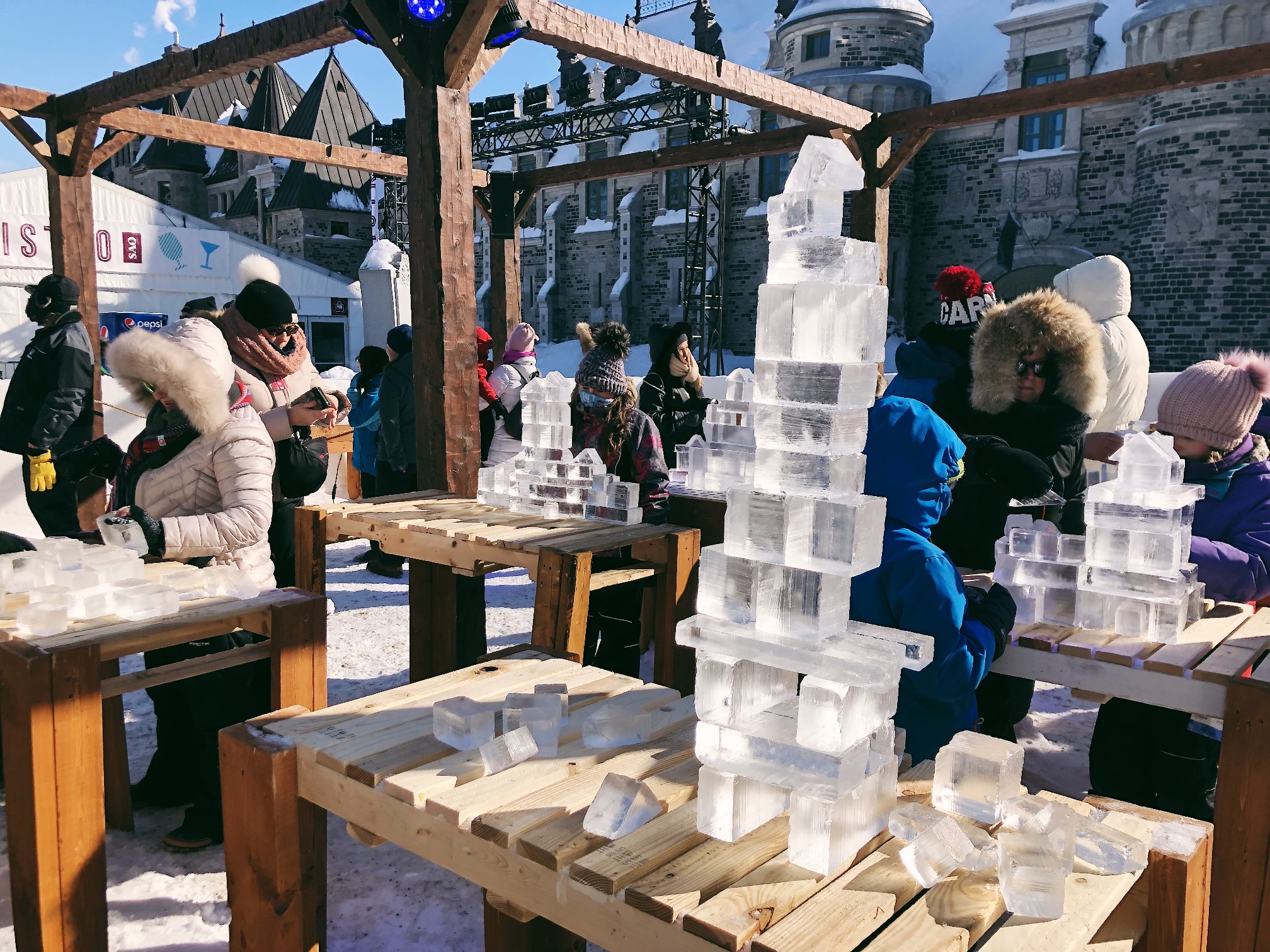 Photo Courtesy of Mila Pantovich
Of course, this is only a sliver of what Québec City has to offer, but like I said at the beginning, you could spend a week here and still only scratch the surface. Unfortunately, I was only here for a few short days before leaving the city and making my way to Charlevoix, which means I will just have to go back!