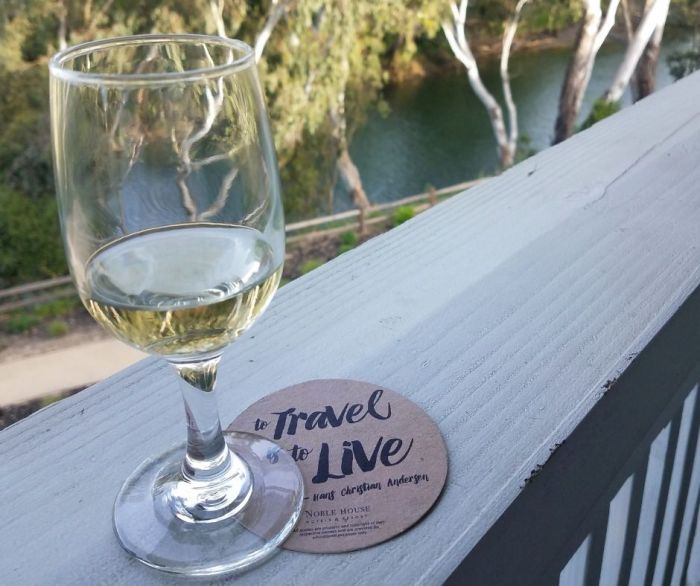 Photo Credit: Djani Schafer
Napa Valley is brimming with things to do (and wine to drink); so much so, it's safe to say you can find new viticultural adventures, regardless of it being your first or fifteenth time visiting the region. Besides its stunning scenery, the area boasts some of the world's most celebrated wine and food.
Napa is both chic and charming. It's a juxtaposition of historical vineyards steeped in tradition and hip new restaurants and tasting rooms challenging each other for the chance to leave behind a legacy. Harvest season in the Fall is the region's busiest time of year, but Napa offers beautiful reasons to visit year-round.
For many travelers, visiting Napa is a bucket list trip. After all, classic films like The Earth Is Mine and The Parent Trap (which, yes, we are taking a firm stance in calling it a classic), highlight some of the area's vineyards, and Netflix's ensemble comedy Wine Country is an ode to the many wine-centric things to do in Napa. Whether it's been crystallized on the big screen or a gem waiting to be uncovered, here are the five things in Napa worth adding to your must-do list.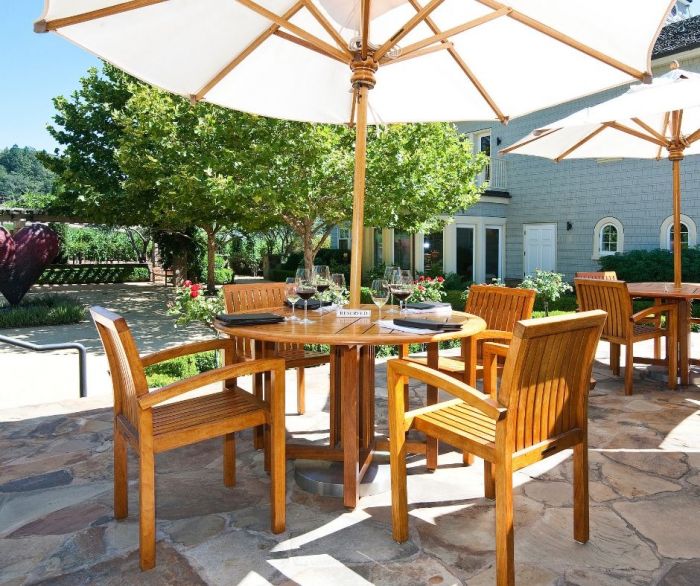 Photo Credit: Robert Vente for Cliff Lede Vinyards
Sample the Region's Best Wines
This might seem like a no-brainer; you'd be remiss to skip out on a day (or two or three) of wine tasting on your trip to Napa. With more than 400 wineries in the county, there's something for every kind of oenophile.
Some of the more famed and popular Napa wineries include Artesa Winery, Castello di Amorosa, Domaine Chandon, Quintessa Winery, Robert Mondavi Winery, and Silverado Vineyards. Don't limit yourself to just the big-names though, family-run wineries are often more approachable, more fairly priced, and more personal. Some of these require an advanced reservation, but you may get lucky strolling into an open tasting room. Cliff Lede Vineyards, for example, invites walk-in wine lovers, and offers the total tasting package—wine, art, and a taste of Napa's natural beauty, all with rock 'n' roll edge that's one of a kind and worth checking out.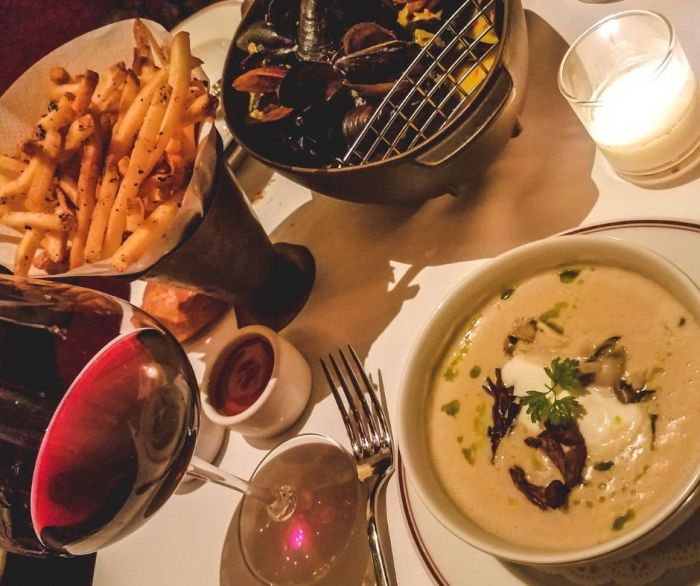 Photo Credit: Djani Schafer
Dine at Michelin-Star Restaurants
Foodies know there's more to Napa than just wine. The city is a dining destination itself, with six Michelin-starred restaurants, as well as a plethora of other award-winning eateries. You could walk the entire city and not touch an awful dish, so take advantage of the abundance of really good food and make sure to book a table. La Toque, The Restaurant at Auberge, Kenzo Napa, and Bouchon Bistro have received one Michelin star (meaning they serve "high-quality cooking worth a stop"). The Restaurant at Meadowood Napa Valley and the legendary French Laundry have each been awarded three Michelin stars—offering "exceptional cuisine worth a special journey."
If you want a more casual, award-winning dining experience (because in Napa, those two are concepts are not independent of each other), we recommend making a reservation at Bouchon Bistro. Thomas Keller's second Napa restaurant serves up a French bistro-inspired menu which includes caviar, fromage du jour, steak frites, escargot, and mussels. Every dish is rich and flavorful, the wine list is impeccable, and the service is outstanding.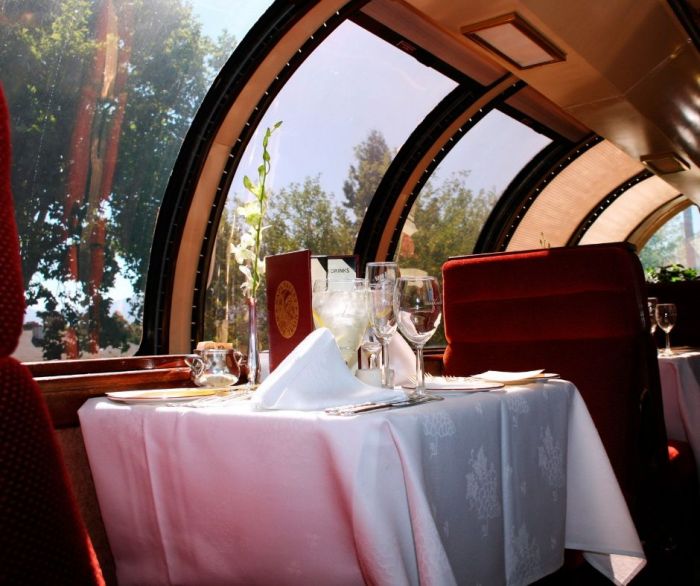 Photo Credit: Napa Valley Wine Train
Hop Aboard the Napa Wine Train
A truly unique way to experience the county is on the Napa Wine Train. The antique train runs from Napa to St. Helena and back, serving a gourmet multi-course meal and taking passengers to famed wineries along the way. The vintage cars have been restored to their early 20th-century charm, treating guests to a delightfully antiquated atmosphere and personal service that brings to mind the opulent rail travel journeys of long ago.
The Wine Train gives passengers a chance to visit local wineries with certain tour options, there's also a "Romance on the Rails" package, and a murder-mystery dinner. For the most lavish experience, opt for dining in the Vista Dome. The two-story dining car offers a first-class experience, which includes panoramic views of the route and lavish interiors.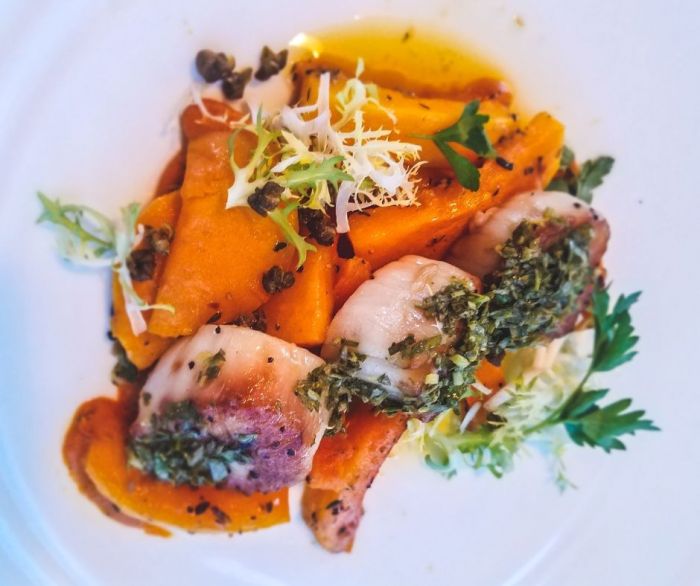 Photo Credit: Djani Schafer
The seasonal, four-course menu is crafted by Executive Chef Donald Young and features fresh, local ingredients. Everything is prepared in the train's four onboard kitchens. Spring's menu was comprised of dishes such as Pacific Salmon Crudo and Grilled Local Duck Sausage for the first course and Pan-Seared Diver Sea Scallops, Ricotta Cheese Gnocchi, and Porcini-Dusted Sliced Tenderloin as entrées. Lunch was capped with the choice of a Strawberry Tart, Chocolate Almond Torte, or Coconut Panna Cotta.
Being a wine train, there's an extensive onboard wine list of more than 40 different varietals that can be paired with every dish option. You can also bring your own bottle aboard with you, but you'll have to pay a corkage fee.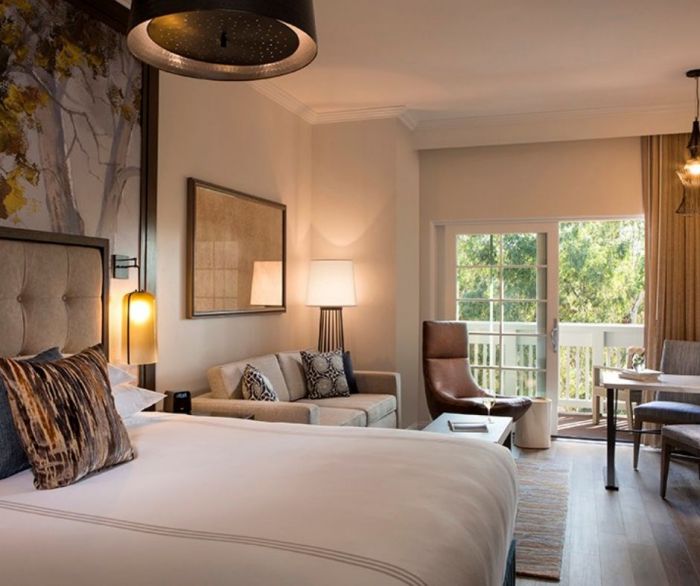 Photo Credit: River Terrace Inn
The Wine Train is an unforgettable way to discover Napa Valley and is definitely worth making a reservation. And, if you're planning your trip around a Wine Train tour (which we highly recommend), the most convenient place to stay is Napa's River Terrace Inn. It's located just steps from the train station and also offers exclusive Wine Train packages.
As a Noble House Hotel, River Terrace Inn brings the warm, inviting elegance the hotel collection is known for to a riverfront setting. The personalized service and genial hospitality begin at check-in, where you'll receive a glass of wine to help you immediately unwind.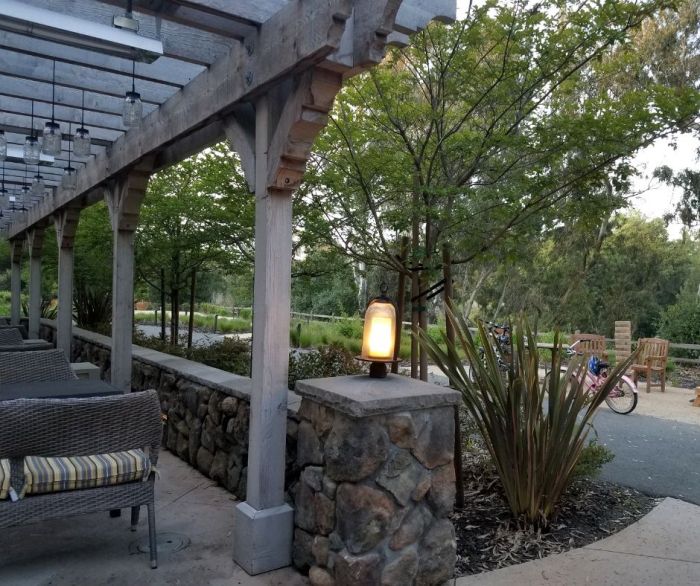 Photo Credit: Djani Schafer
Rooms reflect the relaxed sophistication of Napa Valley. The river-side rooms offer the best views, but no matter where you stay, you'll be treated to luxurious accommodations that include plush bedding, whimsical décor, Juliet balconies, Keurig coffee machines, and high-speed Wi-Fi.
The hotel's restaurant, ALBA, serves a complimentary continental breakfast every morning and hosts happy hours and live music in the evenings. Step outside and enjoy your wine alongside one of the fire pits on the hotel's outdoor terrace, or use the foot paths to embark on a wine-tasting fête in downtown Napa.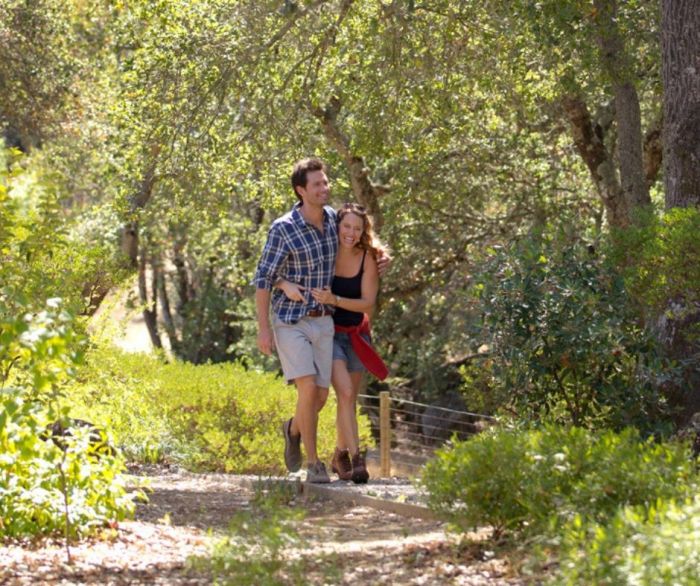 Photo Credit: River Terrace Inn
Relax Amidst Napa's Natural Beauty
One of the best ways to spend the morning in Napa is sipping coffee on the River Terrace Inn balcony, which overlooked the Napa River. It's a peaceful way to wake with the sun and warm up for the day ahead; it's also a quiet reminder of the beauty in and surrounding Napa County.
You can also explore the river by kayak, or rent a bike (River Terrace Inn provides a few to guests, as do many of the neighboring hotels) and traverse the Napa Vine Trail, which connects Napa to Calistoga. And if you're not afraid of heights, there are several hot-air balloon companies that will give you some of the most impressive, sweeping views of the Valley.
Photo Credit: Barbara Bourne
Explore Beyond the Napa Valley
If you're blessed with an extended stay in Napa, use your time to venture outside the county. Sonoma Valley offers an incredible array of varietals that go beyond the Cab and Bordeaux wines that are the epitome of Napa's wine scene. The drive from downtown Napa to downtown Sonoma is under 30 minutes, which gives you plenty of time to explore, wine and dine. Further out, you'll find the cities of Petaluma, Santa Rosa, and Healdsburg—each with their own charm, vibe, and reasons to visit.
Napa is indeed multi-faceted; oenophiles, foodies, nature lovers, and even train buffs alike will find joy in the vineyards. Try something new on your next visit and find out what Wine Country really has to offer.