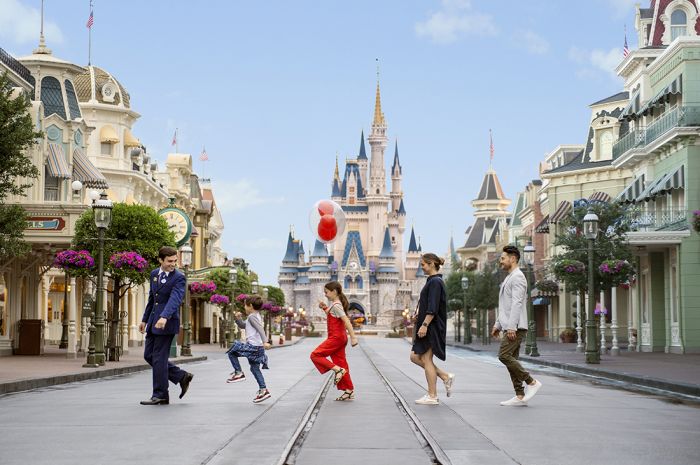 Courtesy of Walt Disney World
As a luxury writer, when I get asked by friends and family where my next assignment is taking me, they often chide me for such a "rough gig." When I got asked before this assignment and I responded to Walt Disney World, I got a lot of quizzical looks. "The theme park?" Yes, the magical world of Disney does indeed afford a plethora of luxury experiences; dining, accommodations, personalized tours, even high-end artwork, fragrances, and jewelry to be purchased for collections. The luxury side of Disney is often overlooked with many assuming the family-friendly destination is geared exclusively to masses of children. Not so, and I'm excited to unveil it to you.
The Crown Collection
A new concept for Disney, the Crown Collection aims to accommodate those seeking a higher-end getaway. Catering to those who enjoy fine dining, exclusive access, and lavish accommodations, this is "next level Disney." With affiliations with brands such as Four Seasons, dining opportunities at 5-diamond restaurants like Victoria & Albert's at Disney's Grand Floridian Resort & Spa, or membership into exclusive clubs such as Club 33, the Crown Collection is squarely in the wheelhouse of affluent travelers. Care to live nearby? Golden Oak is a tasteful take on Mickey and friends, with large luxury residences minutes from the park and a beautiful community.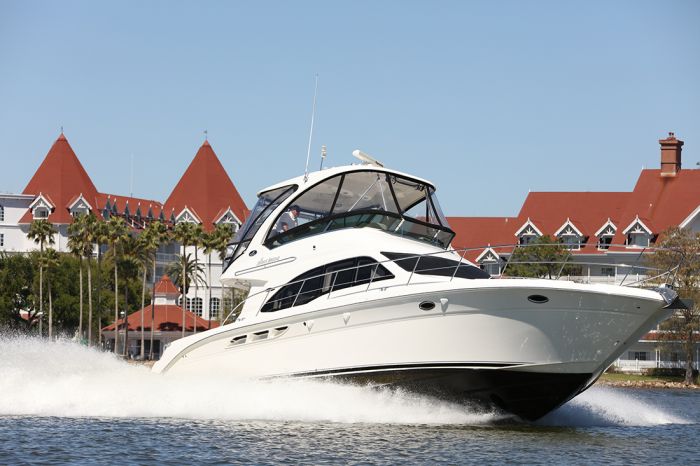 Courtesy of Walt Disney World
The Grand 1 Yacht takes guests on aquatic adventure at Walt Disney World.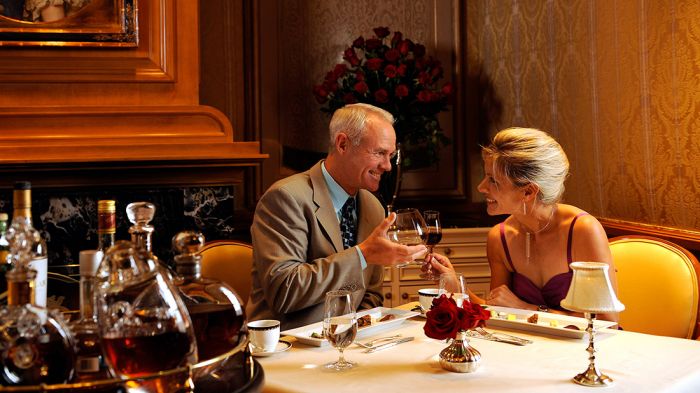 Victoria & Albert's at Disney's Grand Floridian
"We are creating and developing with the guest in mind," explains Paul Oppedisano, Vice President of Premium Services, "The cast here at Walt Disney World are passionate about these guests and we take that into account when curating their enchanting experiences."
Disney Riviera Resort Villas
One of the newest properties at Walt Disney World, Disney's Riviera Resort is a striking stay near Epcot. The new Skyliner actually affords a direct connection to the amusement park via comfortable aerial gondola with views of the surrounding Orlando landscape as you glide through the sky, avoiding traffic and parking altogether. The villas are thoughtfully composed, subtly incorporating hidden Mickeys into wrought iron handrails and woven into lush carpeting. Artwork nods to Disney Classics in elegant oil paintings and instrumental renditions of Disney classic movie music plays through the lobby. Read a full property review here.
Club 33
The invite-only club is a very high-end way to do Disney. With clubhouses in each of the four parks, Club 33 members are afforded ultimate experiences, entrance to the club lounges and sense of community for a love of all things Disney with other members. The most recent clubhouse addition looks like a retreat straight out of the African safari luxury lodges; the cool interior speckled with flawless design and décor, the quartz-topped bar backed with dark woods and rich fabrics with a cocktail menu curated by Flavor Lab, Disney's very own menu and cocktail development division. Annual memberships are available via an invite-only process.
Disney's Grand Floridian Resort & Spa is a nod to Victorian elegance and modern sophistication
Grand 1 Yacht
Care to sail in the inland Orlando? No problem, Disney has found a way to bring a yachting experience to guests. Whether watching fireworks onboard, electing for an on-water dinner, or simply snacking during a cruise around the Seven Seas Lagoon, the Grand 1 Yacht accommodates up to 18 people (17 if you opt for the onboard butler) in its 52-foot hull. Synchronized with the fireworks show, the marine speaker system affords an unparalleled experience.
VIP ToursReally the only way to do Disney, in my opinion, is the VIP Tour experience. Our tour guide, Patrick, not only granted us expedited access so we were able to experience more of the park, but discovered our personal interests and incorporated them into our day, giving us insight to hidden design elements and histories of the park that as a regular guest, you'd never know. The highly-trained VIP Tour Guides whisk guests throughout the parks in black-car service, snacks and beverages offered through backlot entrances, every need catered to throughout the trip. Expedited FastPass access allows for more time on rides and attractions without waiting in themed queues. Insights on everything from hidden Mickey's and favorite lunch spots, to the artwork throughout the park and conceptual design woven into the very fabric of WDW all cheerfully shared via the VIP Tour Guide. With a maximum of ten guests per guide, the guides are not just for families; celebrities, affluent couples, and groups of friends also take advantage of the luxury service.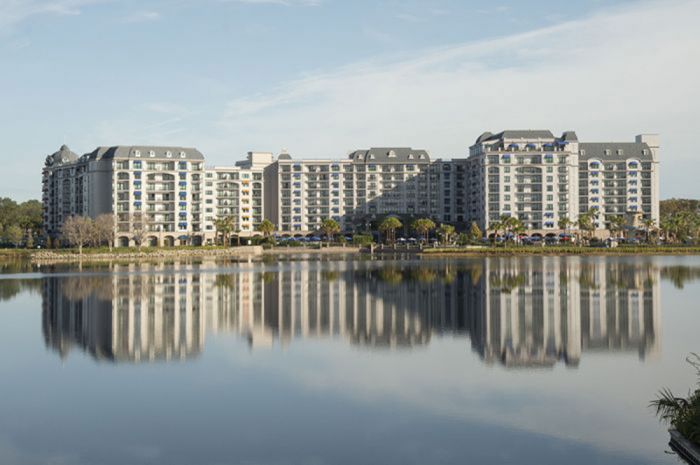 Courtesy of Walt Disney World
Disney's Riviera Resort brings European flair and a skyliner aerial gondola to the resort.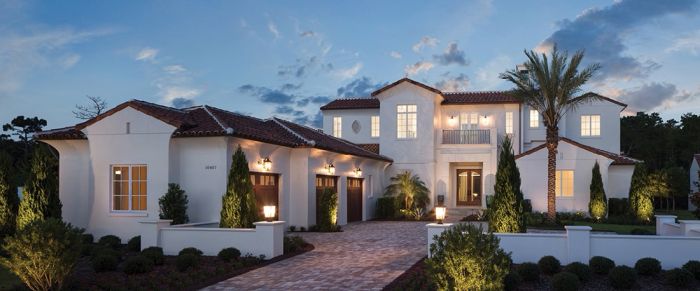 Golden Oak is a luxury home ownership opportunity.
Takumi-Tei
Epcot is known for its round-the-world offerings for guests, especially the culinary outlets that bring the cuisine of the globe right to you. For those who enjoy Japanese fare, Takumi-Tei is a "not-to-miss." Upon entering the restaurant, guests immediately feel the change of pace. Cast members from Japan explain the culture and appoint a thematic room to diners. Wood, paper, water, stone; the importance of paper and history of the material in Japanese culture start the experience allowing for our shoulders to relax, the hustle and bustle of outside to subside. Ikebana floral arrangements and cultural touches throughout the restaurant transport diners to the land of the rising sun.
Whether enjoying an Omakase tasting menu selected by the chef or opting for an a la carte experience, Takumi-Tei is refined and elegant, the bowing wait staff and formal handling of everything from the kimono-folded napkins to beautiful ceramic serving platters are a backdrop to over-the-top food such as an A-5 Wagyu Tenderloin or carefully selected sashimi flown directly from Japan. A traditional Matcha Green Tea ceremony is a spectacular finish to the meal.
Disney does a lot right—from the theme parks to resorts and hotel properties sparking the imagination of children and adults alike, there really is something for everyone at Walt Disney World, even the aficionados. If you think the parks are just for kids or family vacations, think again and consider the luxury side of Disney. For Crown Collection offerings, visit online here.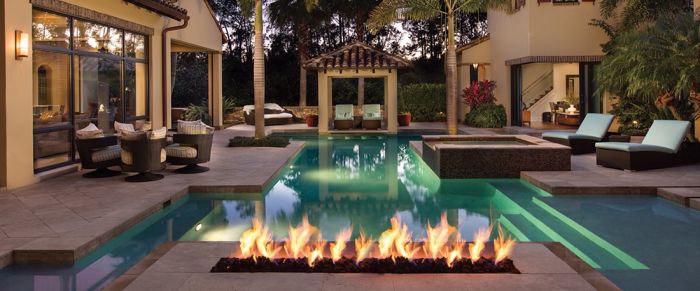 Courtesy of Walt Disney World
After a day at the parks, come hoem to Golden Oak.