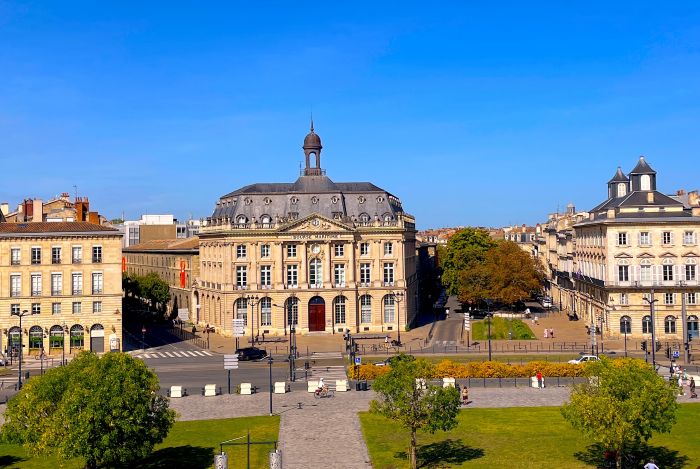 Photo by Michael Reiss
Bordeaux, France gets better every time you visit. With over 350 registered historic monuments, it ranks only behind Paris in its cultural importance. The city has received numerous awards and deservedly so! After being voted "Best European Destination 2015" and then "Number Two" in the New York Times' "Cities to Visit in 2016," Bordeaux was the Lonely Planet guide's top pick for 2017 and the Los Angeles Times ranked Bordeaux first in its 2017 annual list of destinations to visit. And the accolades go on. Bordeaux is but a pleasant, 2-hour trip by the fast TGV Train from Paris. Bordeaux is among the best cities to soak up the French joie de vivre. The city hums with honey hued limestone monuments and churches dating from the 16th century on. Its impressive modern, streamlined tram system makes it easy and pleasurable to move around quickly and conveniently. It's ease of movement, laid back vibe and stimulating dynamic attracts international travelers young and old to visit and return.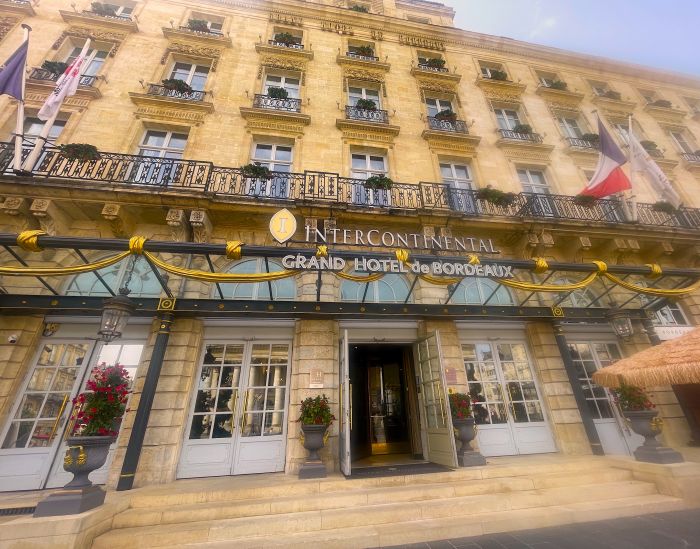 Photo by Michael Reiss
The City Center is legendary with its bustling plaza and the impressive Grand Theater facing The Grand Hotel, an Intercontinental property. In fact, there is no more iconic and more central place to stay. This historic landmark is breathtaking inside and out with architectural details at every turn.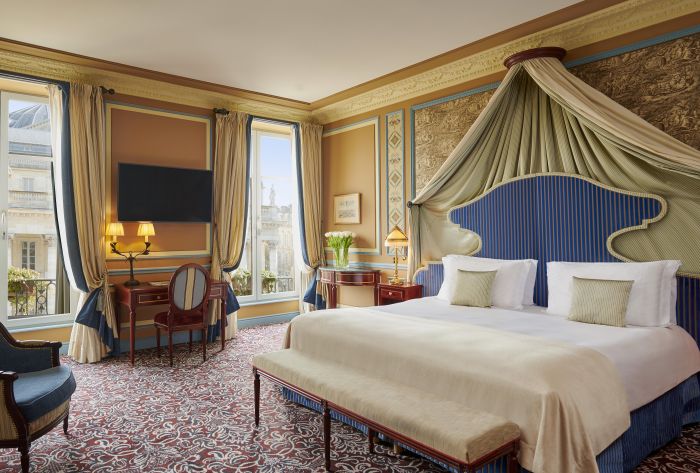 Photo by Le Grand Hotel
Each of the rooms is unique in size and décor all boasting design elements reminiscent of the original 19th century. The staff are top notch and the dining venue overseen by Gordon Ramsay is a Michelin two-star restaurant, Le Pressoir D'Argent.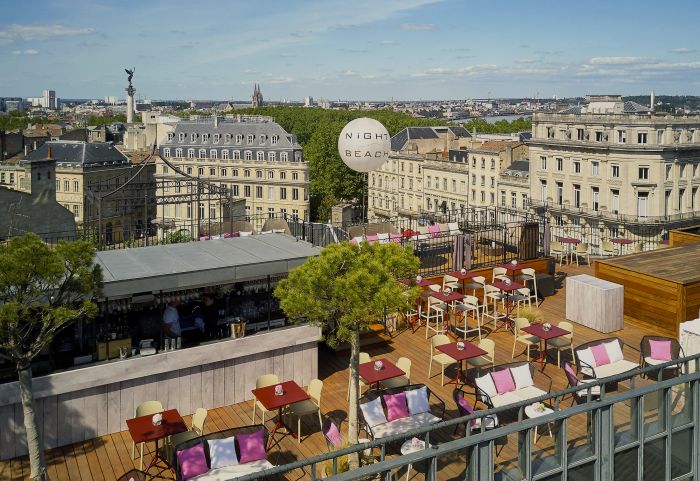 Photo by Le Grand Hotel
The Hotel boasts a popular Night Beach Rooftop Bar with panoramic city views. Besides its superb location and grand mansion ambience, perhaps its most prized feature is its Guerlain Spa, no doubt the finest in the area.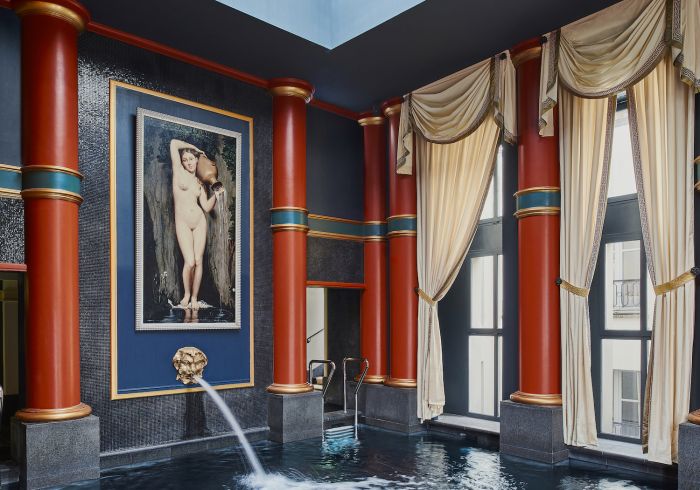 Photo by Le Grand Hotel
The pool and lounging space is surrounded by enormous columns, dreamy, flowing white drapery and 40 ft. high ceilings with a balcony area reserved for those taking treatments. It is exotic and harkens back to living in the grand luxury of Roman times when no expense was spared to take the therapeutic waters. Even non-swimmers will want to dip into the bubbly whirlpools to enjoy this impressive space.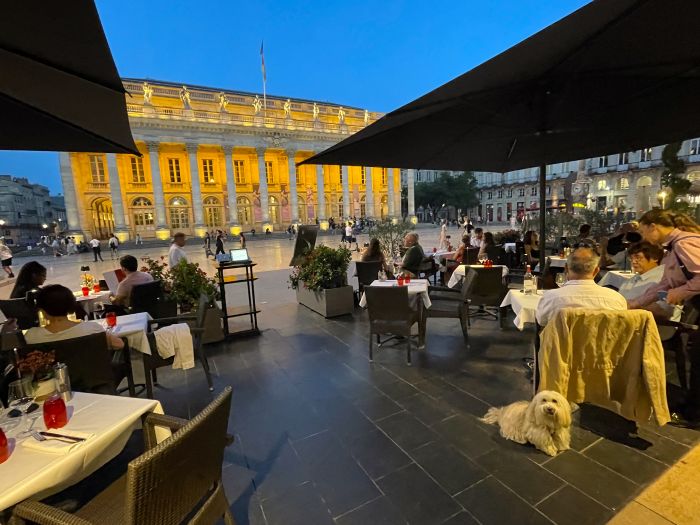 Photo by Michael Reiss
For convenient, contemporary, casual cuisine try Le Bordeaux, located at the Intercontinental Bordeaux – Le Grand Hotel facing the historic Grand Theater with both indoor and outdoor patio dining. This chic brasserie is a popular destination for locals as well as tourists. The variety of items includes seasonal selections using locally sourced products.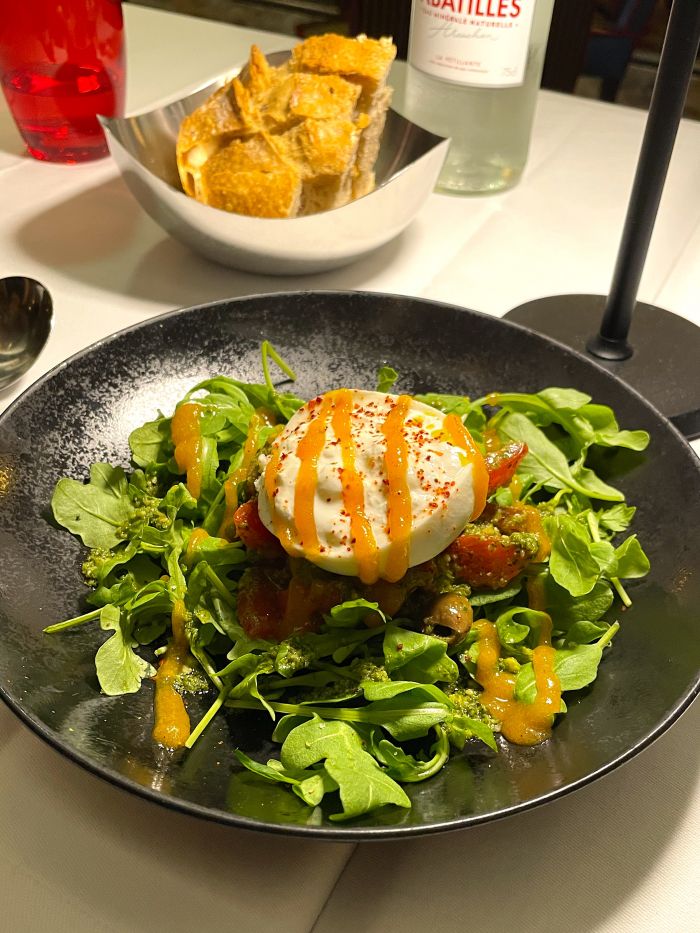 Photo by Michael Reiss
Our tomato burrata starter on a bed of rocket was particularly memorable and the seafood risotto was succulent and redolent with the bounty of the sea. The wine server was accommodating in offering us several tastings of Bordeaux wines to acquaint us with several of the region's finest selections. Regular patrons assured us that no matter what the choices, you will enjoy the experience and lively ambience.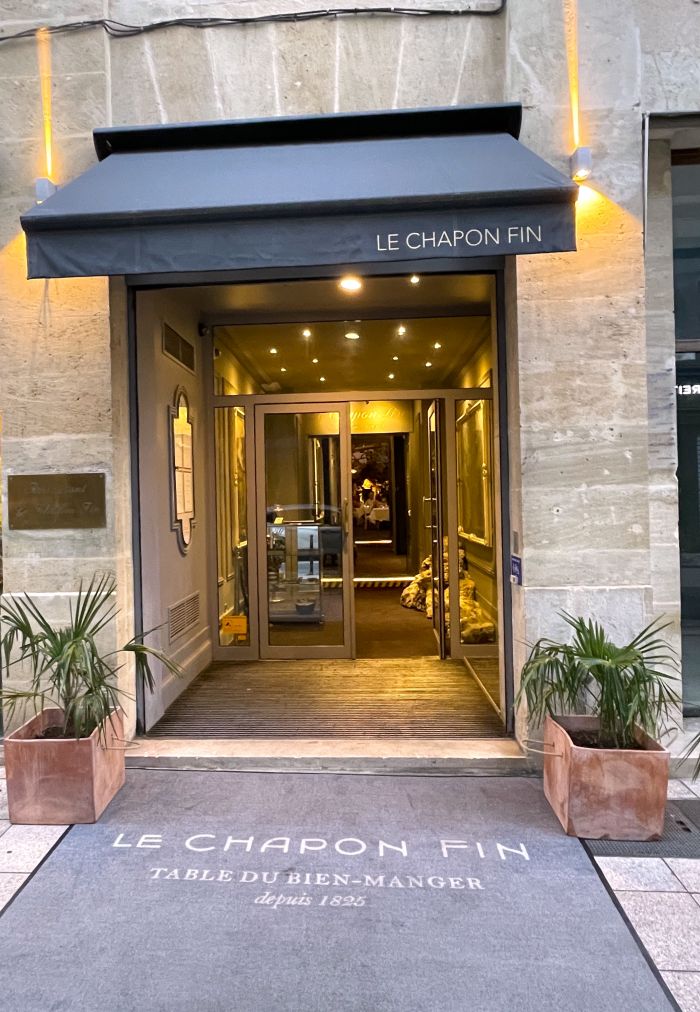 Photo by Michael Reiss
Le Chapon Fin restaurant, located in an 1825 building, is the oldest continuously running restaurant in Bordeaux. The chef is focused on highlighting the local products and regional wines to complement and excite the palette. His refined cuisine combines the ingredients and techniques that have made France a culinary giant. They are all in force with his unique interpretations.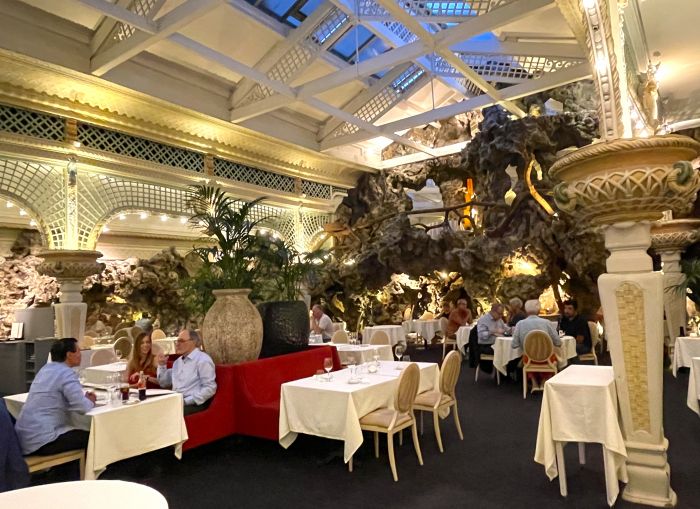 Photo by Michael Reiss
Our Seared Foie Gras, Langoustine Pasta, and Monkfish dishes were of particular note for their creative preparations. Put yourself in his skilled hands and enjoy a quality dining experience at this elegant, refined venue.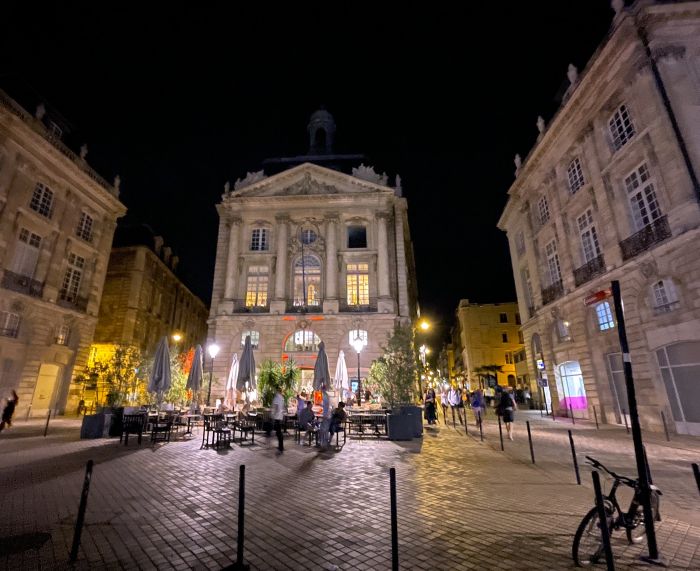 Photo by Michael Reiss
Before you leave the city, eat at L'Observatoire du Gabrielle located in Place de la Bourse, one of the most iconic buildings in the city. Many tables offer views of the Place, the fountain and the Garonne River all magnificently lit at night.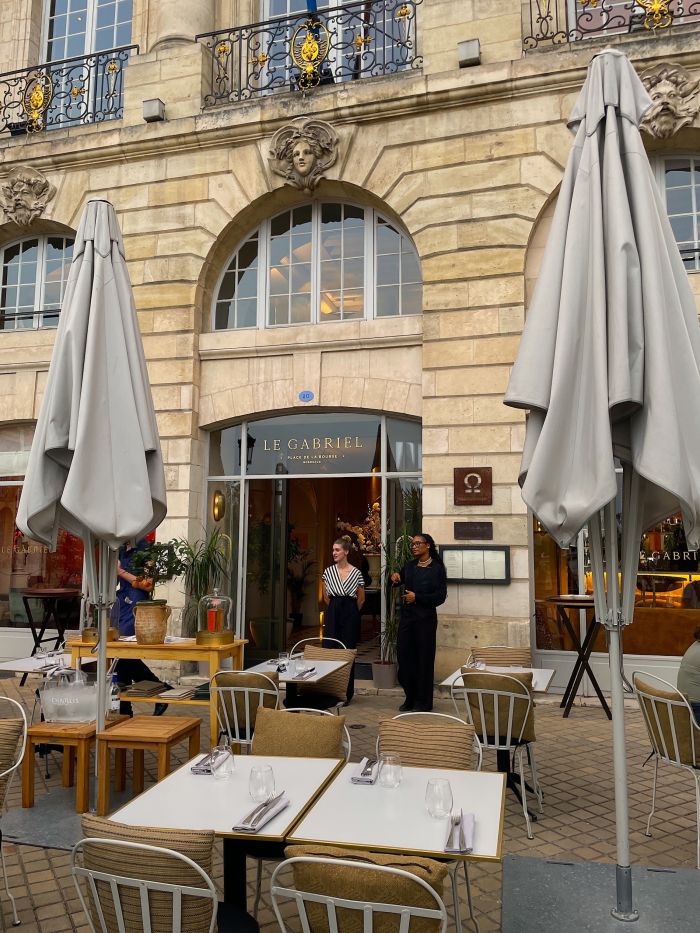 Photo by Michael Reiss
The cuisine is classic French using local, seasonal ingredients with a modern interpretation. The excellence of preparation, presentation, wine service and attentive staff all explain the awarding of a Michelin star in 2022.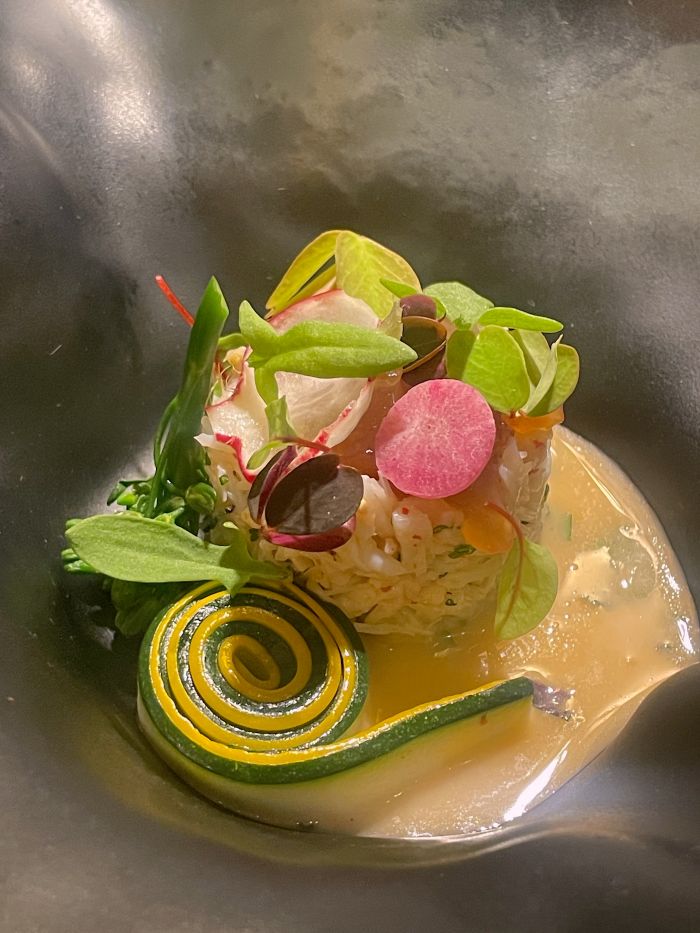 Photo by Michael Reiss
The tasting menu was a revelation of the best of the region. The Heirloom Tomatoes Dressed with Balsamic and Topped with Tomato Sorbet and a Parmesan Tuile heralded the season. From there each course topped the last dish leading to a crescendo main course of veal surrounded by mushrooms and veggies with a sauce that included capers. It was best in class for that protein and heralds the chef as worthy of the Michelin star status.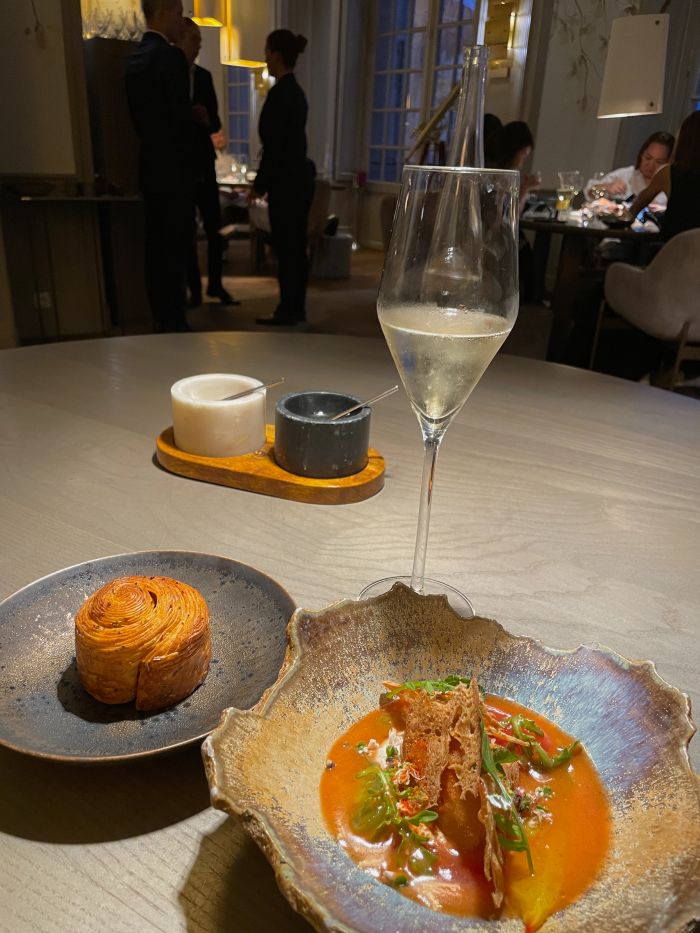 Photo by Michael Reiss
The wine service done by Sommelier Julian was exceptional. Each pouring was interesting in itself and artfully complemented the dish presented. This is a tour de force restaurant whose stars will only shine brighter with time.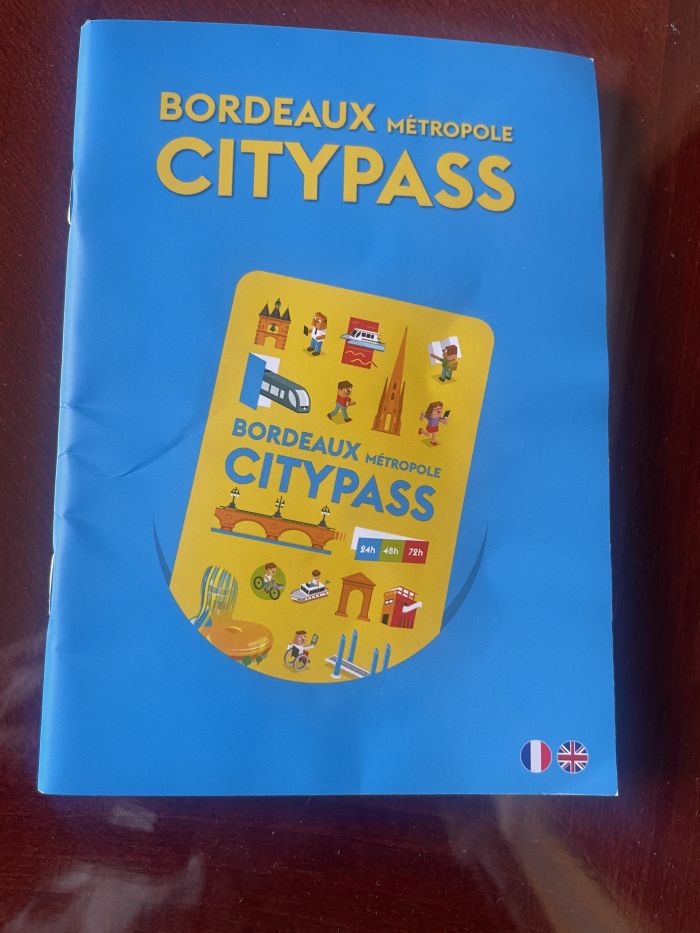 Photo by Michael Reiss
A convenient way to organize your tour of Bordeaux is with a Bordeaux CityPass purchased from the Bordeaux Tourist Office. This card gives you access to museums, monuments, tours, and public transport.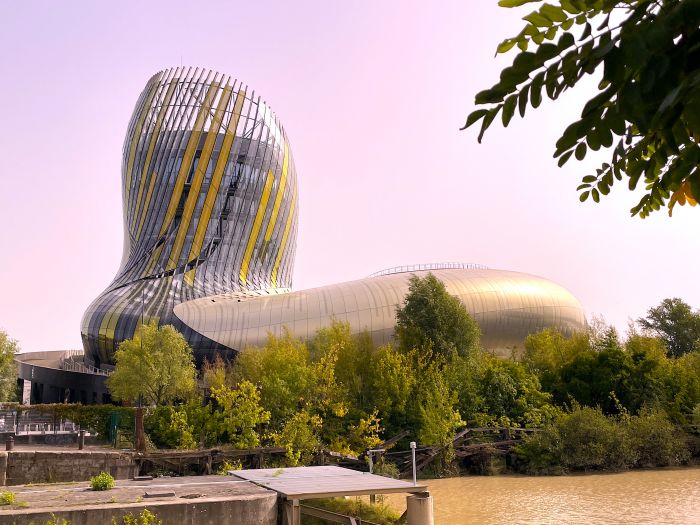 Photo by Michael Reiss
The current super star attraction of Bordeaux is the Cite du Vin. This stunning architectural homage to the culture of wine is a world class contemporary monument.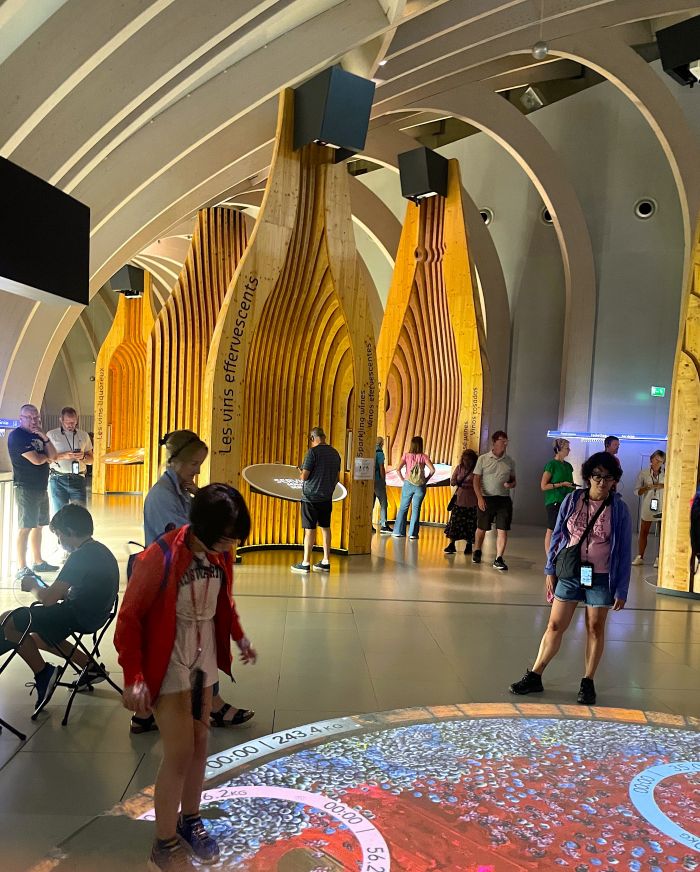 Photo by Michael Reiss
The exhibits are clever, informative, interactive and use the latest advances in technology to engage the visitor. Far from an ordinary museum, there are workshops, a library, conference space and several dining and drinking venues all in the service of elucidating the international culture of wine. You will be captivated by the scope of exhibits including a wine tasting at the Belevedere level where you can enjoy the panorama of Bordeaux and toast to this UNESCO-designated city.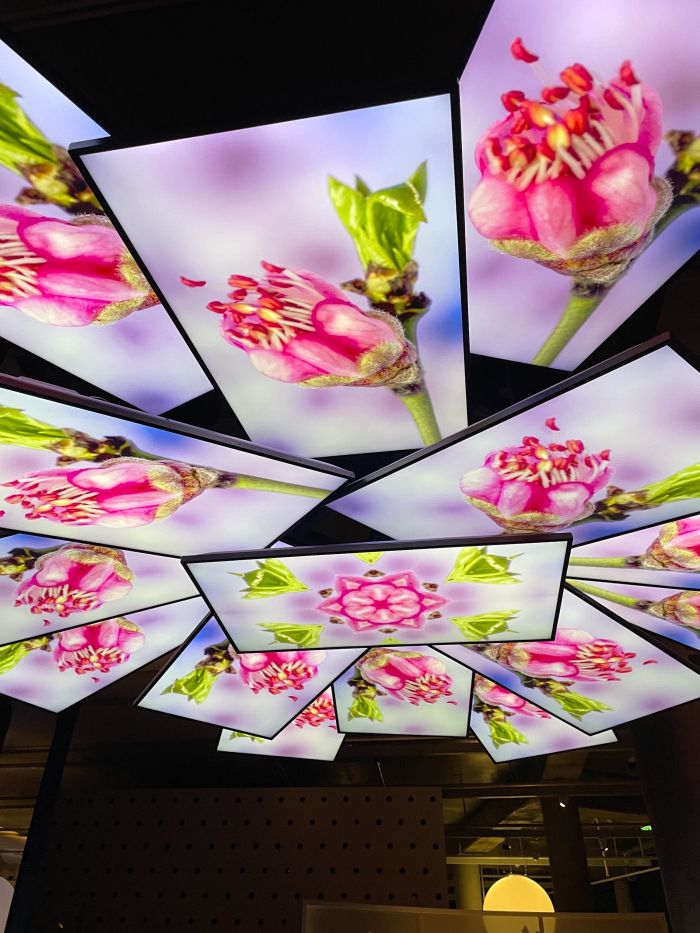 Photo by Michael Reiss
Besides the general admission to the exhibit space, there is a newly installed program called "Via Sensoria." Booked separately, you will be guided by a sommelier on a tasting journey that includes all the senses. The hour artfully combines elements to present a unifying sensation where wine or a non-alcoholic beverage becomes an integral part of the trip.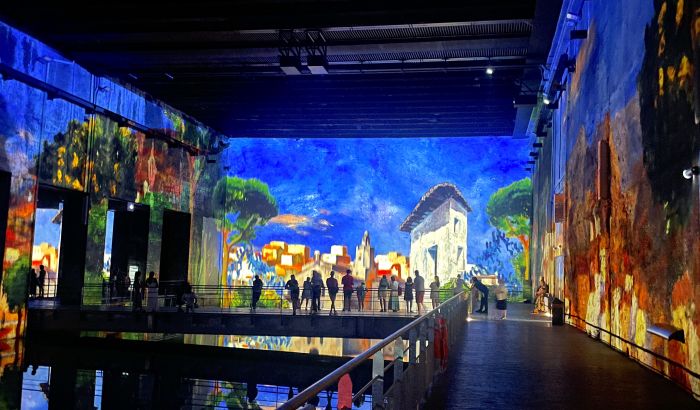 Photo by Michael Reiss
Another stunning addition to the not to be missed list in Bordeaux is Les Bassins des Lumieres. It is the largest digital art center in the world, located on the grounds of a World War 11 submarine bunker. The immersive exhibits are riveting in this one-of-a-kind exhibit space. We experienced the art of Dali and Gaudi in breathtaking, larger than life detail. Check for current showings.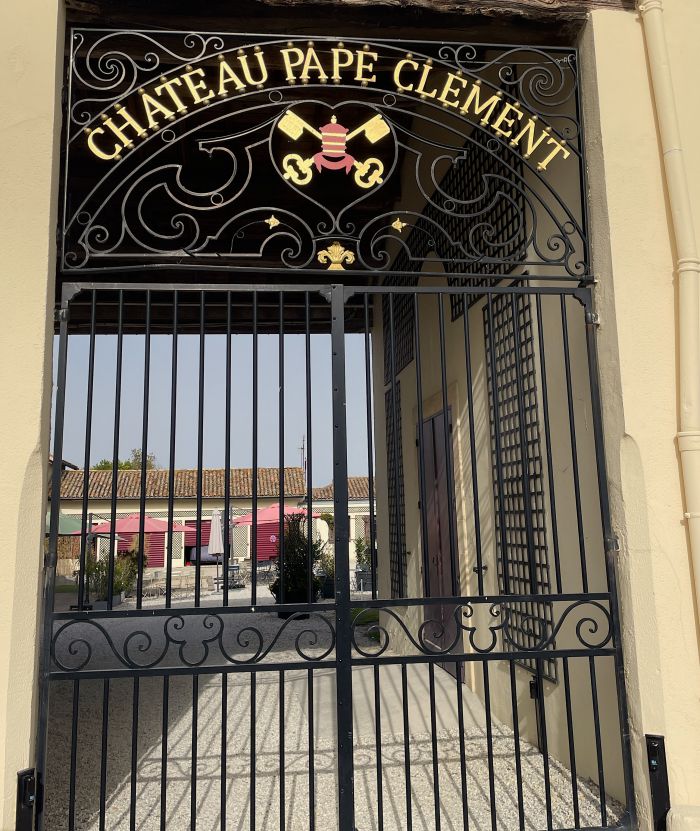 Photo by Michael Reiss
One of the best ways to immerse yourself in the wine culture is to book the wine tasting experience at Chateau Pape Clement. Besides a tour of the vineyards and chateau, you will taste several estate vintages and peruse the breadth of the estate bottlings ready to purchase and impress your connoisseur friends back home.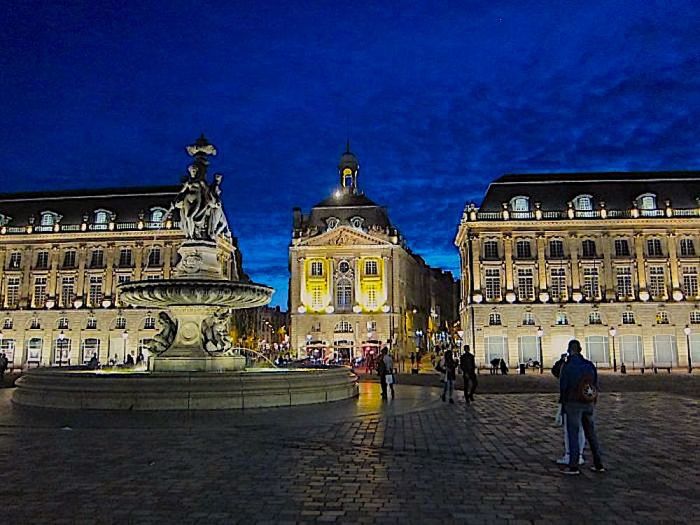 Photo by Michael Reiss
Bordeaux is indeed a multifaceted gem, and it is one destination to experience repeatedly to fully enjoy its impressive architectural, cultural, culinary and wine offerings. Visit Bordeaux and return often.