By Jared Paul Stern Nov. 17th, 2011
Bad boy British artist Damien Hirst has just unveiled two new artworks in Milan for which he used more than 1,000 Panerai watch dials to adorn the canvases.

The works are part of a new exhibition called "O'Clock: time design, design time," organized in collaboration with the famed Italian luxury watch brand at the Triennale Design Museum in Milan. Variations on Hirst's renowned Spin paintings, the two works are titled Beautiful Sunflower Panerai Painting (below) and Beautiful Fractional Sunflower Panerai Painting (above). Worth millions of dollars, the unique works be on display at the museum through January 12, 2012.

During the 1930s and 1940s Panerai created two of the "international icons of time design," the Luminor and the Radiomir. For the inauguration of the exhibition the company created a display titled "I mondi di Officine Panerai" (The worlds of Officine Panerai), highlighting the brand's unique design through eight historic and contemporary models.

The rest of the exhibits in the show all revolve around the intersection of time and design, addressing such topics as "the passing of time, ever-changing time, perishing, sometimes funnily, sometimes poetically, sometimes meditatively and critically." Visit TriennaleDesignMuseum.it to learn more.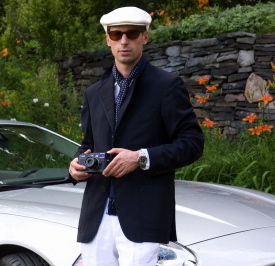 Jared Paul Stern
Jared Paul Stern, JustLuxe's Editor-at-Large, is the Executive Editor of Maxim magazine and has written for the Wall Street Journal, New York Times, the New York Times' T magazine, GQ, WWD, Vogue, New York magazine, Details, Hamptons magazine, Playboy, BlackBook, the New York Post, Man of the World, and Bergdorf Goodman magazine among others. The founding editor of the Page Six magazine, he has al...(Read More)