By Jared Paul Stern Apr. 8th, 2015
At Commander's Palace restaurant in New Orleans, a landmark since 1880, there's a good chance you'll leave feeling you've experienced the most memorable meal ever. The restaurant, located in the gorgeous Garden District at a suitable remove from the frenzy of the French Quarter is popular among locals and tourists alike. But a much richer tale lies in its 135-year history.
Paul Prudhomme and Emeril Lagasse are among the illustrious alums of its kitchen, and current chef Tory McPhail is creating a new culinary legacy within its iconic turquoise-and-white striped walls. In 2008, Commander's was inducted into the Culinary Institute of America Hall of Fame, and it also holds a coveted Wine Spectator Grand Award thanks to the impressive contents of its cellars. In 2013, McPhail won the James Beard Foundation Award for Best Chef in the South.
Having worked at the restaurant at the age of 19 under then Executive Chef Jamie Shannon, McPhail went on to do stints at the The Breakers in Palm Beach, the Michelin-starred L'Escargot in London, the Michelin two-star Picasso Room, and the Caribbean-Creole destination Mongoose Restaurant in the U.S. Virgin Islands. In 2000 he became Sous Chef at a Commander's Palace offshoot in Las Vegas, and in 2002 he returned to the Big Easy to take the reins as Executive Chef at the inimitable original. Since then he has worked hand-in-hand with the landmark's owners the Brennan family, whose portfolio now includes Brennan's of Houston, Café Adelaide and the Swizzle Stick Bar, and SoBou in New Orleans (also overseen by McPhail).
Commander's is the unrivaled mecca of "haute creole" cooking, allied with McPhail's version of modern NOLA cuisine. And though its food and style have been widely imitated, this is truly an example of an original that can never be duplicated. The feel of the place, with its energy, elegance, and sense of importance spread out over different levels, rooms and gardens, reminds of the legendary Tavern on the Green in New York's Central Park in its heyday. McPhail has instituted a "dirt to plate" policy at the restaurant meaning that 90 percent of ingredients to come from within 100 miles of the kitchen door, be they from farms or fished out of the Bayou.
A sampling of the best dishes from the dinner menu includes Shrimp and Tasso Henican with wild Louisiana white shrimp, tasso ham, pickled okra, sweet onions, five pepper jelly and Crystal hot sauce with beurre blanc; and Louisiana Oyster Fondue with crispy oysters and brie-cauliflower fondue, grilled kale, sundried tomatoes, bacon, parmesan and a ciabatta croustade. Try the Chicory Coffee Lacquered Quail with fire roasted chili and cochon de lait boudin over smoky bacon wilted greens with Tabasco pepper jelly and espresso pecan crust. To finish, you don't want to miss the Louisiana Strawberry Shortcake with Ponchatoula strawberries marinated in Louisiana sugarcane on a fluffy buttermilk biscuit with powdered sugar and Chantilly cream.
Commander's also serves lunch and brunch, and those who want a close-up look at McPhail's mastery can book the chef's table in the kitchen, though be sure to do so well in advance. Wherever you choose to sit, the service is of course impeccable, with just the right measure of southern hospitality and a heaping helping of southern charm. Prepare to be equally wowed by the crowd, which runs the gamut from glamorous couples celebrating special occasions to stalwarts of New Orleans society who call the elegant eatery a second home. Inside of ten minutes you'll wish you could do the same.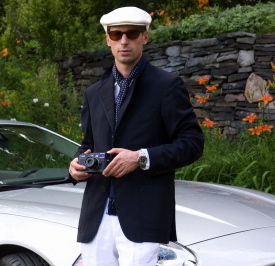 Jared Paul Stern
Jared Paul Stern, JustLuxe's Editor-at-Large, is the Executive Editor of Maxim magazine and has written for the Wall Street Journal, New York Times, the New York Times' T magazine, GQ, WWD, Vogue, New York magazine, Details, Hamptons magazine, Playboy, BlackBook, the New York Post, Man of the World, and Bergdorf Goodman magazine among others. The founding editor of the Page Six magazine, he has al...(Read More)